If you find that one of your drive's file system has been changed to RAW, do not run 'CHKDSK' for repair as often recommended. 'CHKDSK' will repair a corrupt partition table in most cases. But if this doesn't happen, you run the risk of losing data on the drive. Stellar Phoenix Partition Recovery 6.0 can be a far more reliable option here. The software allows searching for lost or deleted partitions on your Windows-based drives and helps you recover data from RAW External drives as well 'lost' volumes.



For recovering lost logical volumes using Software, follow the given procedure:
Run Stellar Phoenix Partition Recovery. On the main screen, click the drop down link 'Click Here to Search Lost Volumes' under 'Drive Recovery' tab.
Select your physical drive from the list displayed under 'Select Hard Drive to Search Lost Volume' section.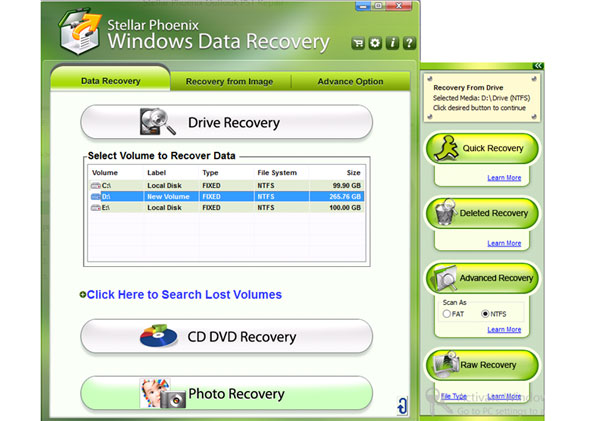 Once the desired drive is selected, a flying pane will open on the right and asks you to choose preferred scanning method (i.e. 'Quick Scan' or 'Deep Scan') below 'Search Lost Volume'. Click the 'Search Lost Volume' button.

P.S. If you are looking to recover data from RAW external or internal hard drives, click on 'RAW Recovery' tab located just below 'Search Lost Volume' tab.
The software starts scanning the physical drive for searching any lost or accidentally deleted volumes. After the scan is finished, all the volumes found on the selected physical drive are listed in the 'Select Volume to Recover Data' section. You can see the partition type status to find if it is deleted, damaged or lost.
You can select any volume in this list and proceed for recovery using the normal recovery method such as 'Quick Recovery', 'Deleted Recovery', 'Advanced Recovery' etc.