Stellar Repair for Exchange allows you to select multiple EDB files. The following steps will help you select multiple EDB files:
Open the software Mailbox Exchange Recovery softwareand from the main interface, click the "Browse" button to select the corrupt or damaged EDB file.
Click the "Browse" button again, to select another EDB file. You can repeat the process three times to choose a maximum of four EDB files.  Alternatively, click the "Find" button to locate multiple EDB files in the selected drive.
The software searches and displays all the EDB files in the "Select File" dialog box, as shown in the figure below. Perform the following steps:

Select the checkbox for the EDB files. You can select and repair multiple EDB (up to four) with the help of this software.
Click "Next" to initiate the scanning process of EDB-file.
"Select Scan Mode" dialog box will appear. Select either "Quick Scan" or "Extensive Scan" and click the "OK" tab.     
The scanning process begins. Once the software scans and repairs multiple EDB files, it lists all the repaired mailboxes in a three-pane window.
Note - The left pane contains the list of recoverable mail folders. The top right pane contains and displays the data of the selected folder. The bottom right pane shows the details and body of the email that has been selected in the upper pane.
You can select the EDB file or a particular mailbox and click the "Save" icon, as available in the main menu to recover all the mailboxes of an EDB file. Alternatively, select the EDB file and right click on the file to save the EDB mailboxes in PST, MSG, EML, RTF, PDF or HTML format.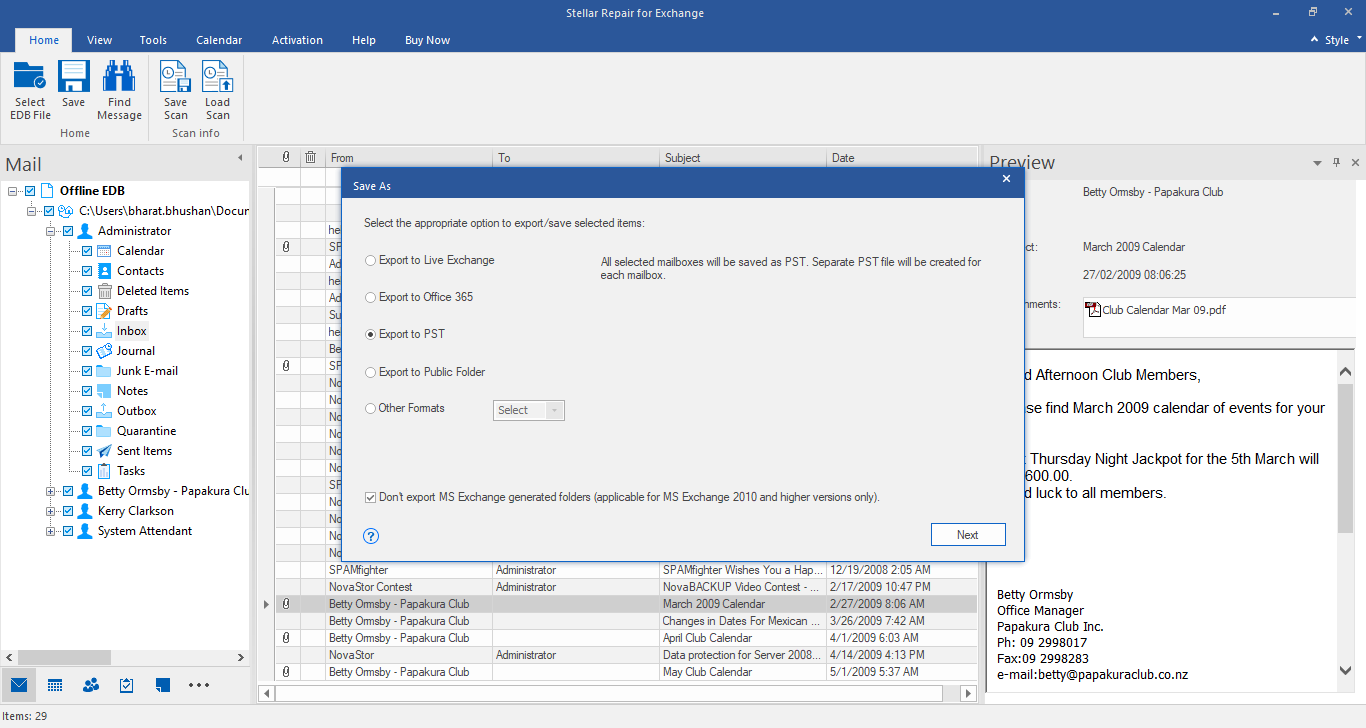 If required, you can export all the mailboxes of the repaired EDB files directly to Exchange or Office 365.
Note: You would need Admin credentials and Admin Rights to export the mailbox data to Exchange database. Also, you would need to have valid credentials of Office 365 user account to export the mailbox directly to Office 365. 
When the saving completes, the 'Data Saved Successfully' message appears. Click on the "OK" button to complete the multiple EDB file repair process. 
The above-described steps define the way in which you can repair multiple EDB files with the help of Stellar Repair for Exchange software.