One of the most impressive features of Mailbox Exchange Recovery is its capability to repair multiple EDB mailboxes at the same time. This feature saves a ton of time when you need to extract specific information from a number of EDB mailboxes quickly. All you need to do is point the software in the direction of the mailboxes from which the data needs to be extracted and indicate which items you need to extract.
Here are the steps:
Launch Stellar Repair for Exchange and from the first screen, select the EDB file for repair. You may:
Browse and open EDB file if you know its location
Find EDB file if you don't know its exact location
Once the file is selected, pick a scanning mode (Quick or Extensive) and initiate the scanning by clicking on the 'OK' button
Once the scan finishes, all recoverable data from the EDB will be displayed in the software's left hand panel
Note: At this point the software will ask you if you wish to select any more EDB files to add to the repair process. If you wish to repair multiple EDB files or retrieve information from multiple mailboxes dispersed over more than one EDB files, click on 'Yes' to add another EDB file to the current recovery process.
Once all selected EDB files have been scanned and their recoverable contents displayed in tree-view lists in the software's left hand panel, select all mailboxes you wish to recover by selecting the checkboxes adjacent to them.
Click on 'Save' from the menu and you will be prompted to select an output format and destination folder.
Select output format and destination folder to save the data and click on 'OK'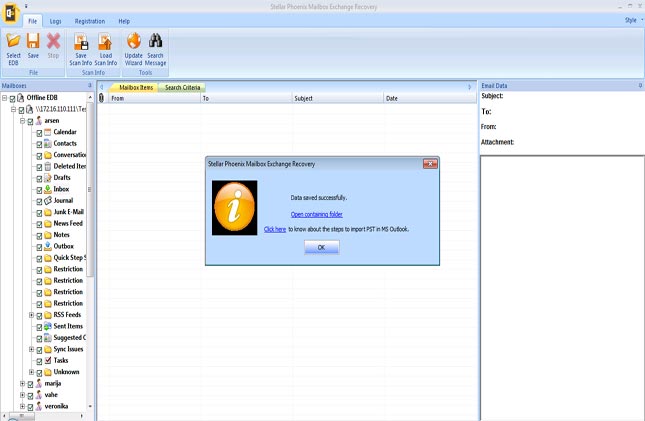 That's how simple it is to repair multiple mailboxes using Stellar Repair for Exchange Software.