Memory card involves risks of getting your data lost or deleted permanently if it's damaged, become inaccessible or start giving read/write or formatting error. The misery is, there is not any manual method available other than using photo recovery software to retrieve deleted pictures from memory card.

Note: If you're not interested to study more about these error messages, just directly go to the solution mentioned at the bottom.
 
Type of common SD Card errors

'Memory card not formatted' error is one of the leading causes of photo loss as it prevents users from accessing their stored photos, recorded videos or any other type of multimedia files. This memory card error clearly indicates that it can't be used anymore to save or access photos.

Including the error mentioned earlier, there are more similar errors which lead to similar circumstances and you'll need to take it seriously before leading to any final conclusion:

SD Card is "write protected"
Memory card is 'write protected'
'No Memory Card' error
Memory Card Is Write Protected or Locked
This Card Cannot Be Used
The disk in drive is not formatted
The Drive is Not Formatted, Do You Want to Format It Now
Memory card file system is RAW
'You Need to Format the Disk in Drive'

All above-mentioned memory card errors are related to the internal problem with the card itself such as directory structure corruption, failing or file system corruption etc. and leads to photo loss situation from memory card. These problems may arise whenever you try to access the corresponding device memory card when the system dialog box may appear which may ask you to format the drive first before start using it.

Is there anything I can do to fix memory card errors or related problems?

Well, as I've already stated, there is no manual ways of to get rid of various card related problems. However, there are few things you can do yourself to check and make sure that situation isn't gone too bad for you.
Change USB Port or external card reader: Sometimes SD card problems arise due to system problems itself such as damaged USB slots, corrupt card reader or faulty cables. Consider using different USB ports or system to see if the problem isn't with your memory card. You can also try to connect your memory card directly using the device on which, your memory card is inserted i.e. Digital Camera, Smartphone device, Tablets etc.
Simply remove your memory card and plug it back: It's also possible that this error might have happened just because of improper removal of the card and can be easily resolved if you simply remove it and plug it back. This time, make sure that everything is connected properly and green or red light is clearly showing on the corresponding device.
Check if your system is not injected by any kind of virus/malware threats which are preventing your memory card from accessing.  Consider running anti-malware or virus removal program on your system first and see if they can catch anything suspicious for you.
Will formatting the memory card fix everything?

No, not at all! Keep in mind that formatting memory card will permanently wipe everything stored and your hope to restore them back in future. Don't even try to fix memory card errors using any corrupt SD card repair software either. It'll just make the situation worst and put your media files far away from the reach of SD card recovery software.

How do I retrieve lost photos?

See if you've created any backup copy previously and stored all your media files. If so, it's time to make it handy and consider restoring everything back on the computer system and later transfer it to your memory card after formatting. It's also possible that you may have already copied everything on the computer system. You'll be in great trouble if you haven't performed any of the steps mentioned earlier.

OK!! I've tried everything but nothing seems working, now what?

Just take a deep breath and prepare yourself for this new adventure. We'll talk through series of steps to recover deleted photos from various types of cards such as Compact Flash Cards, SD Cards, Memory sticks, Micro SD cards etc. You don't need to worry about your data as its still clicking somewhere on the drive and can be seen only by using card recovery software.
Stellar Photo Recovery is equipped with latest technologies and capabilities to detect the various types of flash memory cards on the fly. Later, it performs smooth recovery from the corrupted or damaged SD card that is no longer accessible.

Just prepare few things before getting on board:
Problem SD Card
Connective Media: USB Cable that isn't damaged or faulty or external card reader.
Free download trial copy of Stellar Photo Recovery and install it on your PC or Mac system.
Trail version is used to scan the problem memory card and shows media files that it can actually recover. Keep in mind that you'll need to purchase a premium license copy to have your media files recovered.
Ready to recover deleted files from memory card?
Just perform few simple steps below and you are done:
Launch Stellar Photo Recovery Software.
On the Home screen of the software - 'Select What to Recover'. Click Next.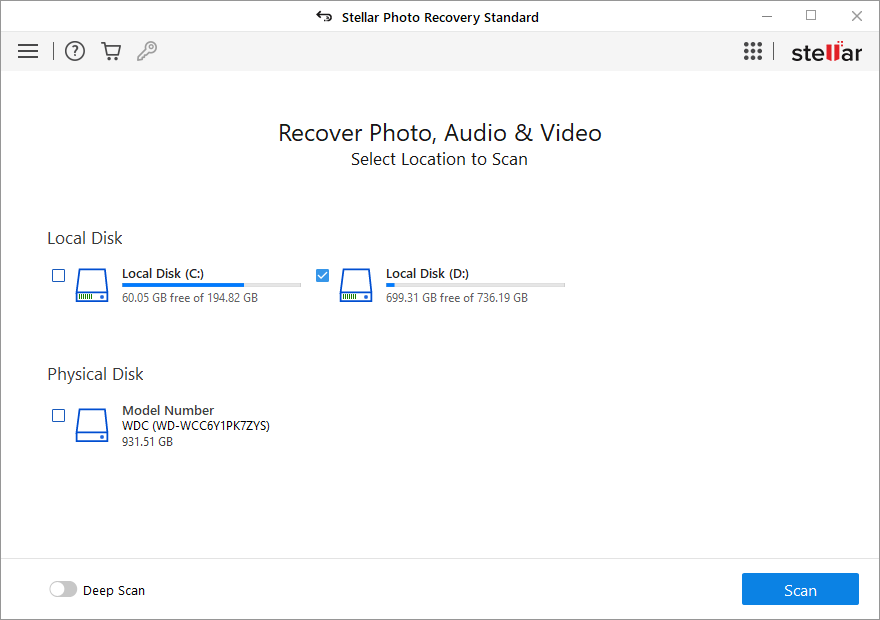 Now, select the location from where you want to recover. Click Scan to start the scanning process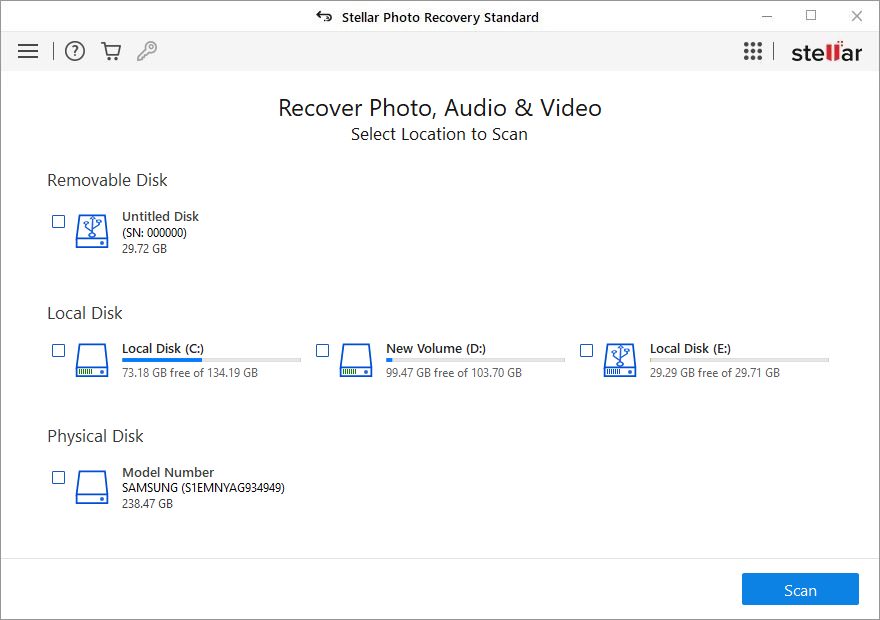 After the completion of the scan you will able to see list of folders indicating each file formats displayed in the left pane.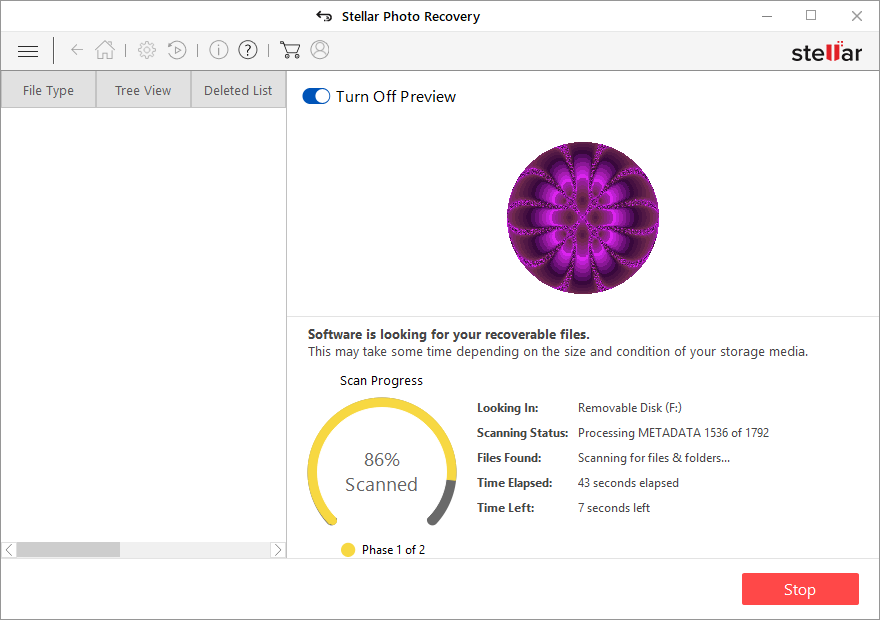 You can now select the files that you would like to recover, Click on the "Recover" and provide the destination to save the files.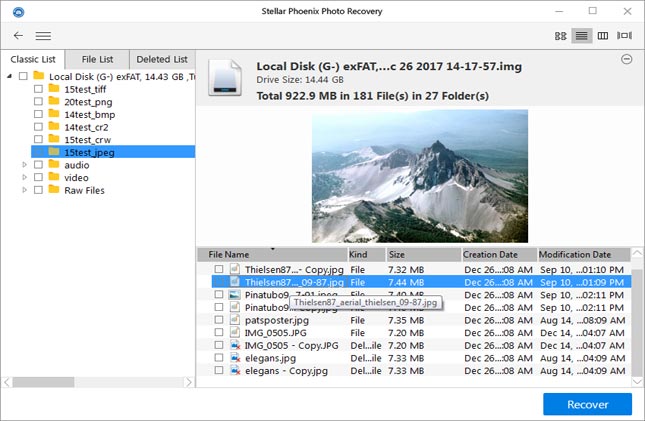 Please note that scanning process involves a lot of calculations and may take time, often little longer than expected. Moreover, turnaround time to complete the scanning procedure is also depends on the capacity of the flash drive.

Are you still facing some issues on recovering photos or stuck somewhere? Don't bother and let us know the situation in comment box below.