As a user, you experience inaccessibility to the database-tables, when the table that you are trying to export contains a self-join and Memo field, or you have attached referential integrity constraint on that table.
Follow the below-mentioned steps to save specific tables from the repaired database
Go to Home Menu and click on Browse to select the Access Database. Alternately, click on Search, if the location of Access Database is not known
Click the Repair button to start the scanning and repairing process of MDB or ACCDB file
Once repairing is complete, the Stellar Repair for Access displays the Queries, Tables, Indexes and Relations of the fixed File in a tree structure in the left pane.
You can view the contents of each object in the right pane, by clicking on a specific object.
The checkbox for all objects is checked by default. Uncheck all the boxes and checkbox for the specific tables, which you want to save.
Go to the Home menu and click on Save Database File button
The Save At dialog box appears. Select Default location of file, if you want to save the repaired tables at the same location where the selected file was saved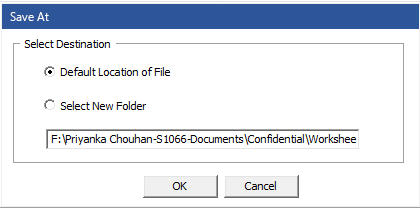 Alternately, click on the Select new folder and click on Browse for folder dialog box, where you want to save the file and select the location 
Click on the Ok button after the specific tables from the repaired database are saved.
Similarly, you can select specific Indexes, Relations and Queries from the repaired Access database with the help Stellar Repair for Access Software.