Date – 03 March 2022
Stellar Data Recovery Professional, Premium, and Technician version is now macOS Monterey compatible. The version is now 11.3.0.0. This is a free software upgrade if you are running any version of Stellar Data Recovery Standard, Professional, Premium or Technician for Mac within the license validity period.
Stellar Data Recovery for Mac v11.3.0.0 is available for a free trial for users.
Changes in Stellar Data Recovery for Mac v11.3.0.0
The Stellar Data Recovery for Mac v11.3.0.0 has gone through some major changes. The already effective data recovery software is now more sophisticated with greater access and reliability. Here are the major changes that you will find in the latest version.
It is now macOS Monterey ready. The software supports macOS Monterey and other previous macOS versions.
The bootable data recovery is removed. Instead, a link is provided to the users to facilitate a hassle-free recovery on a crashed or non-bootable Mac.
Note: There is no need for a USB drive or a secondary healthy Mac. You don't even need to create a bootable recovery drive. All you need is your crashed Mac and a good internet connection. You can boot your crashed Mac in Recovery mode, access the Terminal and insert the command sh <(curl http://stellardatarecovery.co.in/StellarDataRecovery.xml) and hit Return. Once you have accepted the license agreement and followed further instructions, you can scan your Mac with Stellar Data Recovery and get back your data.
Recovery mode booting support for Apple M1 chip Mac, T2 security chip Mac and all other devices.
Recovery mode booting support for macOS Monterey 12.0, BigSur 11.0, Catalina 10.15, Mojave 10.14, and High Sierra 10.13.
Scanning support for larger disks with over 18 TB capacity with NTFS, ExFAT, FAT32, or HFS+ file systems and raw data scanning.
Equipped with Search lost volume and create Image options.
New feature to export File List in HTML view added to the Technician edition.
Option to show or hide first screen in Stellar Data Recovery.
Apart from the above features, you will find some other minor changes to improve the user experience and ease of use factor. The Stellar Data Recovery for Mac v11.3.0.0 is more advanced and powerful to help you access and recover any lost, deleted or corrupted data on any Mac machine running on the most recent macOS Monterey or older versions.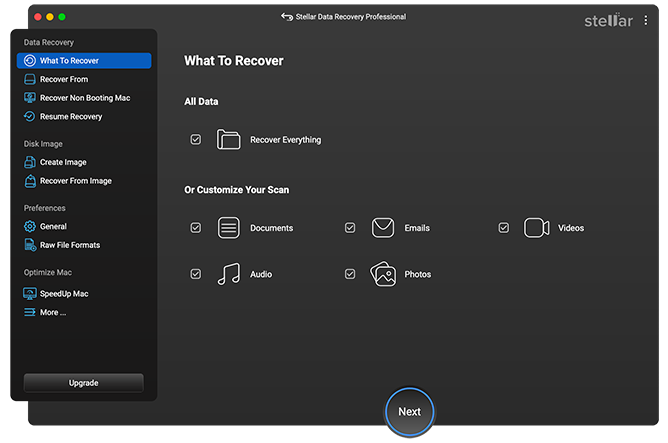 Additional Settings for Deep Scan
If your desired data is shown after a normal scan, you can opt for a Deep Scan. It allows the software to conduct in-depth scanning and recovery of data that is difficult to be accessed in normal scan. However, when you run deep scan for the first time on your Mac, you need to alter the following settings.
For T2 chip powered Mac: Enable Kernel Extension (KEXT)
For M1 chip powered Mac: Disable System Integrity Protection (SIP)
Know why you need to enable KEXT?
Know why you need to disable SIP?
Get Mac Data Recovery Free Trial
Use the below resources links to download the trial version of the Stellar Data Recovery utility for your Mac device: