Imagine you're free and decide to watch an old collection of home videos to relive your memories. However, when you attempt to play the videos, some of the most cherished ones don't play. All you get to see is an error pop-up saying, "This file is corrupted. Requested video cannot play". That could be a rude shock. No one would like to lose something important like that. The same could hold true for the video coverage of an important work event, a conference maybe. The point is – what do you do when a critical video file doesn't play owing to damage / corruption?
The best solution to such a problem is using proficient video repair software like Stellar Phoenix Video Repair for Mac. This product is equipped with state-of-the-art algorithms to help you repair videos which are corrupted due to changes done in the format of the file, read/write errors, compression issues, virus attacks and various other reasons. If you've used the initial version of this product (v1.0), you'll find this article particularly useful. Herein, we're comparing the latest version of the software (v2.0) with its previous version so that you can upgrade easily.
Stellar Phoenix Video Repair V2.0 VS 1.0
User Interface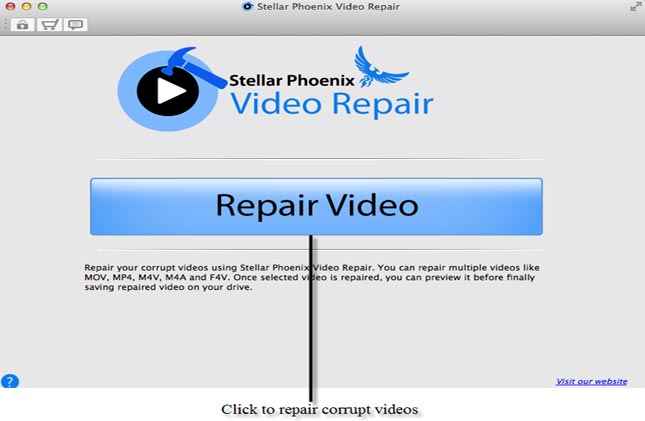 Although much of the user interface is the same in both versions, there are minor tweaks here and there. You'll instantly notice a slight change in the color scheme, button shapes and icons. The usage is the same in both versions with the repair process including the same steps, viz. select video files to repair, preview the corrupt videos to know if they can be repaired, click repair to start the process, preview files after repair, save repaired files are desired location.
Supported File Formats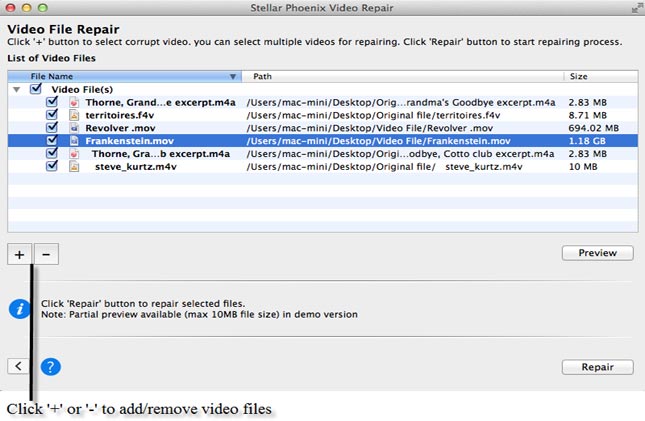 The real power of Stellar Phoenix Video repair lies in the variety of file formats it can handle. V1.0 could efficiently repair 3GP, 3GA, MP4, MOV, F4V, M4V, and M4A format video files. That covers videos from mobile devices, digital cameras, computers, and also those downloaded from the Internet. In V2.0, support for 3GP and 3GA has been removed since these mobile formats are now obsolete. All other mentioned formats are still supported. So you can think of V2.0 as more suited to the current market trends.
Improved Scanning Engine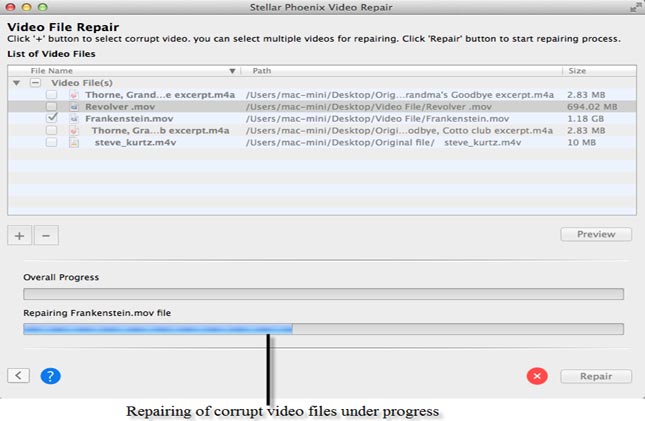 V2.0 includes major improvements in the scanning engine. The software deftly rebuilds and fixes corrupt videos to resolve issues of frame, sound, header, movement, and duration corruption from them and makes them play-able. Moreover, on launching the application, it quickly scouts for all videos of supported file types stored on your computer/laptop and lists them in a tree-view fashion within its main window. To add or remove files, you simply have to use a '+' or '-' button on the interface.
Operating Systems Supported
Stellar Phoenix Video Repair works perfectly on a variety of OS versions including the latest macOS High Sierra 10.13, macOS Sierra 10.12, OS X El Capitan, Yosemite, Mavericks, Mountain Lion and Lion. The support for Snow Leopard has been removed in v2.0 while it was there in v1.0.
Wrapping it up
Now that you know how Stellar Phoenix Video Repair v2.0 is better than v1.0, you can upgrade with confidence. So unless you need to repair 3GP / 3GA files or work on Snow Leopard, there shouldn't be a reason for you to still stick around with v1.0. Upgrade, and stay up-to-date.