Stellar Repair for Exchange software permits you to transfer the license from one computer to another, and the process is quite easy. On doing so, the software is deactivated on the source computer that is on which it was previously activated and activated on another new or the target computer. By going through the sections below, you will become aware of the steps that you need to follow to transfer the license of this Mailbox Exchange Recovery software from one to the other computer. Well, the process steps are as follows:
I. Go to the New or Target Computer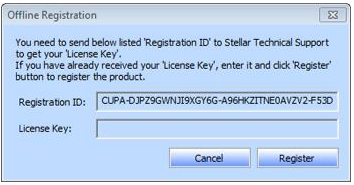 Figure 1: Offline Registration dialog box showing Registration ID
II. Go to the old or Source Computer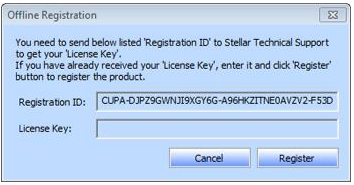 Figure 2: Click on Transfer In button
A Registration ID is displayed on the target computer that you need to copy in the Registration ID field on the source computer.
Click Transfer In button on source computer so that you get the License Key.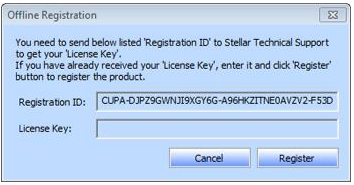 Figure 3: Registration ID and License Key displayed
Click on the Save To File button to save the Registration ID and the License Key of the software. In Save As dialog box that shows up, select the location where you need or wish to save the details. Next, click Save button.
Message 'License Key saved successfully' message pops up. This confirms that the saving process has been successfully executed. Next, click OK button.
On completion of these steps, the software is deactivated on the source computer. Therefore, you would no longer be allowed to use the software on the source computer.
III. Again, go to the Target Computer
In the Offline Registration dialog box, type in the License Key that was generated on the Source Computer.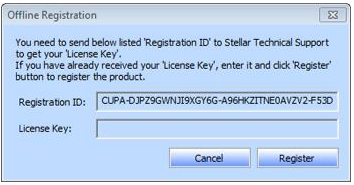 Figure 4: Entry of License Key 
Click Register button so that the activation completes.   
Finally, after the process is completed successfully, the message 'Activation Completed Successfully' is displayed. Lastly, click OK button.
This Knowledge Base gives you the complete knowledge as to how to transfer the license of Stellar Repair for Exchange from one source computer to another target computer. Thus, follow all these steps to successfully transferring the license from Source to Target PC.