Problem with Flash Drives
Flash drives, or simply called USBs are the most amazing products used for storing different data such as audios, videos, documents, etc. They are compact, have huge storage capacities and are affordable. People tend to have at least one flash drive with them at all times. After all, it fulfills many purposes including storing movies, music, documents, downloads and more. However, a lot of things can go horribly wrong with flash drives. This discussion will be focusing on one such problem where your flash drive is not detected on your PC and how you can perform flash drive data recovery from inaccessible, damaged or formatted USB, popularly known as Flash drives.
Flash Drive not showing in 'My Computer'
While working on your PC, you might want to take a backup of an important file or maybe want to listen to a favorite song stored in your flash drive. Imagine a scenario wherein you connect your flash drive to your PC, hear the familiar device connection sound but nothing happens thereafter. No auto play window pops-up, and when you open "My Computer" the drive doesn't even show up there. What do you do next? Checking under Disk Management seems like the obvious step. So, you go to Start -> Computer -> Right click on it -> Manage. This opens up the Disk Management window where you expect to find the flash drive for sure. However, sadly, it's not listed there too. It is then that you realize that something is not right and that you need to do something fast in order to save your data.
Possible Reasons for this problem
To rectify a problem you must first understand its root cause. What could cause such behavior of the flash drive? Here are possible reasons:
• Improper handling – Rough usage of any electronic media can cause permanent damage to it
• Virus infection – Malware or virus infected downloads when stored on flash drives can cause corruption of their file system. As a result, formatting could come out as the only solution which leads to data loss
• Power surges – Sudden power outages or voltage fluctuations when the flash drive is connected to the PC could cause damage to it
• Abrupt system termination – Abrupt shut down of the PC when the flash drive is connected to it could also be a potential reason for damage or corruption to the flash drive.
• Removing the flash drive without Safety check – This is generally taken for granted by many users. Repeated disconnecting of a flash drive without performing the "Safely remove media" check can lead to damage to flash drive over time.
How to recover flash drive data after formatting?
When formatting a device, the obvious stress which keeps boggling a user's mind is the impending data loss. However, with the availability of some excellent Flash Drive Data Recovery Software this is one area where users need not worry. A recommended software, which works wonders in the field of flash drive recovery, is >Stellar Data Recovery Professional.
Some Important Features of the Software are:
This software uses advanced algorithms to scan the formatted devices and find recoverable data. It then gives the user a choice to select which all files he wants to recover. As simple as that! Here are some key features of this product:
• Recovers mission-critical files from Windows hard drive and supported external media
• Recovers deleted email data types from MS Outlook and Outlook Express
• Recovers files from damaged or corrupt optical media
• Facilitates recovery of broad range of files types, including documents, photos, and multimedia files
• Offers unique "Raw Recovery" feature to flawlessly recover files from severely corrupt media
How to Use a Software:
Download and install the Stellar software.

You'll find the following interface: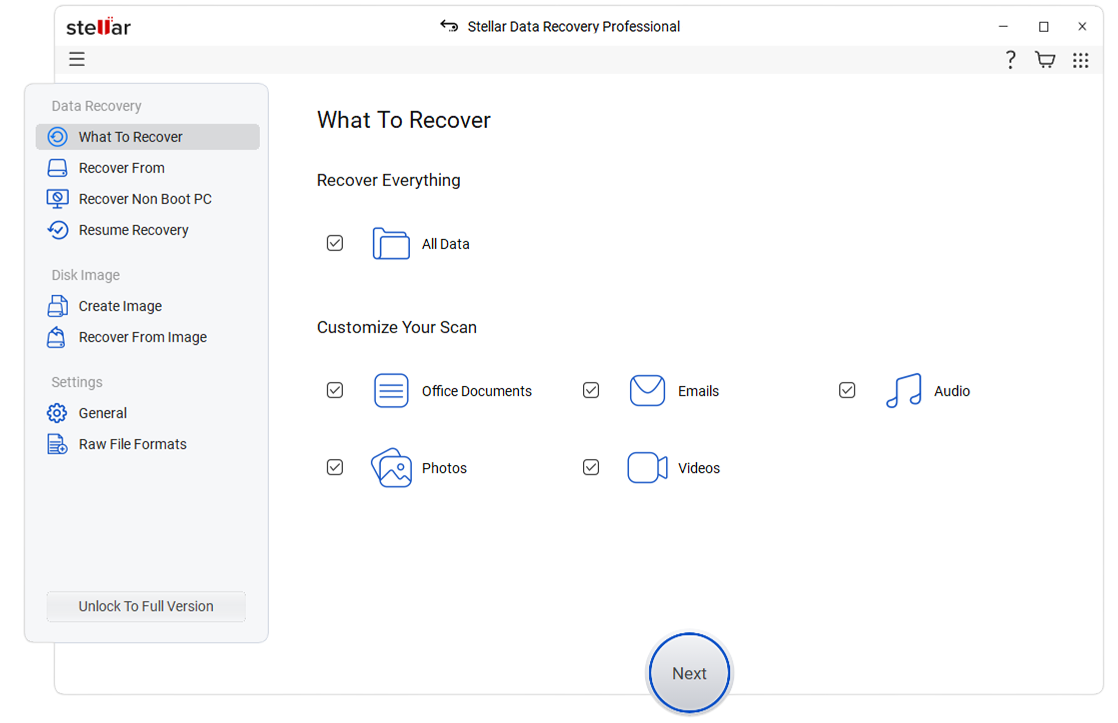 Select what you want to recover and use Next button to resume recovery process.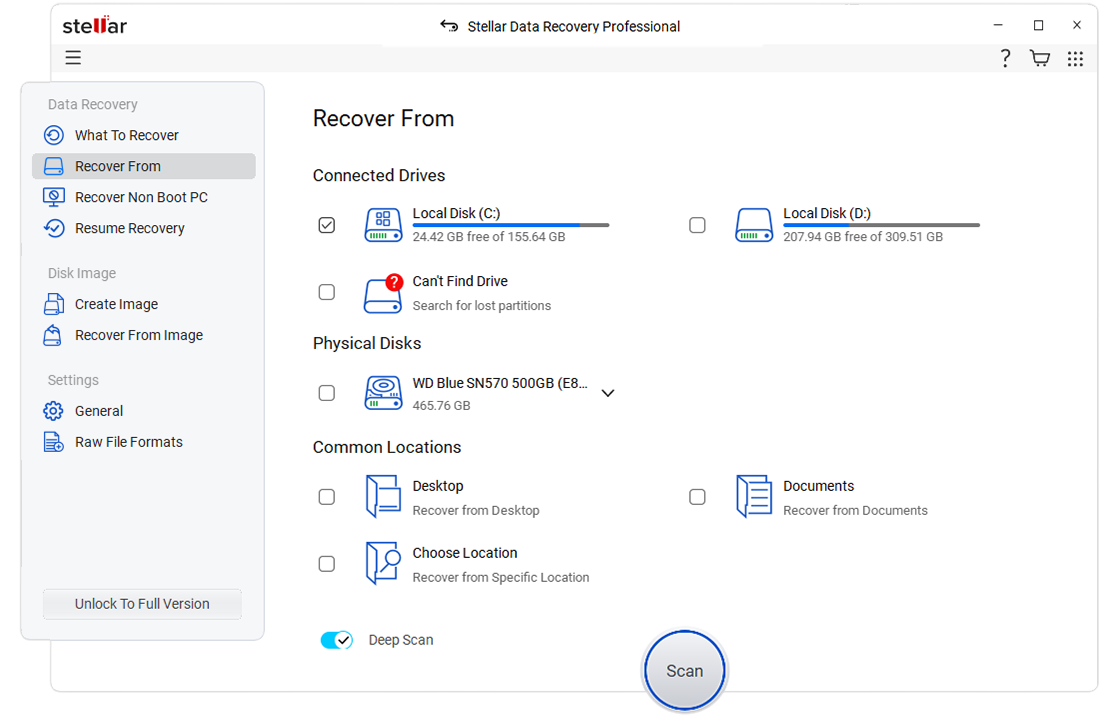 Select the Location from where you want to retrieve your data and click on Scan. This will show you the Time Left and Elapsed during the Scanning of a selected drive.
After the drive gets scanned, your files/folders get listed under the File Type, Tree View and the Deleted List.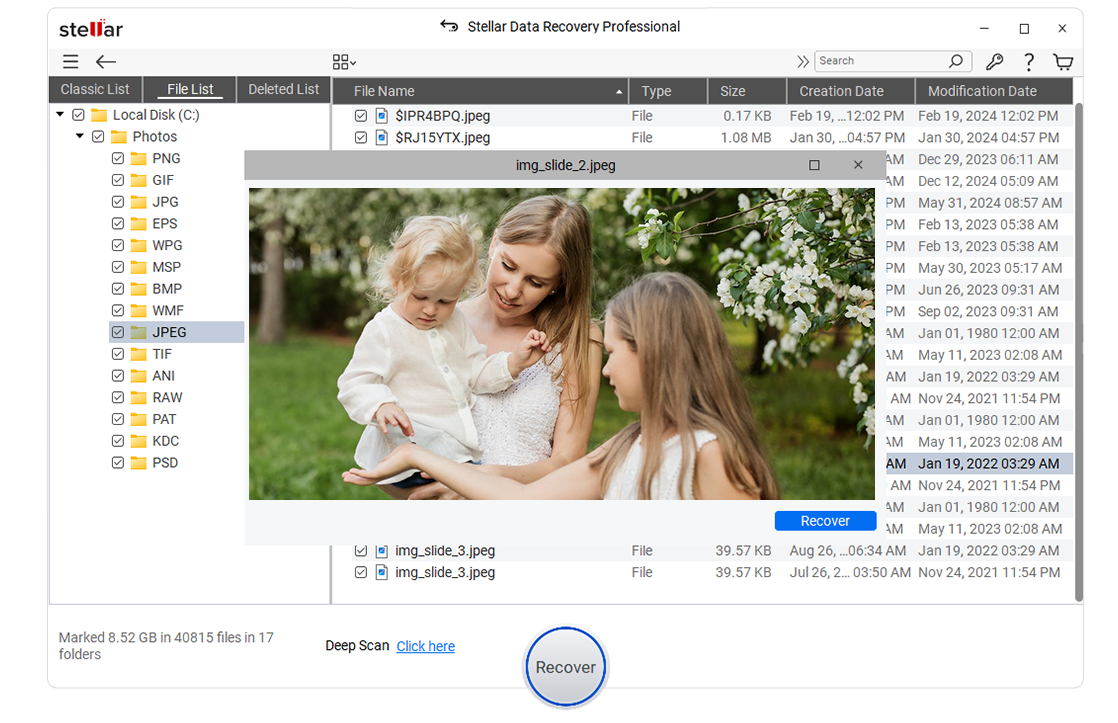 Select the File as per your requirement and click on the Save option.
Note: Deep Scan will thoroughly scan each and every sector of your drive. Use this feature, if you are not satisfied with the normal results.
The Save feature will ask you for the destination to store a file on your system.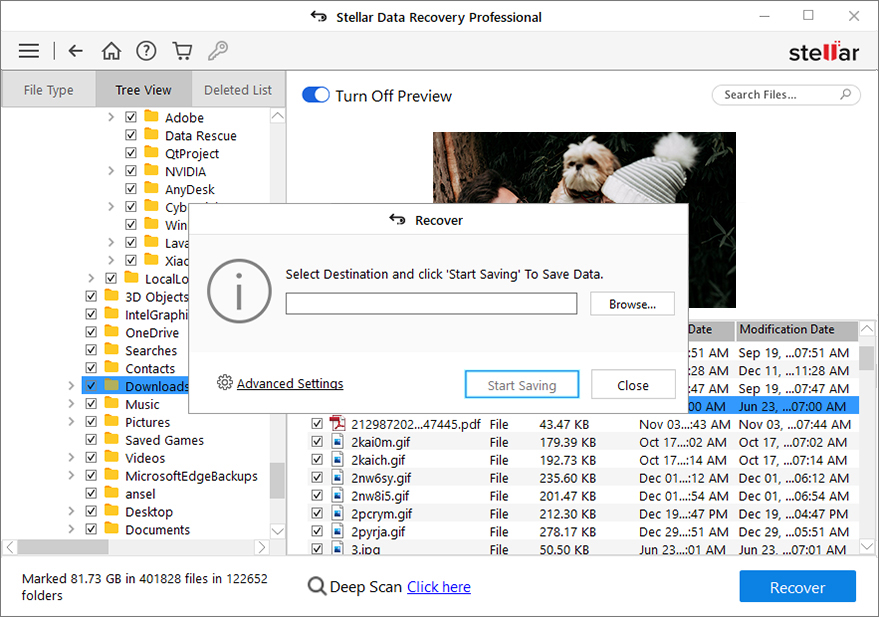 Select your destination location and press Save button in order to save and use your recovered file.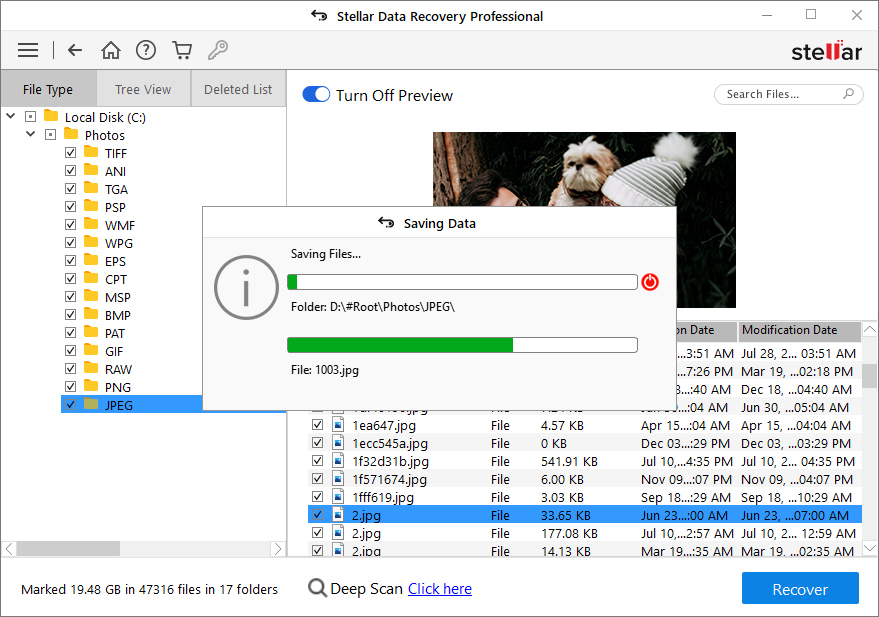 Common Flash drive fixes you can try
When this happens, the most common way to reuse flash drives is to format it. Unplanned formatting like in this situation surely leads to data loss. And of course, you don't want that to happen. So try these fixes first:

• Test the flash drive on another computer.
• Test the flash drive on other ports of your computer.
• Connect any other device to your computer and see if that is working. This will ascertain if the problem is with the device or the port.
• Assign the drive a letter. For this follow these steps:
   o Go to Disk Management
   o Locate the drive in question
   o Right click on it and select "Online"
   o Assign it a drive letter that is not already in use
• Delete the ports in Device Manager and then reboot the computer. The operating system should recognize the ports after the reboot.
• Check if the flash drive's driver is installed correctly. If not, download it from the internet and reinstall.
• Update the flash drive's driver if it is outdated.

If none of the above-mentioned fixes are able to revive your flash drive, the problem might be a serious one and formatting might be the only solution for it. However, if you do have to resort to it, you shouldn't worry about losing your precious data. Want to know why? Read the following section.

Concluding Words

Henceforth if you encounter problems with your flash drive, you don't need to panic. Use the tips and tricks mentioned above to rectify the issue. If they don't work and by chance you have to format the device, recover your data in no time using advanced USB flash drive recovery software like Stellar Partition Recovery.