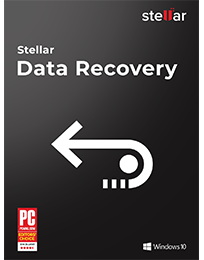 Stellar Phoenix Windows Data Recovery - Home
Recovers lost or deleted data from Windows OS based systems and external storage devices
Recovers data in case of file system corruption
Option to find specific lost, deleted file types from your computer
This disk recovery software can recover lost, deleted, or inaccessible data from Windows. The efficient hard disk recovery software recovers various useful business files, MS Office files, photos, videos, music, which are lost due to accidental deletion or formatting/corruption of Windows based volumes.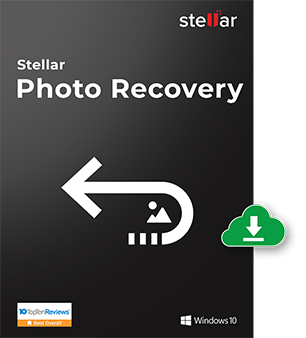 Stellar Phoenix Photo Recovery
Recovers lost, deleted, formatted photos, images, music and video files
Supports all popular file formats including JPEG, TIFF, BMP, PNG, GIFF, etc
Recover Photos from hard disk, external storage devices, camera, Memory cards, CD, DVD
Photo recovery software for Windows based computers, which supports recovery of lost, deleted, or inaccessible photos, videos, audios, and other multimedia files. Reliable software recovers photos from laptops, desktops, memory cards, iPods, USB flash drives, digital cameras, memory sticks, SD cards, IBM Micro Drives, Hard Disk etc.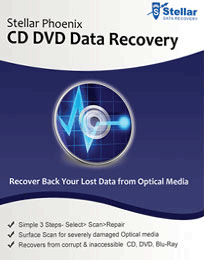 Stellar Phoenix CD DVD Data Recovery
Recovery of data from optical media burnt on all Windows, UNIX, Linux, and Macintosh OS
Supports recovery from Bootable, Audio-Video, Multi-session, Mixed Mode & LightScribe disc
Retrieves data from missing sessions
CD-DVD Data Recovery Software which efficiently recovers inaccessible, lost or deleted data from damaged or incorrectly burnt optical media such as CD/DVD. The software has some really advanced features like Create Image, Resume Recovery, File Mask, File Filter, Save Scan, and Event Log.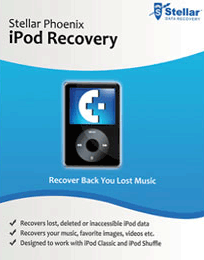 Stellar Phoenix iPod Recovery - Windows
Recovers formatted, lost or deleted data from iPod Classic and Shuffle
Feature to resume recovery at any point of time from the .img file, this created
Option to create image of iPod data
iPod Recovery Software which allows recovery of lost, deleted, or formatted iPod data. The efficient software supports various audio, video, and image file formats and supports recovery of audio books, pod casts, and other iPod data.
Stellar Phoenix & Stellar Data Recovery are Registered Trademarks of Stellar Information Technology Pvt. Ltd.
&copy Copyright 2017 Stellar Information Technology Pvt. Ltd. All Trademarks Acknowledged.