The Exchange server database contains emails, contacts, calendar items, journal etc of exchange account users. This data is stored in files with the extension EDB. Sometimes you may need to import your mailbox content from Exchange EDB to PST file. There could be many reasons why you would want to export mailboxes directly from the Exchange Server to PST. You may be updating your hosted Exchange environment or you could be moving to a different Exchange organization. This help comes in the form of automated tools. Such tools can not only export data from EDB files to PST but also migrate all EDB data to Live Exchange Server and Office 365. Subsequently, users can access their Exchange server account data on their desktop/laptops through Outlook. A variety of EDB to PST migration tools are available online. In fact Microsoft also offers one such great tool - ExMerge Utility.
ExMerge Utility
The ExMerge.exe Utility basically provides merger of Exchange server mailboxes. It extracts data from mailboxes on one Exchange server and then merges it into mailboxes on another Exchange Server. It also performs the task of copying data from a source Exchange server file (EDB) into a PST file (MS Outlook archive file) and then merge the data in the PST file into mailboxes on the destination server. This ability to merge data among Exchange server mailboxes makes it a competent tool to consider for recovering from disasters like corruption.
Migrating EDB to PST
Following steps show how you can manually migrate data from EDB file to PST file using ExMerge:
1. If you do not already have the installer for ExMerge.exe, download it from this link:
2. Install the utility by running it as administrator. 
3. Run ExMerge and login to your Exchange server account with Exchange administrator rights. 
4. You will see a window with the following options:

Extract and Import (One Step Procedure)
Extract or Import (Two Step Procedure)
Select Extract or Import (Two Step Procedure) and then click on Next.
5. You will see a window with the following options:

Extract data from an Exchange Server mailbox
Import data into an Exchange Server mailbox
Select Extract data from an Exchange Server mailbox and then click on Next.
6. You will see a window with the title Data Selection Criteria. This window has a number of tabs on it. Click the Import Procedure tab. Then select Archive data to target store and then click on OK.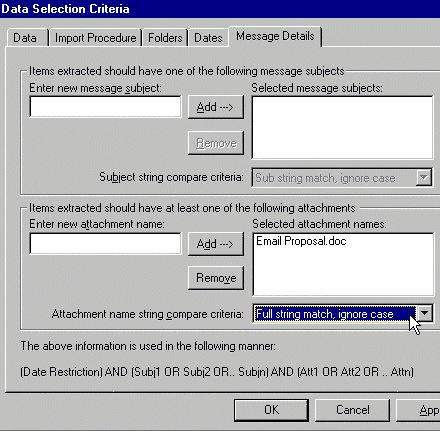 7. You will see the Message Details tab on the same window. Fill in the required details and then click on OK.
8. Now you will see a window which lists all the mailboxes which are available on the server. Select the desired mailbox and then click on Next.
9. Next you will be asked to specify the target directory. Browse to where you want to store the migrated PST and then click on Next.
10. Finally you will witness the migration as it progresses. When the process completed, you will be prompted with a message. Click on the Finish button to exit the utility.
Limitations of ExMerge
Though the ExMerge Utility is a one-step solution for migrating safely from EDB files to PST files, it has some limitations. Following are some of the points where ExMerge fails to impress:
ExMerge cannot work with mailbox sizes greater than 2GB
Since it does not have a mailbox store, this utility cannot be used on front-end servers
It works only with a private folder on Exchange server. Public folders are not supported
If the permissions are not correct, ExMerge fails to extract data. However, this limitation can be overcome by creating a new service account.
If User is using Exchange Server 2007 then ExMerge fails.
ExMerge is a lengthy and time consuming utility.
Risk of data loss.
Third Party Tools

If ExMerge.exe fails to perform EDB to PST migration, and to overcome its limitations, try out Stellar Converter for EDB. This amazing software efficiently converts on-line as well as off-line EDB files to equivalent PST. It helps you extract all your important emails, contacts, attachments, sent items etc. The software supports MS Exchange 2019, 2016, 2013, 2010, 2007, 2003, 2000 and 5.5 versions.
Frequently Asked Questions
Q. Does Exmerge.exe support Exchange Server 2007?

A. ExMerge was released in the Exchange 5.5 and was later re-released for Exchange 2003.  In Exchange 2007, 2010 and 2013, ExMerge has been replaced by two Exchange Powershell cmdlets, Export-Mailbox and Import-Mailbox.  Refer this article to Export Exchange 2013 Mailboxes to PST.

Q. Does Exmerge.exe support individual mailbox conversion?

A. Yes, you can use ExMerge.exe for a single mailbox as available in Microsoft Exchange Server. You can also use Stellar Converter for EDB to export single mailbox to PST. In Exchange Online mode, select the 'Connect to single mailbox' option. In offline mode, select the desired mailbox from the list and export it to PST format.

Q. Are you facing the following error while using Exmerge.exe: "Error opening message store (MSEMS). Verify that the Microsoft Exchange Information Store service is running and that you have the correct permissions to log on. (0x8004011d)"?

A. It's a permission-related error. You must have the appropriate Exchange administrative permissions to export Exchange Mailboxes through ExMerge Utility.

Q. Is Exmerge.exe supported on new exchange 2010 SP1? If not then what is the tool associated with it?

A. No, ExMerge.exe is no longer supported in Exchange Server 2010 SP1. With Exchange 2010 SP1, you should use the New-MailboxImportRequest and New-MailboxExportRequest cmdlets or Stellar Converter for EDB.

Q. Is ExMerge.exe utility supported by Exchange 2013? If not, name the associated utility.

A. No, MS Exchange 2013 does not support ExMerge utility. Instead, use PowerShell command (New-MailboxExportRequest) or Stellar Converter for EDB.