Wie kann man den ausstehenden Status der Wiederherstellung in der SQL Server-Datenbank beheben?
Zusammenfassung: In diesem Beitrag werden wir sehen, wie wir die Wiederherstellung ausstehender Zustand in der SQL Server-Datenbank reparieren können. Von einem SQL-DBA wird erwartet, dass er die Antworten auf alle Datenbankprobleme kennt. SQL-Datenbanken können jedoch schwer zu verwalten sein, insbesondere wenn sie mit technischen Problemen konfrontiert sind. Eines der kniffligsten SQL-Probleme, das gelöst werden muss, ist der "SQL Datenbank-Wiederherstellung ausstehender Zustand", lassen Sie uns das untersuchen.
SQL Datenbankzustände
Eine SQL-Datenbank gilt als beschädigt, wenn sich eine oder mehrere ihrer Kerndateien im inkonsistenten Zustand befinden. Je nachdem, wie schwer der Schaden ist, wird die Datenbank mit verschiedenen Zuständen markiert. Überprüfen Sie die wenigen Zustände unten:
Online – Wenn eine der Datendateien während einer Abfrage oder einer anderen Operation beschädigt wurde, bleibt die Datenbank online und zugänglich.
Verdächtigt – Wenn das Transaktionsprotokoll beschädigt ist und eine Wiederherstellung oder einen Transaktions-Rollback verhindert, was zu einem Ausfall führen kann.
Wiederherstellung ausstehend– Wenn der SQL Server weiß, dass die Wiederherstellung der Datenbank durchgeführt werden muss, aber etwas den Start verhindert. Dies unterscheidet sich vom VERDÄCHTIGT Zustand dadurch, dass man nicht sagen kann, dass die Wiederherstellung fehlschlägt – sie hat nur noch nicht begonnen.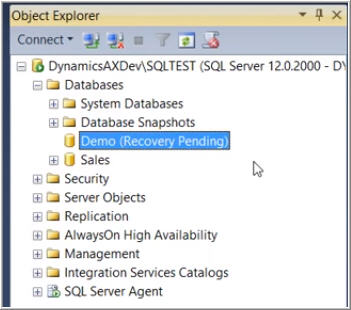 Der Zustand einer SQL-Datenbank kann durch Ausführen der folgenden Abfrage überprüft werden:
SELECT

name

,

state_desc

from

sys

.

databases
Die Ausgabe erfolgt: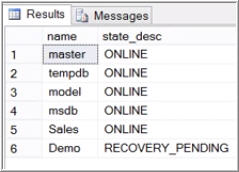 Hauptgründe für die "Wiederherstellung ausstehender Zustand in SQL Server".
Die Dekodierung, woher ein Fehler kommt und was ihn verursacht, ist ebenso entscheidend wie das Finden einer sicheren Lösung. Wenn die Wiederherstellung der Datenbank erforderlich ist, aber nicht eingeleitet werden kann, wird eine SQL-Datenbank im Status Wiederherstellung ausstehend markiert. Diese Art von Situation tritt vor allem dann auf, wenn:
Die Datenbank wird nicht sauber heruntergefahren, d.h. es ist mindestens eine nicht gebundene Transaktion aktiv, wenn die Datenbank heruntergefahren wird und die Protokolldatei für sie gelöscht wurde.
Benutzer hat versucht, die Protokolldateien auf ein neues Laufwerk zu verschieben, um Probleme mit der Serverleistung zu überwinden, aber im Laufe des Prozesses wurden die Protokolldateien beschädigt.
Die Wiederherstellung der Datenbank kann aufgrund von unzureichendem Speicherplatz oder Festplattenspeicher nicht eingeleitet werden.
Manuelle Möglichkeit, den Status "SQL Server Wiederherstellung ausstehend" zu beheben
Es gibt 2 manuelle Möglichkeiten, um die Wiederherstellung des Schwebezustandes in der SQL Server-Datenbank zu starten, die im Status Wiederherstellung ausstehend markiert wurde:
Lösung 1: Markieren Sie die Datenbank im Notfallmodus und starten Sie eine zwingende Reparatur
Führen Sie das folgende Set von Abfragen aus
ALTER

DATABASE

[

DBName

]

SET

EMERGENCY

;

ALTER

DATABASE

[

DBName

]

set

single_user

DBCC

CHECKDB

(

[

DBName

]

,

REPAIR_ALLOW_DATA_LOSS

)

WITH

ALL_ERRORMSGS

;

ALTER

DATABASE

[

DBName

]

set

multi_user
Der NOTFALL-Modus markiert die Datenbank als NUR_LESEN, deaktiviert die Protokollierung und gewährt nur Systemadministratoren Zugriff.
Dies sollte jegliche Korruption beheben und die Datenbank online bringen. Die Datenbank verlässt automatisch den NOTFALL-AUS-Modus.
Lösung 2: Markieren Sie die Datenbank im Notfallmodus, trennen Sie die Hauptdatenbank und fügen Sie es erneut hinzu.
Führen Sie das folgende Set von Abfragen aus:
ALTER

DATABASE

[

DBName

]

SET

EMERGENCY

;

ALTER

DATABASE

[

DBName

]

set

multi_user

EXEC

sp_detach

_

db

'

[

DBName

]

'

EXEC

sp_attach_single_file

_

db

@

DBName

=

'

[

DBName

]

'

,

@

physname

=

N

'

[

mdf

path

]

'
Diese Befehle veranlassen den Server, das beschädigte Protokoll loszuwerden und automatisch ein neues zu erstellen.
Hinweis: Bevor Sie eine dieser Reparaturmaßnahmen einleiten, sollten Sie sicherstellen, dass Sie über ordnungsgemäße Sicherungen der betreffenden Datenbank verfügen. Dies soll eine ausfallsichere Kopie haben, falls etwas schief geht. Denken Sie auch daran, dass es sich hierbei um hochtechnische Verfahren handelt und Sie diese nicht durchführen sollten, wenn Sie unsicher sind oder nicht über die erforderliche technische Expertise verfügen.
Einen besseren Ansatz
Wenn Sie kein Profi im Umgang mit SQL-Datenbankfehlern sind, vermeiden Sie eine Verschärfung des Problems und wechseln Sie zu einer sicheren, zuverlässigen und automatisierten Drittanbieterlösung. Verwenden Sie die Software Stellar Repair for MS SQL, um beschädigte SQL-Datenbankdateien zu reparieren und die Datenbank schnell und problemlos wieder online zu bringen.
Warum Stellar Repair for MS SQL?
Die Software wird vertraut von Microsoft MVPs
Stellar Data Recovery ist Microsoft's goldener Partner
Die Software ist 100% Norton sicher
Umgehende Lieferung über Email
100% Geld zurück Garantie
Funktionen
Es untertützt MS SQL 2017, 2016, 2014, 2012, 2008 und alle niedrigeren Versionen. Damit ist die SQL Wiederherstellungssoftware kompatibel mit Windows 10 / 8 / 8.1 / 7 / Vista / XP and Windows Server 2012 / 2008 / 2003.
Software behebt kleinere und größere Beschädigungen innerhalb der SQL-Datenbank und hilft Ihnen, unzugängliche Objekte aus Datenbankdateien wiederherzustellen.
Die Software scannt beschädigte Datenbankdateien und extrahiert alle wichtigen Informationen wie Tabellen, Auslöser, Indexe, Schlüssel, Regeln, Schemata und Standardwerte.
Wiederherstellung gelöschter Datensätze ist möglich
Optionen zum Speichern der New database und Live database

Schlussfolgerung:
Wir haben das Handbuch und die besten alternativen Methoden für das Szenario " Wiederherstellung des ausstehenden Zustands in SQL Server " durchgegangen und wissen, dass es viele Gründe geben kann, warum eine SQL-Datenbank offline geht. Für jeden SQL-Benutzer oder DBA ist es eine der wichtigsten Aufgaben, sich über häufige SQL-Fehler im Klaren zu sein und die Datenbank so schnell wie möglich wieder online zu bringen. Daher sind Werkzeuge wie Stellar Repair for MS SQL für alle SQL-Datenbankadministratoren unerlässlich, um ihre Datenbank erfolgreich aus dem Zustand der SQL-Datenbank-Wiederherstellung wiederherzustellen und zu verwalten.