How to Fix QuickBooks Error Code C=51
QuickBooks users often report about receiving 'error notification C=51: can't find txList'. You may receive this error message while working on transactions in your QuickBooks company file (.qbw).
What is QuickBooks Error Code C=51?
When working in a QuickBooks company file, you may get error C=51. It usually happens when you cannot find txList from the lists of txLists or while removing a transaction from any report.
What Causes QuickBooks Error Code C=51?
Some plausible causes that may result in QuickBooks Error Code C=51 are:
NOTE: Before looking at the following causes and solutions to fix QuickBooks Error C=51, try to fix the error by simply closing all the running applications, transaction reports and QuickBooks Desktop program. Restart QuickBooks and perform the same action that resulted in 'QuickBooks Error C=51'. This may help fix the issue. If the problem still persists, continue reading the post.
Cause 1 – Interrupted Connection
Problem with network connectivity during the downloading process may have prevented some transactions from getting downloaded. And as a result, you might not be able to find the transactions, resulting in error C=51.
Solution – Check your Internet connectivity
Before downloading transactions in your QBW file, make sure that have you a strong Internet connection.
Cause 2 – Attempting to access Lost or Deleted Transactions
You may not be able to find a transaction or list of transactions that have become inaccessible or got accidentally deleted from your QuickBooks company file.
Solution – You can try to restore lost or deleted transactions
Restoring accidentally deleted or altered transactions
Accidentally deleted or altered transactions may appear in the QuickBooks Audit Trail Report. You can restore those transactions by re-entering the information. The Audit Trail Report shows all transactions that have been entered in your company file, including the deleted ones. It even helps display any historical changes made on transactions. To open the report, follow these steps:
Step 1: Open the Reports menu
Step 2: Select Accountant & Taxes, and then click Audit Trail.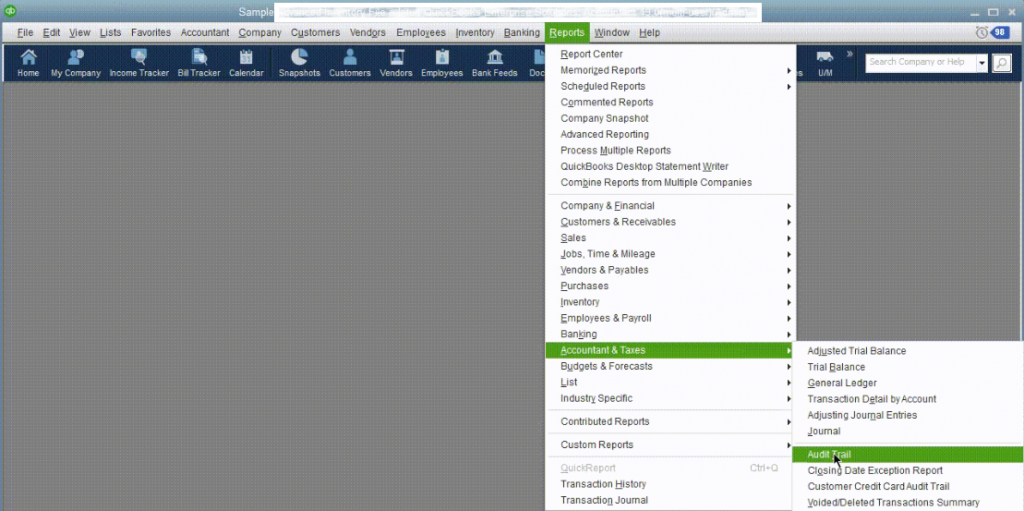 Restoring transactions that are lost due to a technical glitch
Sometimes, transactions can become inaccessible or lost, because of a technical glitch. In that case, you may try restoring the lost transactions and its data, by using QuickBooks Backup (.QBB) file.
NOTE: Make sure that the backup file is up to date.
Cause 3 – Data Damage
You may receive error code C=51 while trying to find or remove a damaged transaction from your QuickBooks company file. Essentially, the error might occur when the data within your transaction is damaged.
Solution – Verify and Rebuild Data in QuickBooks Desktop
Running the 'Verify Data' utility helps identify the most commonly encountered data issues within a QuickBooks company file. And, running the 'Rebuild Data' utility helps fix the data integrity issues that the Verify Data utility finds.
Follow these steps to run the 'Verify Data' utility:
Step 1: Click File -> Utilities -> Verify Data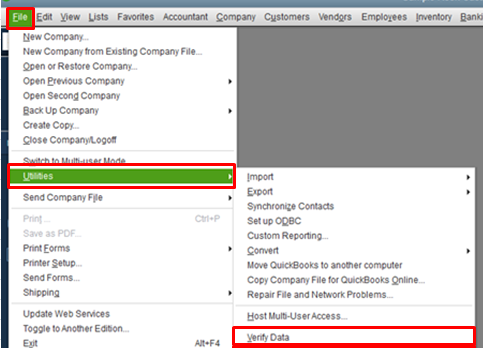 Step 2: If you receive a message that reads: "QuickBooks detected no problems with your data," no further action is required.
But, "Your data has lost integrity," message indicates there is data damage in your company file.
Now, once you have found data damage in the file, you need to run 'Rebuild Data' to fix the issue.
NOTE: It is recommended that Assisted Payroll customers must contact an Assisted Payroll agent before running Rebuild Data.
Steps to Rebuild Data:
Step 1: Click File -> Utilities -> Rebuild Data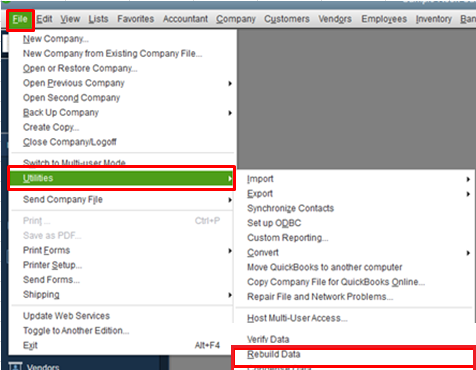 Step 2: When prompted to back up your company file, click OK.
Step 3: Choose the location where you want to save your backup, and press OK.
Step 4: When you get the message "Rebuild has completed", click OK.
Now, run the 'Verify Data' utility again to check for data damage. If it still detects any data damage in the company file, you may consider using a professional QuickBooks repair software instead.
By using Stellar Repair for QuickBooks Software you can easily recover transactions in original currencies of the company file in just three simple steps. The software also provides a free preview of all the recoverable items before running the repair process. Plus, it can be used for the QuickBooks 2020 and earlier editions.
Conclusion
In this post, we discussed the possible causes and solutions of QuickBooks Error Code C=51.
Interrupted network connection, attempting to access lost/deleted transactions and damaged transactions are some of the plausible causes resulting in error C=51. To fix the error, make sure to build and maintain a strong network connection. If the error persists, try to access the lost/deleted transactions from the QuickBooks Audit Trail report. If the error still occurs, try running the QuickBooks 'Verify and Rebuild Data' utility.
Sometimes, QuickBooks rebuild utility might fail to resolve the error. Also, the utility can leave a company file in an inconsistent and damaged state. In such a case, a QuickBooks repair software such as Stellar Repair for QuickBooks software can come in handy.