Secure Your Data with Confidence: The Best Data Backup Software of 2023
Summary: Discover the top data backup software of 2023 to ensure your valuable information stays safe. From robust features to user-friendly interfaces, these cutting-edge solutions provide reliable data protection. With confidence, safeguard your files and enjoy peace of mind knowing your data is secure against unexpected events.
140,000 hard drive failures occur in the US, every single week. Your hard drive could be the next one.
The figure lays adequate emphasis on the need for having the best data backup software.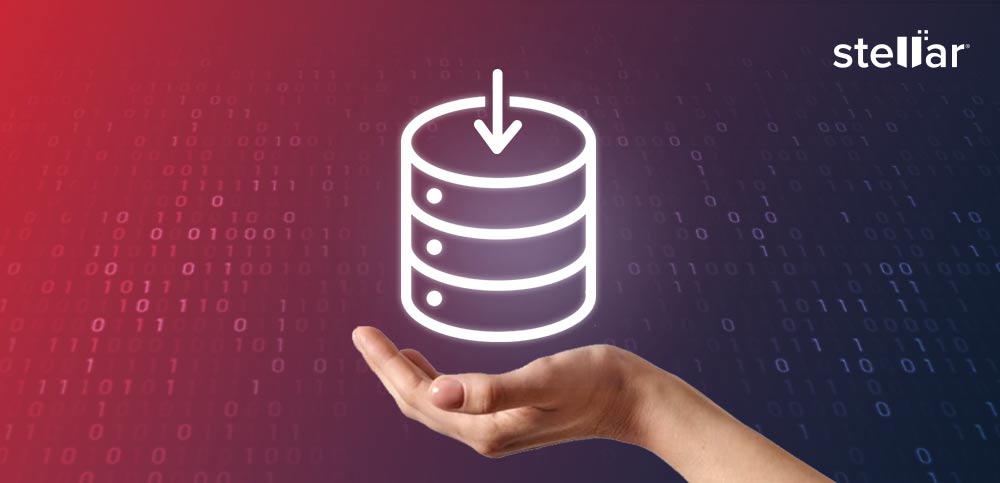 Why does data backup matter?
93% of businesses that suffer a data loss (and don't have a recovery plan!) go out to business within 1 calendar year.
So, while data recovery is possible and tools like Stellar data recovery are affordable options, data backup helps. Not just in limiting the impact of data loss, but even by way of offering mental peace.
In this blog, we will walk you through the 5 best data backup software and answer frequently asked questions about data backup.
5 Best Data Backup Software
Ashampoo Backup Pro 17 is the ultimate Windows backup software. It safeguards your files and protects them against malware infections, hard disk defects, and Windows crashes. 
Key Features:
Automatically track file changes in important folders for up-to-date backups.
Easily restore from backup in the event of a major failure using the Windows-based rescue system.
Access and store backups on BitLocker-encrypted drives for enhanced security.
Fully operational with Windows 11, ensuring long-term data security.
Save backups to local drives, USB sticks, NAS, or popular cloud storage providers.
Pros:
User-friendly interface and easy-to-use backup plans.
Advanced backup overview and detailed reporting for efficient management.
Future-proof cloud backup support with access to popular storage providers.
Robust malware protection with the ability to restore your system to a clean state.
Efficient disk usage with space-saving backup methods.
Cons:
Limited to Windows operating systems, excluding other platforms
Pricing: Ashampoo Backup Pro 17 is available for $50 for the download version.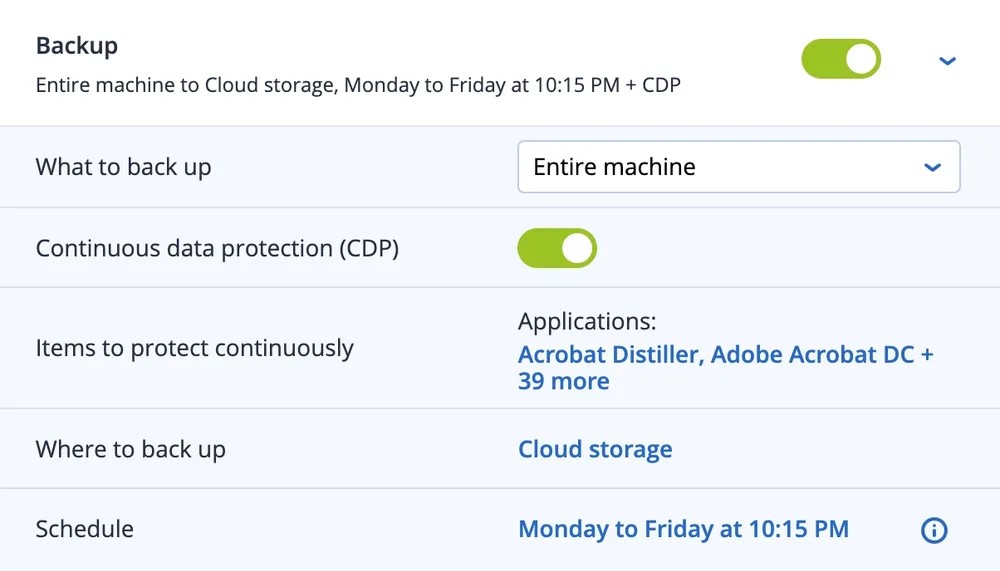 Acronis Cyber Protect offers comprehensive backup and recovery solution and earns its place at #2 in this list of the best data backup software.
Key Features:
Integration of backup and anti-ransomware technologies for comprehensive data protection.
Support for physical, virtual, cloud, and mobile environments, safeguarding data across platforms.
Quick and reliable recovery of apps, systems, and data on any device.
Built-in ransomware protection and blockchain notarization for enhanced security.
Flexible storage options, including NAS, SAN, tapes, disks, Acronis Cloud, and public/private clouds.
Pros:
Easy-to-use and efficient backup solution for various IT infrastructures.
Advanced anti-ransomware protection to defend against cyber threats.
Quick recovery with minimal downtime, ensuring business continuity.
Flexible storage options to meet different data storage needs.
Data protection across multiple platforms and workloads for comprehensive coverage.
Cons:
Pricing may be higher compared to other backup solutions.
Pricing: Acronis Cyber Protect starts at $85.00 and includes all the features of Acronis Cyber Backup.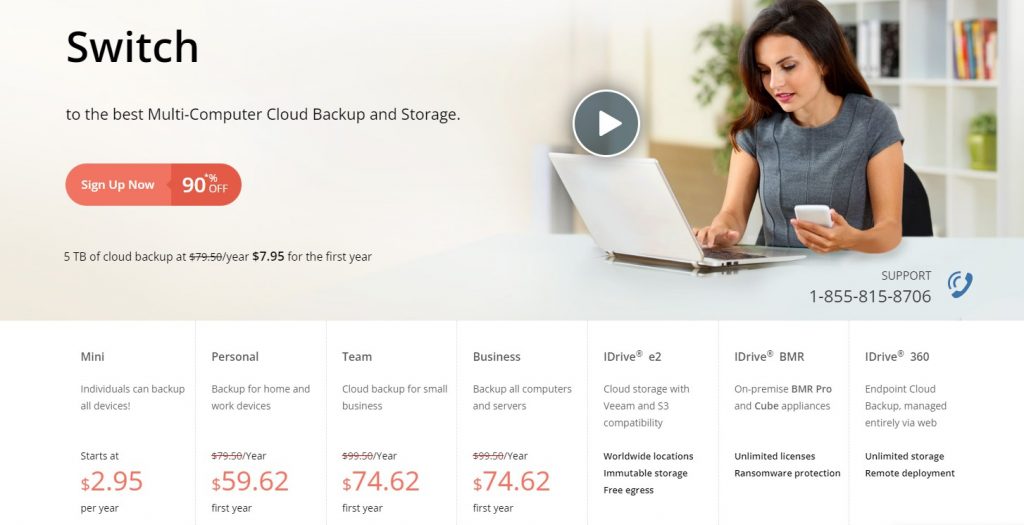 IDrive is the best multi-computer cloud backup and storage solution. IDrive ensures secure and reliable data protection for individuals, small businesses, and enterprises.
Key Features:
Backup all your devices, including home and work devices, for comprehensive data protection.
Capture point-in-time backups to easily restore from backup to specific versions.
Safeguard important data with long-term archiving capabilities.
Access and manage PCs, Macs, and Linux systems remotely for convenient file management.
Enjoy the benefits of IDrive's secure and reliable cloud storage with S3 compatibility.
Pros:
Affordable pricing plans catering to various user needs.
Wide range of features for comprehensive data protection and management.
Unlimited licenses and storage options for businesses.
Ransomware protection and built-in security features.
Positive reviews from experts highlighting IDrive's reliability and affordability.
Cons:
Limited customer support channels.
Potential learning curve for new users due to the extensive range of features.
Pricing:
Personal: Starts at $2.95 per year for individuals.
Team: $79.50 per year for small business backup.
Business: $99.50 per year for comprehensive backup of computers and servers.
Veritas Backup Exec is a trusted data backup and recovery solution designed for small to midsize businesses. It ensures your critical data is safeguarded across physical, virtual, and cloud environments.
Key Features:
Easily track and monitor backup and recovery activities through an intuitive user interface.
Implement two-factor authentication and prevent malicious code injection to enhance data security.
Seamlessly protect VMware, Microsoft, and Linux platforms from a single user console.
Safeguard Exchange, OneDrive, SharePoint, and Teams data with complete integration and granular restore capabilities.
Deploy marketplace templates for AWS and Azure, utilize certified cloud connectors, and optimize storage costs with in-line deduplication.
Pros:
Easy-to-use interface for quick backup and recovery management.
Enhanced security measures to protect against cyber threats and ransomware.
Comprehensive platform support for diverse IT environments.
Integration with Microsoft 365 and major cloud vendors for comprehensive data protection.
Positive feedback from customers regarding reliability and successful stories of restore from backup.
Cons:
Limited scalability for larger enterprise environments.
Some users may require additional technical support for complex configurations.
Pricing: 60-days free trial available. For exact pricing contact Veritas sales.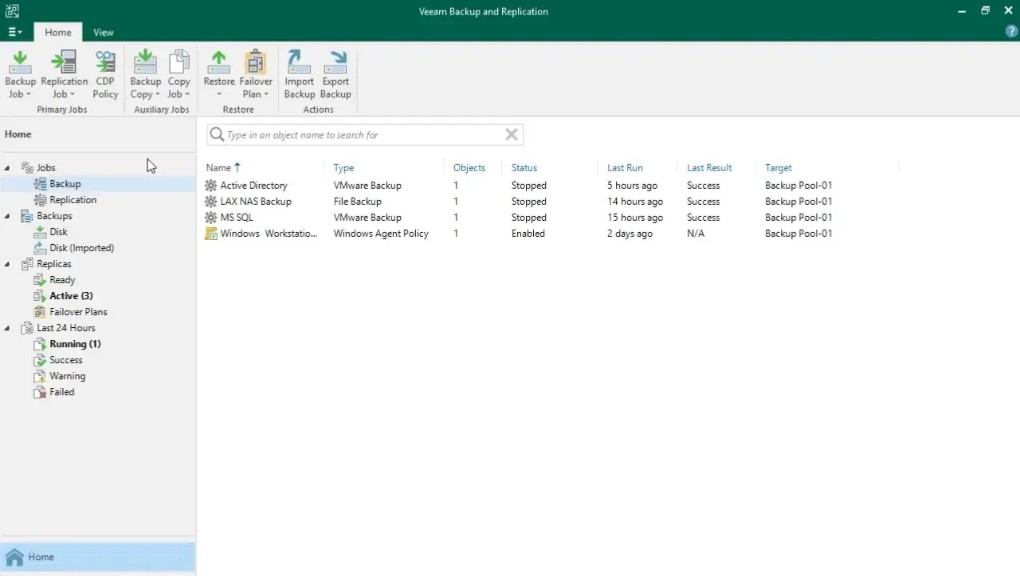 Introducing Veeam Backup & Replication, one of the best data backup software which offers comprehensive backup and recovery capabilities for your data, whether it's on-premises or you wish for cloud backup. With Veeam, you can confidently protect your data, reduce risk, and accelerate your move to the hybrid cloud.
Key Features:
Achieve fast and reliable recovery with Veeam's industry-leading Instant Recovery technology.
Ensure the safety of your data with native immutability and tested backups, protecting against cyberthreats.
Backup and archive your data across different storage classes with policy-based tiering for centralized hybrid cloud backup and recovery.
Safeguard your data in AWS, Azure, and Google Cloud with agentless or agent-based backup, cloud security features, and two-step recovery to any cloud.
Veeam offers software-defined and hardware-agnostic solutions, allowing you to combine different storage options for a scalable backup repository.
Pros:
Reliable restore from backup with industry-leading Instant Recovery technology.
Strong ransomware protection and end-to-end immutability for data security.
Support for a wide range of workloads across cloud, virtual, physical, and NAS environments.
Flexibility in choosing storage options and creating scalable backup repositories.
Positive ratings and reviews from customers, including high ratings for usability and feature set.
Cons:
Need for additional technical expertise for complex configurations.
Pricing: 30-days free trial available. For specific pricing details, contact Veeam sales.
FAQs
1. How often should I back up my data?
It depends on how frequently you create or modify your data. If you're constantly churning out new files, back up on a daily basis. Otherwise, weekly or monthly backup might suffice.
2. Should I encrypt my backup data?
You don't want any random Joe or Jane stumbling upon your confidential files, right? Encrypting backup data ensures that even if someone manages to lay their hands on your data, they won't be able to misuse it.
PS: The best backup tools often come with encryption options. So you just have to enable it.
3. How can I test the reliability of my backups?
To test the mettle of your backups, try restoring some random files from your backups. You've found the best backup tool, if everything is intact. If not, it's time to reconsider and find a more trustworthy solution.
4. How can I ensure the authenticity of my backups?
One way to ensure authenticity is by using digital signatures or checksums. These tools verify that your backups haven't been tampered with or corrupted.