How to repair recovered files that won't open
Summary: Are you unable to open your recently recovered files? Are your recovered photos and videos corrupt? Learn 5 methods to repair recovered files that won't open. Also, read how Stellar Photo Recovery Premium software can repair both photos and videos that are found to be corrupt after recovery.

A photo and video recovery software can instantly bring back your valuable photos & videos in case you lose them. But sometimes you find that your recovered photos and videos are not opening anymore and have become inaccessible.
The issue has been reported in many forums where users, after using a file recovery software, were not able to access their files. This was more common with recovered photos and video data. The recovered files won't open and show some error, or the image / video would turn distorted.
It's frustrating to get into another problem while resolving one.
Addressing the issue, this post shares how to repair files that become corrupt or inaccessible after recovery. Also learn how you can avoid such file corruption after recovery.
Why sometimes recovered media files don't open?
The basic reason behind an image or video not opening after recovery or showing errors is corruption in the file header or data. A recovered file can get corrupt due to many reasons, such as
Use of unreliable data recovery software
Improper software installation
Recovered files were already corrupt before recovery
A cluster of file is overwritten
Bad sectors in the drive in which you stored the recovered files
Bad sectors in the drive from which you lost the files
Virus or malware infection
Sudden system shutdown or OS crash during file recovery
In any case, when the files recovered are found to be corrupt, use a video and photo repair tool to fix them.
However, note that if the corrupt files have missing data or some clusters are overwritten, then even a file repair tool cannot work.
How to avoid corruption in files after recovery?
Some of the important ways to avoid file corruption after recovery are:
Always download a secure and safe data recovery software from a trusted source.
Install antivirus on your computer so that the recovery software and the process is not affected by any virus or malware infections.
Make sure you are using the updated version of the recovery software.
Install recovery software updates whenever they are released, as they fix bugs.
And most importantly, never save the files on the same drive, SD card or USB from which you recovered. Always save them at a different location.
To repair and open corrupted files after recovery, use a media file repair software. The software can quickly fix corrupt or unable to open recovered files on Windows and Mac computer.
Other than repair software, you can try Hex Editor, which also repairs corruption in the files but it's for more tech savvy users. While if the recovered media file is not opening due to other issues like device or media player compatibility, try opening them in different player or image viewer.
Methods to repair and open files after recovery
Use a professional media file repair software
Use Hex Editor to repair corrupt photos and videos
Convert videos or photos to different format
Open photos or videos in different file viewer
Download the right codec to open recovered videos
A professional media file repair software is the only way to repair recovered files that won't open. Although there are standalone video repair and photo repair tools available, but we recommend an advanced software that can repair corrupt videos as well as photos.
Stellar Photo Recovery Premium , is one such DIY all-in-one software for retrieving corrupted files. The multi-functional software can:
Repair corrupt videos
Repair corrupt photos
Recover deleted photos, videos and audio files
How does Stellar Photo Recovery Premium work?
You need to simply install Stellar Photo Recovery Premium on your Windows or macOS system. Open the software and choose the desired function – 'Repair Photo, 'Repair video' or 'Recover photo, video and audio'.
The video or photo repair process completes in three steps — Add File, Repair, Preview & Save.
Steps to repair corrupt video file after recovery
Download and launch Stellar Photo Recovery Premium.
Click to open More Tools on top-right corner. Select Repair Video or Repair Photo as required. Here, we choose Repair Video.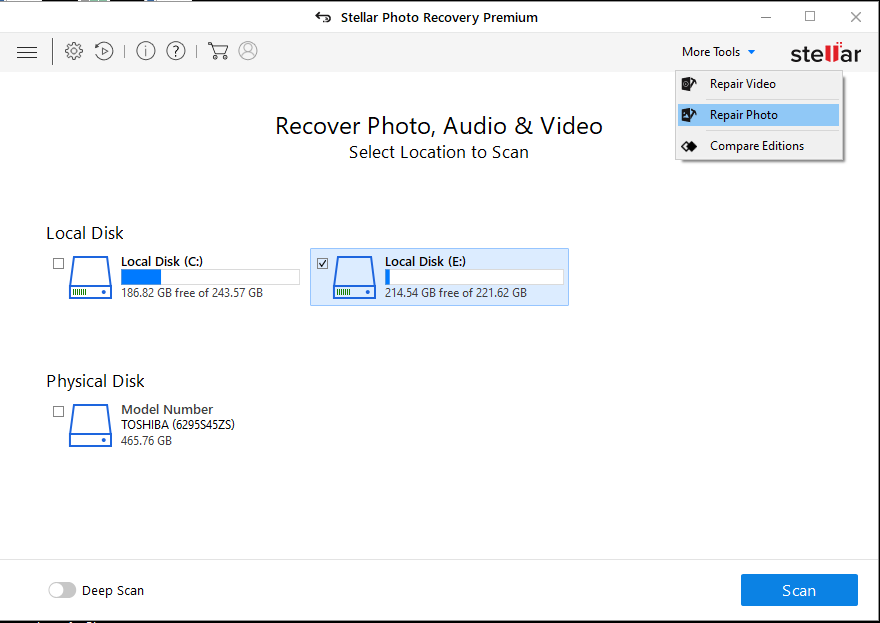 The next screen of Stellar Repair for Video opens. Click Add File to add corrupt video files.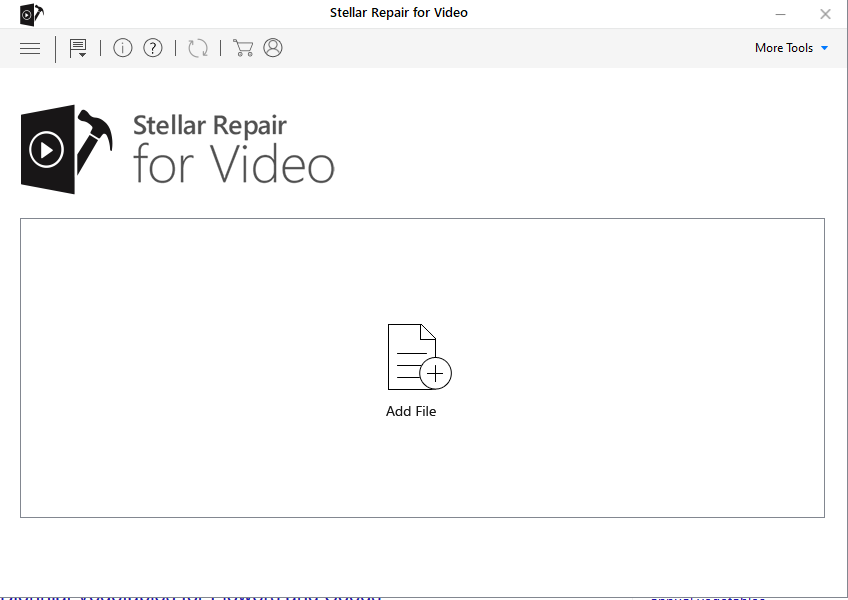 4. Click Repair.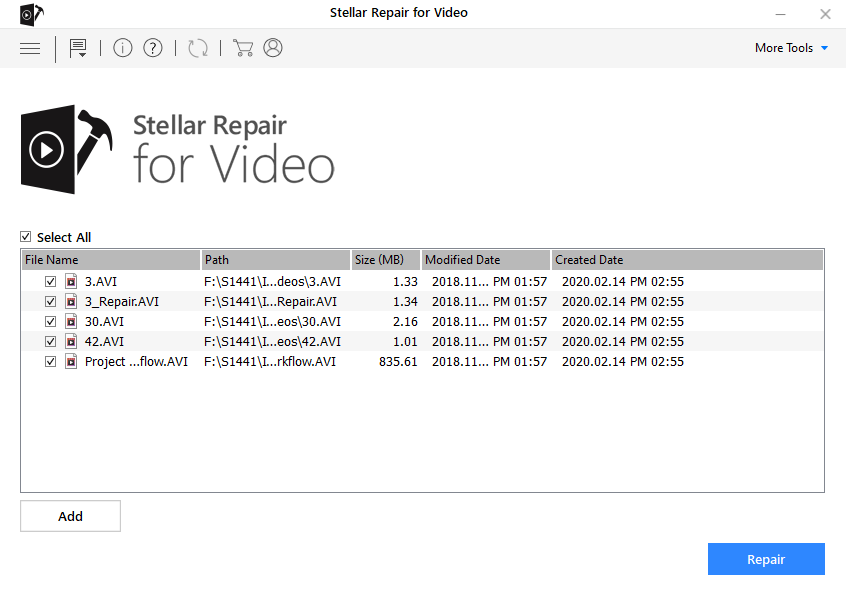 5. Preview the repaired videos. If you see an Advance Repair option against the repaired file, it means your recovered video was severely corrupt. Click on it and follow the prompts to fix such corrupt file.
6. Click Save Repaired Files.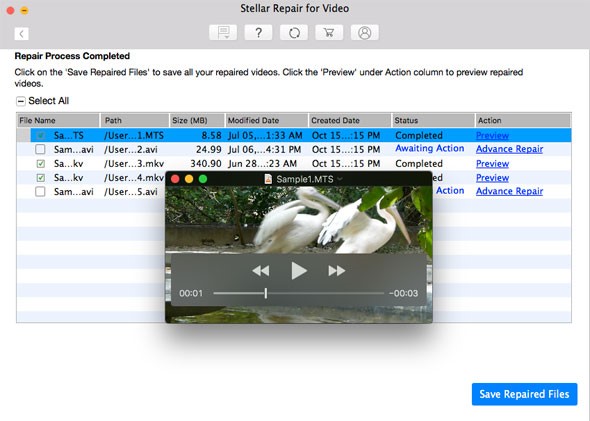 Similarly you can repair the recovered photos that cannot be viewed.
If you don't want to go for the all-in-one premium version, use the distinct Stellar Repair for Video or Stellar Repair for Photo software as per your need.
The software can repair several video and image file types such as MP4, MOV, AVI, FLV, JPEG, JPG, TIFF, DNG, RAW, ORF, CR2, CR3, NEF, and others.
You can repair corrupt videos and photos shot with any brand of DSLR, Android phone, iPhone, etc.
Note: The software cannot repair the corrupt photo or video file if it has missing data or its clusters are overwritten.
Key Benefits
Repairs multiple photos/ videos of same or different formats in one go
Repairs RAW file format from cameras
Previews repaired photos/ videos before saving
Advance Repair option for severely corrupt files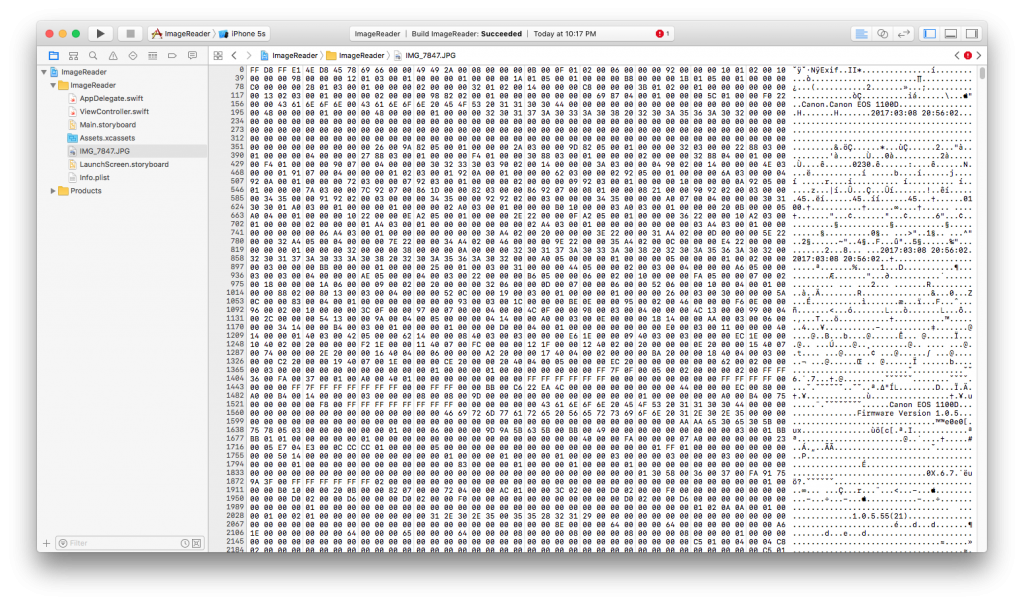 Hex Editor, also called binary file editor, lets you view the fundamental binary data in a file that is in the form of 0 and 1. You can compare the binary data of a corrupt and working video or photo file and accordingly edit the corrupt file. To change the data, move the cursor to the byte you want to edit and type the correct value. If the data shows zero bytes, it indicates that some data is missing and your video or image file cannot be repaired.
This method to repair recovered files is tricky. You should be well versed with the binary digits and hex code.
Hex Editing tools are available for Windows, Mac and Linux systems. Some commonly used Hex Editor programs are OxED, Hex Fiend, HxD and others.
Method 3: Convert video or photos to different format
Try to open recovered files by converting their file format. You can change PNG to JPEG, RAW to JPEG, PNG to TIFF, MOV to MP4, AVI to MP4 , 3GP to MP4, and so on.
Use online file converter programs like Zamzar, ConverFiles, Convertio, Img2go or others for the purpose.
Desktop video converter tools are also available such as Stellar Converter for Audio Video, which are secure and can convert unlimited recovered videos without degrading their original quality.
Method 4: Open photos or videos in different file viewer
Try to open the recovered video and photos in different media viewer as the issue can be with the file viewer. If the videos don't open in Windows Media Player, try VLC Media Player, 5KPlayer, KM Player, QuickTime Player, etc.
Use IrfanView, Microsoft Photos, Paint, Picasa and others to open photos after recovery.
Method 5: Install the right codec to open recovered videos
If recovered video files won't open, ensure you are playing them with the right codec. Try to play in VLC Media Player that supports almost all video codecs or install a codec pack on your system. The media player codec pack supports all video file formats and let you play any video.
If you are still not able to play the video, then the file is corrupt. Repair it using a video repair software.
Conclusion
Photos or videos not opening properly after recovery or showing error when trying to open, are signs of file corruption. Repair recovered files using a software for retrieving corrupted photos and videos. The post recommends a unique tool, Stellar Photo Recovery Premium, which repairs both photos and videos. Although you can also choose a standalone photo or video repair tool.
Hex Editor is another file repair program preferred for tech savvy users. You may try opening the recovered file in a different video player or image viewer or check by converting the file format.
Any one of the above solution should help you to fix and repair recovered corrupted files.
But we strongly recommended you to try the free demo version of the photo and video repair tool to fix the corrupted files.