Recover Files from a Corrupt or Unresponsive USB Flash Drive & Tips to Fix It
Dealing with a corrupt flash USB drive or unable to detect and access the USB? Don't worry. This post shares a few easy tips to troubleshoot the problem and safely get back the data stored on such corrupted or inaccessible USB drive. To start with, download a free trial of Stellar Data Recovery tool, install it, and be ready to follow us through an easy, DIY method to get back your data.

"File Explorer won't recognize the presence of my USB Flash drive. It contains important data which I don't want to lose. Anyone, please share some ways to recover data from it. Thanks in advance for any help, it's appreciated!"

The USB flash drive stores all the data in its memory cells and keeps a track of it through a file system similar to a hard drive. When you connect it to a PC, the OS (operating system) uses the file system of the drive to fetch the stored data. However, sometimes you may find that your USB is showing error when connecting it to the system or the system fails to read it. This generally happens when your USB flash drive gets corrupt. A corrupt or unresponsive USB may lead you to severe data loss situations. Before that happens with you, read on to know some effective methods to recover files from a corrupt or unresponsive USB flash drive.
First, how do you get to know that your USB flash drive is corrupt or unresponsive?
The drive may get corrupt or become unresponsive due to multiple reasons. Here, we are sharing some error messages that appear when your USB becomes corrupt. You may check if your USB is showing any of the following error messages:
Error 1: 'USB DEVICE NOT RECOGNIZED'
There could be symptoms that show that your USB flash drive has become inaccessible. Sometimes an error saying 'USB Device not recognized: One of the devices attached to this computer has malfunctioned and Windows do not recognize it' may appear. [See Image 1]
This error may occur due to several logical reasons like outdated or corrupt USB drivers, corrupt USB controllers, Windows missing on latest updates, etc.

Error 2: 'USB DRIVE NOT FORMATTED'
'USB drive not formatted' is another error message –'you need to format the disk in drive E: before you can use it.' It may appear when you try to connect your USB flash drive to your PC. This error occurs due to a damaged or corrupt file system. [See Image 2]
Caution: Do not click Format Disk if you see this message, because Format Disk will erase (overwrite) the stored data while reformatting the media. Instead, use a data recovery tool to access and safely retrieve your data from the corrupt USB , and only then proceed with the disk formatting action.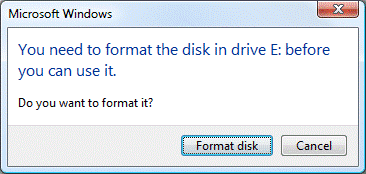 Error 3: 'USB DRIVE IS NOT ACCESSIBLE'
This error also occurs due to an unrecognized file system. The system loads the USB drivers and fetches its data by using the file system to recognize it and thereby lets you access it. If the drive is corrupt or lacks the file system, it may become inaccessible. [See Image 3]
You would lose access to your data in this situation.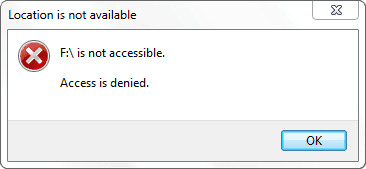 In all of these situations, we strongly recommend using a Professional Windows Data Recovery software to recover files from the corrupt or unresponsive USB flash drive before taking any action based on the system generated prompt.
How to Recover Files From a Corrupt USB Flash Drive
You may restore your important files, documents, pictures, and more from a corrupt USB flash drive easily with the help of the best data recovery software i.e. Stellar Data Recovery Professional. This DIY software can retrieve all types of files from a corrupt, inaccessible, or formatted USB drives.
You just need to follow the given steps to get back your data:
1. Download & install Stellar Data Recovery Professional on your Windows PC.

2. From the 'Select What to Recover' screen, click Everything or select specified data, and click Next. [See Image 4]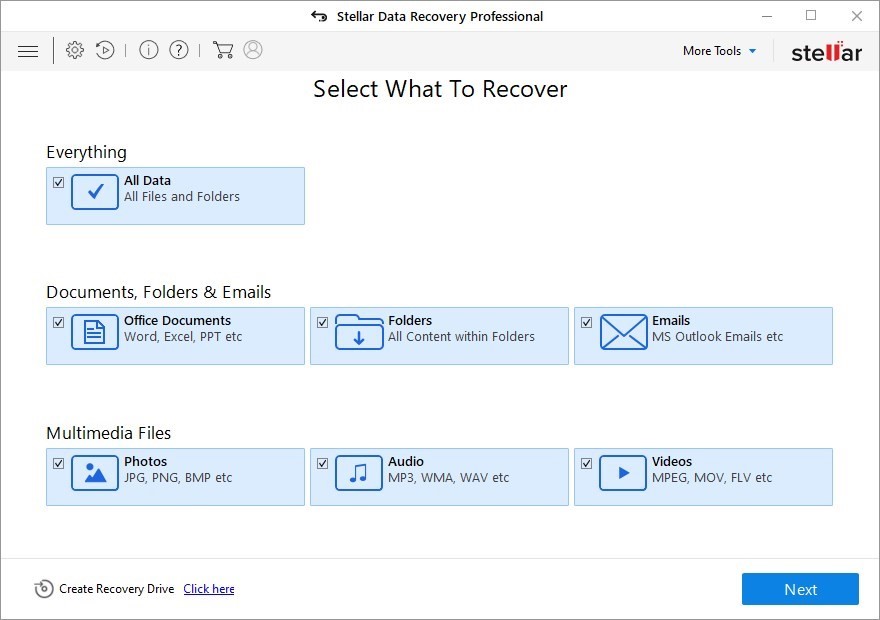 3. On Recover From screen, choose the drive and click Scan. [See Image 5]
4. The scanned results will show on the screen. You may preview the files before recovering them.
5. Select the files you want to restore and click Recover. [See Image 6]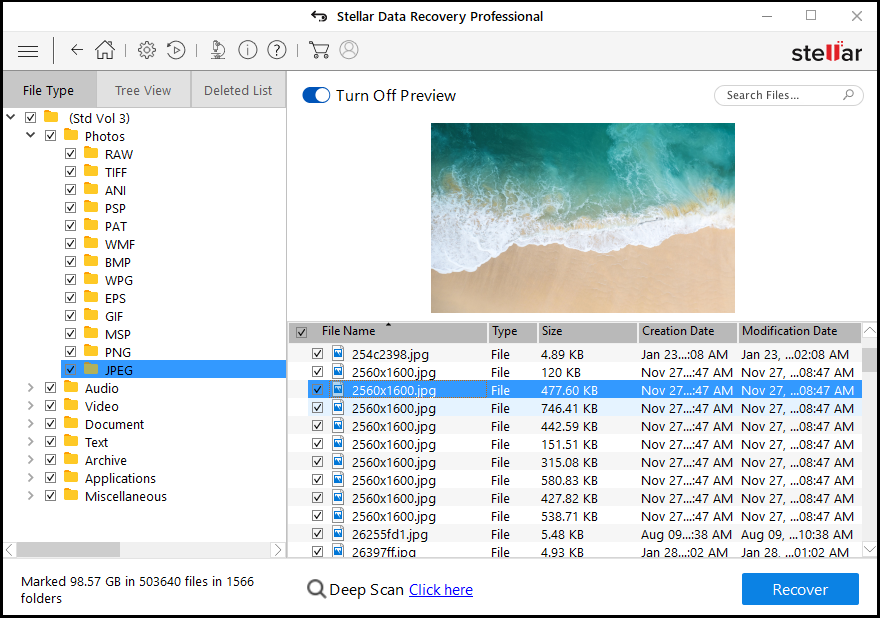 6. Browse and choose the desired location to store your retrieved data. [See Image 7]
[Caution: Do not save the recovered data in the same USB drive. Always use another drive or storage media to save this data to avoid data overwriting.]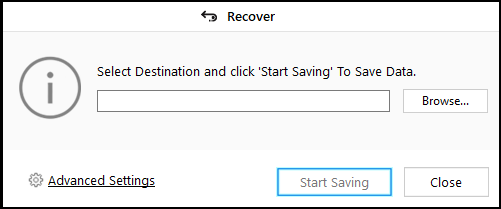 7. Click Start-saving and wait till the process is complete. [See Image 8]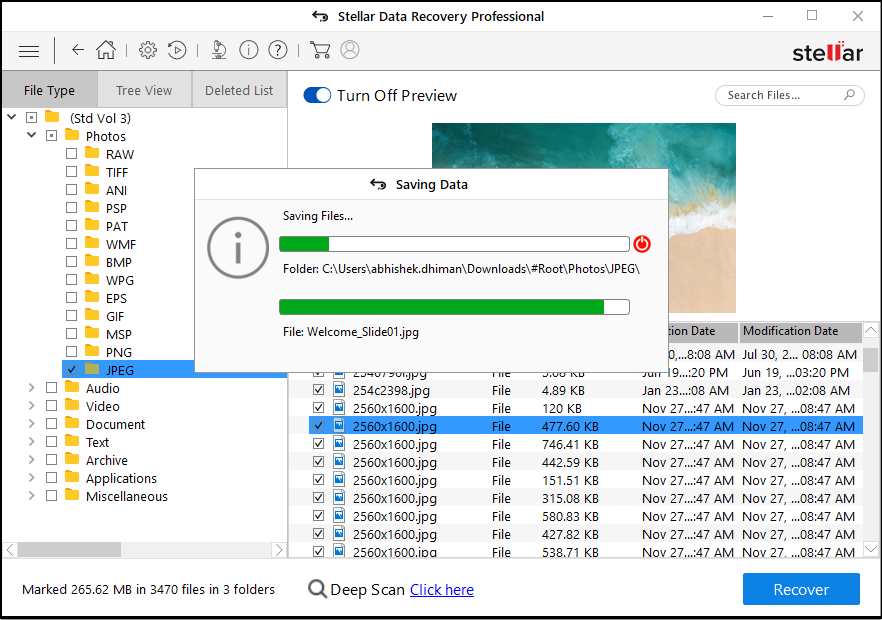 Now that you have safely recovered the files from the corrupt USB flash drive, proceed further to fix USB drive corrupt due to logical reasons with the following methods:
Methods to Fix Corrupt USB Flash Drive
Method 1: Enable USB Port connected on PC
All the USB ports may be disabled on your PC. This is common in business settings, where the ports are disabled to prevent data leak from the systems. But, if you are facing this issue on your PC, you must check whether the USB port is disabled. You need to enable the USB port to access files from the connected drive. The following are the methods to do so.
A) Fix it With Computer Management
1. Open Computer Management and follow Device Manager > Universal Serial Bus controllers. [See Image 9]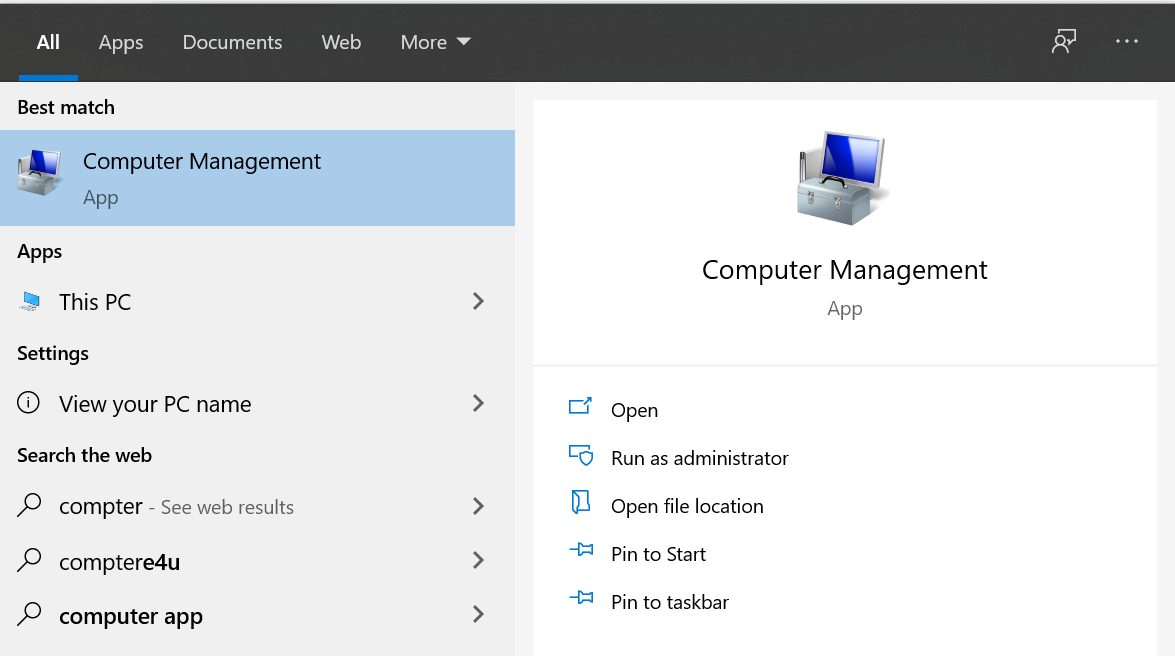 2. Right-click the USB Composite Device and select Enable device. [See Image 10]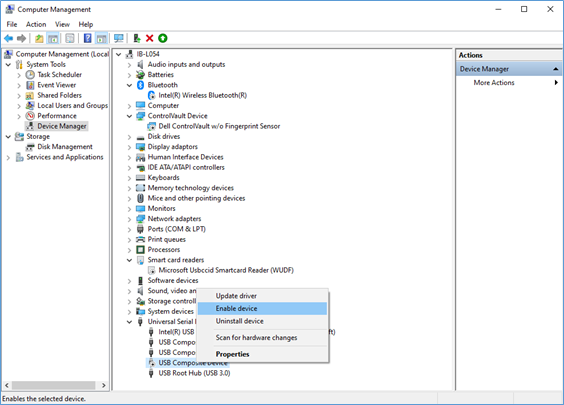 B) Update USB Driver
A USB driver helps access USB drives from a Windows PC. The driver may not be up-to-date and may result in making the USB drives inaccessible. You need to update the USB driver by following the given steps:
1. Open Computer Management > Device Manager > Universal Serial Bus controllers.
2. Right-click a USB Composite Device and select Update Driver. [See Image 11]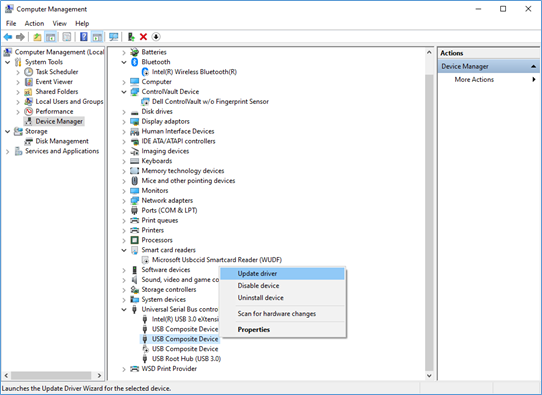 3. Let Windows search for the latest driver software. [See Image 12]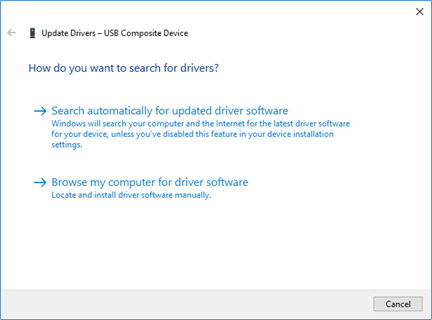 4. Update the drivers and check if you can access your drive.
Method 2: Fix Corrupted File Systems
The file system of a USB flash drive can turn corrupt due to abrupt power failure or ejection, virus or malware, an invalid entry in Master Boot Record (MBR) or Partition Boot Record, and others. To fix such file system corruption, follow given methods:
A) Fix with Command Prompt
When you insert the USB Flash drive in the PC and try to open it in the File Explorer, the drive is unreadable. Even if you try to format the drive, it shows error in completing the formatting process, here is what you can do to fix the USB.
1. Connect the corrupt or unresponsive USB drive to your system.
2. Open the Command Prompt and type diskpart and hit Enter.
3. It will start checking up the drives connected to your system. After this, type list disk and hit Enter.
4. The window will show all the disks/drives on the computer. Type select disk (and enter the number of the disk specifying your USB drive size); hit Enter.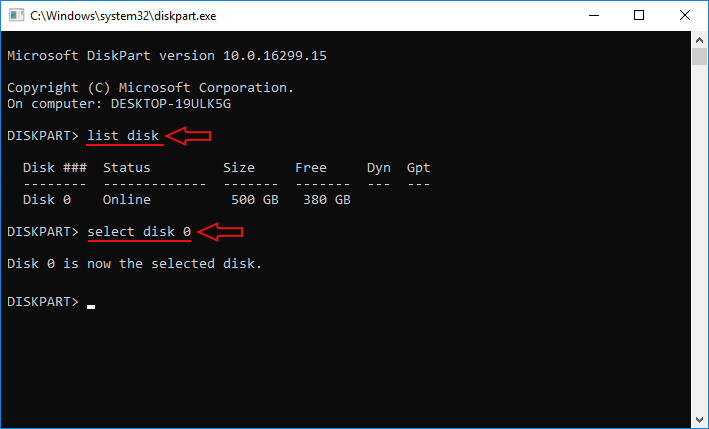 5. The USB will be selected. Type clean command on the screen. It will erase everything from the MBR.)
6. Type create partition primary and hit Enter. This command will create the specified partition in your drive.
7. Now you can format the drive to get your access back to it. Type format fs=fat32 quick or fs=ntfs quick and Enter. It will quickly format the complete USB flash drive and you must be able to access your drive. [See Image 14]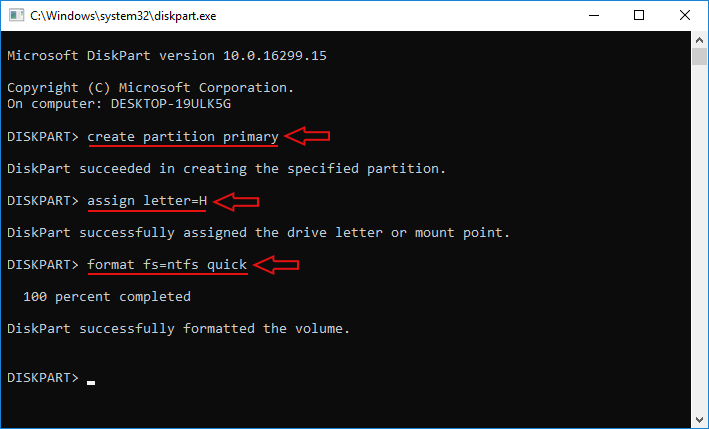 8. If you still can't access it, assign it a new drive letter. Type active and then type assign, hit Enter.
Exit the command prompt and check if you can use your drive.
Note: Attempting this method to fix your unresponsive or corrupt USB may delete all the data inside. Hence, you must recover files with Professional Windows Data Recovery software.
B) Fix with File Explorer
You can also try fixing corrupt USB with the help of below mentioned troubleshooting steps:
1. Open File Explorer and right-click the corrupt USB flash drive, then select Properties.
2. Click on the Tools tab. Under Error Checking, click Check. [See Image 14]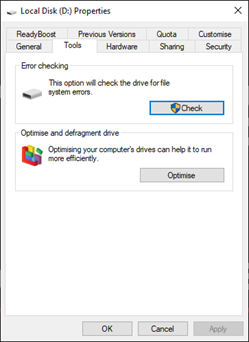 3. Click Ok > Scan drive. [See Image 15]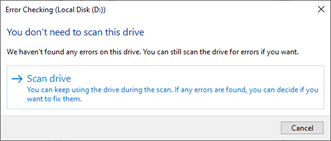 See if your USB has become accessible.
Other Common Errors Associated with USB Drives
Error 4: 'PLEASE INSERT DISK INTO REMOVABLE DISK'
Another error 'Please insert disk into removable disk' may occur when the USB becomes corrupt and your system denies to read it. It may occur when the USB drive or partition is corrupt; OS is unable to load the USB manufacturer's firmware; USB is physically damaged or driver slot is faulty.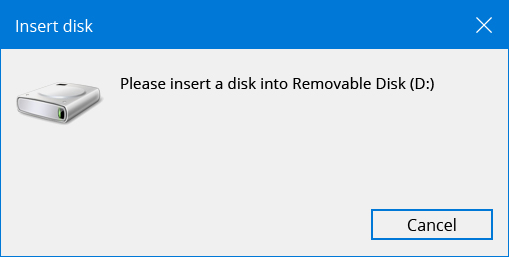 Error 5: SYSTEM DENIES TO READ USB
Sometimes, it may also happen that when you connect the USB to your system, it neither shows any error nor identifies the device. If the system is not able to read the USB flash drive, it may also happen due to an increasing number of bad blocks (failed NAND cells), damaged circuit board, broken stems, and connectors, or malfunctioned flash controllers.
In your system fails to read the USB flash drive even after deploying every measure mentioned above, you should refer to the manufacturer or hand it over to a professional. And, if you want to restore your data from a physically damaged USB drive, you may reach out to Stellar Data Recovery Services. The recovery experts at Stellar will get back your data securely.
Conclusion
A USB flash drive may become corrupt or unresponsive at any moment due to several reasons as explained above. You may troubleshoot the issue with the methods described in this post. However, when it comes to recovering the data stored on a corrupt or inaccessible or unresponsive USB drive, it is recommended to use a specialized data recovery tool such as Stellar Data Recovery Professional. This DIY tool can help you get back your data in case of USB corruption due to logical errors.
In case of an unreadable USB due to physical damage or other issues, contact your manufacturer or take the help of an expert to fix your drive. Moreover, if the data is significant, you may contact Stellar Data Recovery Services to get your data back safely from the physically damaged or dead USB flash drive.
In case of any query, do let us know in the comment section below!
Was this helpful?