How to Recover Files from a Corrupt or Unresponsive USB Flash Drive?
"Yesterday, when I connected my USB flash drive to my PC, I found that the drive isn't showing in the File Explorer. The flash drive contains important data, which I don't want to lose. Anyone, please share some ways to recover data from my inaccessible USB flash drive. Thanks."
A USB flash drive stores all the data in its memory cells and keeps a track of it through a file system similar to a hard drive. Windows operating system fetches this data by using the file system of the storage drive, as and when you require to access it. But, there are many situations in which you can't access the drive or its stored content.

In this blog, we'll share the reasons USB flash drive becomes inaccessible, and how you can recover files from an inaccessible, corrupt, or unresponsive USB flash drive.
Reasons for USB Flash Drive Inaccessibility
A. Logical Issues:
Loosely connected USB flash drive
A disabled USB port on the connected PC
Incompatible file system format of the drive
Outdated USB driver
File system corruption
Unallocated drive
RAW drive
B. Physical Issues:
Bad blocks due to failed NAND cells
Broken stems and connectors
Damaged circuit board
Malfunctioned flash controller
Dead USB flash drive
Methods to Recover Files from an Inaccessible USB Flash Drive
A. Fix Logical Issue
i. Check whether USB flash drive is connected properly
If you can't access your USB flash drive from File Explorer, the device might be loosely connected to the USB port. Try to reconnect the USB flash drive properly. If this doesn't help, then there might be some issue with the USB port. To test whether the USB Port is working, remove the flash drive, reboot your computer, and reconnect the drive. If it doesn't work, then try each port of your computer or use another computer.
ii. Enable the USB port on the connected PC
It is possible that all the USB ports are disabled on your PC. This is common in business settings, where the ports are disabled to prevent data leak from the systems. But, if you are facing this issue on your personal PC, you must check whether USB port is disabled. You need to enable the USB port to access the files from the drive. Following are the methods to do so.
Method 1: By using Registry Editor
1. Press the Windows key then type 'registry editor'. Press Enter or double-click to open it. Click Yes when prompted.

2. Go to Computer > HKEY_LOCAL_MACHINE > SYSTEM > CurrentControlSet > Services > USBSTOR.
3. On the right pane, double-click Start to open a dialog box. If the Value data is 4, then the USB storage is disabled. Change it to 3, then click OK to enable it.
Method 2: By using Computer Management
1. Press the Windows key then type 'computer management'. Double-click or press Enter to open the App.
2. On the Computer Management window, go to Device Manager > Universal Serial Bus controllers. Right-click the USB Composite Device with a downward arrow, select Enable device.
iii. Use compatible file system format
The file system format of the USB flash drive may not be compatible with Windows. This incompatibility occurs if the flash drive was used in Mac and formatted in APFS. Connecting such a flash drive to a Windows PC won't make it accessible. You need to connect the drive to a Mac, copy the files to the Desktop, and then format the drive in exFAT (which is supported by both Windows & macOS). Next, restore the files to the exFAT formatted USB flash drive. Now, when you connect the flash drive to a Windows computer, you'll be able to access the drive normally.
iv. Update USB driver
A USB driver is helpful in accessing USB drives from a Windows PC. But the driver may not be up-to-date and may result in making the USB drives inaccessible. To update the USB driver, do the following:
1. Go to Computer Management as explained before. Go to Device Manager > Universal Serial Bus controllers. Right-click a USB Composite Device and select Update driver.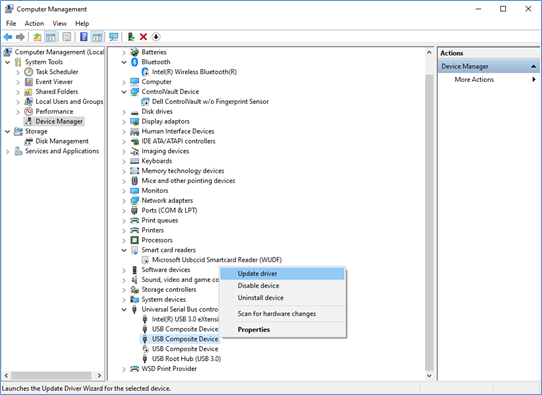 2. Click the first option. Let Windows search for the latest driver software.
v. Fix file system corruption
The file system of a USB flash drive can turn corrupt due to abrupt power failure or ejection, virus or malware, an invalid entry in Master Boot Record (MBR) or Partition Boot Record, and others. To fix such file system corruption, do the following:
1. Open File Explorer.
2. Right-click the corrupt USB flash drive, then select Properties.
3. Click on Tools tab.
4. Under Error Checking, click Check.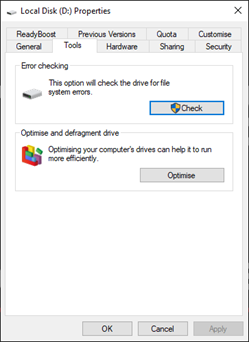 5. Click Scan drive.
vi. Fix unallocated drive
It may be possible that the storage drive is not visible in Finder but is shown as Unallocated in Disk Management. To fix the unallocated drive issue, do the following:
1. Go to Computer Management > Storage > Disk Management. Right-click the unallocated USB flash drive, then choose New Simple Volume.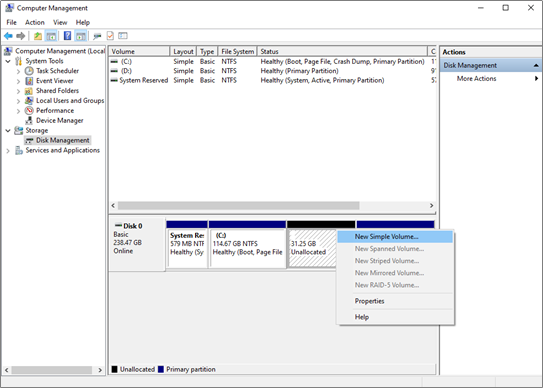 2. On the opened Wizard, click Next. Click Next again to specify volume size. Click Next to assign the available drive letter.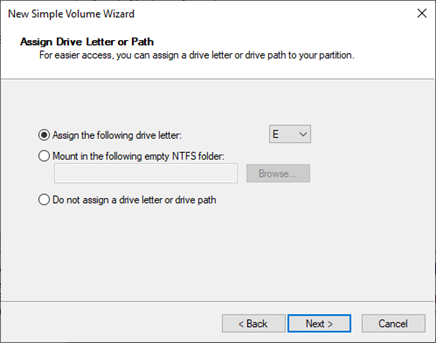 3. Select "Do not format this volume" and then click Next.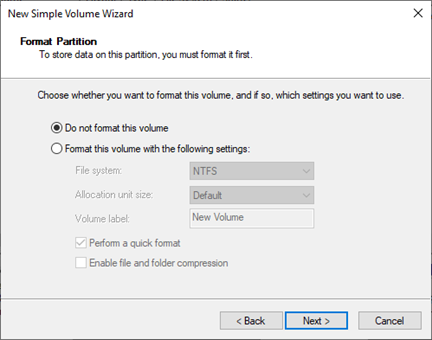 4. Click Finish. The unallocated drive now changes to RAW in Disk Management. The drive is visible in File Explorer, but there is no file system.


vii. Fix the RAW drive after the data recovery
You need to recover data from the RAW drive by using a professional USB data recovery software, then fix the RAW drive issue.
Recover Data from RAW USB flash drive:
1. Download & install the trial version of Stellar Data Recovery Professional on your Windows computer.

2. Open the software. From the "Select What to Recover" screen, specify the type of data that you wish to recover from the USB flash drive and then click Next.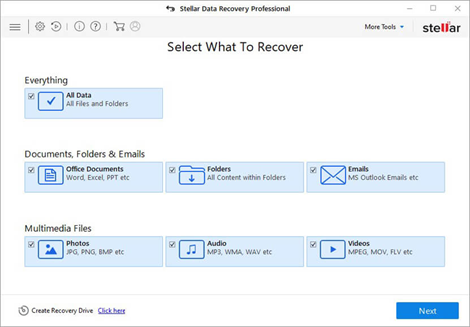 3. From the "Recover From" screen, select the RAW USB flash drive, switch on Deep Scan, and then click Scan.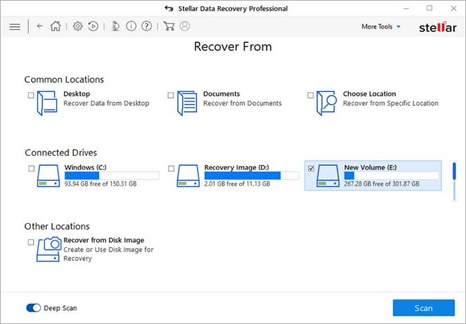 4. Navigate to the scanned folders and preview any file to check its integrity. Select the required items, then click Recover.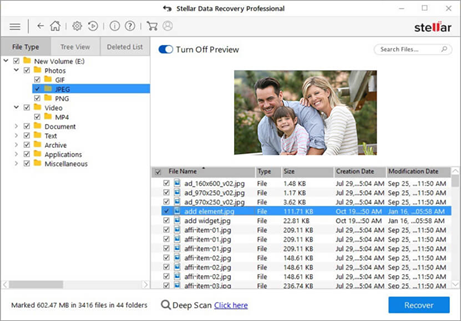 5. Specify a destination to save the recoverable items, then click Save. When the recovery is over, navigate to the location to check the recovered items.
Fix RAW drive issue:
1. Open File Explorer and double-click the RAW USB flash drive. On the message box, click Format disk to format the USB flash drive with a new file system.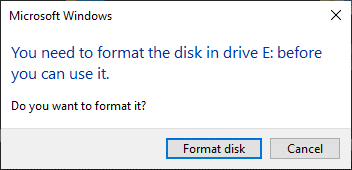 2. On the dialog box, select the file system as FAT32, ensure the Quick Format checkbox is selected, then click Start. It will fix the RAW flash drive issue, but the drive will be empty.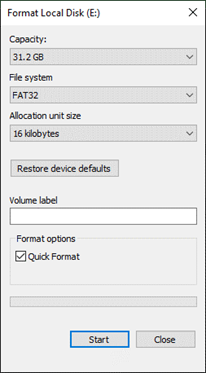 3. In case, you haven't recovered data and accidentally formatted the drive, then use the data recovery software to recover the lost data.
Restore recovered data to the formatted USB flash drive:
Go to the save destination where the files are recovered.
Copy all the required files & folders from the save destination.
Paste the copied items to the newly formatted USB flash drive.
B. Fix Physical Issues
i. Deallocate bad blocks from the USB flash drive
If your USB flash drive has physical issues in the form of bad blocks due to failed NAND cells, then you can't recover data from those affected areas. But you can perform advanced formatting to deallocate all the bad blocks and repair the drive for future usage.
Warning: Advanced formatting will delete all your data permanently and even a data recovery software can't recover it. So, recover all your inaccessible data by using a data recovery software prior to fixing the bad block issue.
Advanced Formatting:
1. In the general formatting steps explained above, unselect the Quick Format checkbox then click Start.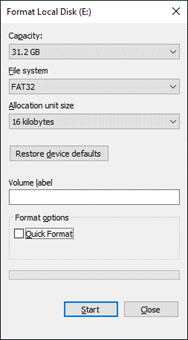 2. Let the tool complete the advanced/deep formatting. Once the formatting is over, the complete drive is wiped out and a new file system is created. This flash drive won't have any bad areas that can affect normal data storage and retrieval.
ii. Solder broken connectors
If the silver USB connector of the USB flash drive is broken or damaged, it leads to a power supply cut-off to the drive. The drive won't be visible in File Explorer as well as in Disk Management. In such a case, soldering is required. It's not advisable to do it yourself. As, if anything goes wrong, you may permanently lose access to the flash drive. And, it'll also reduce the chances of getting your data recovered successfully. To deal with the above physical issue, specialized equipment and expertise are required. So, better hand over your affected USB flash drive to some professional and let him fix the stem and connector issue.
iii. Fix damaged circuit board
If the circuit board is damaged, the drive can't be accessed. In such a situation, circuit repair can salvage the drive and the data. You can't fix this physical issue by yourself. But, you can contact a Data Recovery Service Company that uses advanced techniques and specialized equipment to recover your lost data.
iv. Fix malfunctioned flash controller:
USB flash drive has a flash memory controller that manages data stored on its flash memory and performs wear-leveling & garbage collection. The controller communicates with a computer through a USB port. And, if the controller chip is damaged, the USB flash drive turns inaccessible. You can't do anything to fix the controller issue. In such a case, you need to search for companies that perform USB flash drive data recovery.
v. Replace dead USB flash drive:
If your USB flash drive is completely dead and can't be repaired by a data recovery expert, then you need to replace it with a new one. If experts could somehow extract some data from the drive, that's great, else there is no hope for data recovery.
Conclusion
A USB flash drive can become inaccessible due to logical or physical issues. Troubleshoot the issues by using the DIY methods mentioned in the blog. If the Windows built-in method doesn't work, then try out a professional USB flash drive data recovery tool—such as Stellar Data Recovery Professional for Windows. The software can help you perform USB data recovery from a logically inaccessible USB flash Drive. Moreover, it can restore lost data from any internal or external storage drive that is corrupt, unresponsive, or formatted. Besides, if your USB flash drive has a physical issue, contact Stellar Data Recovery Service to salvage your inaccessible data.