7 Ways to Fix 'iPhone Software Update Failed' Error
Imagine you are downloading iOS 11.4.1 to fix the Black Dot bug that almost once crashed your iPhone and suddenly a message pops up, 'iPhone software update failed!'
You retry, it again fails. You are now irritated and equally clueless about further action.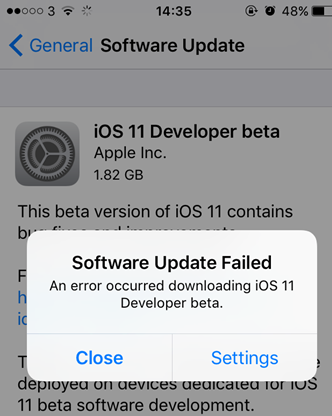 Do not worry this post shares the seven methods to fix such iPhone update failures and lets you upgrade your device to the latest iOS smoothly.
How to fix 'iPhone software update failed' error?
iPhone updates are the most awaited Apple announcements. iOS updates not just bring array of new features and fix any bugs in the previous version, but also get in more security for the device.
Obviously, no one wants to miss on them, particularly due to any technical glitches.
There can be any reason for your device not able to update to latest iOS such as:
Network connection issue
Less storage space on your device
Unable to connect to the Apple update server
Device shut down during the process
However, below are the best methods you can try to resolve iPhone update failure issue. These are applicable for all iPhone models and iOS versions including iOS 10, iOS11.1.4 and further updates.
Methods to fix 'iPhone software update failed' error
Check network status
Wait for few hours to retry
Restart your iPhone
Reset Network Settings on your iPhone
Update iPhone via iTunes
Free storage space in your iPhone
Manually update using IPSW Firmware
1. Check network status
Ensure you have a continuous good speed internet connection when updating iOS. The iPhone update success depends upon the speed of your Internet.
Close all the apps and do not download any other content on your iPhone while the update is on.
2. Wait for few hours before retrying
Whenever Apple launches new iOS update, immediately millions of users around the world try to connect to its servers for the update. This naturally builds up huge traffic on Apple's site, which often prevents your device to connect with the server. Thus, giving the 'iPhone software update failed' error. The best way is to wait for few hours before retrying to update your iPhone.
3. Restart your iPhone
Simply restarting or rebooting your iPhone can fix failed update error.
To restart your iPhone (iPhone 8 and previous models):
Press and hold the Top (or Side) button until the slider appears
Drag the slider to turn off the iPhone
Press and hold the Top (or Side) key again until you see the Apple logo
4. Reset Network Settings on your iPhone
If restart does not help, the problem could be with your device network settings. May be Wi-Fi is not working or your iPhone is unable to connect to a Wi-Fi network. Any network related issue that is not letting the update to complete, is fixed by Reset Network Settings. This will thereby fix 'iPhone software update failed' error.
To Reset Network Setting on iPhone: Go to Settings > General > Reset > Reset Network Settings.
Now turn off your iPhone. After few seconds again turn on and retry the iOS update.
Note: Reset Network Settings option deletes all your Wi-Fi passwords, network preferences, cellular settings, VPN and APN settings. You can note down your passwords and preferences to add later.
5. Update iPhone via iTunes
Instead of directly downloading the software on your iPhone, update via iTunes on a computer.
Steps to update iPhone via iTunes
Connect your computer to a Wi-Fi or Ethernet network
Install the latest version of iTunes on your computer
Connect your iPhone to the computer
Open iTunes and select your device
Click to follow Summary > Check for Update > Download and Update
If asked, enter your passcode
Update will start
6. Free storage space in your iPhone
'iPhone software update failed' error can also appear if your mobile does not have enough space for latest iOS files. Free up more storage space by deleting unwanted apps, photos, videos, cache, and junk files etc.
To remove unwanted data follow Settings > General > Storage & iCloud Usage and tap Manage Storage.
Now, try again to update your iPhone to latest iOS.
7. Manually update using IPSW Firmware
You can update your iPhone manually by downloading the IPSW firmware files. IPSW files are firmware downloads for specific Apple devices and iOS versions. You can use these files to update iOS manually via iTunes.
Use this option as the last resort, when all the above ways fail to fix 'iPhone software update failed' error.
Steps to manually update iOS on your iPhone
Visit <https://ipsw.me/> to download the IPSW file on your PC/Mac
Select your product (iPhone/model) and iOS version you want to update. Click on Download
Connect your iPhone to the PC
Launch iTunes
Select your iPhone in iTunes
Select the IPSW firmware file by:
On Windows: Hold SHIFT key and click on Update in iTunes
On Mac: Hold OPTION key and click on Update in iTunes
Browse and select the IPSW file that you downloaded on your computer and click Choose
The iOS update begins.
Will the iOS update cause iPhone data loss?
A smooth iOS update in iPhone does not lead to data loss. However, if the update process is interrupted due to power cut or an error fails to update iOS, you may lose your existing iPhone data. It is best to secure your data in iTunes or iCloud as backup before updating your iPhone to the latest iOS version.
Nevertheless, if you somehow lose your iPhone data, seek help of the reliable iPhone Data Recovery Software by Stellar. The software works in below situations of iPhone data loss:
When you do not have a backup
You had a backup but unable to retrieve from iTunes or iCloud
Stellar Data Recovery for iPhone is a DIY software that is safe to download. It efficiently scans and restores missing photos, videos, contacts, call history, Camera Roll, Photo Stream, WhatsApp, WeChat, Line, Viber, Tango and Kik Messages etc.
Wrapping Up
iOS updates are important. You cannot ignore or avoid upgrading your iPhone citing technical issues. Whenever you come across any iOS update error, try the above fixes and enjoy the benefits of your latest iOS.