How to Clear History on iPhone Beyond Data Recovery?
Summary: In this blog, we will discuss how to clear iPhone browsing history on Safari, Google Chrome, and Mozilla Firefox beyond recovery using manual methods. We'll also explore an efficient iOS data erasure software that could permanently wipe your browsing history. Download free trial below.
Your iPhone is a small portable pocket computer that lets you browse internet from anywhere. Over time, browsing on Chrome, Safari, Firefox or other browser on iPhone may turn sluggish, due to the accumulation of temp files, history, cookies & cache. This is why clearing the browsing history is important.
Your web browser not only stores browsing history but also stores other sensitive data like login credentials, online banking passwords, autofill form data, etc. While these stored data enhance your browsing experience,at the same time, they make you more vulnerable to hackers.
That is why clearing your browsing history gives your browser a fresh start, speeds up the web browsing experience and keeps your online browsing private.
Read this blog to know how to clear iPhone Browsing History in various web browsers like Safari, Google Chrome, and Mozilla Firefox. It also explains how to permanently erase iPhone search history beyond the scope of recovery using an iPhone erasure tool.
How to Clear iPhone Browsing History on Safari?
You can delete history for individual websites or all your search history on iPhone to clear complete browser history on Safari. Here's how to do it.
Clear History of Individual Websites on Safari
Open the Safari app, tap on the Bookmarks icon, and go to the History tab.
Swipe-left any website that you want to remove and tap Delete.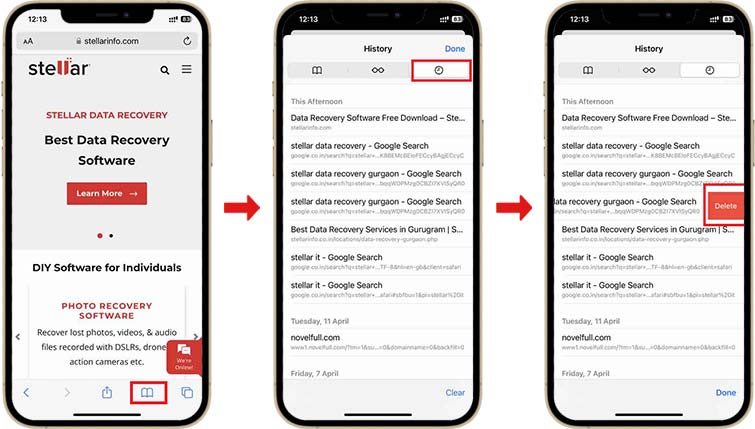 To Clear Safari History Based on Time
Open Safari, go to Bookmarks, tap Clear on the bottom-right, and select the desired time range.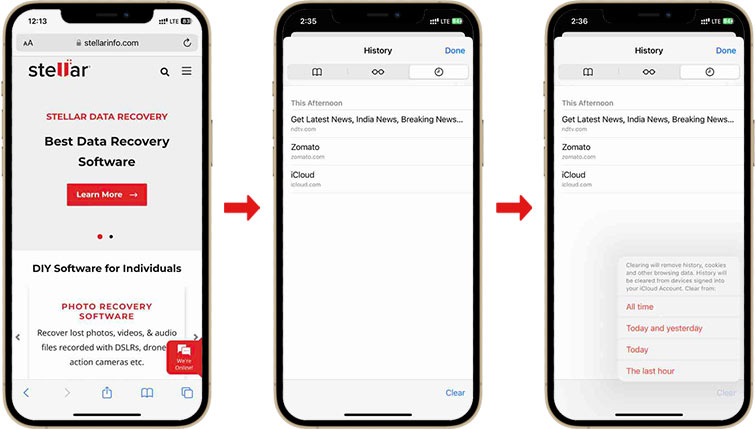 Clear All History on Safari
Open Settings, go to Safari, and tap Clear History and Website Data.
Again, tap Clear History and Data to erase the history of iPhone.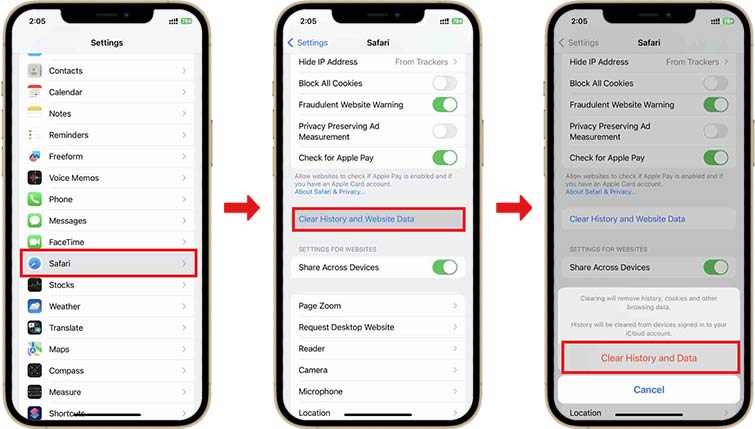 How To Erase iPhone Search History on Chrome?
Google Chrome keeps a record of all the websites you've visited in the past 90 days. It provides the options to clear iPhone browsing history of the Last hour, Last 24 hours, Last 7 days, Last 4 weeks, and All time. Here's how to clear Chrome browsing history on iPhone:
Clear All Browsing History on Chrome
Open the Chrome app and tap three gray dots.
Tap History and next, tap Clear Browsing Data.
Ensure that checkbox next to Browsing History has been marked.
Tap the Clear Browsing data button and confirm the choice on the pop-up box that appears.

Clear History of Individual Websites on Chrome
Open the Chrome app, tap the three gray dots, and then click History.
Tap Edit at the bottom-right and select the websites you want to delete. Click Delete.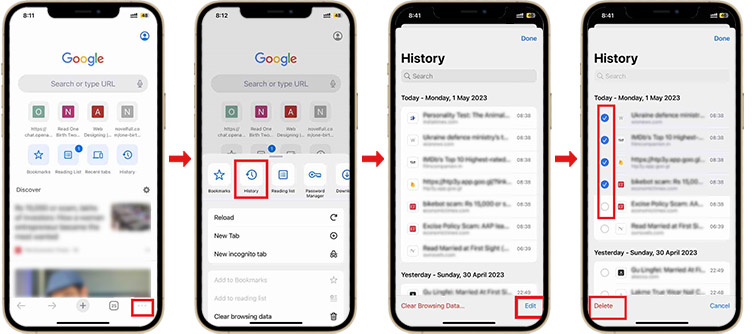 How to Delete History from iPhone on Firefox?
Often to troubleshoot any issue with the web browser, such as slow page loading, browser crashing, etc., you need to clear the search history of your browser. Follow the below steps on iPhone to delete history on the browsing history of Firefox:
Clear All Browsing History on Firefox
Open the Firefox app, and tap the hamburger icon in the bottom-right corner.
Tap Settings, scroll down, and select Data Management.
Ensure the Browsing History toggle is on, tap Clear Private Data and confirm the choice by clicking OK.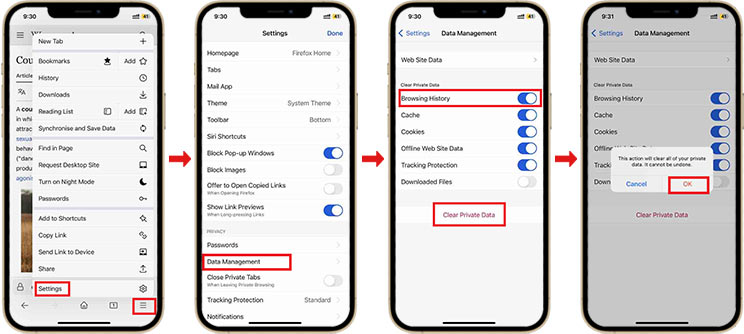 Clear History of Individual Websites on Firefox
Open the Firefox app and tap the Hamburger icon.
Go to History, select and swipe-left the websites, and tap Delete.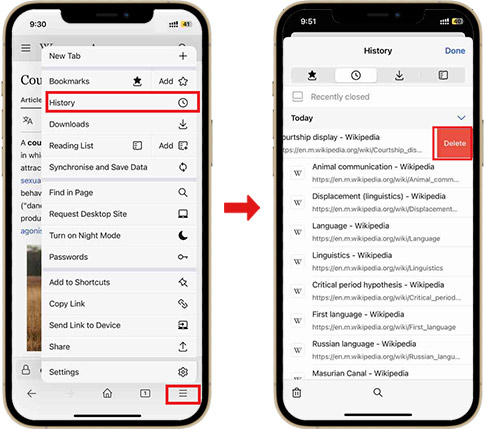 How to Permanently Delete History on iPhone?
The 'Clear Browsing History' feature of Google Chrome, Mozilla Firefox, and Safari browser doesn't delete the browsing history permanently from your iPhone and can leave some traces of your browsing activity.
These traces of browsing data are still recoverable by various data recovery tools. Thus to protect your privacy, it is essential to erase iPhone browsing history permanently using professional iOS eraser software, such as Stellar Eraser For iPhone. It is the best data erasure tool to completely wipe your iOS device before you sell, recycle or donate it.
Stellar Eraser for iPhone is a great tool for this purpose. It efficiently deletes your personal files, photos, videos, chats, iMessage, Text, browsing history, call logs, and other information on your iPhone.
This DIY tool permanently deletes personal and sensitive data from all variants of iPhone, iPad, and iPod touch. It erases 100% of your data from an iOS device by overwriting it completely and brings your iPhone back to its original default settings.
Steps – How to Delete History on iPhone Permanently Using iOS Erasure Tool
Download and install Stellar Eraser for iPhone on your system.
Launch the software and click on Erase Data module.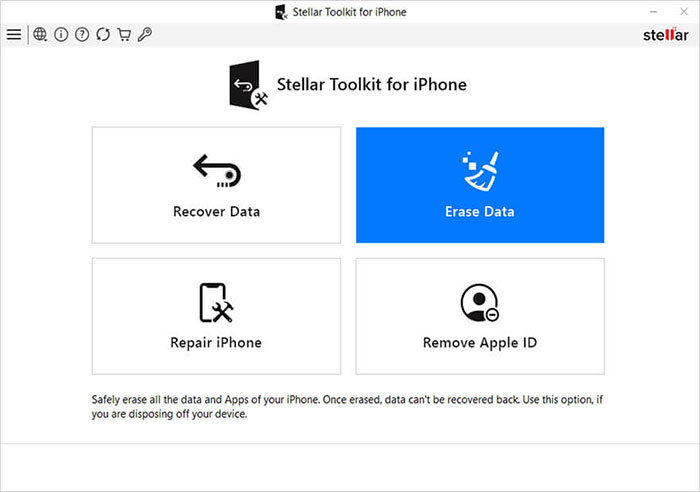 Click Next on the Erase iPhone Data screen.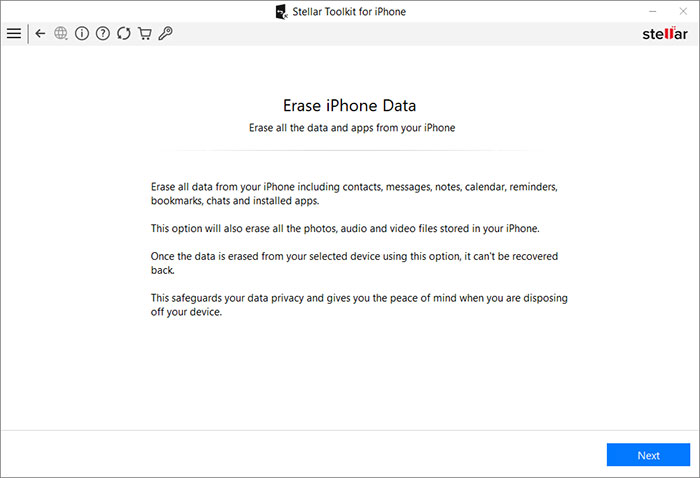 When you see the Click Device to Select screen, connect your iPhone to the system. Click Erase.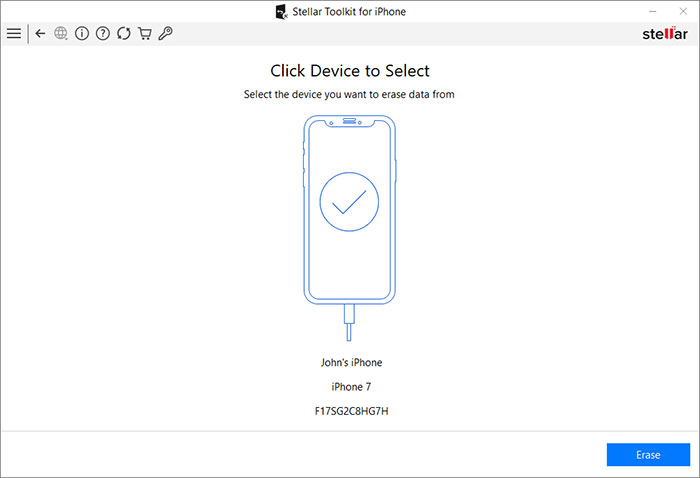 Select Yes in the Erase Process dialog box to initiate the erasure process.
Once the process completes, an 'All data on the selected device eraser successfully' message appears. Click OK.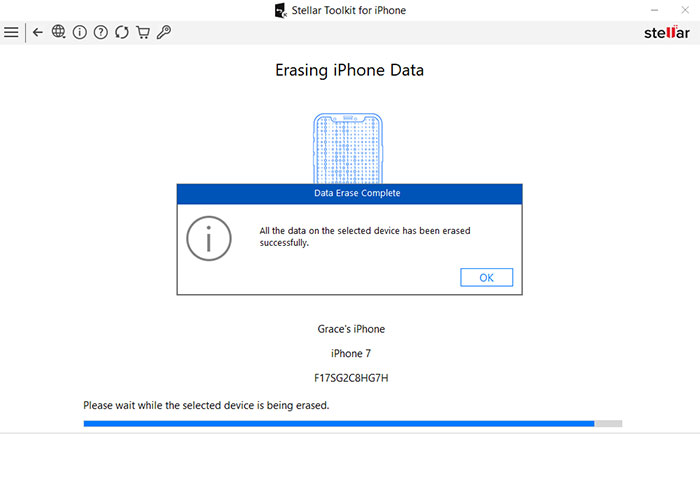 Conclusion
It is good to clear the browsing history of your online activities on your iPhone to improve the overall performance of the app and protect your privacy and prevent unauthorized access to your data.
Although deleting the web browser history from Chrome, Firefox, and Safari is a great way to clear your internet history, it doesn't completely erase traces of your online activity from your iPhone. To ensure that your web history is permanently deleted, use the iOS erasure tool designed specifically for securely wiping your iPhone data.
FAQ
1. How to clear browsing history on Mac?
Follow the below steps to clear your browsing history in Apple Safari on Mac:
Launch Safari, go to History > Clear History, select the timeframe, and click Clear History.
To know how to clear browsing data on Chrome and Firefox, read this blog.
2. How to clear Microsoft Edge Browsing History?
In Microsoft Edge, click on three dots > Settings > Privacy, search & Services.
Select the check box next to each data type you want to clear, and select Clear Now.
To know more, read: How to securely erase Microsoft Browsing History.
3. Is it good to clear the browsing history?
Yes, it's good to delete your browsing history frequently to stay safe and avoid cyber-attacks and data theft.
4. Can the Wi-Fi owner see what I search on the web, even if I delete it?
Yes. When you delete your internet history, you only clear the logs on your end, but your internet service provider still has access to your router logs.