DNG vs. RAW – Which is Better and Why
Summary: Are you confused, which one is the better format – DNG or RAW? This post highlights the advantages and disadvantages of both. This will help you choose the right format for your workflow to generate the best images seamlessly.
There's an ongoing debate over which is better – DNG or RAW. Both are lossless formats that don't compromise on image quality.
Professionals and photography enthusiasts are often in a tight spot to choose between DNG or RAW for their photo projects.
Eliminating the dilemma, here we share how DNG and RAW camera formats differ from each other and which one you can use to create the best photos.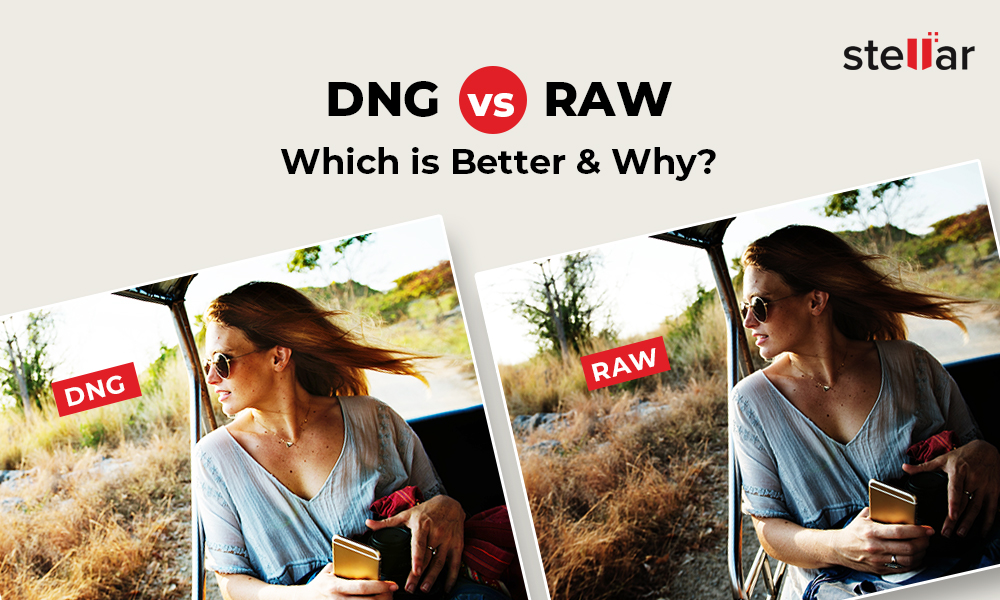 What are RAW files of cameras?
RAW files are uncompressed images processed from the sensor of the camera. They contain all information about an image in terms of color, white balance, exposure, contrast, etc.
The high quality lossless RAW photos have complete image data because photographers and graphic editors consider them the best format for processing photos.
Every camera manufacturer has a proprietary RAW format such as CR3, CR2 (Canon), NEF, NRW (Nikon), ORF (Olympus), SRF, SR2 (Sony), and so on. But they are not widely compatible with various image viewing or editing software. Thus, Adobe felt the need to devise the DNG format.
Why the need for DNG format?
Digital Negative (DNG) file format was devised by Adobe to eliminate software compatibility issues, which occurred every time a new camera was launched.
The software wouldn't support new RAW files. And thus, users only had the following options:
Use the camera manufacturer's RAW processing software, which was often not advanced enough to meet the editing demands of professionals.
Choose third-­party software, such as Lightroom, Capture One, or plug-ins like Camera RAW that can interpret the RAW data.
Convert the camera's proprietary RAW file format to a different format that is compatible with the editing or viewing software.
It would take months for any software to add support for the new RAW file format. DNG files are 15 to 20 percent smaller in size than RAW files without any loss of quality. Adobe users usually had to wait for over 3 months until the company released updates for the Adobe Camera RAW plug-in and Lightroom to offer new RAW file support.
What is the DNG file format?
DNG is also a lossless RAW image format but an open-source.
It was developed with an aim to universally use it as an alternative to different RAW camera formats. You can use DNG across all Adobe software.
A few camera manufacturers like Pentax, Samsung, Bolex, Leica, and others use DNG as a RAW format option in some of their camera models.
Adobe brought in DNG converter
Unable to keep pace with the regular new camera RAW formats launches, Adobe came up with the DNG converter. It is a quick way to deliver file format compatibility with all its software, including legacy Adobe CS1-CS6; Lightroom 1-6; Photoshop Elements 3-15, and 2018.
You can convert any RAW file to DNG when importing it into Adobe software and start working on it right away. This way, DNG Converter allows Adobe to support almost all cameras.
When you convert the RAW file to DNG, it becomes about 15% smaller than the original RAW image file, but keeps the most of the metadata and image data intact.
DNG vs. RAW – Which is better?
Both camera RAW and DNG files are uncompressed and lossless formats. This may confuse you as to why you should choose one over the other. Let's understand the benefits and disadvantages of each to get this answer.
Advantages of RAW format

Maintains high image quality: You can work and edit RAW camera files as much without worrying about the loss in quality. Any change in the color, sharpness, saturation, contrast, white balance, etc., doesn't degrade the image quality.
Supported by camera software: Camera RAW file is compatible with the manufacturer's software, such as NEF files that are fully supported by Nikon Capture NX.
Disadvantages of RAW format

Not supported by all software: A major drawback of the unique RAW formats is that all software does not support them.
Suppose a brand new camera is released in the market with a new proprietary format. But you may not be able to view its RAW photos just in any software. Software companies may take some time to update and add the format to open and work upon the new RAW format. Hence, you have the choice to wait for support or convert the RAW file to a different format. It's less likely you would want to shoot pictures in JPEG format.
Use XMP files: Since RAW files cannot be edited by third-party software, any settings are stored in a separate sidecar (XMP) file. This requires more storage space.
Read more: Which Image Format is Better —RAW vs. JPEG?
Advantages of DNG format

Supported by all Adobe software: DNG file stores image data in a compatible generic format. Thus, the DNG file format is supported by all Adobe's tools as well as other software.
No need for XMP file: Any change to DNG images is stored directly into the file without creating separate sidecar XMP files. This simplifies file management.
Embedded checksum: Unlike RAW files, DNG files have an embedded checksum. The validation checksum lets you know if even a bit of image data is changed. This helps to detect file corruption. However, you can repair corrupt DNG files using Stellar Repair for Video.
Archiving: DNG file format is considered best for archiving or digital image preservation for a longer duration. Even the American Society of Media Photographers (ASMP) approves DNG files significantly more useful than the camera proprietary RAW files for archiving.
TIP: Deleted or lost DNG or RAW file formats archived or stored in a hard drive, SSD, or other media can be recovered using Stellar Photo Recovery — an advanced tool that restores RAW files of any format lost due to deletion, formatting, or virus infection, etc.
Disadvantages of DNG format

Takes time to convert/ import: Conversion of photos from RAW to DNG is time taking.
Increase workflow time: The conversion process of RAW file to DNG significantly increases your project workflow time, whether you convert RAW files initially during import or later during export.
Doesn't work with camera-specific tools: DNG files don't work with camera manufacturer-specific image-processing software.
Takes longer to backup: As all changes are stored in the image file itself, it takes longer to back up the DNG file after every edit or change.
Deletes some metadata of RAW file: DNG format removes unrecognized metadata of RAW files like picture control, exposure time, focus point, frame duration, etc., after conversion. So you cannot restore this data later from the DNG file.
Cannot go back to RAW: You cannot convert a DNG file back to the original camera RAW file format.
Finally — which format should you use DNG or RAW?
Given the above advantages and disadvantages of camera RAW and DNG, you can choose the format based on your preference. Both formats don't compromise on image quality.
However, DNG is still not adopted as a standard RAW format by camera manufacturers. Prominent players such as Nikon, Canon, Sony, Fuji, Panasonic, and others have ignored DNG completely. Unlike the claims, only a few software other than Lightroom, Photoshop, etc. can read DNG files seamlessly like Capture One.
This is contrary to Adobe's objective to make DNG a universally supported RAW image format both by cameras and image software.
For all Adobe software users, DNG may be a convenient choice. Meanwhile, professional photographers may not like DNG files that remove some of the metadata from the original RAW photo. So, they may prefer to stick to the camera RAW.
Finally, whether to work on DNG or camera RAW file, base the decision on how you prefer your project's workflow to meet the desired objective.