Summary: DNG stands for digital negative. It is a raw image format used for digital photography. Also called a lossless patented file format. Here in this article, you can read methods to fix DNG files.
Are you looking for a concrete method to repair DNG image file formats?

Then read on this post…It shares a secure way to repair corrupt raw images of .dng extension and how you should tackle the files that give errors while trying to open them.
Adobe forums regularly receive user complaints over corrupt DNG file formats. The users have been seeking methods to fix their corrupt raw files.
Corruption issues with DNG files
The corrupt images are either partially visible, turned black, greyed out, grainy, blurry, broken, or pixelated.
When you try to open DNG files they might throw errors like 'Unable importing DNG files, 'Unsupported file format,' 'Windows can't open DNG file,' or 'Unable to open DNG file.'
For such DNG file errors, the problem is not always the corruption in the pictures. May be the program in which you are trying to access the file does not support DNG format. How to deal with such DNG file error problems is later discussed in this post.
Know your DNG image files before you repair them
Digital Negative or DNG is a photo file format developed by Adobe to serve as a universal raw file format compatible with all photo-related software. You can convert digital cameras raw images into DNG format by using free Adobe DNG Converter without losing the image data. Thus, pictures with .dng extension are raw images. These DNG files can be freely imported and enhanced in Adobe Lightroom and other Photoshop programs. Many other applications support DNG files such as IrfanView, Picasa, and PhotoScape.
Some camera manufacturers too like Pentax, Hasselblad, and Leica adopted DNG as their supporting raw file format.
Is there any software to fix DNG files?
Since raw images give greater creative control to the photographers and editors, they are the preferred file format while shooting. However, when raw files get corrupt due to some reason, it is extremely difficult to fix them by any manual method.
The only way is to use an advanced photo repair software that works on raw image files. Usually most of the photo repair applications only support JPEG/JPG, PNG, or TIFF files, but are not capable to repair raw images.
However, a one of its kind Stellar Repair for Photo is a powerful tool to fix raw camera images, including DNG and restores them in JPEG format. It also extracts thumbnails of severely corrupt pictures.
How to use Stellar Repair for Photo to repair corrupt DNG files
The DIY Stellar photo repair utility repairs in three simple steps – Add file, Repair, and Save.
What you have to do:
Connect the drive or storage media with corrupt DNG files to computer
Download and run Stellar Repair for Photo
Follow the easy on-screen instructions
Steps to repair corrupt DNG files
Step 1: Click Add File and browse to add corrupt DNG image files.
Step 2: List of added files appear. Click Repair. The progress bar indicates the repairing process. The repaired DNG photos list in JPEG format.
Step 3: Preview the repaired photos by selecting the image file.
Step 4: Click Save Repaired Files to save at a desired location.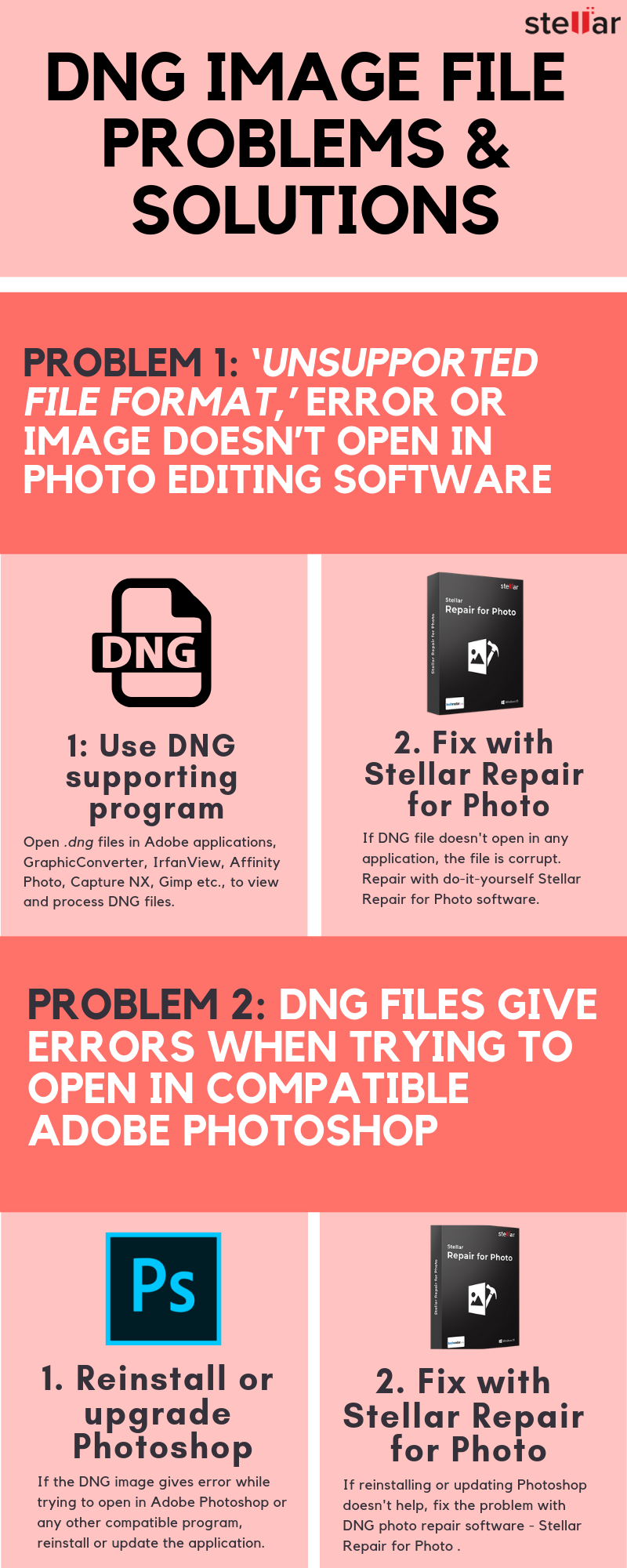 Common DNG file-related problems & solutions
Problem 1: 'Unsupported file format,' or the image doesn't open at all in the program.
Solution: Such errors appear when an image processing/editing program doesn't support DNG files. Use Adobe applications, GraphicConverter, IrfanView, Affinity Photo, Nikon's Capture NX, Canon's DPP, Gimp etc., to view and process DNG files.
Still, if you are unable to open the pictures in the program, fix the problem with Stellar Repair for Photo.
Problem 2: DNG files giving below errors when opening in compatible Adobe Photoshop –
'Cannot open file because it is the wrong type of file.'
'The file is damaged or is a format that cannot be included.'
'Could not complete your request because it is not the right kind of document.'
'Could not complete your request because Photoshop does not recognize this type of file.'
Solution: If your DNG image files give any of above error in Photoshop try the below workarounds:
Remove and reinstall Photoshop, Photoshop Elements or whichever version you are using.
Upgrade to the latest version of Photoshop.
Even when you are using other application apart from Photoshop, reinstalling or updating it usually resolves the problem of files not opening.
However, if these workarounds don't help, it means your photos are corrupt. Repair them with the help of a DNG photo repair software.
Wrapping Up
Photographers love to work with RAW image file formats because of the inherent freedom that these formats offer in terms of image processing etc. And therefore corruption of RAW image files is a major pain point for them.
However, it's possible to repair corrupt raw files— as opposed to the common perception that you lose raw image files such as DNG due to corruption— with help of the methods presented in this blog post.
First, it's important to understand the kind of error or problem— many a time, updating or reinstalling the program, which is used to view the images, can help. Also that a compatible platform is being used to view or edit the DNG files.
In case these measures don't work, a photo repair software should be used to restore the corrupt raw files of popular cameras.
If any query, do ask in the comment box below.