Summary: This blog will outline the Outlook data file (.pst) related problems and its impact. It will also discuss about the best Outlook recovery tool and why you need to download full version of the tool to resolve PST file issues. In addition, the blog will describe steps to fix corrupt or damaged PST file.
Outlook PST – Introduction & Corruption Reasons
A Personal Storage Table (.pst) File is a Microsoft Outlook data file that stores Outlook data such as e-mails, attachments, contacts, etc. for POP3 and IMAP accounts.
PST is a local file, and thus, it is prone to the same threats other system files are. A PST file can become corrupt or infected by viruses, or the file can get accidentally deleted or formatted, which may stop Outlook from functioning properly. Any delay in resolving PST file corruption can result in data loss. Hence, maintaining a backup copy of .pst file can be useful to restore your Outlook data in case of PST file corruption. But, sometimes backup is not updated or is inaccessible.
Fix PST File Related Problems with Outlook Recovery Solution
Stellar Repair for Outlook is a specialized Outlook Recovery Software that enables users to repair corrupt or damaged PST to recover mailbox data, without any technical assistance. Essentially, the software ensures complete recovery of PST file data, by restructuring the data in its original format.
Other key features of this Outlook recovery tool are as follows:
Repairs damaged Outlook PST and recover emails, calendar entries, contacts, notes, tasks, and journals
Repairs large-sized and encrypted PST files
Recovers deleted e-mails from Inbox or 'Deleted Items' folder in Outlook
Restores formatting from RTF and HTML messages
Supports selective recovery of mails
Provides enhanced preview of mailbox components for precise PST recovery
Saves repaired file as a new PST file on any disk visible by the host operating system (including network)
Allows saving individual mail messages in EML, MSG, RTF, HTML, and PDF format
Supports PST file recovery for Outlook 2019, 2016, 2013, 2010, 2007 and earlier versions
Why Do You need to Download Full Version of Outlook Recovery Tool?
Stellar Outlook email recovery tool – free download version allows to scan and preview recoverable PST file items, helping you to evaluate the tool's functionality. However, to access the file items, you need to save the resultant PST file by downloading full version of Stellar Outlook recovery tool.
Downloading full version of the tool also provides you with a long-term solution for resolving other potential Outlook PST-file related problems in the future.
How to use Outlook Recovery Tool to Restore PST File Data?
Follow these steps to restore PST file data, by using full version Outlook Recovery tool– Free download:

Step 1: Download and install the free demo version of Stellar Repair for Outlook software.
Step 2: Install Stellar Repair for Outlook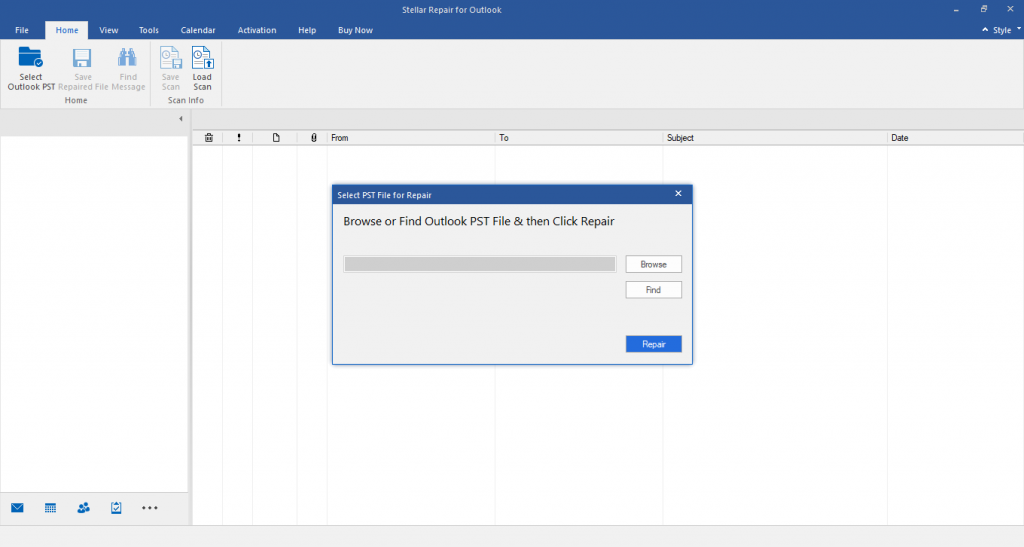 Step 3: In Select PST File for Repair window, click Browse to select the PST file you want to repair.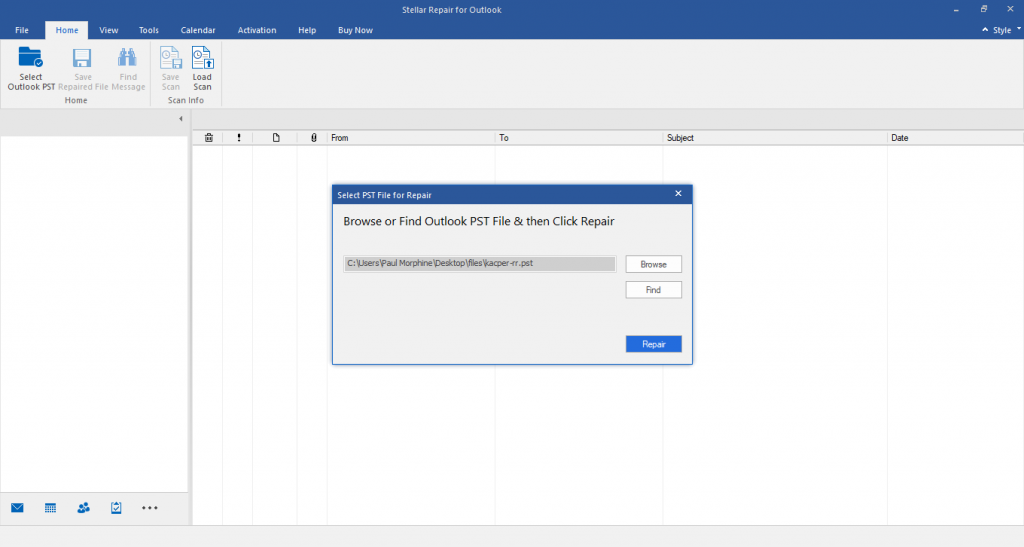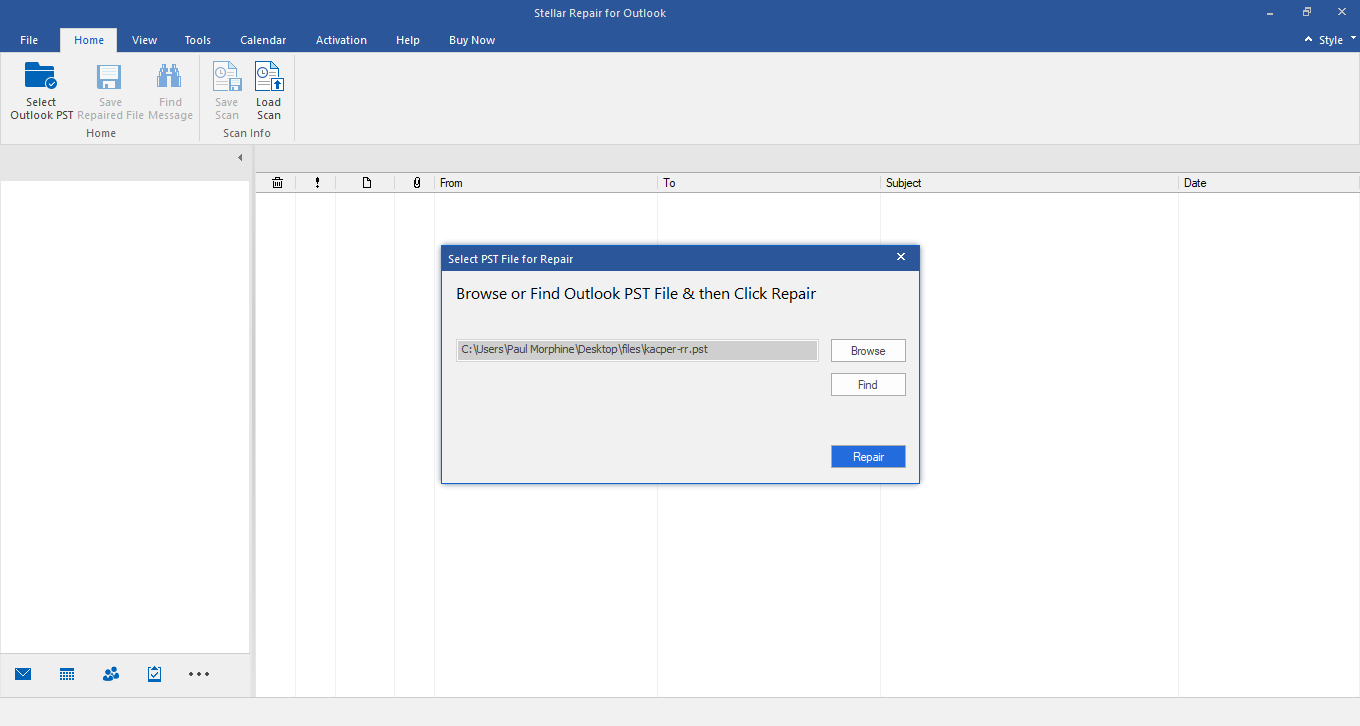 NOTE: If you are unaware of the PST file location, use the 'Find' option to locate the file.
Step 4: Once PST file is selected, click Repair to initiate the repair process.
Step 5: When Repair Complete window appears, click OK.
Step 6: The software will display preview of recoverable PST file items (folders).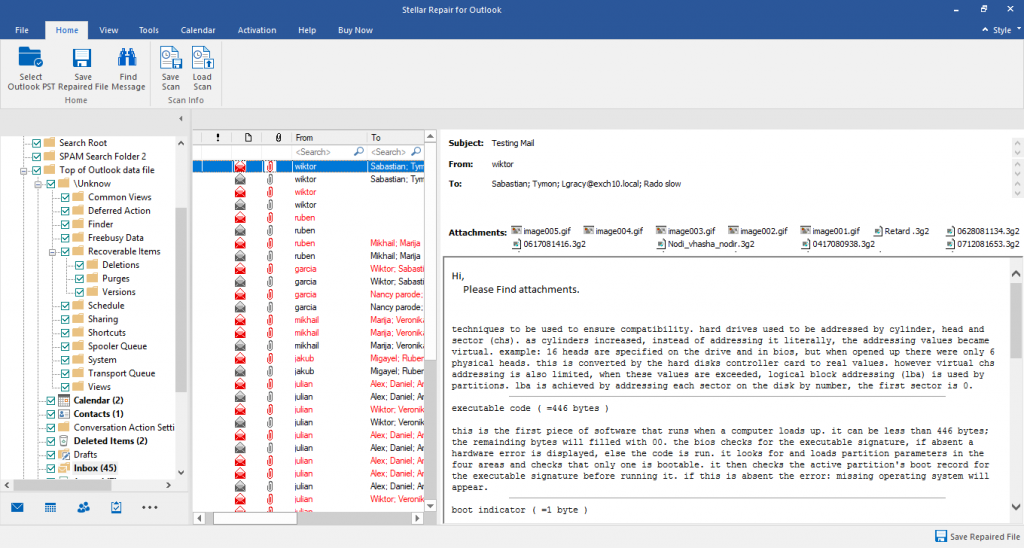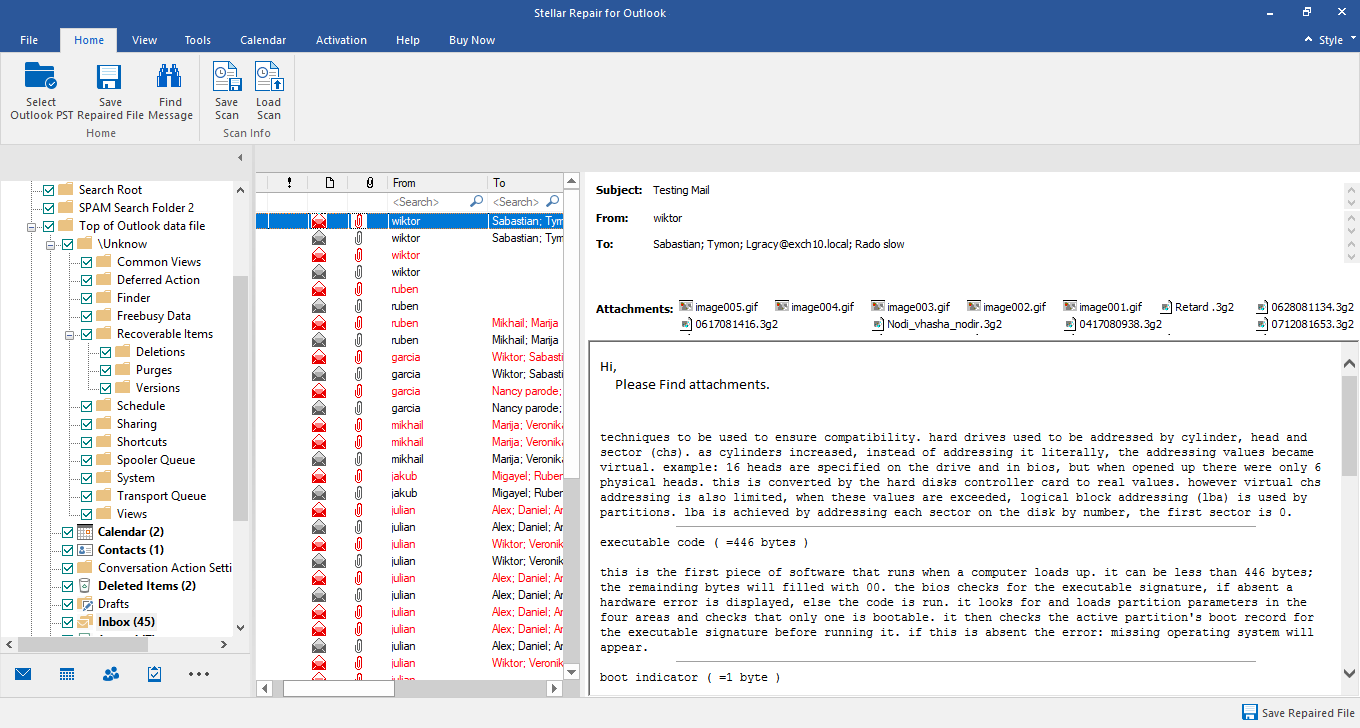 NOTE: Once you've previewed the recoverable mailbox components, you'll need to activate the licensed version of the software to continue with saving repaired PST file. For details on activating the software, see User Guide of Stellar Repair for Outlook software.
Step 7: Select specific items or folder you wish to repair, and then click Save Repaired File on Home menu.
Step 8: In Save As window, select PST under Save As, and then click Browse to select the location to save the repaired PST file.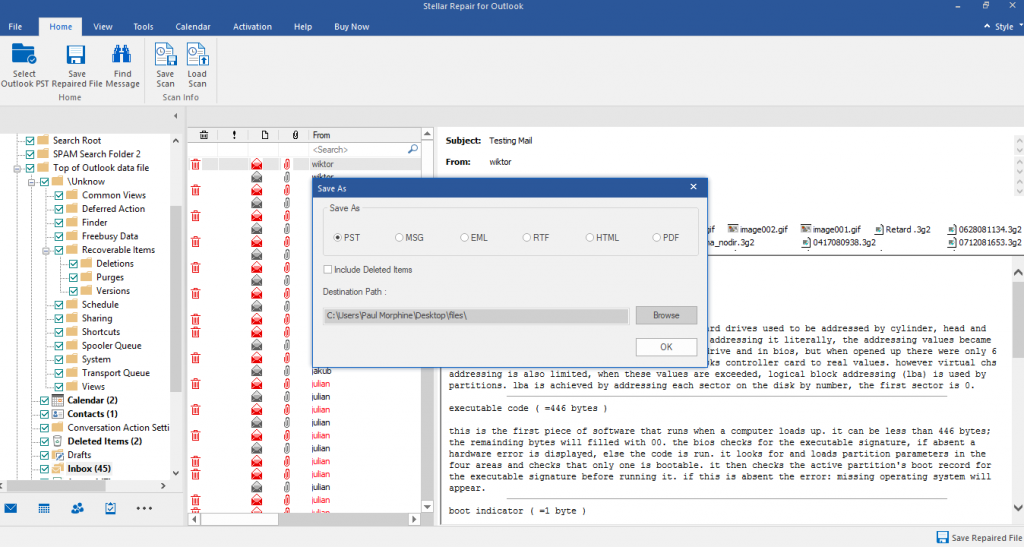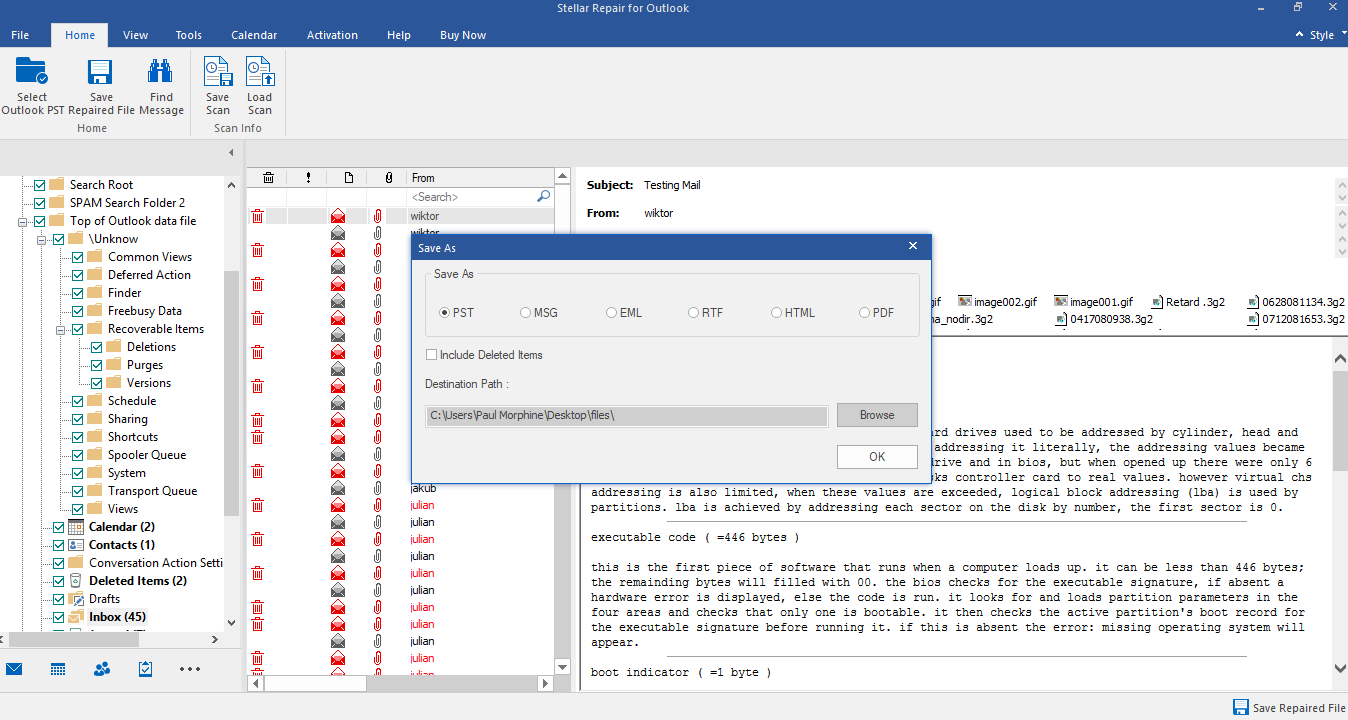 The process bar displays the current status of saving file.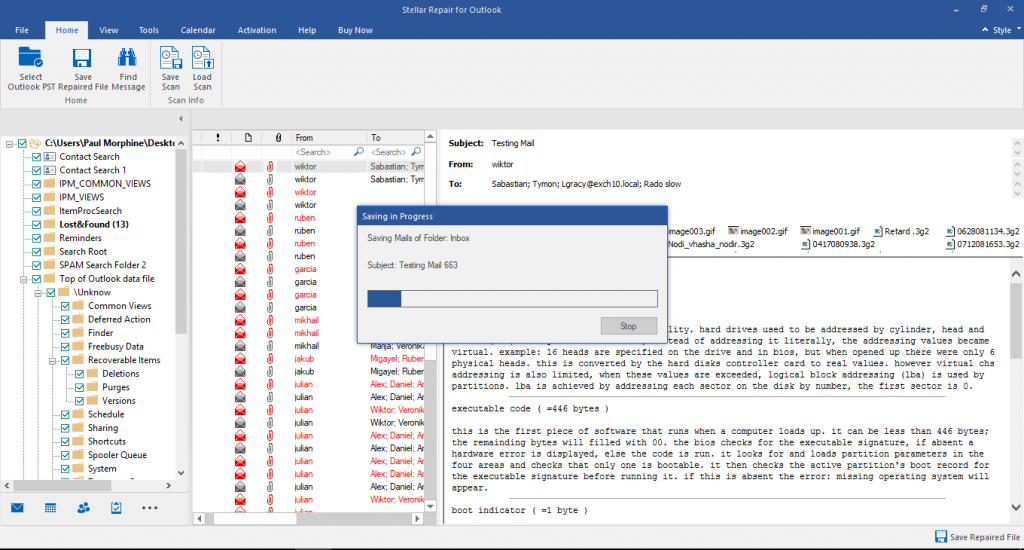 Step 9: Click OK.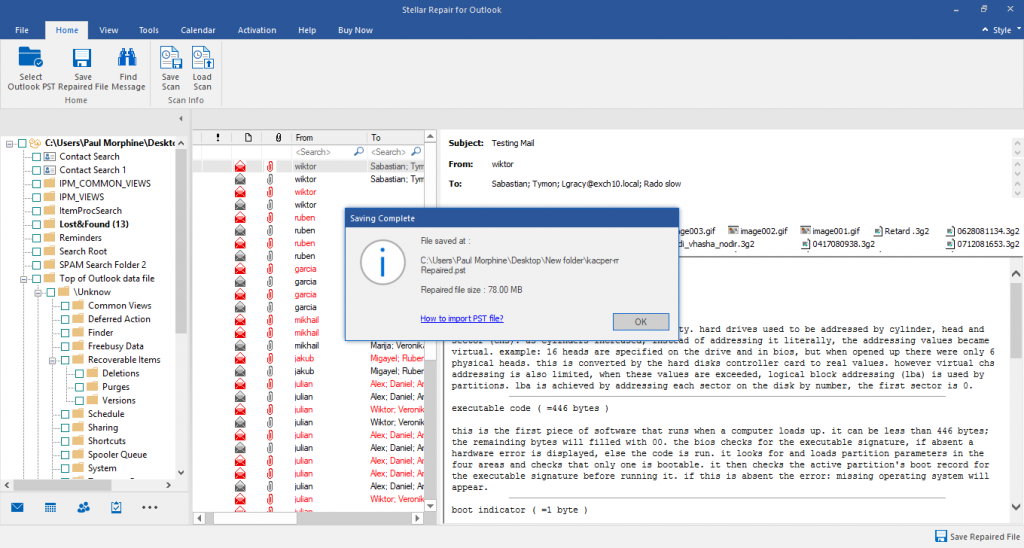 The resultant PST file will be saved in the specified location. After repairing the corrupt PST file you can import into Outlook.
For the detailed how-to process of the Outlook mailbox recovery software, check this video:
Wrapping up
Outlook Personal Storage Folders (.pst) file is prone to corruption due to reasons such as an oversized file, virus infection, abrupt system shutdown, network sharing, etc. Also, the PST file can get accidentally deleted or formatted. You can try restoring Outlook data from backup copy of the PST file. But, if the backup copy is not updated or cannot be accessed, downloading the full version of a specialized Outlook recovery tool such as Stellar Repair for Outlook can help you repair PST file and recover its data with integrity and precision.