Perform File Recovery from Virus Infected Drive
Have you ever encountered a problem which has led to inaccessible data in your hard drive/ USB or made the drive unrecognizable?
Consider the following scenarios:
"Yesterday, I copied some files from my friend's laptop to my USB. The drive worked well there. But, when I tried to open this USB on my PC, my drive showed as empty."
"My PC is unable to detect my Seagate external hard drive. It became undetectable right after I downloaded an online program."
These scenarios indicate that your hard drive/ USB is likely infected by virus, with a risk of data loss.
NOTE: When you notice that your hard drive or USB is not showing any data or is not recognized by your computer, stop using the drive to avoid overwriting the existing data. To recover lost data get Stellar Data Recovery Professional software. Download the software now!

How to Recover Files from Virus-Infected Drive?
Follow Step 1 and Step 2 only if you can access your hard drive or USB. Otherwise, skip to Step 3.
Method 1 – Use an Anti-virus Software
Sometimes removing virus infection from your drive can make the data within the drive accessible. So, you may try an anti-virus software, such as Windows Defender, to scan your drive for viruses. Once the virus is removed, you may be able to access the files on virus infected USB or any other external hard drive.
NOTE: An anti-virus software quarantines suspicious files, which means the files won't be accessible anymore. In case, some of your important files have been quarantined, then you can choose to restore them. Refer to this link to know how you can restore quarantined files in Windows Defender.
Method 2 – Use Command Prompt to unhide files when drive shows empty
A virus can sometimes mark the files stored on your external hard drive or USB as hidden. And so, the files are no longer visible. But, the files are still there on the drive.
Using the 'attrib' command in Command Prompt (CMD) can help you recover the hidden files. Essentially, the 'attrib' command makes all the read-only, archived, system and hidden files to display in Command Prompt.
Follow these steps to unhide the files on your drive by using CMD:
Step 1 – Connect your drive to your PC.
Step 2 – Press "Windows" and "R" keys to open the Run window.
Step 3 – Type in cmd and you will be directed to the Windows command line console.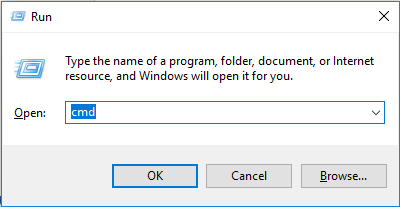 Step 4 – In the command line window, type 'F' and press the Enter key.
NOTE: Replace 'F' with the drive letter of your virus infected drive.
Step 5 – Type "attrib -s -h /s /d .", and hit the Enter once again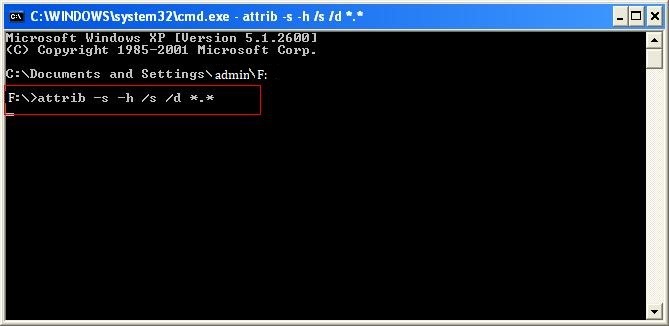 Once you have completed the steps above, wait and allow the Windows to repair the virus-infected drive. The repair utility may take a few minutes. After the repair process gets completed, navigate to your drive and check if all of the hidden files (virus-infected files) are visible.
Method 3 – Use Data Recovery Software
If you're not able to access your virus infected drive, use Stellar Data Recovery Professional software to perform RAW drive recovery. The software helps recover inaccessible data from a RAW drive (i.e. a drive with unrecognized, damaged or no file system).
Follow these steps to perform RAW drive recovery by using Stellar Data Recovery Professional for Windows:
Step 1 – Download, install and launch the Trial version of the Stellar Data Recovery Professional Software.

Step 2 – Choose the type of data you want to recover from the 'Select What to Recover' Window, and then click Next.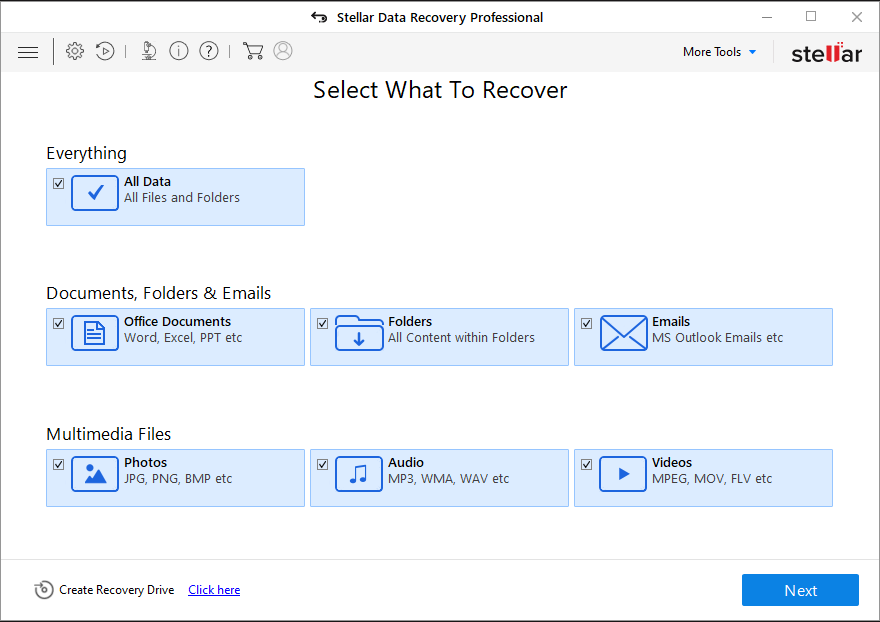 Step 3 – Then in "Recover From" screen, Select the RAW drive listed under 'Connected Drives', and then click Scan.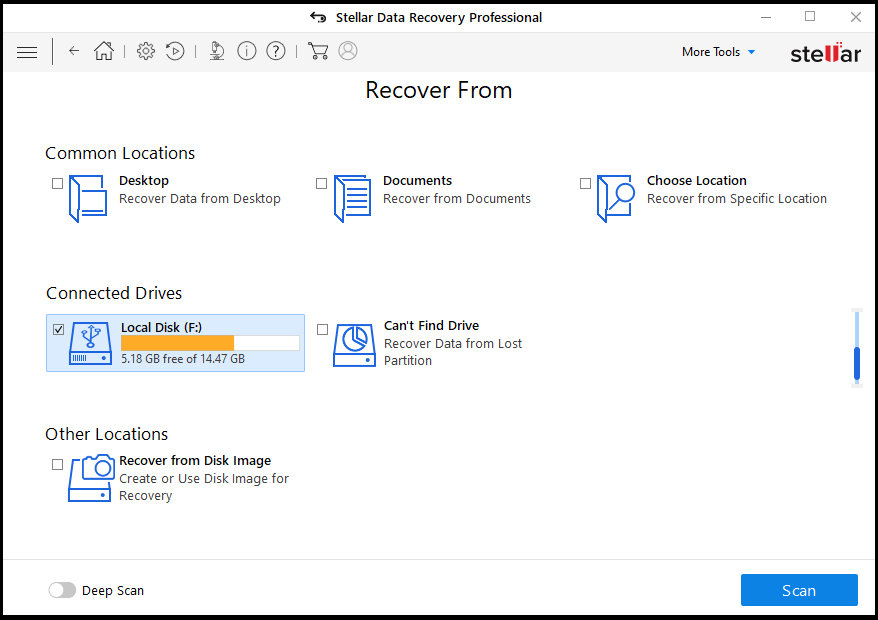 Step 5 – Once the scanning process gets completed, verify the recovered data from the listed Preview window.
NOTE: The trial version of the software lets you scan and preview all the files and folders of the hard drive. Once you've ascertained the software effectiveness, you can then decide to activate the software and save the recoverable files.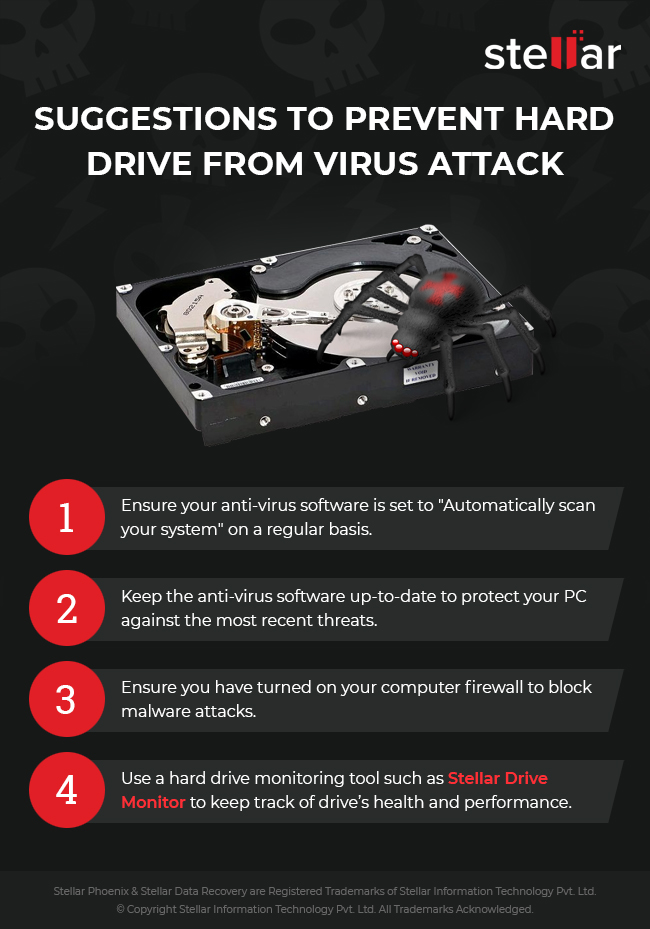 Conclusion
It is quite common for a drive to become virus infected. In order to avoid loss of data from a virus infected drive, you need to act immediately. If you are able to access your drive, you can either run an anti-virus software to get rid of the virus or use command prompt to recover hidden files. In case your drive is inaccessible, you can perform RAW drive recovery by using Stellar Data Recovery Professional software.
It's also important to emphasize on preventive measures to check such incidences. Updating antivirus, regular media scanning, and active use of firewall are important in this regard. Also, drive monitor tools can help with proactive health and performance monitoring of hard drives.