How to fix Windows "Stop 0x00000024" Error
Sometimes it happens that when you switched on your Laptop and start working on it, almost after half an hour or so the system shut down instantly and kept restarting & flashing blue screen of death. You think to regain access to the system via standard or safe mode but unfortunately, you cannot. Reason being, the computer keeps on restarting prior to Windows load.  The only message you are getting on the blue screen of death is:
"A problem has been detected, and windows has been shut down to prevent damage to your computer. If this is the first time you've seen this stop error screen, restart your computer. If this screen appears again, follow these steps:
Disable or uninstall any anti-virus, disk defragmentation or backup utilities, check your hard drive configuration and check for any updated drivers. Run CHKDSK /F to check for hard drive corruption, and then restart your computer.
Technical Information:
***Stop: 0x00000024 (0x00190203, 0x822B0330, 0xc0000102, 0x00000000)"
This technical information and error message detail states that it is an operating system error. This error also indicates that Windows is failing to show the correct screen image.
Don't worry. Go for simple, easy and quick approaches to fix the issue quickly and effortlessly. However, before stepping ahead to the solutions let's have a look at the probable causes for this error.
Possible Causes of Windows "Stop 0x00000024" Error
Virus or malware attack.
Corrupted Device Drivers.
Old or incorrectly configured drivers.
Damaged hard disk or system files.
Driver conflict due to new hardware installation.
Removed system files after drivers or software installation.
Due to NTFS_FILE_SYSTEM STOP error caused by RAM corruption.
Windows registry corruption due to software installation or uninstallation.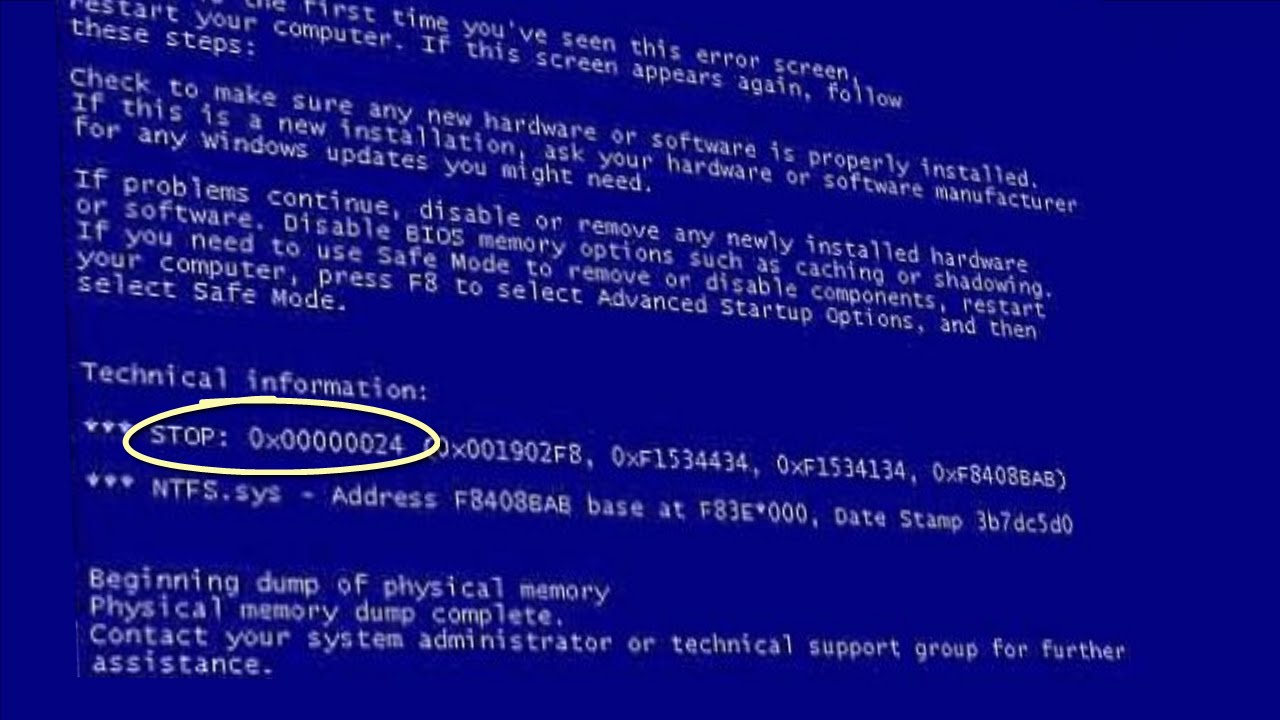 Symptoms of Windows "Stop 0x00000024" Error
The system behaves differently in different scenarios. Few most common signs are:
STOP Error 0x24: NTFS_FILE_SYSTEM
Active program crashes and NTFS_FILE_SYSTEM blue screen appears
Windows starts running slowly and react sluggishly to keyboard or mouse input
System freezes periodically at times
Error message: "The NTFS_FILE_SYSTEM bug check has a value of 0x00000024." This indicates a problem occurred in ntfs.sys, the driver file that allows the system to read and write to NTFS drives.
Error message: A problem has been detected and Windows has been shut down to prevent damage to your computer.
When does the Windows "Stop 0x00000024" Error Pops Up?
As such, there is no definite situation. It can encounter at any time. Few common cases are:
During Program Installation
During Windows Drive loading
Windows startup/shutdown
At time of Hardware or Software Installation
Note: Keep a tab of when and where it arrived for proper troubleshooting.
Fixing Windows "Stop 0x00000024" Error
– Quick solution
Run an Anti-virus program for malware scan
Execute System Restore
Run Windows Clean Installation
Check and run Windows Updates
Update System Device Drivers
Boot System in Safe Mode
– Troubleshoot Approaches to Resolve the Error
1. Run sfc /scannow (Windows System File Checker )
This handy tool ensures scanning and restoration of corrupt Windows system files including NTFS_FILE_SYSTEM. This process can easily run on Windows 10, 8, 7, XP.
Steps are:
Click Start
In the search box, key-in command
Hold Ctrl-Shift and press Enter
Click Yes on a permission dialogue box
Under a black box with a blinking cursor, key-in sfc /scannow
Hit Enter
Wait for System File Checker to scan the error
Lastly, follow on-screen commands to fix
2. Run chkdsk /f
Mostly, the reason for this error is storage controllers or hard disk drivers issues, but there are scenarios where BSODs is the source. In such scenarios, Check Disk is useful. Reason being, with hands on this utility, you can scan as well as repair the corrupt hard drive.
Steps are:
Click Start and key in command
Hold and press CTRL-Shift and hit Enter
Under permission dialogue box, hit Yes
Key-in chkdsk /f under blinking cursor and press Enter
Wait for scanning completion. On completion, follow on-screen instructions to fix the error.
After troubleshooting the aforesaid error, you can always restore the lost data from the saved back-up. However, in the absence of a backup, opt for Stellar Data Recovery Professional for Windows to recover your data. This Editor's Choice software can deal with the issue easily and efficiently. It is reliable, 100% safe to use and provides straightforward recovery process.
In Summation
Unfortunate that Windows is prone to several errors. But, with the simple fixes you can easily troubleshoot the issue and to overcome data loss in such scenarios, always trust on the award-winning Stellar Data Recovery Professional for Windows. This software enables to fix all types of errors including Windows "Stop 0x00000024" Error. This comprehensive all-in-one software ensures uninterrupted work.
Be it corruption, formatting, or any other issue, count on this Windows Data Recovery tool.