Summary: There are times when user lost locked files and Folders and think he won't be able to get his data back due to security lock. But this is a complete myth that locked files & folders are not recoverable. Here in this blog we shared step by step procedure to recover password protected files.

Windows provides an inbuilt option to lock files and folders with a password. However, people often choose to use third-party software to encrypt files and folders due to their ease of use and additional features. One of the most used tools to encrypt files and folder is Folder Lock. This software is used to safeguard sensitive and private data on a Windows PC by setting up a master password. This software allows users to encrypt, hide as well as shred, and securely delete files and folders from the Windows system and protects confidential information from any unauthorized persons.
However, in many cases, software such as Folder Lock proved to be a disaster and caused data loss situations as users were not able to access and unlock the files or folders after
Change in system settings
Software installation
Change in registry files due to virus infection
Hardware failure
Disk corruption due to bad sectors
Folder Lock application malfunction, etc.
For example, in one case, the user had to format the Windows 7 installation on his system due to corrupt boot. But after re-installation of Windows, he wasn't able to access the locked files and folders, which were locked with Folder Lock software. This was due to the fact that the tools such as Folder Lock stores some of its important files in C:\Windows\SysWOW64\ directory.
Recovering Locked Files & Folder
Lost locked files and folders can be recovered with the help of a backup, if you have, or else from a smart data recovery tool like Stellar Windows Data recovery that supports recovery of data from encrypted files and folders stored or deleted from an exFAT, NTFS, or FAT (FAT16, FAT32) file system. If you are not able to locate the locked files and folders, the tool helps you Deep Scan your drive and finds the data including encrypted data and asks for a password to unlock the files and folders for a successful recovery.
This data recovery tool is useful when you are not able to locate or unlock password-protected files and folders that are encrypted using any file encryption software (including Folder Lock).
Follow these steps to recover locked files and folders from your Windows hard drive:
You need the password that you used to lock the files and folders. The data recovery tool asks for the password when it saves the recoverable data at your desired location. If you don't remember the password, recovery of data from locked files and folders is impossible.
Precaution: Immediately stop using the drive volume or storage media to avoid overwriting of lost files and folders when you ever face any data loss situation. Files once overwritten, can't be recovered.
Download and install the Stellar Data Recovery- Standard software on the affected system

Launch the software
In the 'Select What to Recover' screen, click 'All Data' to recover all kinds of data or click the individual checkbox to recover specific file types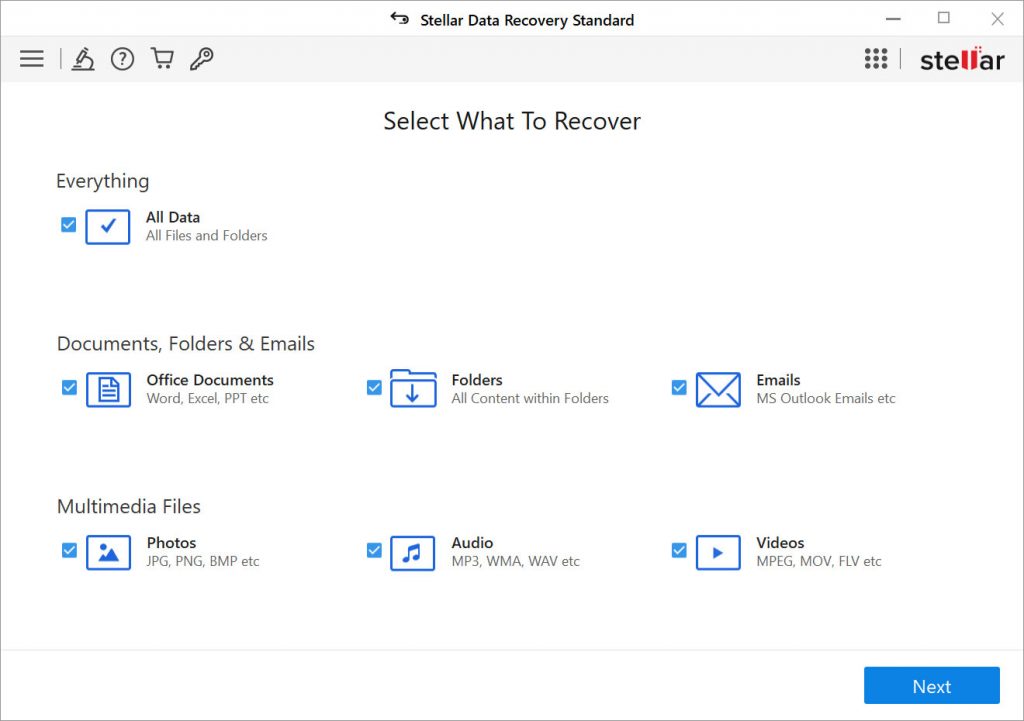 Click 'Next' and then click 'Choose Location' if you remember where the locked files or folders are stored. Otherwise, click on the connected drive (& volumes) where you stored the encrypted files and folders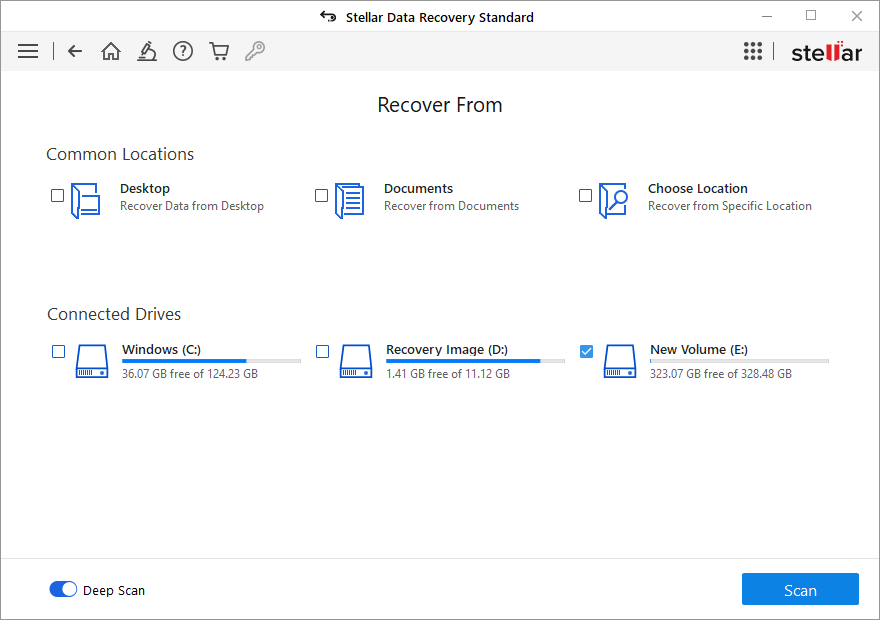 Turn on the 'Deep Scan' toggle switch, visible after selecting the location, on the bottom-left corner of the screen and then click 'Scan'
Deep Scan thoroughly searches each sector on the storage drive for data based on file signatures and facilitates precise data recovery. Therefore, it takes more time to scan. So sit back and relax till the scan process is finished.
After the Deep Scan process is finished, the scan results are displayed in the left-tree view pane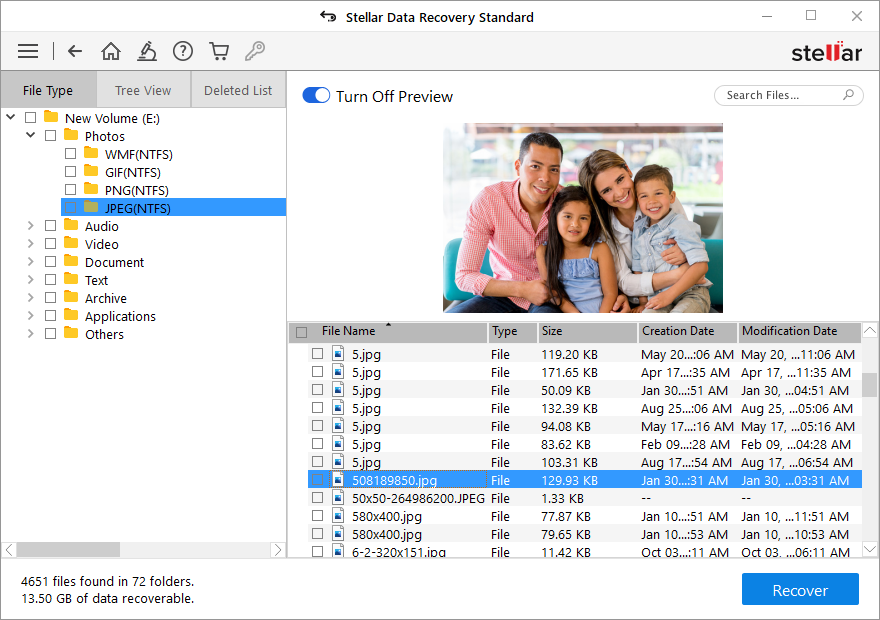 Click on a folder to browse its content. Locked and hidden files and folders are also listed in the search results
Click on the encrypted files and folders' checkbox and then click 'Recover'. A pop up appears
Click on 'Browse' and choose a folder or drive location where you want to save recovered data from locked files and folders
Click 'Start Saving' and then enter the password that you used to encrypt the files and folders. The tool validates the password, unlocks files, and then saves them to the desired location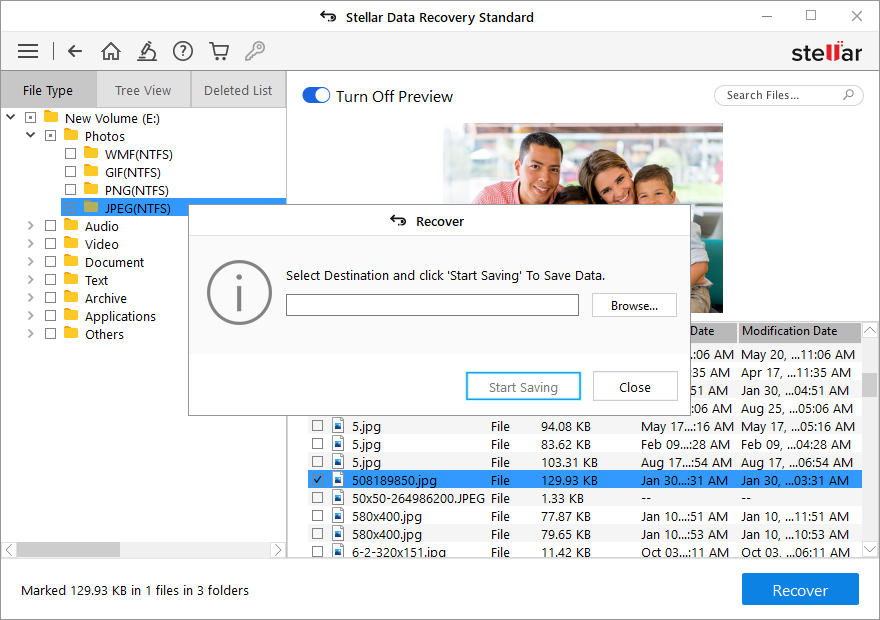 NOTE: Never select the same drive to save the recoverable data. Use an external storage or separate volume on the drive to save the data to avoid overwriting.
Conclusion:
Software like Folder Lock should be used cautiously. Before making any major change to the system, you should always unlock the files and folders. Most importantly, create a scheduled backup of your important files and folders. Backup helps you quickly tackle such situations without any problem. With just a few clicks, you can restore the files that are lost or locked. However, if you don't have a backup, and no other tool is able to retrieve data from your locked files and folders, use Stellar Data Recovery- Standard software to restore encrypted and lost files and folders from a storage drive such as HDD, SSD, USB thumb drive, SD card, etc. It's easy to use interface enables you to recover your data in a facile and efficient fashion.