How to Repair Blurry Photos
Summary: Whether it is DSLR, point and shoot, smartphone, or digital camera, blur in the photographs is a common issue. This post discusses why your photos turn blurry and how to repair them with Photo Repair Software.
Often it happens, that you click several photos, but some turn out to be blurry while the rest are just perfect.
We usually think blur in the photos is due to shaking of the camera or movement of the subject at the time of capture. However, there are many other reasons that can make your photos blurry.
Some common reasons for blurry photos:
Shaking of camera
Movement of subject
Improper holding of the camera
Wrong focusing of the camera
The camera is too close to the subject
Used wide camera aperture
Insufficient light
Slow shutter speed
Dirty camera lens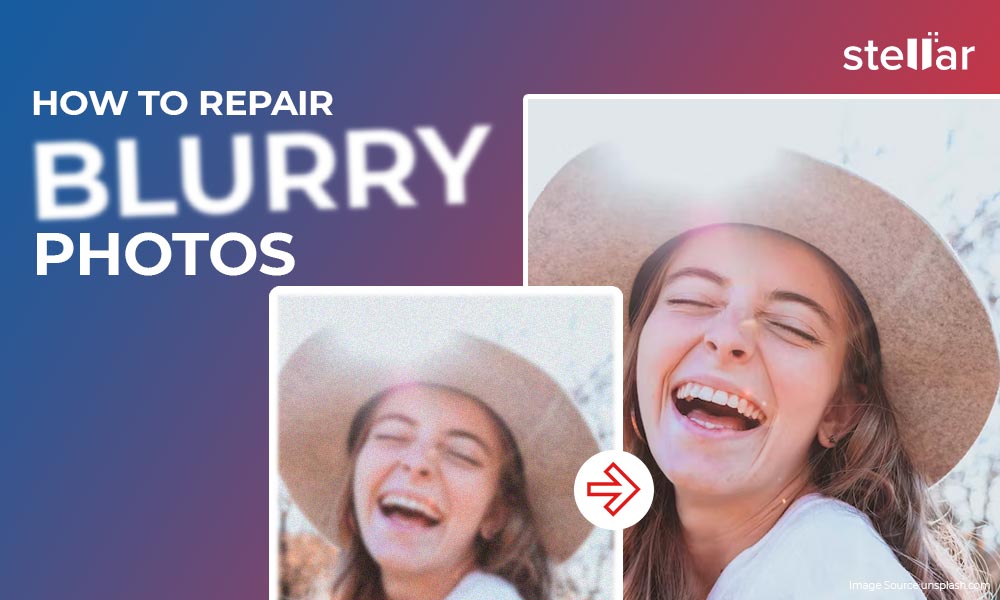 Methods to fix or repair blurry photos
1. Photo Editors to fix or repair blurry photos
a) How to fix blur in Photoshop
Photoshop Method 1: Remove blur with a Shake Reduction filter
Photoshop Method 2: Remove blur with Unsharp Mask
b) How to fix blurry images in PaintShop Pro
2. Fix or repair blurry photos with Stellar Repair for Photo
3. Fix blurry pictures online for free
1. Photo Editors to fix or repair blurry photos
Photo editing applications are advanced enough to remove blurriness in photos. They have deblur options, filters, or plugins that can accomplish the task.
Although online tutorials guide you on how to remove blur from pictures, you have to be familiar with the platform to use it effectively.
Some popular applications that remove blur from the photos are Adobe Lightroom, Adobe Photoshop, PaintShop Pro, PhotoLemur, and others.
a) How to fix blurry photos in Photoshop
Photoshop has various filters to remove blur in the images and make them sharper. You can use the Unsharp Mask and Smart Sharpen filters that offer better control when removing blur in photos.
Method 1: Use Shake Reduction
Method 2: Use Unsharp Mask filter
Photoshop Method 1: Use Shake Reduction
In the Shake Reduction method, Photoshop analyzes the blur on your image and induces the corrections on the entire image.
Steps to fix blurry photos:
Create a duplicate of your blurry photo
Open the copy of photo in Photoshop
From the dropdown menu, select and follow Filter > Sharpen>Shake Reduction
Preview the corrected photo in the Shake Reduction dialog box.
If your photo has blur at multiple regions and each varies, use blur traces feature. The blur traces are listed in the Advanced panel of Shake Reduction dialog box.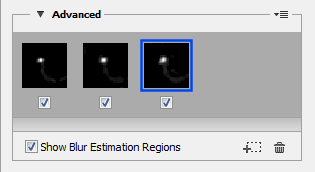 Photoshop Method 2: Use Unsharp Mask filter
Open your image in Photoshop
Select and follow Filters > Sharpen > Unsharp Mas
A pop-up window appears. Adjust the levels of Radius, Amount, and Threshold to sharpen the blurry photo. Since there is no specific setting for these, experiment to get the desired results.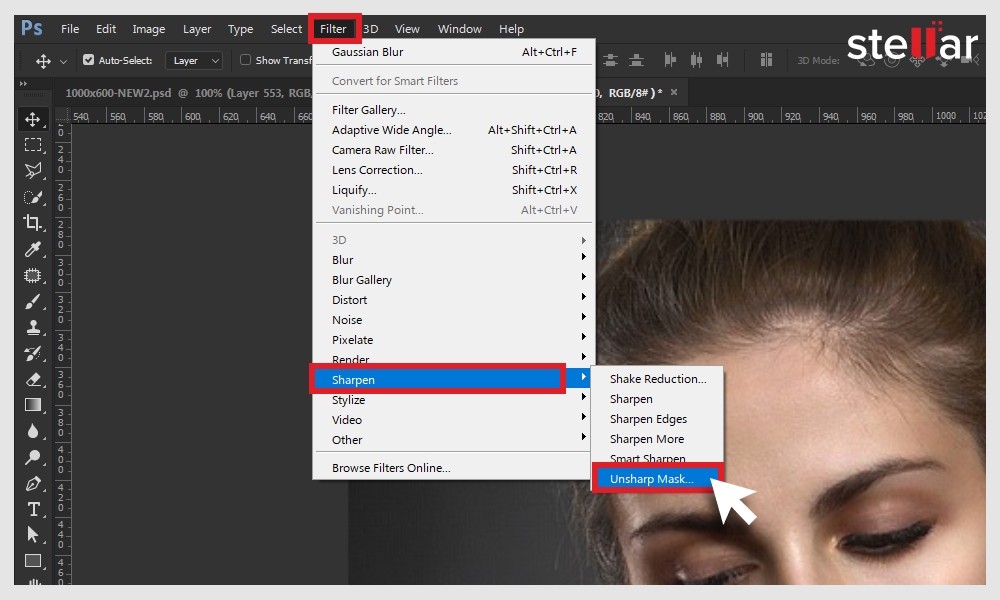 Watch this video to learn how to Repair a damaged Photo in Photoshop
b) How to fix blurry pictures in PaintShop Pro
Install PaintShop Pro
Select Unsharp Mask from the menu bar
Choose Adjust > Sharpness > Unsharp Mask.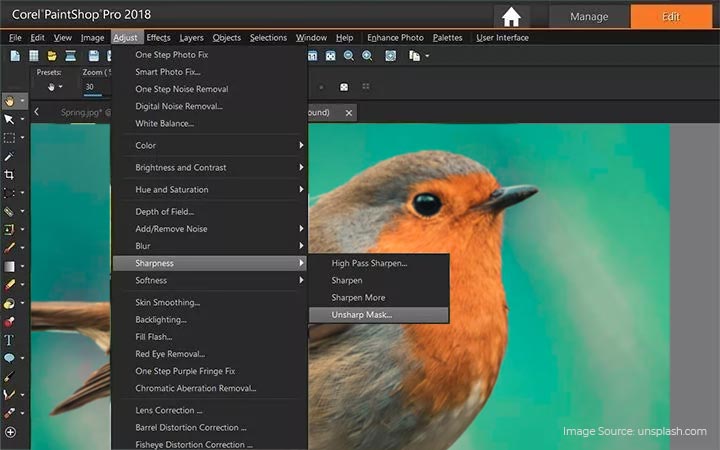 The Unsharp Mask dialog box appears. Adjust the

Radius setting value from 0.01 to 100.  Photos with subjects in close-up

require higher 

Radius

settings whereas photos with several details require lower settings.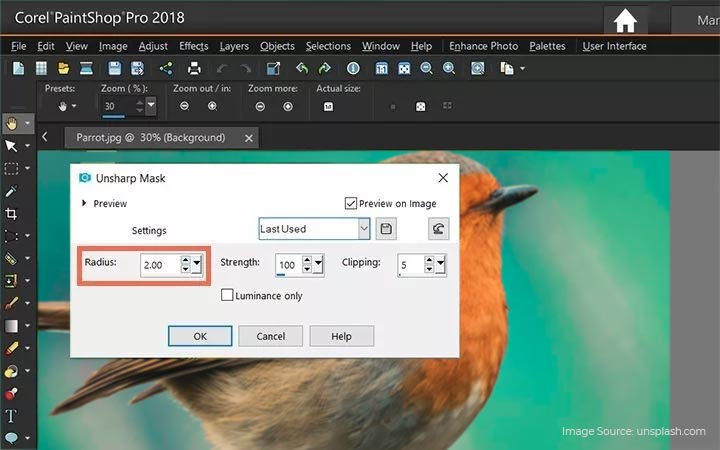 Set Strength. Set a value from 1 to 500
Adjust Clipping. Set a value from 0 to 10
Click OK
2. Repair Blurry Photos with Stellar Repair for Photo
Removing blurriness from photos with the help of a photo editing application like Photoshop requires adequate knowledge of the platform.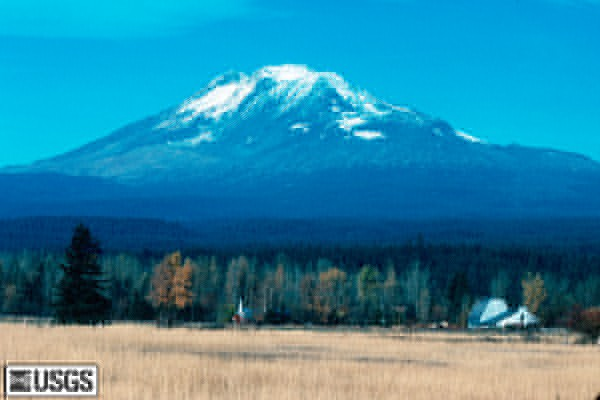 An easier and quicker alternative is Stellar Repair for Photo software – a photo repair tool that automatically fixes blurry, pixelated, and grainy photos.
Simply download and launch the trial version of Stellar Repair for Photo on your PC or Mac and follow the three simple steps – Add file, Repair, and Preview and save.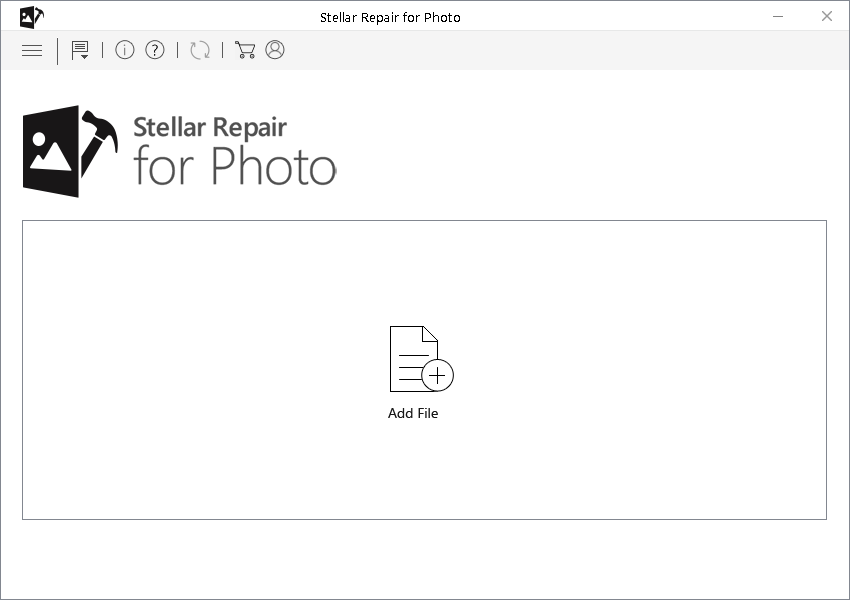 You can load multiple blurry photos in the software and remove blur from all of them in one go. See the preview of the repaired image before saving it at your desired location. The software works on both RAW and JPEG images.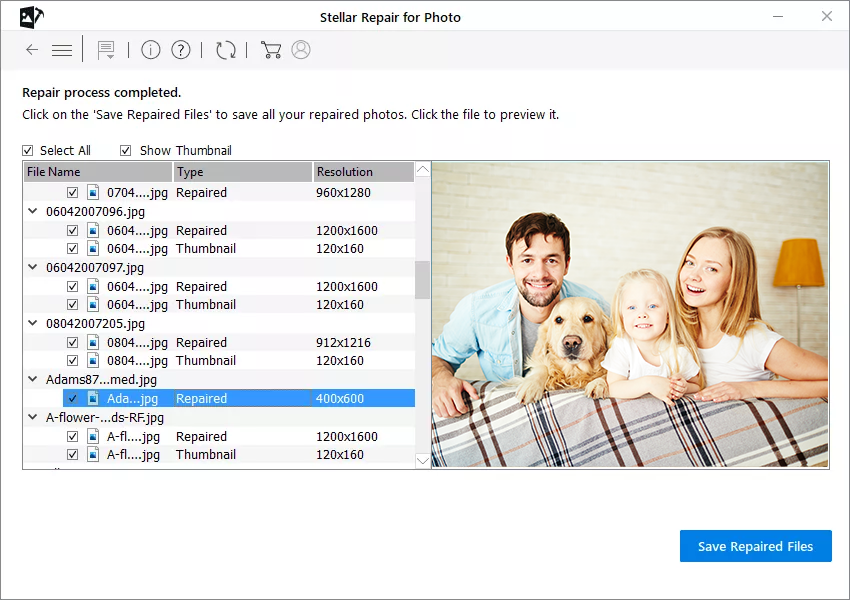 3. Repair blurry Photos online for free
Free online tools are also available, which help reduce the blur in pictures. However, you may not find them as effective as Photoshop or photo repair software. But, yes they can considerably lessen the blurriness in the images.
Your decision to clear blur with the help of an online tool should depend upon the degree of blur in your photos.
Some popular online tools to sharpen and minimize blur are JPEG Sharpner, GIMP, Pixlr, LunaPic, Fotor, and others.
Tips to avoid blurry photos:
Keep your hand steady and have a firm grip on the camera
Use tripod
Can keep the camera on a stable surface
Clean the lens before shooting
Avoid wide aperture
Keep the shutter speed fast
Avoid shallow depth of field
Shoot insufficient light
To Sum Up
Photo Editors are far ahead in effectiveness as compared to photo blur-removing online tools. Software like Stellar Repair for Photo is not an editing platform but is designed to fix photo issues such as blurriness, grains, pixelation, etc. Unlike photo editing applications like Photoshop or Lightroom, the repair software doesn't require any foundational knowledge. Even a novice can repair blurry photos by using Stellar Repair for Photo software.