How to Restore iPhone from Backup when iTunes Backup is Corrupt or not compatible
'I dropped my iPhone and broke it. I got it repaired and formatted to factory settings to fix the various issues caused due to the fall. Since I had a backup in iTunes, so was not worried about my data. But had least idea that my iTunes backup file was corrupted! As I tried to restore iPhone from iTunes, a message appeared –: 'iTunes backup was corrupt or Not compatible.' Now I don't know how to restore my iPhone. Please help.' – Simon, UK
It's not new when users get bowled over by iTunes when trying to restore their iPhone. iTunes sometimes shows a message that it could not restore iPhone because the backup was corrupt or not compatible with the iPhone that was being restored.
It may be because iTunes does incremental backup by updating the previous backup. It's possible that some old backup data was corrupt, which results in the error message.
Whatsoever, it's a fact that there's no recovery possible from a corrupt backup file.
So how to fix such corrupt iPhone backup in iTunes and restore iPhone in such cases?
Here we share the best ways to fix corrupt iTunes backup file and efficient methods to restore iPhone's lost data.
You can apply these methods on all iPhone models including iPhone XS, XS Max, XR, X, 8 Plus, 8, 7 Plus, 7, 6S Plus, 6S, 6 Plus, 6, 5S, 5c, 5, 4S and 4 with iOS 12.x.
What you can do to fix 'iTunes backup was corrupt or Not compatible'
Since you can't repair or recover from a corrupt or incompatible iTunes backup file, it is best to delete such corrupt files and next try to create a new backup in iTunes.
How to delete your corrupt iPhone backup file in iTunes
Launch iTunes on your PC or Mac
Windows users click Edit > Preferences (on Windows PC). Mac users click iTunes Menu > Preferences
Select Find your iPhone backups
Select the corrupt or incompatible backup. Click Delete Backup
Close the iTunes Preferences window
How to delete the old iTunes backup files manually
If you don't see the old backup in iTunes, then delete the backup manually.
In iTunes, under Summary click on Serial Number. You will see the iPhone's UDID. Note it down.
Navigate to the iTunes backups folder on your computer.
On Mac follow: Finder > Option> Go menu> Library> Application Support >MobileSync> Backup
On Windows 8/10 follow: In Search box type %appdata%\Apple Computer\MobileSync\Backup. Press Enter key
If you installed iTunes from the Microsoft Store, follow: In Search box type %userprofile%\Apple\MobileSync\Backup. Press Enter key.
You will see the backup folders named by your device UDID
Select the folders with your device UDID and delete them
Next go to iTunes and take the backup again
How to backup iPhone in iTunes again
Connect your iPhone to computer via lightning cable
Launch iTunes
Click on Back Up Now The backup process begins.
Did you get a message — iTunes can't back up your iPhone because an error occurred? Here's what you should do…
• Update your iOS to the latest version
• Update your iTunes to the latest version
• Disable antivirus software on your computer
• Now create backup in iTunes
How to restore iPhone when iTunes backup file is corrupt
Method 1: Restore iPhone from iCloud backup
Method 2: Recover from iCloud backup without erasing existing data
Method 3: Restore lost data directly from iPhone/ iPad
Method 1: Recover from iCloud backup
Instead of iTunes, you can restore iPhone by using the alternative backup solution, iCloud.
Steps to restore iPhone with iCloud
Click to follow Settings > General > Reset> Erase all Contents and Settings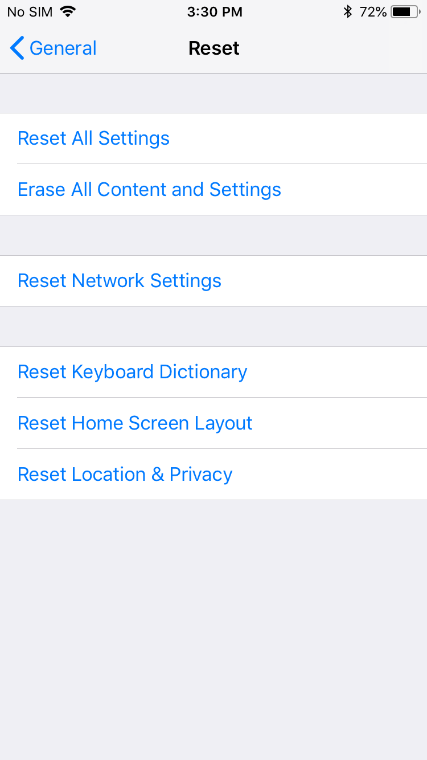 A dialog box pops up, choose Erase Now
Follow the instructions until you get on to the Apps & Data screen
Tap Restore from iCloud Backup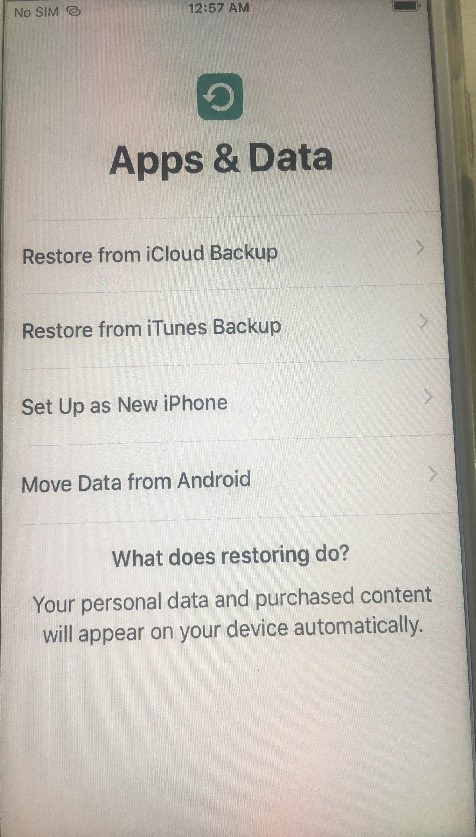 Sign in to your iCloud account
Choose the recent backup and click Restore
Method 2: Recover specific files from iCloud without losing existing iPhone data
In case you want to restore specific data from backup, instead of complete backup, use an iPhone recovery software.
Steps to restore specific files from iCloud:
Download and launch Stellar Data Recovery for iPhone on your computer.
Select Recover from iCloud Backup on main screen of software.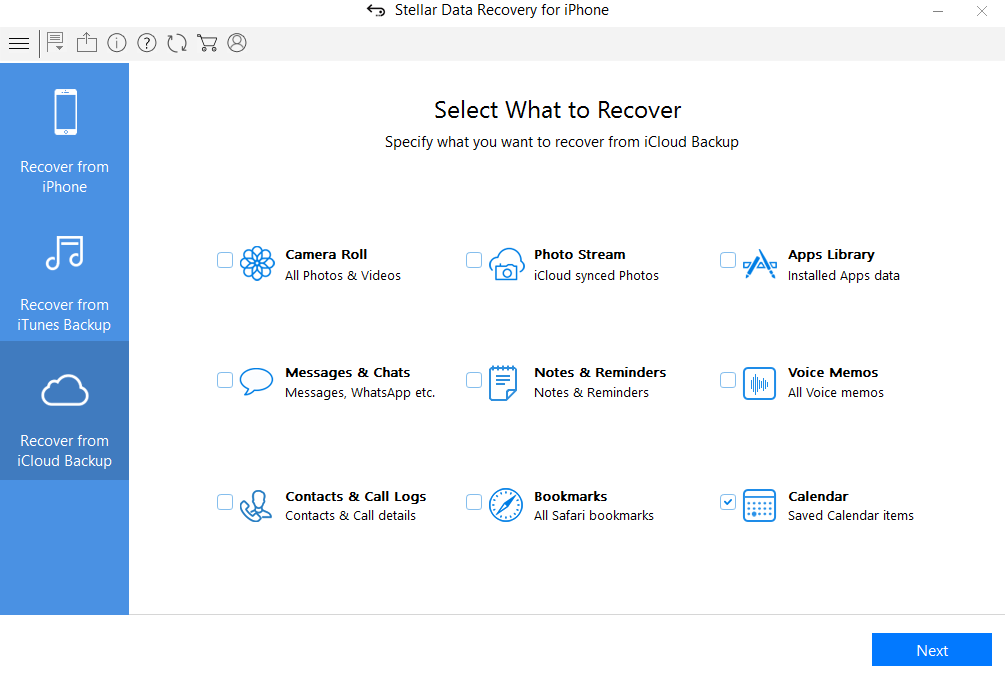 Select what you want to recover. Click Next
Enter the Apple ID and password
Select the relevant iCloud backup and click Scan
Select the data in the iCloud backup files list on left and preview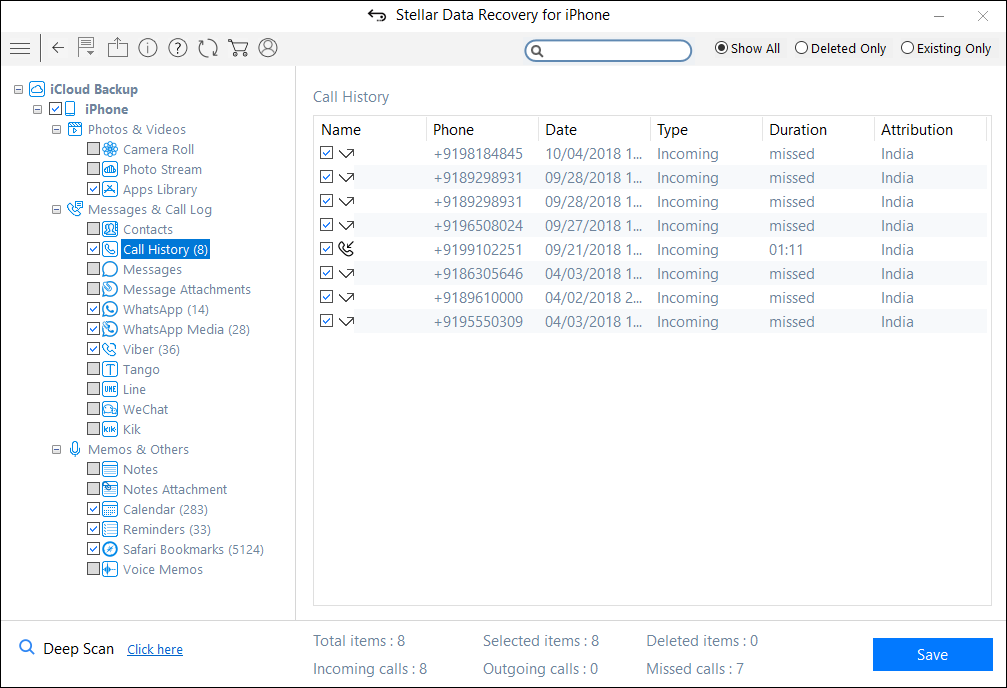 Click Save
In the dialog box select computer or iPhone to save the recovered data. To save directly onto your iPhone, connect your iPhone to the computer.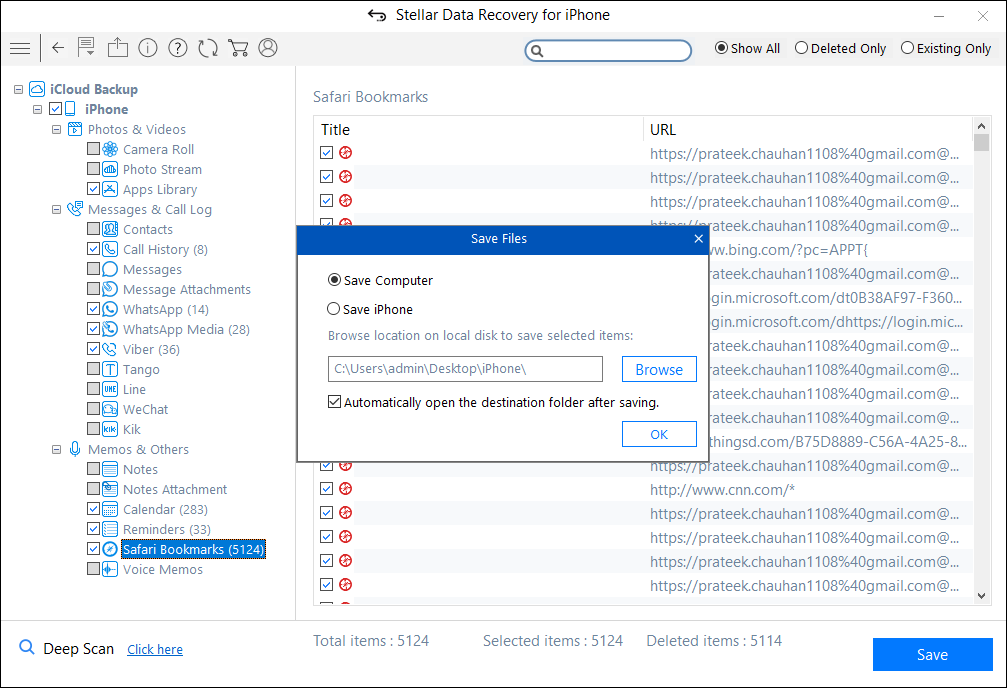 Method 3: Recover data from iPhone
If iTunes could not restore iPhone or iPad because the backup was corrupt and neither iCloud is able to restore backup, recover data from the device directly. You can easily restore lost photos, videos, messages, calendar, voice memos, Safari bookmarks, etc., with this method. It works in cases of broken/ water-damaged iPhone, factory reset, iOS crash etc.
Steps to recover lost data from iPhone/ iPad
Connect your iPhone to computer
On the home screen select Recover from iPhone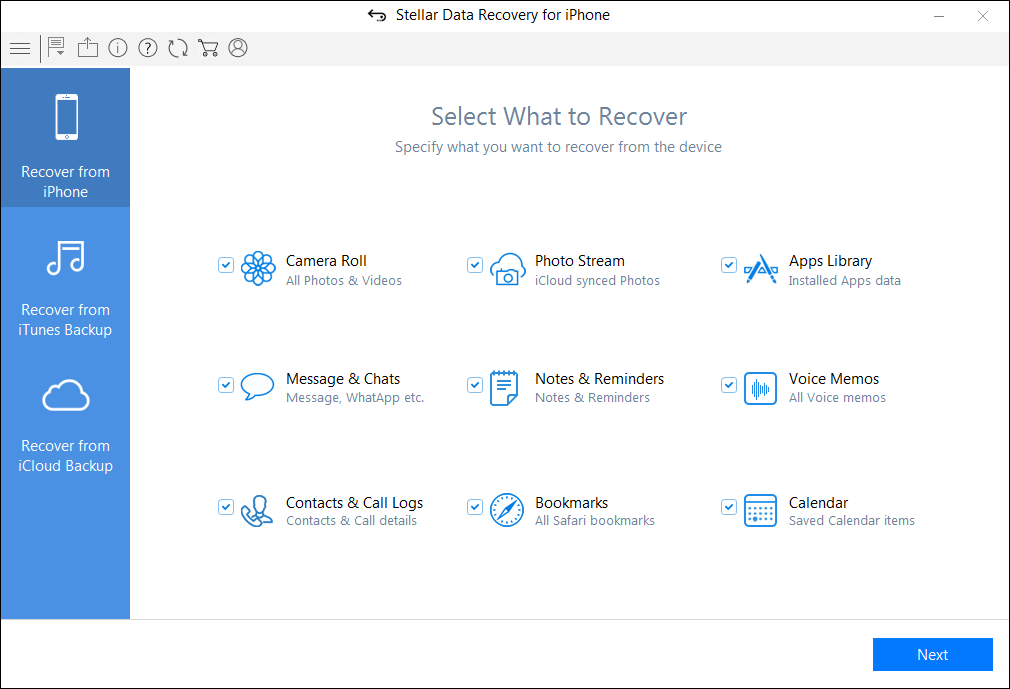 Select the data you want to restore
Click Next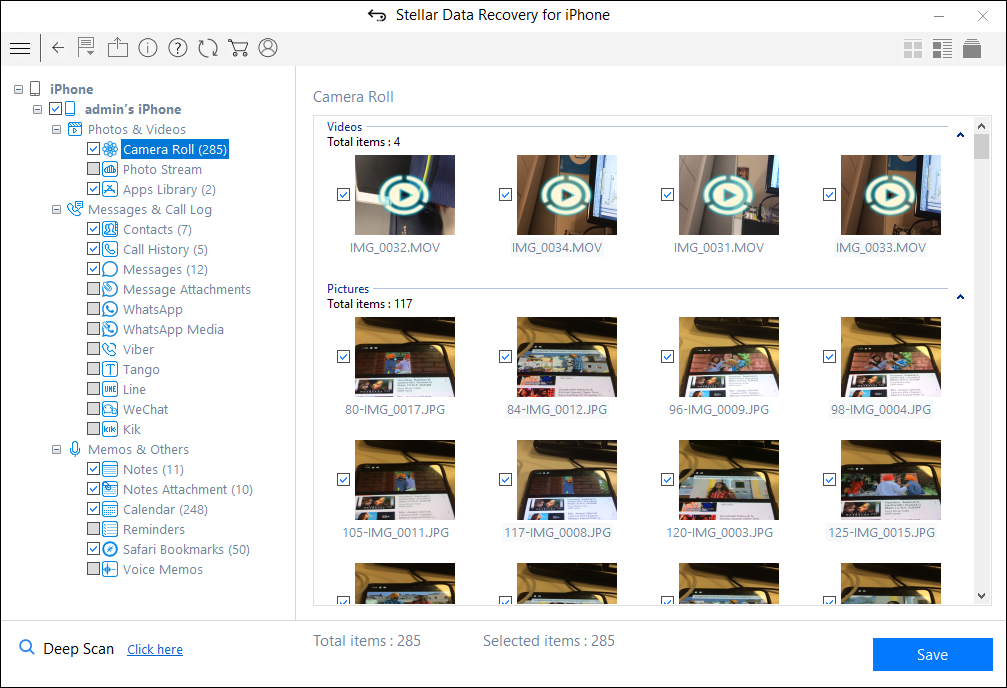 Preview the data and click Save. You can save the recovered data on computer or iPhone.
Conclusion
You cannot repair or recover data from corrupt iTunes backup file that gives — 'iTunes backup was corrupt or Not compatible' message.
However, the situation can be tackled by deleting the corrupt backup file and creating a fresh new backup in iTunes.
To restore iPhone, you may use either the new iTunes backup or bypass iTunes by using alternative recovery methods. Other than iTunes, iCloud or Stellar Data Recovery for iPhone are the effective ways to restore lost data on your iPhone. Among these too, if you wish to restore specific data like photos, videos, voice memos, or contacts etc., Stellar Data Recovery for iPhone would be the best solution.