How to Retrieve Deleted Photos & Videos from Canon EOS 80D
Summary: Accidentally deleted photos or formatted your Canon EOS 80D SD card that contained precious videos? Or else your Canon EOS 80D photos or videos are inaccessible due to corruption or damage of memory card. This post is here to guide how you can easily retrieve deleted photos and videos from Canon EOS 80D camera.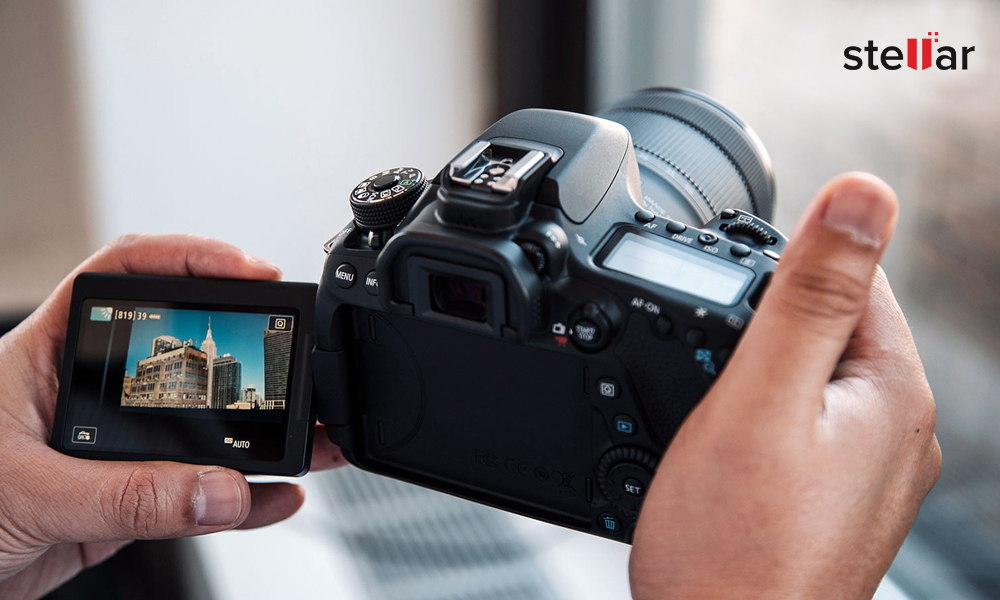 You have the joy and liberty of capturing lots of photos and videos from your Canon device anytime, anywhere, whether in a friend's wedding or else on a vacation. However, the bitter truth is that your Canon EOS 80D or for that matter, any other digital camera does not guarantee total protection against data loss. Accidents and technical hiccups can happen that may lead to loss or deletion of your photos and videos taken from the Canon camera.
So how to retrieve deleted photos and videos from Canon EOS 80D? Is there a simple way out, without sweating much into it?
The answer is 'Yes!' You can get back all your valuable photos and videos by using a third-party photo recovery tool. Yes, it is much simpler and safer than you can imagine. Read on to know all the ways to do the job of photo recovery from your Canon EOS 80D camera.
Third-Party Photo Recovery Tool
Manual ways:
a. Retrieve from backup.
b. Through command prompt.
Retrieve Deleted Photos Using Third-Party Photo Recovery Tool
A third-party photo recovery software is a simple yet highly effective method to recover deleted or lost photos and videos from Canon EOS 80D. While selecting a third-party photo recovery tool to ensure that the software meets the scope of recovery given below so that you do not need to repent later for the wrong pick.

Points to consider while picking third-party photo recovery
Should support different video & audio file formats: It is essential to make sure the software you choose supports the file formats of your Canon videos and photos.
Support SD card: Since your Canon EOS 80D stores all videos and photos on the memory card, so make sure to select the Photo Recovery software that supports your memory card type.
Support RAW file format: It may happen that you have saved your photos in both RAW and JPG format. So pick the tool that supports RAW or JPG recovery.
Easy and simple interface: An easy and intuitive interface makes the job of photo recovery simple. You should not spend hours just to understand how to perform the recovery process through the application.
Based on the above parameters, you can choose Stellar Photo Recovery to get back your lost photos and videos. The software supports not only Canon EOS 80D but all the other models of Canon cameras. It is easy-to-use since you do not need to be a computer geek to recover lost or deleted photos and videos from the camera.
Stellar Photo Recovery recovers photos and videos efficiently restoring them into the original format on the storage media such as SD cards, USB sticks, and other storage devices.
Manual Ways to Recover Your Lost and Deleted Media Files
Retrieve from your backup
You can easily restore lost or deleted Canon camera photos or videos from backup files kept in your storage media like USB flash drive, hard drive or memory card. Now this is applicable only if you were diligent enough to keep the backup and update it regularly.
You can also retrieve deleted photos and videos from the Canon memory card using command prompt (CMD). Also, if you are unable to access your Canon EOS 80D backup files, stored in any other storage media like USB/hard drive/SD card, you can retrieve them using the command prompt as below:
Connect your Memory Card via card reader to your PC.
Press Win + Rand type cmd, press Command Prompt window opens.
Type: chkdsk E: / fand hit Enter (Replace E with the drive letter of the SD card/device from which you lost photos and videos).
Type:Y and hit Enter.
Type:E and hit Enter again.
Type: E:\>attrib -h -r -s /s /d *.*and hit Enter.
A new folder consisting all recovered photos and videos is created in your Canon SD card. Copy them and save to a new location.
Tips: Prevent Corruption & Loss of photos/videos from Canon EOS 80D
Do not remove the SD card from camera or the computer while in use.
Follow the process while inserting or removing the camera SD Card from any device.
Avoid using your Canon SD card on multiple devices.
Never click photos or shoot videos when the camera battery is low.
Install antivirus on your system before connecting the Canon camera or its SD Card.
Carefully handle your SD card to prevent any physical damage.
Never use the problematic Canon EOS 80D SD card once the issue is detected to avoid rewriting of your data.
Conclusion
Stellar Photo Recovery is a simple to use and a highly effective tool to retrieve deleted photos and videos from Canon EOS 80D.
There are multiple options available in the market, however, when it comes to guaranteed and effective recovery of your precious memories, you can safely trust Stellar Photo Recovery. No wonder it is highly recommended by leading tech experts and photographers around the world.