6 Methods to fix iPhone, iPad Apps Freezing and Crashing
Summary: If you are facing iPhone apps crash or freeze issue, read this blog to learn 6 best methods to fix the issue. Be it Facebook, Kindle, Safari, Viber, Twitter, Amazon, or Instagram, you can apply these solutions anywhere
Crashing or freezing of your favorite iPhone or iPad apps is a frustrating experience. Whether Facebook, Instagram, Kindle, Safari, Viber, Skype, or any game, often apps quit unexpectedly after launching or freeze the device.
Tackling the issue, this post shares the best troubleshooting ways to overcome iPhone, iPad apps freezing and crashing. You can apply the same ways to fix the frozen app issues on iPad too.
But before that lets understand the possible reasons that make the once working fine apps crash.
Why did your iPhone/iPad app crash?
The problem could arise because of variety of reasons. May be your app has become obsolete and needs an update or the latest iOS is not compatible with the app. For instance, iOS11 does not support 32–bit apps. Thus all previously installed 32–bit apps on your device will stop working after update to iOS11.
Most of the time lack of space in the device makes the app to behave abruptly. Generally iPhone users overload their device with a hundreds of music, photos or videos that cripple the storage space. Apps keep crashing as there is not enough space to perform their tasks. Also a poor mobile network or Wi-Fi does not let the apps to launch properly.
Ways to fix iPhone, iPad apps freezing and crashing or quitting unexpectedly
Restart iPhone
Reset to factor settings
Restore iPhone through iTunes
Force quit the App and Re-launch
Update iOS
Update the App
Delete and reinstall the app
Clear space on your iPhone
Contact the app developer
Approach 1: Follow the 3 R's – Restart, Reset, and Restore
Commonly advised by Apple Support, the three R's – Restart, Reset, and Restore are the universal cure to most of the iPhone related problems including iPhone, iPad apps freezing and crashing or quitting unexpectedly.
So begin the troubleshooting with the 3 R's in order of Restart, Reset, and Restore.
Restart iPhone
Press and hold the top or side button until the slider appears
Drag the slider to turn off the iPhone
Again press and hold the top or side button till the Apple logo appears
As your iPhone turns on, try using the app again
If restarting the iPhone does not help move to next the next fix.
Reset iPhone to Factory settings
If you are attempting factory reset, make sure you have iPhone data backup in place. Factory reset or hard reset erases complete data from the device including photos, videos, messages, contacts, calendar, camera roll, chat history etc. Steps to factory reset your iPhone:
Go to Settings > General > Reset > Erase All Content and Settings
Enter Apple passcode and tap on Erase iPhone
Lost iPhone data after factory reset!

After factory reset, you may realize you do not have a backup or unable to restore data from iCloud/iTunes. In such situations use a secure solution – iPhone Data Recovery Software by Stellar to recover lost or deleted iPhone data. The do-it-yourself application recovers missing or accidentally deleted videos, photos, music, contacts, calendar, call history, WhatsApp, WeChat, Line, and Kik Messages, etc. from iPhone. It supports series of iPhone 14, 13, 12, 11, X, 8 Plus, 8, 7 Plus, 7, 6S Plus, 6S, 6 Plus, 6, 5S, 5c, 5, 4S and 4. The software enables data recovery from iTunes, iCloud and iPhone. To select the best software for your data, check this list of 10 best iPhone data recovery software.
Restore iPhone with iTunes
Like Factory Reset, restoring iPhone with iTunes also causes complete loss of data from the device. Thus, always backup your data at iCloud and iTunes, else seek help of Stellar Data recovery for iPhone to get back lost iPhone data.
Open the iTunes on your computer and connect iPhone with the computer
If the message asks device passcode or to Trust This Computer, follow the onscreen steps
Select your iPhone, tap the Summary option on the left and click Restore iPhone button.
Choose the latest backup and click the Restore button
Approach 2: Force quit the App and Re-launch
If any app does not respond, you can force quit and re-launch it. Steps to quit and re-launch app:
Double-click on the Home button, recently used apps appear on screen
Locate your problem creating application
Swipe up on it to quit
Click the Home button to return to the Home Screen
Tap the app icon to reopen it
Approach 3: Check for updates
Updates are important as developers not just bring in new features with every update but also identify the bugs and shortcomings within their applications and fix them. Thus updating your crashing app on iPhone or the iOS may resolve the issue.
Update the iPhone App
In App Store tap on Updates, download and install available updates of the application that is freezing or quitting unexpectedly. After the install, check the app again on iPhone, if it is working properly.
Update iOS
To update your iPhone to the latest iOS version, go to Settings > General > Software Update and choose Download & Install.
Once the process is complete, open the crashing app to see if it is functional again.
Note: Although iOS upgrade does not lead to data loss, however, if upgrade process is interrupted by sudden power loss etc., you may lose your iPhone data. The best way to be secure is to backup your data to iCloud or iTunes before the iOS update.
Approach 4: Delete and Re-install app
If updating the iPhone app that is crashing does not solve the problem delete and reinstall the app. This also dumps cache data of the app, freeing up some storage space.
Press the app icon and hold for a few seconds
Tap on the X button that appears
A pop-up window asks if you want to delete the app
Hit Delete and the app will be removed from your iPhone
Now, from the App Store download the latest version of the deleted app. Try opening the app, the problem should be fixed.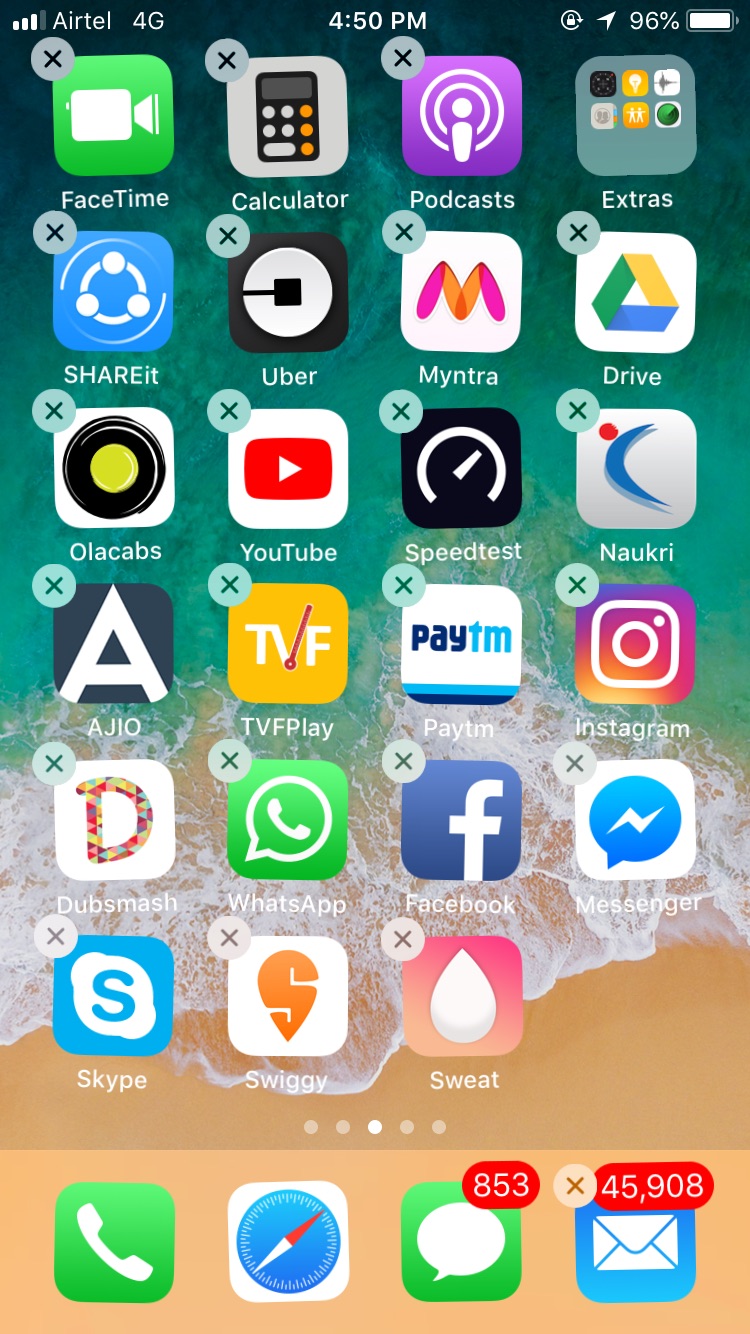 Approach 5: Clear space on your iPhone
One of the reasons for iPad, iPhone applications quit unexpectedly is lack of storage space. Apps may start to behave abruptly if there is not enough space in your device. So just free some space on your iPhone or iPad.
To manage storage on iPhone, delete the apps that you do not need. Go to Settings > General > iPhone Storage. A list of apps along with storage space occupied by them is displayed. Delete the ones that you do not use.
Remove songs, photos, or videos that you may not want to keep or use anymore. This will free up some space and help the app to work without crashing.
Approach 6: Contact the app developer
If your iPhone, iPad apps continue to crash or freeze even after applying above fixes, contact the app developer.
Open the App Store search for the app or find it in Updates > Purchased, then tap it. In the Ratings & Reviews, tap App Support. If you don't see App Support, make sure that you are signed in with the same Apple ID that you purchased or downloaded the app with.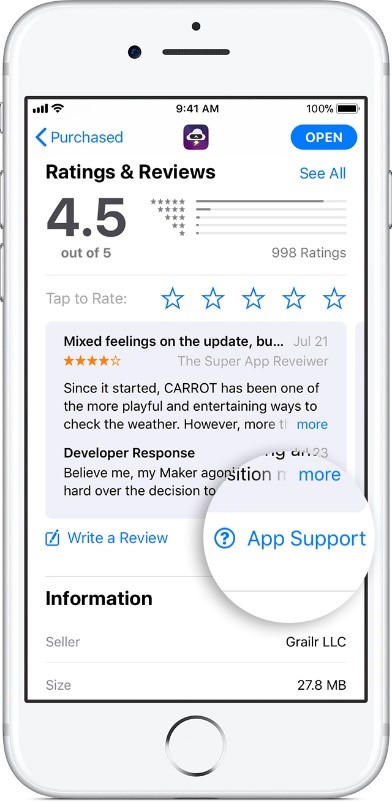 To Wrap Up
Hope one of the above methods would resolve your iPhone, iPad apps freezing and crashing or quitting unexpectedly problem. And if by any chance during the process you lose any of your iPhone or iPad data, trust iPhone Data Recovery Software by Stellar to recover any kind of lost data. The software is capable to recover lost or accidentally deleted Photos, Videos, Contacts, Messages etc. from iPhone and iPad.
If you too have any other solution to the fix the iPhone app issue, let us know in the comments below.