PST Management Software: Manage your Outlook PST with 8 Modules
This blog acquaints you with the issues you can face while managing your Outlook PST files and then proposes an all-in-one software to manage Outlook PST files successfully.
Are you facing difficulty managing your Outlook PST files? Are you tired of using different tools to address various issues in MS Outlook? If your answer to these questions is a big Yes, you are in dire need of an out-of-the-box PST management software so that you can manage your Outlook PST files effectively and proficiently with its use.
Issues/requirements common with Outlook PST files
The common or frequent issues that you can face while using MS Outlook email clients are numerous. Have a look at those here in this section:
Corruption or damage to MS Outlook PST files
Irregularity or abnormality in the functionality of Outlook
The occurrence of several error messages
Presence of duplicate emails in Outlook
Loss of Outlook password or passphrase
Need to compact PST files to avoid corruption in it
Lost or accidentally deleted mails from MS Outlook
Need to split PST file to evade corruption issues in it
Need to merge Outlook PST file to prevent corruption
Now comes the management of MS Outlook Personal Folders (PST) files!
Management of Outlook PST files
The proper management of Outlook PST files is quite a necessity so that you have a smooth experience with Microsoft's popular email client. And, you never have to experience any difficulties with it. Besides, you are not let down. To manage Outlook PST files appropriately, the common things that you need to do are as follows depending on the issue faced.
Repair the damaged or corrupt Outlook PST files
Fixing of issues that are encountered
Recovery of lost or forgotten password
Conversion of Outlook OST file into PST
Recover accidentally deleted mailbox items from MS Outlook PST and OST
Removal of duplicate emails so that the occupied space is released
Compact, split or merge PST files as is the requirement

Fine, you can perform all of these functionalities with Stellar Toolkit for Outlook: a pack of 8 utilities wherein each of the utilities is specialized to perform a special functionality to address different issues.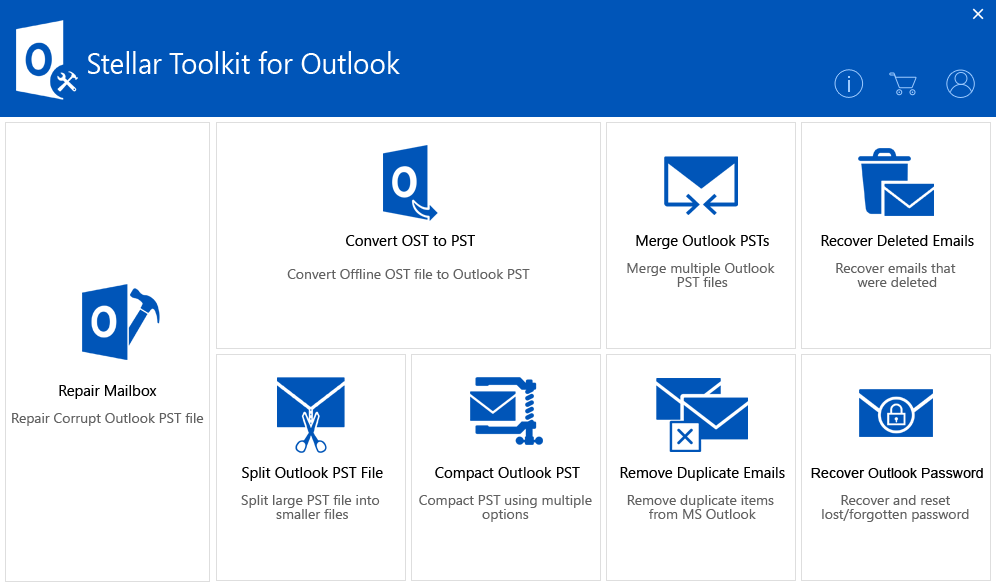 Know about each of the 8 segments of this Outlook Data file management software in the forthcoming sections:
1. Repair PST – With this segment in use, you can repair all PST files no matter whether the corruption is minor or major. Regardless of the severity of the corruption, you can use it in all instances of PST file corruption. The benefits are as follows:
• Successful repair of inaccessible PST files that are damaged or corrupt
• Restoration of all data from emails, contacts, tasks, to calendars, etc.
• Preview of repaired data items in Outlook's PST file
• Saving of the repaired PST file in MS Office 365 format
• Supports Microsoft Outlook editions 2019, 2016, 2013, 2010, 2007 & 2003
2. Convert OST to PST– With this module of the software, you can convert your OST file into PST. This tool also allows the conversion of multiple OST files, Split and compact OST file.
Convert encrypted OST file into PST
Preview of converted mail items
Converts up to 20 emails per folder
Support batch conversion of OST to PST
Works with Microsoft Outlook 2019, 2016, 2013, 2010, 2007, 2003, 2002, and 2000
3. Split PST – With this segment, you can split PST files into smaller sizes so that you can avoid corruption in PST files and manage them easily. You can split the PST files by three options that are By Size, By Date, By Mail Id, and Mail folder. The benefits provided by it are stated below:
• Splits large PST files into smaller Outlook importable PSTs
• Outlook versions supported: 2019, 2016, 2013, 2010, 2007 & 2003
• Compatible with Windows OS 10, 8.1, 8 & 7
4. Compact PST – This is another important segment of the Outlook toolkit using which you can compact/compress Outlook PST files so that you do not face discrepancies with MS Outlook. In this way, issues related to PST file size, such as PST file crashes can be easily avoided. Here, the benefits are as follows:
• Email attachments are extracted in a separate folder
• The compressing process can be scheduled at a preferred time
• MS Outlook Support: 2019, 2016, 2013, 2010, and below versions up to 2000
5. PST Merge – This fourth segment in the toolkit is highly useful for combining a number of PST files into one. It offers both merging and joining of PST files easily without data loss or change in the original structure. With it, 100% assurance is provided for the integrity of the original PST files. The benefits are as follows:
• Emails, calendars, contacts, journals, notes, and tasks can be combined, i.e. both merged and joined
• Filtering of all duplicate emails
• Password-protected PST files can be merged or joined
• Multiple saving formats, such as new and existing PST file, Outlook Profile, Office 365, and Exchange Server
• Windows OS 10, 8.1, 8, 7, Vista OS & Windows Server 8 and 12 are supported
6. Recover PST Password – This segment of the toolkit is proficient in recovering the lost or forgotten password of password-protected PST files. Thus, losing or forgetting your Outlook password should no longer be a worry to you. This password recovery segment offers you a set of six passwords that you can use to open the PST file. The benefits of this segment are stated below:
• Retrieves PST file password if you have lost or forgotten
• Offers a set of six diverse and strong passwords
• MS Outlook support: 2019, 2016, 2013, 2010, 2007 and 2003 version
7. Duplicate Mail Remover – This sixth and the last segment of Outlook toolkit can be used to remove duplicate emails in Outlook. It easily filters out all the duplicate and junk emails from Outlook, thus releasing space for further storage and reducing the PST file size. With this, corruption in PST file can be avoided effortlessly. Its benefits are:
•  Detects and eliminates emails that are duplicates and junk
•  Marks duplicate emails as 'Expired', thereby differentiating become easy
•  Copies or moves the identical(duplicate) emails to another folder
•  Supports Microsoft Outlook versions 2019, 2016, 2013, 2010, 2007, and 2003
8.  Deleted Email Recovery– This module of the software helps users in case they have lost or accidentally deleted the mailbox component from Microsoft Outlook PST or OST File.
Recover deleted emails from password-protected Outlook Data file
Recover deleted attachments such as Excel Worksheet, Word Documents, images, and many more
Provides an option to save the scanned copy of preview in DAT file which can be load further
Supports Microsoft Outlook versions 2019, 2016, 2013, 2010, 2007, and 2003
Check here how all 8 Outlook Management tools work.
The Ending Lines!
Embedded with a total of eight advantageous segments, Stellar Toolkit for Outlook serves as the best PST management software available in the market. Thus, always use it to manage Outlook PST files whenever required. All-in-all it serves as a perfect software for managing PST files!
Read More