Quick & Easy Video Converter (MP4/AVI/WMV) Software
Video converter software has become a necessity today, as there are several video formats available (many of them already extinct); each with its own advantages, and created for particular purpose and devices. It is frustrating when you find out that your device does not support the video file you downloaded or you want to play the downloaded video on a device with limited storage but to do that, you need to reduce the file size.
In addition, multimedia devices such as iPod, DVD/Blu-Ray players, Smart TVs, LED TVs, Smartphones, PlayStation, Xbox, etc. support different video formats, and it could be difficult to find out the most suitable file format supported by all devices. However, with a quick and easy-to-use video file converter software such as Stellar Converter for Audio Video, you can easily convert any video file to 50+ video file formats for over 20 different devices without losing the audio/video quality, and overcome all the issues related to compatibility and storage.
Quick & Easy way to Convert Videos (Windows/Mac)
MP4/AVI/WMV formats are few of the most widely used media container formats that quickly became popular than any other formats because of their extensive support, unique features, and advantages. Out of the three formats, MP4 is the only format that plays everywhere without an issue (universal playback due to H.264 codec) and is supported by almost all multimedia devices. AVI and WMV are both Microsoft formats. AVI is compatible with most computing devices but the size of AVI and MP4 files is much larger than the WMV, which is popular for its tiny size with the same amount of video information.
You can use Stellar Converter for Audio Video software for PC and Mac that supports the conversion of several video file formats such as MP4, MPEG, AVI, MOV, M4V, MKV, VOB, 3GP, 3G2, ASF, etc. This video converter is a multipurpose program that allows you to perform various operations with the video before conversion such as crop, rotates, trims, and flip video files or transforms video with effects like contrast, brightness, watermark, and saturation, etc.
Converting video files with Stellar Converter for Audio Video is quite easy. You can follow these steps to convert a video file(s) to MP4/AVI/WMV or any other format:
Download, install and launch Stellar Converter for Audio Video software.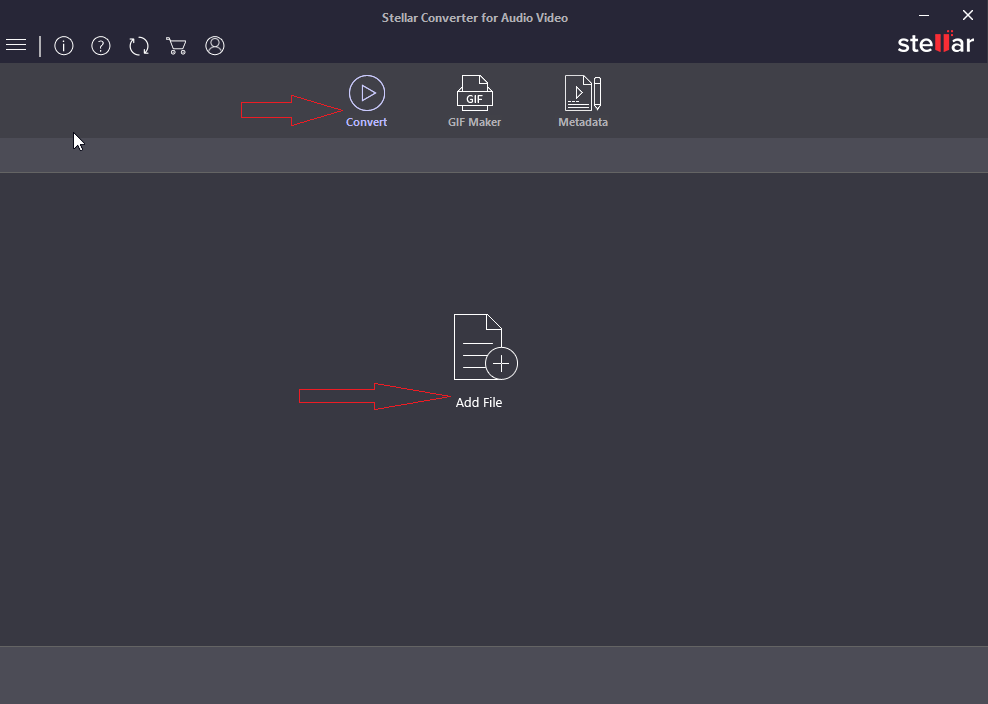 On main user interface, Click Add files and select your videos (single/multiple) for conversion.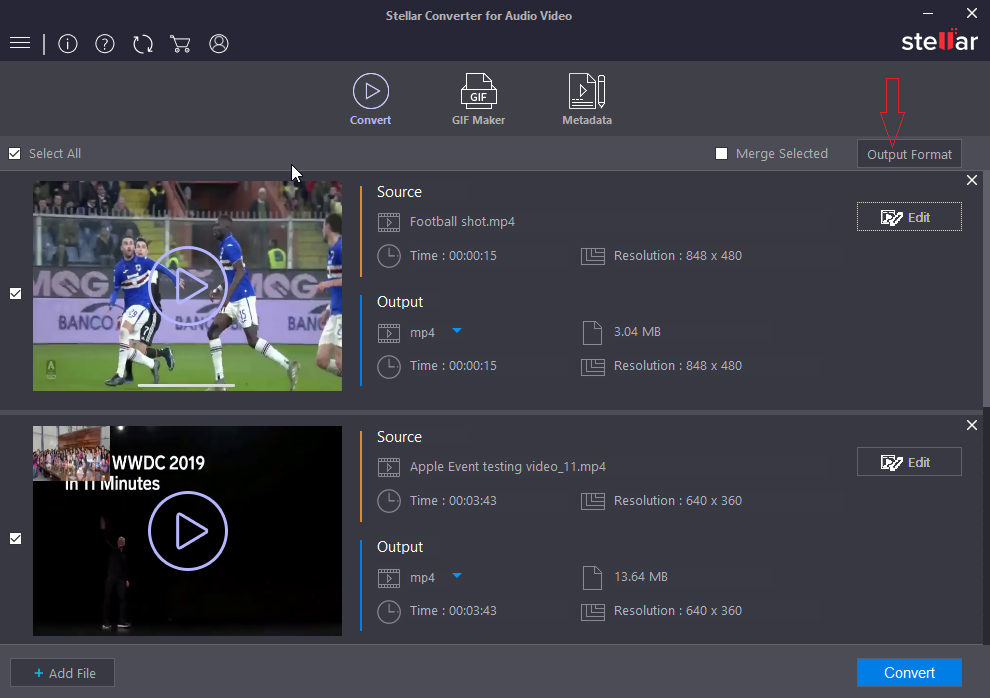 Click Output Format at the top-right corner.
Under Default Presets tab, set the Format Type as MP4/AVI/WMV or any other video format as desired. (Optional) Configure the output settings as required under the Advanced Settings tab.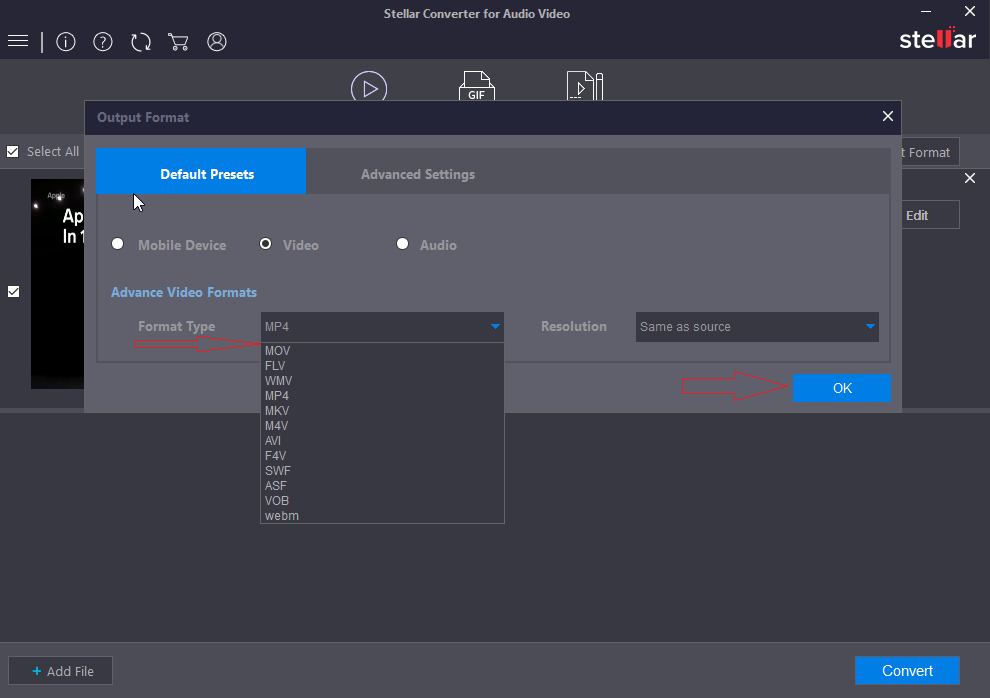 Click OK, and then click Convert.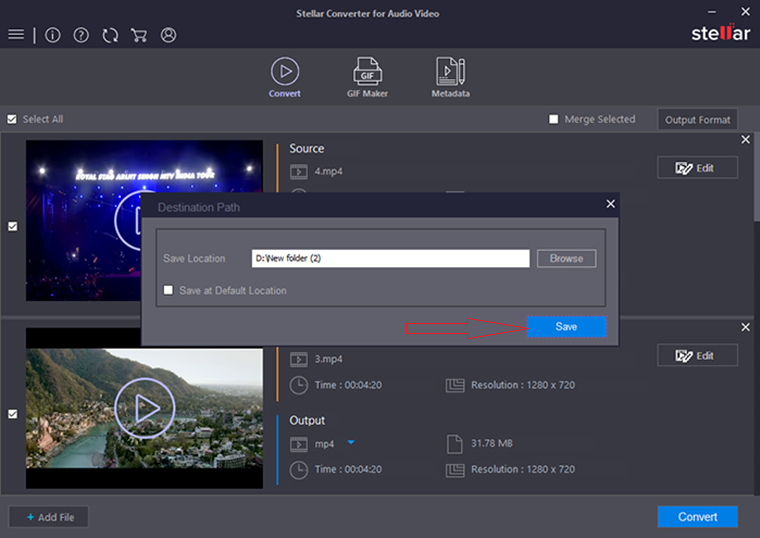 After the file is converted, browse to a location to save the file and click Save.
Visit the saved location and view the AVI/MP4/WMV converted video files. Further, using this software you can customize video settings, preview videos, add your own custom watermark, add filters and effects, and trim unwanted video segments before conversion. The Stellar Converter for Audio Video software is available for both macOS and Windows OS.
Conclusion
You might want to use a free video converter software but beware! The free video converter software marks your output video with their watermark and the quality of the converted video is also poor. In addition, these free video converter software lacks many advanced options and support for popular video formats to keep the quality and compatibility of video intact even after conversion to various formats. With Stellar Converter for Audio Video software, you can not only convert a video file to various formats but can also edit and transform it before exporting to more than 50 supported video formats for over 20 different multimedia devices in just a few clicks. Besides, it also supports batch conversion, converts video to audio, and lets you add your own custom watermark on video.