[FIXED] – Request Failed Due to a Fatal Device Hardware Error
Summary: The error 'the request failed due to a fatal device hardware error' is a hardware-related issue that occurs due to numerous reasons. In this blog, we will look at this error message in detail and discuss some methods to resolve it.
From important documents to other files, we store a lot of data on our external hard drives and SSDs. However, there are times when these storage devices can run into errors that can cause us to panic. One such error is the "The request failed due to a fatal device hardware error" pop-up.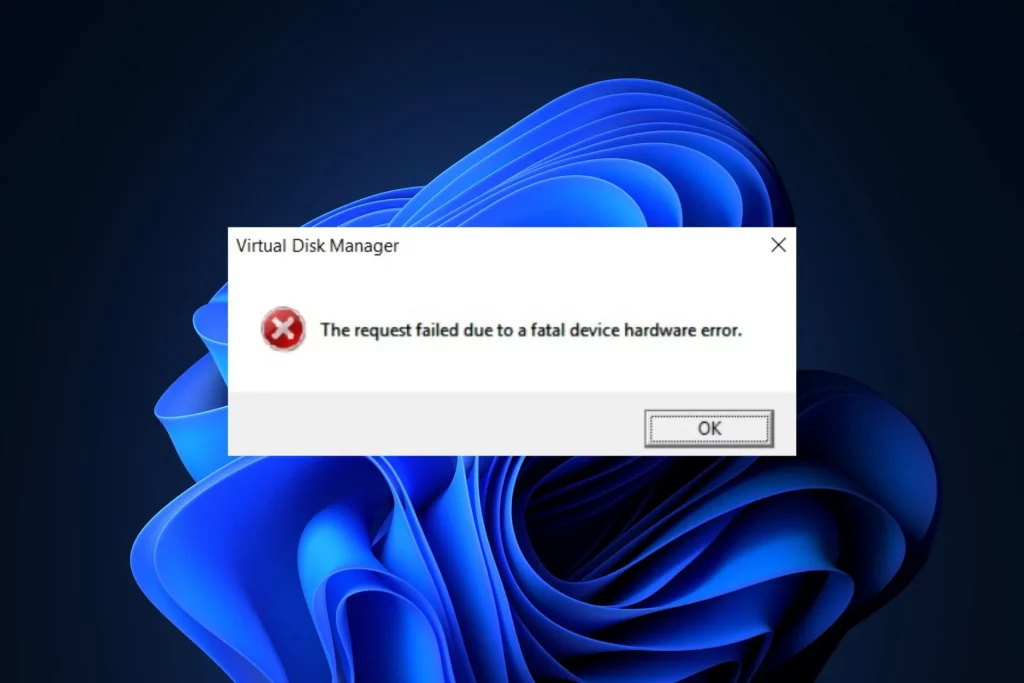 This is a hardware-related error that mostly occurs when the storage device is either physically damaged or there is some other issue that prevents the computer from accessing the data on it. Users also encounter this error while attempting to transfer/copy the files from/to the drive. These issues cause the computer to fail while trying to access the drive or perform read/write operations on it.
In this guide, we will get behind this error and look at the reasons causing it to pop up. We will also study some useful methods that can help us fix this error.
Causes Behind the Error Message "The request failed due to a fatal device hardware error"
As evident from the error message itself, this is a hardware-related issue that prevents the storage drive from performing read/write tasks, and the computer from accessing the data on it. Listed below are some reasons behind this error –
Faulty or loose USB cables or connections, faulty USB ports, etc. can cause the computer to display this error message.
Bad sectors or corruption or improper mapping in the storage drive can cause this error to generate.
There could be a fault in the hard drive itself. Check it for unusual noises like clicking sounds.
Methods to Fix the Error Message "The request failed due to a fatal device hardware error"
Now that we know how this error is caused, let's look at the methods to fix it.
Method 1: Check Cables & USB Connections
This is the most basic check you should do. Sometimes, loose connections or faulty cables or ports can cause the hard drive to become inaccessible. This can also cause the system to throw error messages like fatal device hardware error. If everything is perfect, move on to the next method.
Method 2: Use WMIC to Verify the Storage Drive
In this method, we will use Windows' built-in SMART analysis feature, which can help us know the state of our storage device. This test analyzes the storage device by performing minor operations. Once the test is over, it gives out the results as OK, Bad, Caution, or Unknown. This analysis is executed in the command prompt. Here's how you can use it –
Launch Command Prompt with administrative rights.
Type in the following command: "wmic diskdrive get status".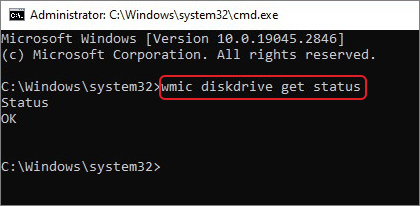 Wait for the analysis to complete.
Once the test is complete. It will show the result. If it says "OK", there is no problem with your storage drive. However, if it says, Bad, Caution, or Unknown, there is some issue with the device, for sure. In such a scenario, you should try recovering the data present on the problematic storage drive using a professional data recovery software.
Method 3: Perform Error Checks
If your storage device is mapped improperly, it can cause the computer to show the error "the request failed due to a fatal device hardware error" on your screen. You can resolve this error code by using a built-in tool in Windows for this.
The error-checking feature in Windows scans the storage drive for logical errors and damaged file systems. To perform this –
Go to This PC.
Locate the problematic drive and right-click on it.
Click on Properties.
Click on the Tools tab and locate the Error-checking section.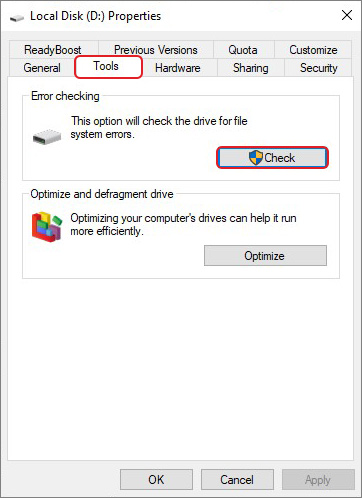 Click on the Check button.
A confirmation prompt will appear. Click on the Scan drive to proceed.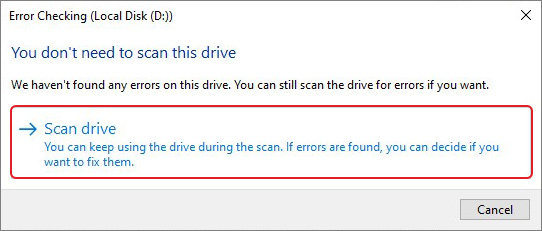 Let the wizard finish the process. Once it is over, the wizard will display and fix the errors. This should resolve the fatal device hardware error on your computer.
Method 4: Perform CHKDSK
CHKDSK is a command line utility that is used for checking a file system and its metadata for any logical and physical errors. The chkdsk command is used with certain parameters that serve their predefined purpose. In this case, we will be using 2 parameters – /f and /r. Here are the steps to perform this –
Open Command Prompt with administrator privileges.
Type chkdsk X: /f /r and press Enter.

Notes –
/f parameter fixes errors on the disk.
/r Recovers readable information from the bad sectors by locating them.
Replace X with the drive letter of the problematic storage device.
Method 5: Initialize the Storage Drive
If you're unable to access your storage drive or the computer fails to recognize the storage device, you need to initialize it. Initializing the drive helps in making it visible to the system and also eliminates other disk-related errors like the Disk Unknown Not Initialized error. However, keep in mind that initializing can cause data loss. Carefully follow the steps to do this –
Press WINDOWS + R to launch Run.
Type diskmgmt.msc and press Enter to launch Disk Management.
Locate the problematic storage drive and right-click it.
Click on Initialize Disk.
Follow the steps as prompted by the wizard.
Note – Initializing might erase all data stored in the drive. Hence, proceed only when you have a backup of all your important files and documents.
Is There a Way to Recover Data from a Faulty Storage Drive?
Storage devices like HDDs are an important piece of technology that we use to store our data. However, at times they run into problems causing errors.
If you have an external storage drive like an HDD, SSD, or pen drive and it generates the error message "the request failed due to a fatal device hardware error" on your screen, you can try your hands at a powerful and professional data recovery software like Stellar Data Recovery Professional.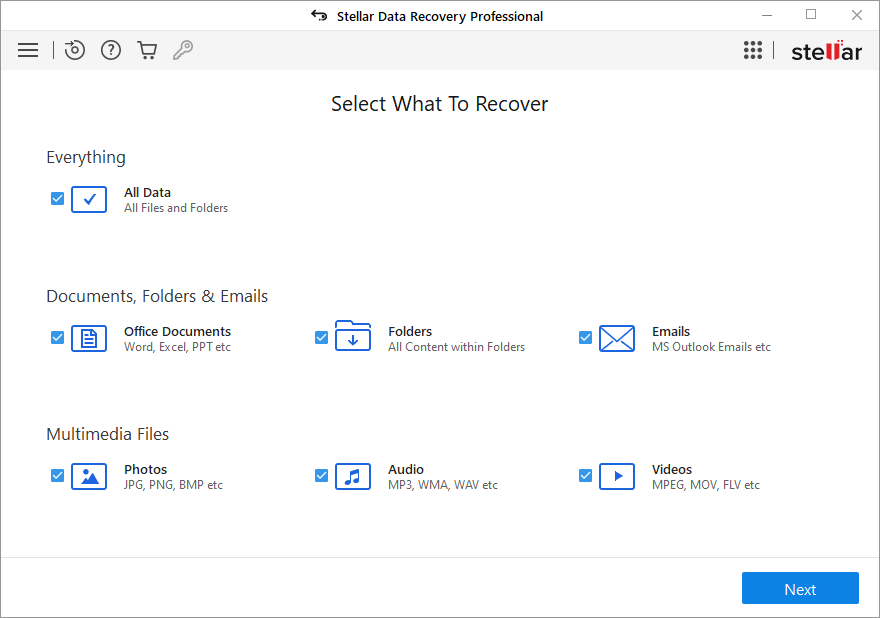 This software can help you retrieve your data lost in numerous data loss cases like accidental deletion, formatting, lost partition, crashed or unbootable computer and more. This tool also has a drive monitor utility, which provides accurate information about your hard drive's health.
The drive monitor comes in handy in situations like this where the drive has become inaccessible. This tool offers accurate insights and informs if the drive is ready for performing data recovery or not. Give it a try.

Conclusion
Losing personal data can be a nightmare for many users who haven't created backup copies of their data. In this post, we discussed the "the request failed due to a fatal device hardware" error along with the reasons behind its generation. From reconnecting the problematic drives to performing chkdsk and other functions, we hope the methods mentioned here helped you resolve this specific error code.
FAQs
Q. What is a 'fatal hardware error' on Western Digital hard drives?
A. 'Fatal hardware error' messages indicate that the hard drive could possibly be damaged physically. This message could also be due to other reasons like loose connections, corrupted files, etc.
Q. What is the error 0x800701E3 while transferring my files?
A. The error code 0x800701E3 is an indicator of bad sectors on your hard drive. It could also be due to failing peripherals like a SATA cable or an SD card adapter.
Q. How do I fix the fatal device hardware error on my USB?
A. There are numerous ways to fix this error –
Check the connections and USB ports
Use WMIC to verify the hard drive
Check and repair bad sectors
Update storage device drivers