Summary: Capturing images is a vital part of our personal life. In this blog, Learn how Stellar Photo Recovery software can restore your deleted JPEG, PNG, TIFF, GIF, and BMP Files for both Mac and Windows.
Whether you are an amateur or a professional photographer who is looking forward for one sure-shot Photo Recovery solution then this comprehensive guide is for you. This Blog guides you about the all-in-one Photo Recovery software for both Mac and Windows that supports all types of file recovery including popular Image Formats such as JPEG, PNG, TIFF, GIF, and BMP. Read on to know more.
Photos: A Source to Enliven your Memories
Images revive fond memories at any instant of time. They are not only a vital part of our Personal life but are used professionally too, be it in the field of Marketing, Advertising, Fashion Industry, Graphic Designing, or Journalism, etc.
Image File Formats: JPEG, PNG, TIFF, GIF, and BMP- Your File, Your Choice!
Different images support different file formats. The JPEG, PNG, TIFF, GIF, and BMP are some of the most popular file formats. These most sought after file formats are widely used as they are easily compatible with all types of devices be it Digital cameras, Hard Disks, Optical Media, etc.
But have you ever thought what will happen if you lose images?
What do you do Next?
Regardless of whether the file is lost from Mac or Windows system, the only query that triggers your mind is how to recover deleted jpeg/jpg, BMP, PNG, TIFF, or GIF File.
Don't Worry! Stellar Photo Recovery is here to assist!
However, before we look into the solution aspect, let us have a quick overview of how these files are lost.
How JPEG, PNG, TIFF, GIF, BMP files are Lost?
There are several reasons that lead to Photo Loss situations as shown in the below image —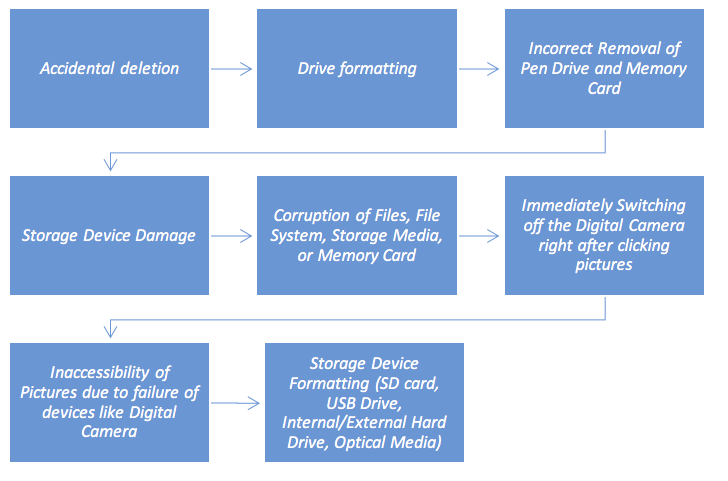 Now that you are aware of the reasons, let's look at the probable solutions.
How to recover BMP, JPEG, PNG, TIFF, and GIF Image Files?
Introduced by the top leaders in the Data Recovery niche Stellar Photo Recovery helps in retrieving lost, deleted, or formatted photos with great ease. This media recovery software facilitates many features like support for FAT32, ExFAT and NTFS, Advanced scan engine and Search Filters, Support for a variety of media files and Optimized Resume Recovery.
You can use this to recover pictures from removable drives, internal/external hard drives, and Optical Media. Above all, the best thing about both the tools is its potential to cater to Data Recovery efficiently, safely, and securely.
Striking Features:
User-Friendly GUI
Simple and Direct Recovery Approach
Pre-recovery Preview
Create Image Option
Let's look into each Software in detail and understand their working.
Step-by-Step Recovery Guideline on Stellar Photo Recovery
Download, Install and Launch Stellar Photo Recovery software.
The software displays all the volume internally or externally attached to the system. Select the desired drive from where the data was deleted and click on the 'Scan' button as shown below.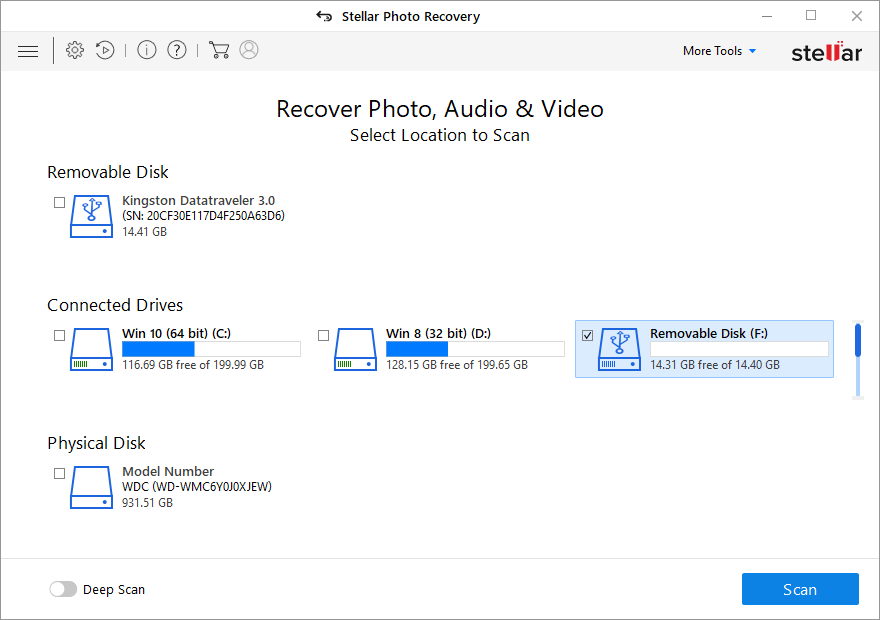 A dialog box of 'Scanning Completed Successfully!' displays the scan results – number of files found and size of the data. In the left-pane of main window, all the recovered data is listed. You can preview them in the right pane.
Note: If you do not see the required photos in the list, opt for Deep Scan option at the bottom.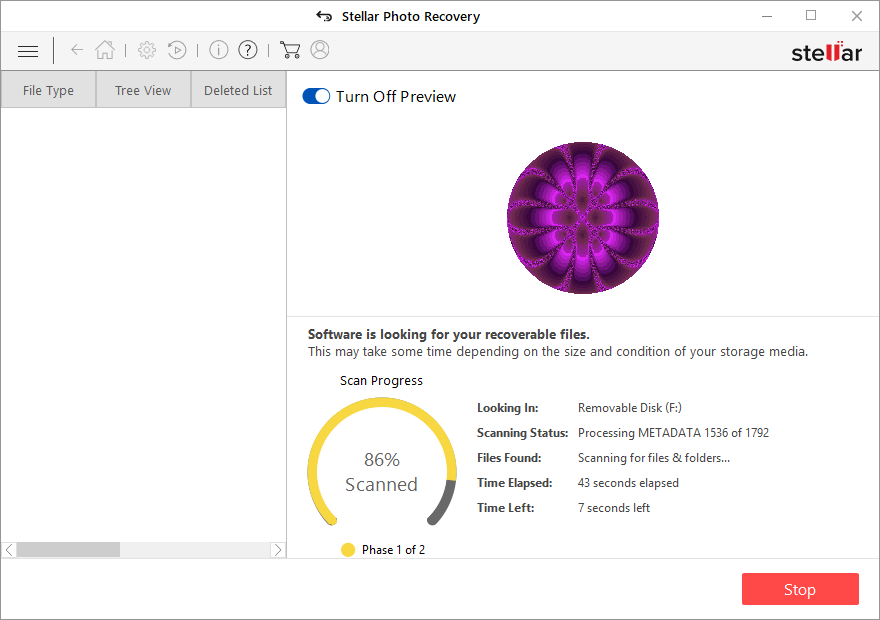 Click Recover. You can also choose to recover only the selective photos – select photos that you need, right click, and click Recover.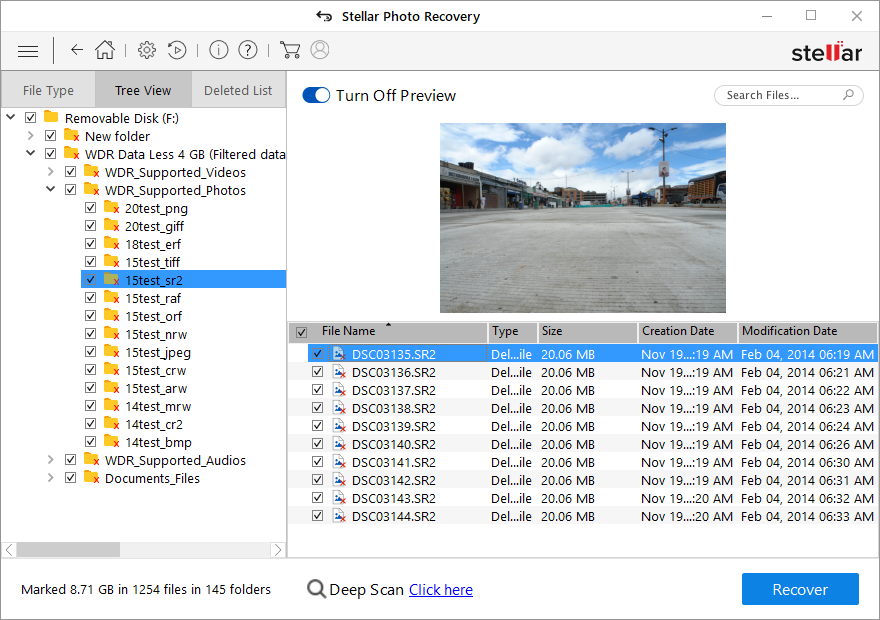 In the dialog box, specify the location to save the image files. Click Save. All the photos get saved at the specified location Click Save. All the photos get saved at the specified location.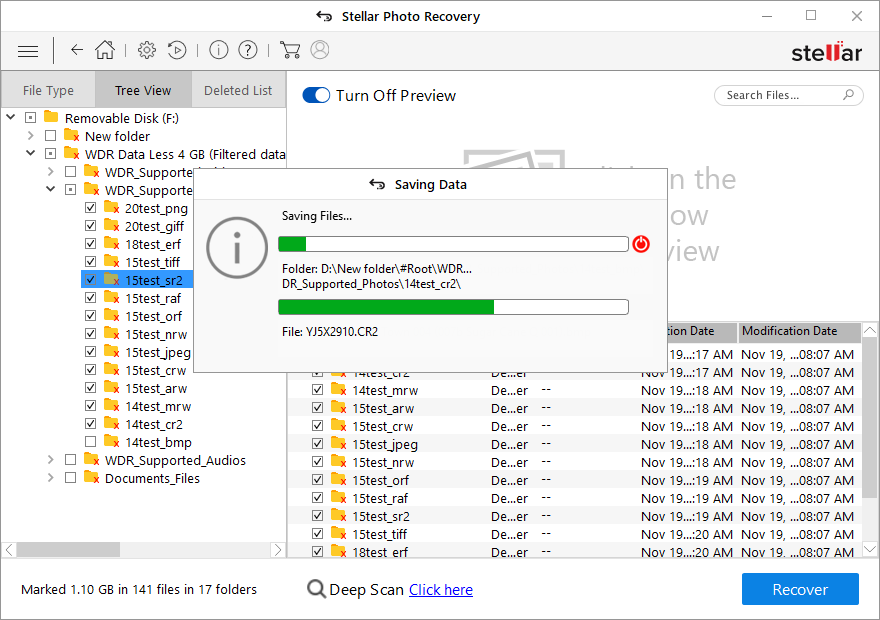 The Recovery Process for Deleted JPEG, TIFF, PNG, GIF, and BMP is Complete!
Important!
Always backup your File
Run an anti-virus software to keep files protected against malware
The Way Forward!
You are now familiar with right data recovery approach to restore your deleted JPEG, PNG, TIFF, GIF, and BMP Files for both Mac and Windows. Whatever be the cause of data loss, whatever be the type of data file, relying on Stellar Photo Recovery for safe, secure, and reliable data recovery is the best step forward!