How to Recover Lost Videos from Surveillance/CCTV Cameras
Summary: This post shares how to recover CCTV/ DVR video footages lost due to deletion and corruption. It shares the best CCTV data recovery software that restores lost videos in original format. Also, know important checkpoints and 'Don'ts' when you face CCTV footage evidence loss.
Reasons for Video Loss from CCTV Security Cameras
Usually, the CCTV or surveillance camera video recordings are saved using either DVRs (digital video recorders) or NVRs (network video recorders) depending on the type of security camera. The DVR/NVR software saves the footage on external hard drives, USB Stick, and SD card of different sizes that enables you to save and view the videos later. But sometimes, hardware or software issues might occur that can lead to DVR/ NVR video corruption or footage loss. The CCTV security camera video loss issue can be related to:
Camera hardware or software
Inadequate power supply
Internet connectivity
Faulty wiring of the whole CCTV system
Accidental deletion of the CCTV footage
Loss during file transfer
Other probable reasons could be hard drive corruption, formatting, loss of radio signal, faulty IR night vision, or old firmware.
How to Fix CCTV Camera Video Loss?
Surveillance or CCTV camera videos and images are automatically recorded and archived via DVR/NVR in the hard drive, SSD, memory cards, USB drives, Cloud, or portable media players. The lost videos or photos on these drives can be easily recovered either from backup, CCTV recovery tool or at an ISO certified data center.
Ways to Recover Video loss on Security Cameras
Method 1: Restore CCTV Videos from Backup
If you have maintained a backup of your security camera videos and photos at Cloud or other external drive, restore the videos from there.
Method 2: Use CCTV/DVR Recovery Software
The CCTV DVR recovery software — Stellar Photo Recovery comes to your rescue when you haven't maintained any backup of lost videos or photos on a security camera. The software helps in CCTV videos and photos recovery from any data loss situation. Stellar Photo Recovery can scan CCTV hard disks up to 6 TB and recovers all DVR/ NVR formats of image and video files. The software can also recover lost videos from Wi-Fi security cameras.
Step-by-Step: How to retrieve CCTV footage:
Launch Stellar Photo Recovery
Select the location from where you want to recover. Click Scan to start the scanning process.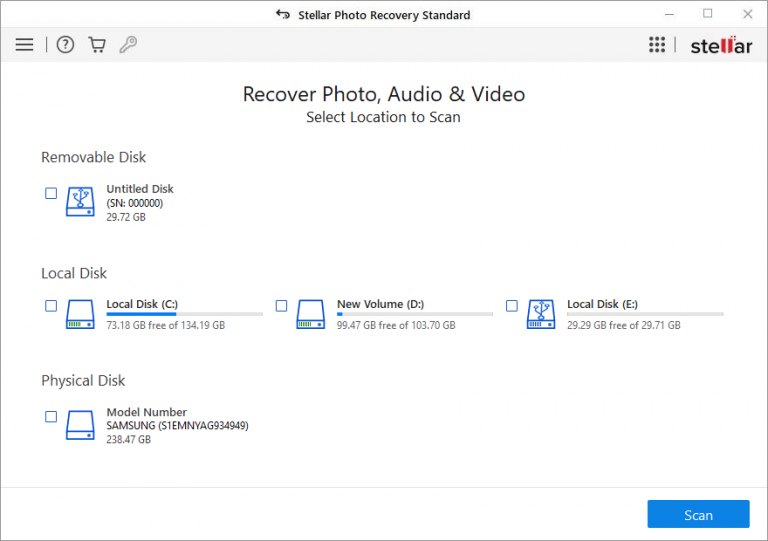 Scan results display the CCTV photos and videos. You can preview them in the right pane.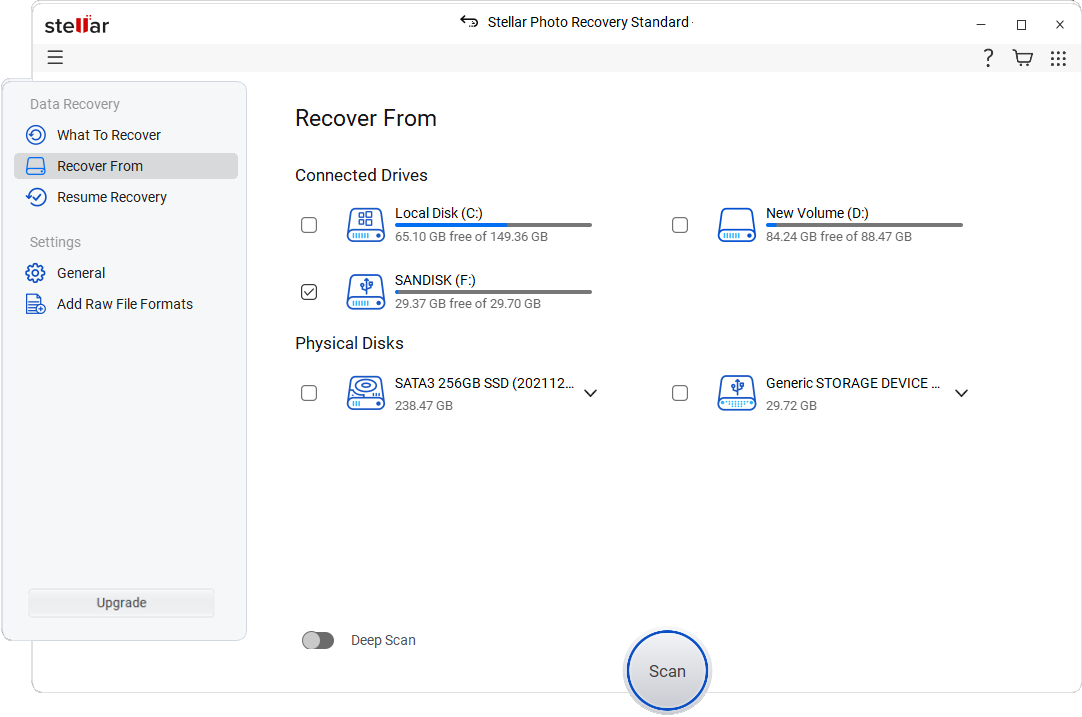 Note: If you do not see the required footage in the list, opt for Deep Scan option at the bottom.
Select the files which you want to restore, click
In the dialog box, specify the location to save the videos. Click Save. All the CCTV files get saved at your specified location.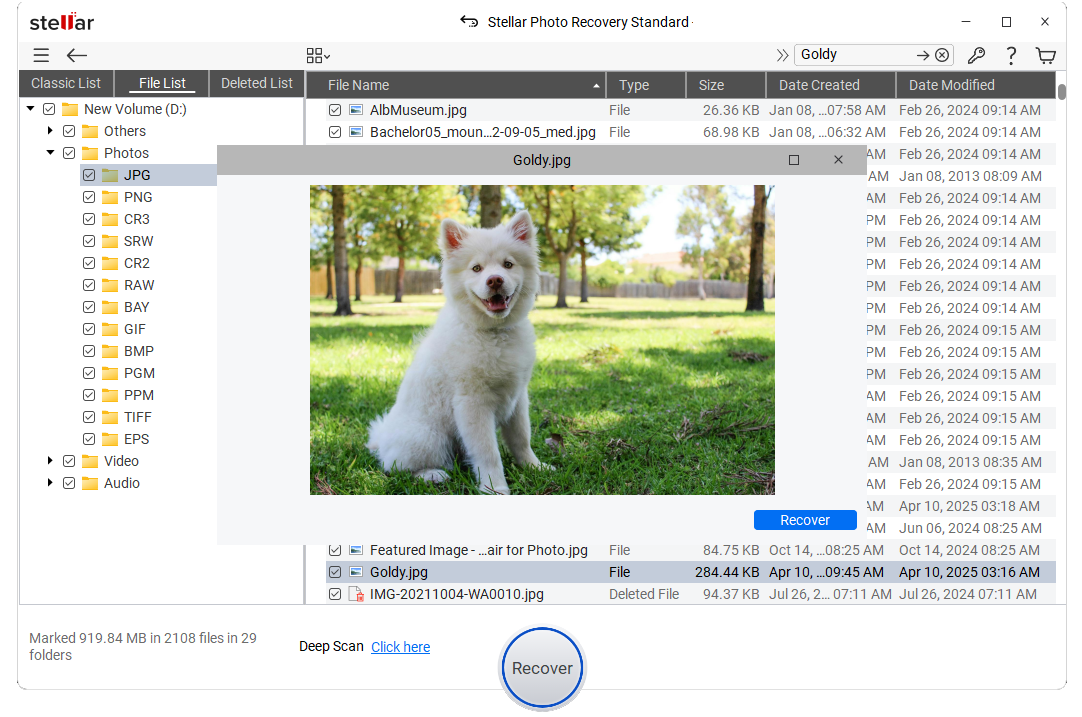 Method 3: Recover DVR/NVR videos at data recovery center
This method is the last resort in case of physically damaged DVR/NVR drive. If the security camera's hard drive is physically damaged, you can retrieve its photos or video recordings at an ISO-certified data recovery center. These service centers are capable to recover lost data safely and securely from physically damaged CCTV hard disks.
Watch this video to know how to Recover Deleted CCTV Footage.
Did Your Surveillance Camera Video Files get Corrupt?
Often due to virus infection, camera malfunction, read and write errors, or while copying the files to another drive the DVR/NVR videos may not play properly and get corrupt. The security camera videos may get jerky, jittery, flickering, or distorted. In such situations, Stellar Repair for Video is an effective tool to repair your corrupt videos. It can repair all types of visual and sound corruption in security camera videos. The software can repair security camera formats like MOV, MP4, M4V, 3G2, 3GP, and F4V.
How to recover overwritten CCTV footage
Overwritten files mean videos or images were deleted from the storage drive and then another footage was written (saved) upon that unused file cluster on the storage drive. So clearly speaking, it is impossible to restore overwritten CCTV footage.
But having said that, some recovery tools such as Stellar Photo Recovery, are able to scan the DVR/ NVR drives by using file signature. And if they manage to find traces of file information, they may recover overwritten CCTV footage as well.
So you may try advanced recovery software once to restore overwritten CCTV footage.
DONT'S when Security Camera Videos Missing!
Do Not use the DVR/NVR of security cameras once any error is detected.
Do Not format the security camera storage drive.
Do Not delete or add anything to avoid overwriting the CCTV camera storage drive.
Do Not try to repair the surveillance camera or its DVR/NVR on your own. Seek the help of professionals.
Checkpoints once the video loss on CCTV Camera is detected
Whichever brand and type of surveillance cameras you are using, be it – Foscam, Night Owl cameras, Swann CCTV, Netgear, Hikvision, or Zmodo, etc., below checkpoints, will help you prevent losing photos and videos in the future.
Check the power connections, fix any loose cables, change the faulty old power cables, and re-launch the camera and software.
Connect the camera to a different port on the NVR or DVR. If the problem is with the port, the video might be displayed after changing to a new port.
Check if the camera is properly connected to the power adapter.
Ensure the length of the Ethernet cable or BNC (Bayonet Neill–Concelman) you are using is not more than the specified length mentioned in your security camera specification. The longer the cable than the specified length, the poor the image quality.
In case you are using wireless IP surveillance cameras, check whether the router and PoE (Power over Ethernet) switch, are working properly.
Ensure the infrared (IR) LEDs are on, and the camera is receiving enough power.
Update the firmware. A regular firmware update can tackle video loss or not playing issues and lets your system run smoothly. You can download the latest firmware from the security camera's website.
If you are still unable to view the video, switch off all the devices and reboot the cameras including DVR or NVR. Next, unplug all power switches and plug again.
The Bottom Line
Although today's security cameras are getting smarter and more advanced, they are not free from data loss and corruption issues. Thanks to CCTV recovery software such as Stellar Photo Recovery you can retrieve lost footage from all types of surveillance cameras.
So at the time of video loss on security camera, do not panic. First check the hardware setup including the wire/cable connections, internet connectivity, NVR/DVR ports, etc. If all is well with the surveillance system, recover the video loss on the security camera by using the software.
Remember to follow the good practice of keeping backup, so that even if your camera or storage device gets corrupt or stolen, you still have the video or photo evidence.