Summary: What happens when your pictures gets deleted from your Canon Powershot? Learn how you can recover your deleted photos from Canon camera with the help of Stellar Photo Recovery in no time.
Canon cameras, however high-end, are not immune to photo loss. Accidental deletion, formatting, interruption during photo transfer, virus infection, corrupt SD card, physical damage, or even improper camera usage can bereave you of your photos.
This post shares step-by-step guidance on how you can restore pictures from a Canon device in any loss scenario. The method is applicable for Canon EOS, Canon Rebel, PowerShot and other Canon series.
How to recover pictures from Canon cameras
Since there is no built-in Canon photo recovery method available to retrieve deleted or missing images, a professional image recovery software is the only solution. Stellar Photo Recovery software efficiently works on all the models of Canon digital cameras, camcorders, and DSLRs. It restores the photos to their original quality and is very easy to use.
You can recover all the image file formats associated with Canon devices – CR2, CRW and JPEG. The software quickly scans all types, sizes and brands of microSD card, SD card, SDHC, and SDXC card used with Canon cameras.
In addition, you can recover videos shot with Canon cameras.
The software works in various loss situations such as,
Accidentally deleted the RAW or JPEG files from Canon SD card.
Your Canon CF card or SD card asks to reformat.
Photos on SD card are not showing up on Canon camera.
The camera SD card has turned corrupt and is not recognized by your computer.
Your Canon camera shows error – 'No SD card inserted' after you insert the card.
Camera turns off as you insert SD card.
Your Canon camera crashes or freezes after taking some photos.
Photos are lost during transfer from Canon camera to PC/ Mac
Step-by-step: How to recover deleted photos from Canon camera
Download and install the Stellar Photo Recovery on Mac or Windows computer
Connect the Canon camera SD card to the system via card reader
Optional: Click on Advanced Settings icon at the top. Select Photo formats. Choose Canon file types and click Close. This reduces the scan time and ensures you restore only what you want.
Select the Canon SD card on the next screen and click Scan
Click Recover
Preview and Save the photos at your desired destination. Never save them at the same location from where you lost them.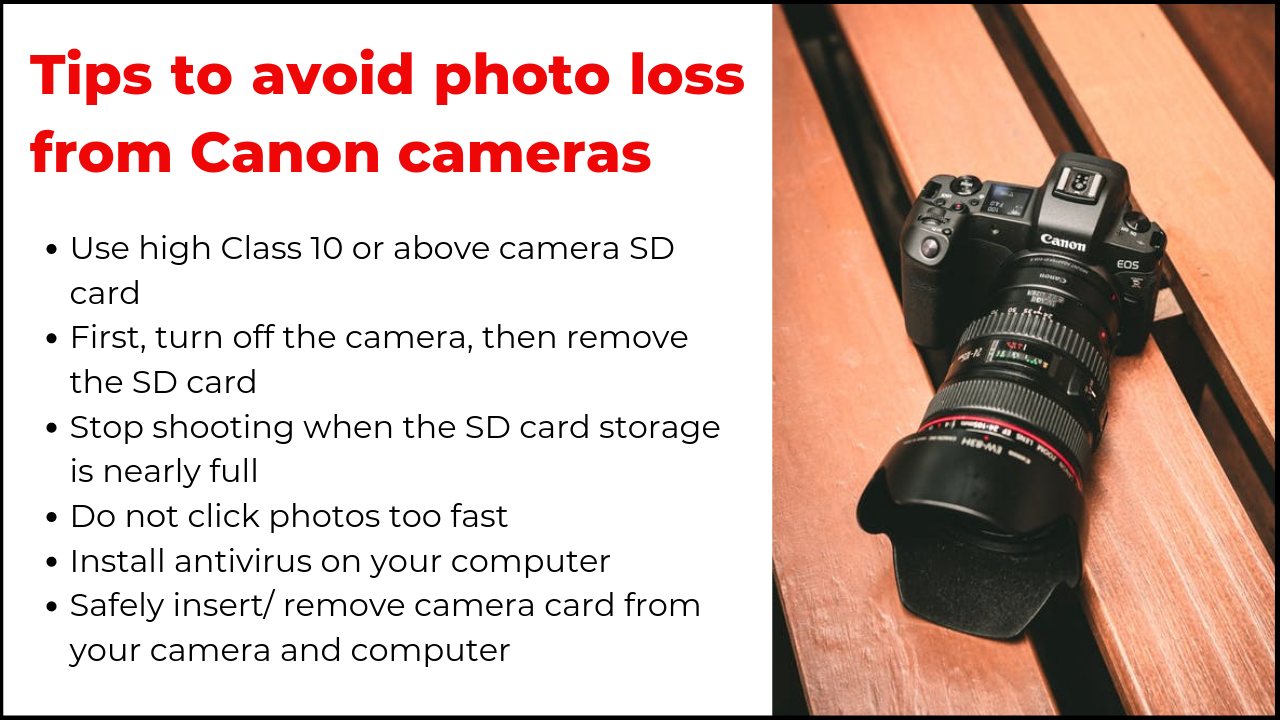 The Final Word
Human error and technical faults often cause the loss of your precious photos. Always handle camera memory card or SD card with due consideration to avoid their corruption or physical damage. Although, you can recover lost photos from Canon cameras in cases of corruption, deletion, or formatting by using a professional Canon photo recovery software, but loss due to physical damage of the storage media is mostly unrecoverable.
Software such as Stellar Photo Recovery provide the best way to get back the photos from all types of Canon camera cards. It efficiently restores pictures shot with Canon DSLR, camcorder, point and shoot, and mirrorless camera.
You can evaluate Stellar's Canon photo recovery software by downloading the free trial version. The free trial version of the software scans and previews the recoverable files. After ascertaining its effectiveness, you can then save the recoverable files by activating the software.