Summary: Unable to play your MP4 video files from DSLR, Android, iPhone, GoPro, or other cameras due to file corruption? Learn efficient ways to repair corrupt MP4 videos without losing quality. Also explore Stellar Repair for Video software that quickly fixes severely damaged MP4 files.
Videos of family get-togethers are like reliving old memories, especially during these stay-at-home days. But what if one day, you find the MP4 videos in your archives are all corrupted. They are not playing well or don't open at all. The videos are jerky, flickering, missing sound, showing black screen or other playback problems.
Your MP4 videos shot with DSLR, GoPro, Android, or iPhone etc., are precious possessions, which you want to keep forever. And losing them to corruption is painful.
But no more agonizing over the lost videos. Here will share how you can repair and recover corrupted MP4 files in playable and pristine form again.
Why your MP4 videos turn corrupt
There can be many reasons for MP4 file corruption. Foremost is the digital media in which you store video files. SD cards, pen drives, USB flash drives, or hard drives are prone to corruption. They have a limited life span and can develop bad sectors damaging the stored files on them.
Apart from this, it can be the result of your mistakes too. You may not be following the best practices that could have prevented video corruption. Finally, there are technical hiccups that we can't escape.
Some of common causes of MP4 file corruption are:
Sudden computer shutdown while watching/ editing video.
Incomplete MP4 file transfer/ download due to sudden power cut or disconnect, etc.
OS crash
Virus attack or malware in the computer
MP4 video storage drive has developed bad sectors
You use the same pen drive or SD card in multiple devices
How to fix corrupt MP4 files
You can repair damaged or corrupted videos with the help of an MP4 repair software.
But note, if a video is not playing or showing error it may not necessarily be corrupt. The problem can be with the device or media player you are using to play MP4 videos. So, before getting on to a video repair software, try these troubleshooting methods to fix damaged MP4 videos:
Fix damaged or unplayable MP4 videos without software
Play video in another media player
Media players are not compatible with every video format. Although MP4 is mostly supported by media players, technical issues can still occur. So change the media player. Play your MP4 files in VLC Media Player, Winamp, KMPlayer, or others.
Convert the video file format
If MP4 videos are not playing, convert the file format, such as MP4 to MOV, MP4 to AVI and so on. You can choose any online MP4 converter program or desktop conversion software like Stellar Converter for Audio Video.
VLC Media Player can also convert MP4 videos to a different file format.
A codec is used to compress or decompress a video file. Every video file format has an audio and video codec. MP4 file types uses MPEG-4 codec to compress video and AAC compression for audio. If your media player doesn't have these codecs, it cannot play MP4 file and may show error, such as 'A codec is required to play this file.'
The solution is to download the right codecs. You can also get a codec pack online such as Media Player Codec pack, X codec pack, or K-Lite or Perian for your PC or Mac computer. A pack would contain codecs for most of the video file types including MP4.
Warning: Always download video codecs from their official website. Downloading from an untrusted source, can put your computer at virus or malware risk.
Fix corrupt or damaged MP4 files with a repair software
When above troubleshooting don't work, go for the efficient Stellar Repair for Video software. VLC Media Player also has the built-in video repair feature that can fix corruption in file index.
Method 1: Repair MP4 videos with a Video Repair Software
Stellar Repair for Video is an advanced repair software that fixes all kinds of corruption issues in a video file. You can use the software to quickly repair damaged and severely corrupt MP4 files.
It can repair choppy, flickering, jerky, black/ green screen, truncated, no sound, audio lag and many other video problems that arise due to corruption in file header, frames, movement or sound section, etc.
Steps to repair corrupt MP4 videos with Stellar Repair for Video:
Download & launch Stellar Repair for Video on PC or Mac.
Click Add file to upload corrupt MP4 videos.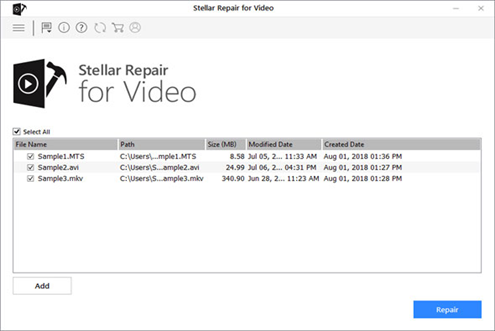 Click Repair to begin the repair process.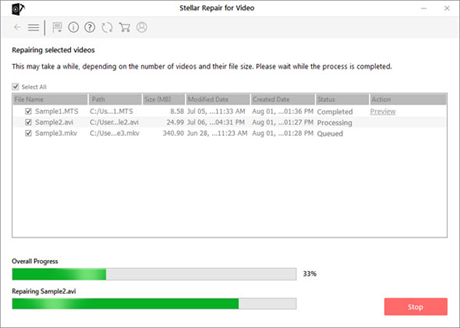 Preview the repaired video. Click Save Repaired Files to save the repaired MP4 videos at your chosen location.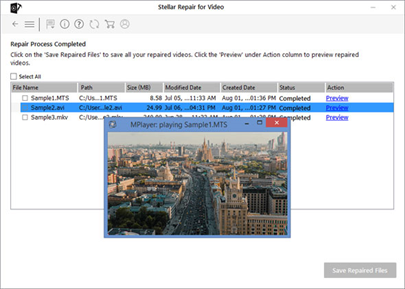 Method 2: Repair MP4 videos by using VLC Media Player
The multi-functional VLC Media Player can specifically fix video file index corruption that can lead to jerky or stuttering videos.
Although the repair feature is for AVI format but you can rename MP4 file to AVI to repair in VLC Player.
Steps to repair corrupt MP4 video in VLC Media Player:
Rename corrupt .MP4 file to .AVI extension.
Open this .AVI filein the VLC Player.
In the top menu bar, click Tools > Preferences > Input or Codecs.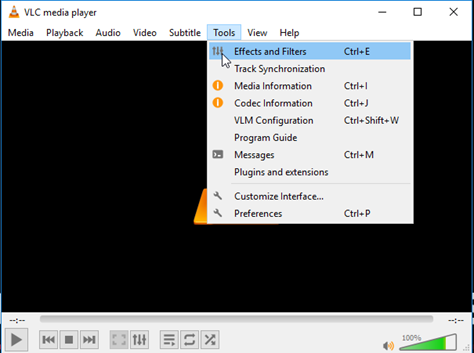 Across Damaged or incomplete AVI Files, select Always Fix.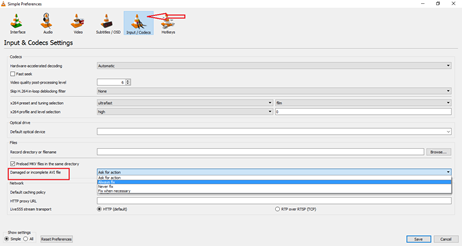 Now try to play the repaired video file.
Conclusion
Although a video repair software is the solution to fix corrupt MP4 files, we would recommend to first try the workarounds like file format conversion or playing in a different media player.
If these don't work, then go for Stellar Repair for Video, a professional video repair tool. It can fix unlimited videos in one go and is known to repair severe corruption issues in MP4 and other video file types.