Summary: Error -43 saying "the operation can't be completed because one ore more required items can't be found" can be nightmarish for a Mac user (especially the one who have recently migrated to Mac from Windows PC). Today, this blog offers the best solution to fix the error -43. Keep reading...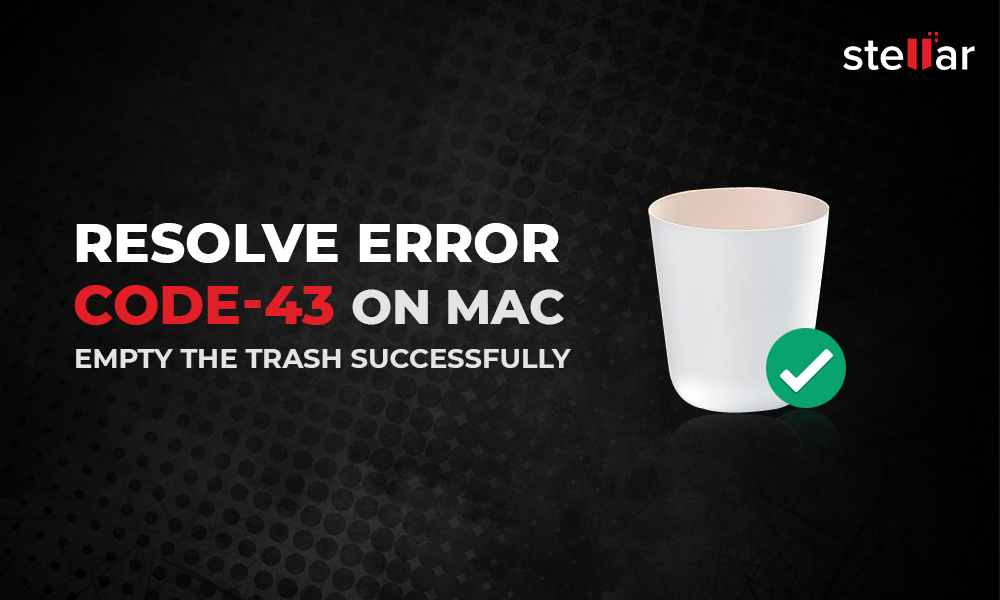 Usually, if you require to empty the trash on macOS, you will navigate to the Dock, right-click the Trash icon and select the Empty Trash option. This will result in permanent deletion of the files stored in the Trash folder.
However, on some occasions emptying the trash, may not seem to bring the intended action. For instance, when you press the option 'Empty Trash', you may come across a strange pop-up window, which says:
The operation can't be completed because one or more required items can't be found.

Error Code -43
The error prevents macOS from performing the task of emptying the trash. You may try to empty the trash again, but the pop-up window with the same error code -43 will not let you do the task.
Reasons for Error Code -43?
Some of the reasons that may cause the error code – 43:
The file(s) in the trash is being used by some applications.
macOS has temporarily blocked the permission to perform any operation on some files that are stored in the trash.
Permissions conflict may also be the reasons
Other unknown reasons
Solving Error Code -43 and Emptying the Trash Successfully.
Follow the below sequential procedure to resolve the error and empty the trash-bin as earlier.
Step i. Close all windows.
Step ii. Go to Apple Logo
Step iii. Click Apple logo and select Force Quit
Step iv. Next, select Finder and press Relaunch button
Step v. Wait for the process to complete
Now, navigate to the dock and empty the trash by right-clicking it.
This time, you will be able to empty the trash successfully.
Read More: How to Undo the Trash Empty & Recover Data Back
Conclusion
The blog tried resolving the problem of Error Code -43 (The operation can't be completed because one or more required items can't be found.).
If the blog helped you fix the issue then feel free to share your feedback with me. Also, share if you have any data recovery related question or problem on Mac.