How to Resolve Error Messages in Nikon D3200
Summary: The blog highlights common error messages that take place while accessing videos and photos on Nikon DSLR D3200 and suggests corresponding fixes. Since hardware related errors cannot be resolved easily, it is quite simple to resolve logical error messages in Nikon D3200 and recover lost photos with the help of Stellar Photo Recovery software.
Nikon DSLR D3200 is the highest performance camera available in the entry class arena. Latest features with advanced specifications make this DSLR the most utilised device among users but don't make it complete secure against corruption and damage. If your device encounters corruption, you will be notified via error messages blinking on the screen.
The error messages can be categorised into logical and physical errors. Like other digital devices, these messages are also hardware and software specific. The joy of capturing high precision pictures covering beautiful picturesque locations fades away if any of the below-listed error messages appear. Let us see how to resolve such error messages in Nikon D3200.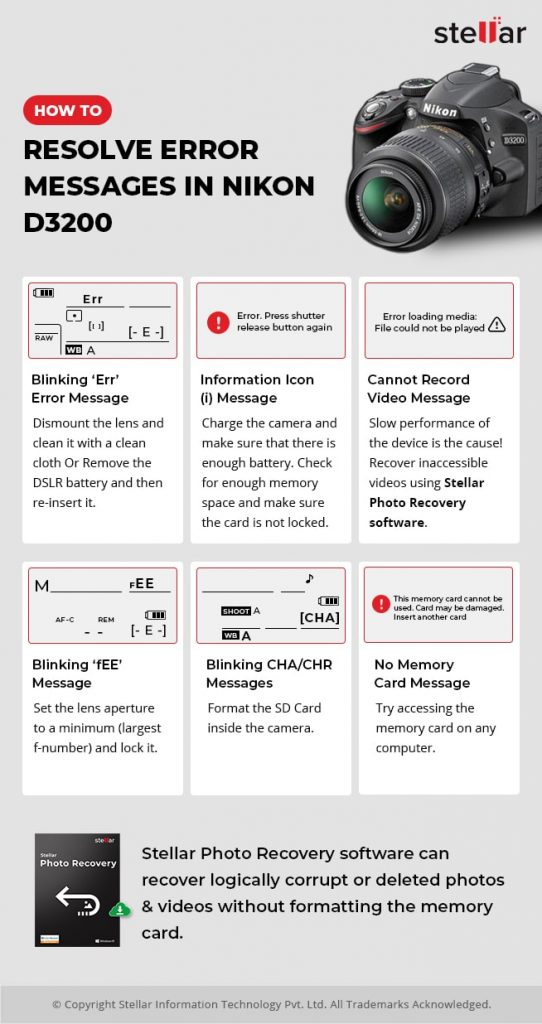 Blinking 'Err' Error Message
Blinking Err message on the top or back LCD screen specifies that there is something wrong with the device. Possibly, the camera malfunction could be the reason behind the cause. This error occurs quite frequently on the new Nikon DSLR models as they come with oily lenses.
Fix: This can be fixed by the user itself by dismounting the lenses then cleaning it with a clean cloth. If it doesn't work as expected, then remove the DSLR battery and then insert it back on.
No Memory Card Message
If you get an error message stating "no memory card found" while attempt to access photos and video clips, it is hard to detect the reason behind it. This error message may appear if the SD Card is not inserted appropriately or the memory card slot is not working. Alternatively, if the memory card itself turns corrupt and unreadable by the device, the respective error message will appear.
Fix: Try accessing the memory card on any computer to check if it can be accessible. If you have tried all possible ways to make the memory card accessible, but fail to do so, you can read about SD card Recovery process.
Information Icon Message
At times, the error message appears with 'i' in a circle icon, called information. This indicates three different situations that include (i) low battery signal, (ii) memory card full or locked and (iii) "cannot display file" if any of the objects appear blinking while it is captured.
Fix: It is recommended to charge the camera and make sure that there is enough battery available when you need the device. Also, make sure that enough memory space is available and the card is not locked.
Blinking 'fEE' Message
The error message appears when an older lens is used. For instance, Nikon 50mm f/1.4D with an aperture ring and particularly when the lens aperture is not set to the minimum. When the lens is changed, the aperture ring might rotate accidentally and it may trigger the error message.
Fix: Set the lens aperture to a minimum (largest f-number) and lock it so that it may not change accidentally.
Blinking CHA/CHR Messages
When there is an issue with your memory card, it displays this error message. Instead of formatting the card, when images are copied and then deleted from the memory card, the error starts blinking on the machine.
Fix: It is recommended to format the SD Card right inside the camera rather than formatting them on a PC or Mac. You can refer to the camera manual for instructions on formatting the card inside the camera.
Cannot Record Video Message
The error message appears probably due to slow performance of the device. This may occur when the memory card is reaching its stipulated storage or while the DSLR fails to pass data to the SD Card at the required speed. You may find the device turning non-functional. There are probabilities that you encounter frequent device freeze situations at times.
Fix: If any of the files turns inaccessible due to the inappropriate functionality of SD Card, you can recover the deleted or unreadable videos using Stellar Photo Recovery software.
Similar Errors & Consequences
There are errors that occur due to an inappropriate configuration of the camera parts such as the lens, etc. For example: if you encounter "error message Press shutter release button again" while you attempt to capture a picture with Nikon D3200, you may press the shutter repeatedly, but with no impact.
Apart from the above-mentioned error messages, there are other scenarios as well that leads to various failures such as inaccessibility of Nikon D3200, unreadable memory card, inaccessible photos or videos and much more.
The Way Forward
As discussed earlier, the Nikon DSLR D3200 errors are either physical or logical. Physical errors also known as hardware defects are quite hard to detect and requires mechanical expertise for resolution. Whereas, logical errors or software related errors are easily detectable and the lost data can be retrieved using a professional application.
Therefore, Stellar Photo Recovery application can be used to recover logically corrupt or deleted photos or videos without formatting the memory card.