Summary: In this blog, we will share the best possible solution for restoring permanently deleted iMovie projects and video files.

To begin with, download the free trial version of Mac data recovery utility.

iMovie is an easy-to-use video editing application to add extra-special effects to your video clips and create your own movies. While you are familiar with the tips to create stunning video clips using the application, this infographic highlights methods to restore permanently deleted iMovie project.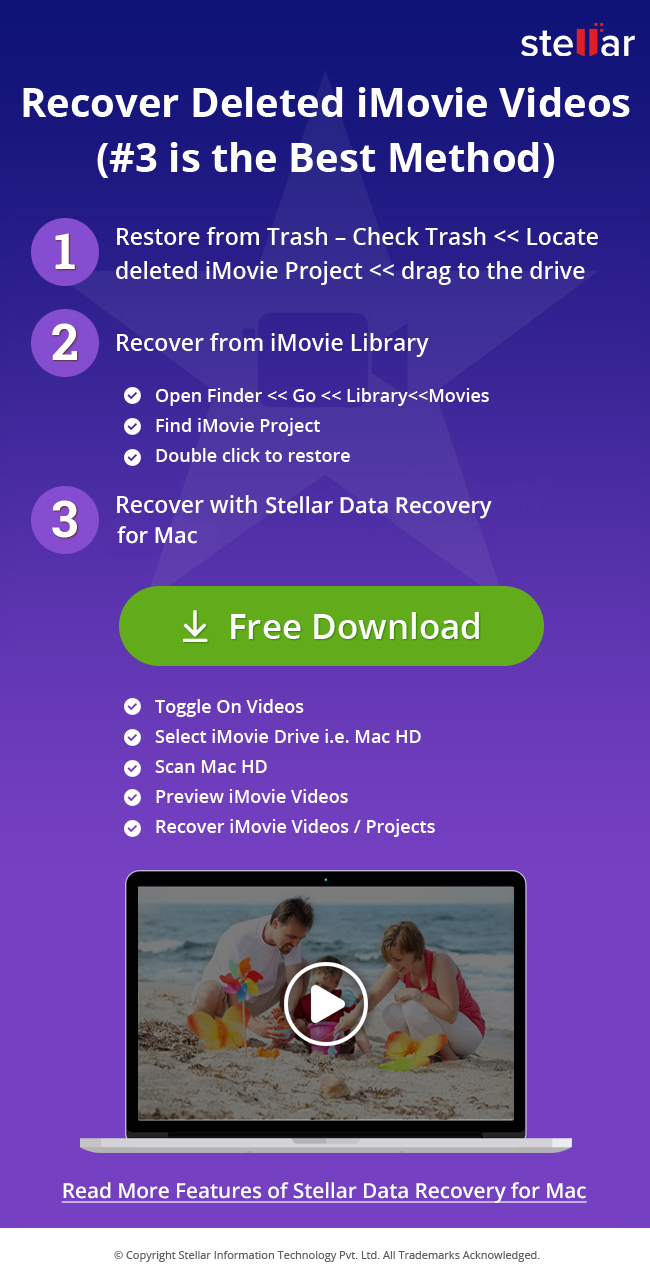 With iMovie, Apple's video editing software application, you can create incredible Hollywood blockbuster-style trailer, splendid movies with pictures, music, and video clips. You can easily add clips from libraries, add extra-special effects and share it on the go. Further, you can shoot high-definition videos on your iPhone and edit them with iMovie. Simply put, iMovie lets you create creative movies wherein you direct each and every scene.
So what if you can't cast Robert Downey Jr., you can be the hero of your own movies. So what if you can't win Critics' Choice Movie Award for Best Editing, you can win hearts of your loved ones with video collage or photomontage with iMovie. You can easily create professional-looking movie clips and slideshows with iMovie and turn your video clips into magic.
Meanwhile, you can edit your video and photo clips umpteenth times to get the desired iMovie project; however, things can go wrong eg. you might accidentally delete iMovie project or the iMovie application may crash, etc. For such instances, you can recover deleted iMovie project from:
Trash (if it has not been emptied)
iMovie Library
Time Machine Backup (if you have an updated backup)
In addition, by using a Mac data recovery software, which is an easier method, you can restore the iMovie project with ease. Further, if you have permanently deleted the iMovie project, the software is the way forward.
Let's delve into how to recover deleted iMovie project .
Restore from the Trash
When files are deleted from Mac, they move to Trash from where you can restore the deleted files. Therefore, check your Trash, locate the deleted iMovie project and drag the files back to the iMovie project folder or the Desktop. Furthermore, Trash has the feature to automatically remove files after the 30-days i.e. if you have deleted files, then the files reside in Trash for that specific time and after which your files are gone for real.
Restore iMovie project from iMovie Library
iMovie projects are saved in a Library file i.e. iMac Library. The library contains all the data used to create an iMovie project. If the deleted iMovie project is not in the Trash, you can search it in the iMovie Library where it is stored and retrieve the deleted iMovie project.
On the window, click Go and select Home. From given options, click Library > iMovie. If the required iMovie project is in the library, make a backup, else, look for the deleted files in the Time Machine backup.
*You can create additional library files on your Mac in different locations.
You can create additional library files in different locations on your Mac or on different storage devices.
Create a new library
Restore deleted iMovie project from the Time Machine
Time Machine backups your data hourly, weekly, and monthly basis, if it's enabled. Also, Time Machine automatically deletes the oldest backup when the backup disk is full. Follow these steps to recover deleted iMovie video project from the Time Machine backup:
Click the Time Machine icon and select Enter Time Machine
Access the backup folder and browse the required deleted iMovie project
Select your files and click 'Restore' to recover deleted iMovie project
Recover PERMANENTLY deleted iMovie project
Using the aforementioned methods, you can recover deleted iMovie projects; however, when the files are permanently deleted, then utilizing a Mac-based file recovery tool is the best bet.
Stellar Data Recovery Professional for Mac is one such software to recover permanently deleted iMovie videos effectively. Its user-friendly interface, scanning progress and manageable process give the software an upper-hand over other methods. You have to simply run the software, scan the start-up drive and recover the permanently deleted iMovie project.
'Time is the most valuable thing that you can spend' and Stellar Data Recovery Professional for Mac makes you use your time even better.
Conclusion
We have packed a list of different methods to recover deleted iMovie project and when the situation gets complex, Stellar Data Recovery Professional for Mac makes the process well controlled by recovering all your amazing movie clips.
The Software recovers a variety of video file formats including MOV, MP4, AVI; further, you can add any newly found or discovered video type for data recovery. All this and more but you first need to install the software on your macOS.

Just remember that these methods have an asterisk but not the software. The major highlight of Stellar Data Recovery Professional for Mac is its simple user-interface which not only saves your time but makes it easier to restore deleted iMovie projects.