Summary: This blog discusses how running CHKDSK command on the latest Windows 10 version may damage the file system and result in a blue screen error. Check out the effective methods to fix CHKDSK blue screen Windows 10 error on your device. You can also use a professional data recovery software to recover data lost due to this BSOD error. Download the trial version from here!

Microsoft has acknowledged a bug with the latest Windows 10 20H2 version. Several users reported that their PC screen started turning blue when they ran the CHKDSK command to fix file system errors on Windows drive partitions.
Generally, when you encounter a Blue Screen of Death (BSOD) error on your device, it is due to a faulty or corrupt hard drive. It is recommended to use the Command Prompt utility and run chkdsk /f command to fix errors on the hard drive (HDD or SSD) installed on your system. The CHKDSK command checks the file system and metadata of a drive volume for logical or physical errors.
However, as per the recent queries reported by Windows 10 users, this latest version may damage the Windows drive partitions' file system and cause a blue screen error on the first reboot after CHKDSK process completion.
Common Problems Windows Users are Encountering Due to This Windows 10 Update
Windows 10 users have been encountering a blue screen error under different circumstances. Here are some examples:
I installed 20H2 version on my HP laptop. It was working fine, but after a while, I started getting an error 0xC1900101. I tried many resets, clean boots, disabling drivers, and changing system configuration but all got failed. Then I tried to run CHKDSK to fix this error thinking maybe it could help me, but then the worst thing happened. My screen turned blue during the CHKDSK scan and showed 'PAGE_FAULT_IN_NONPAGED_AREA' error code on the screen. How do I fix it?

-Windows User
I run the chkdsk /f/r command to fix my system's hard drive errors. I have installed Windows 10 version 20H2 (OS Build 19042.630) with 1 TB SSD formatted as NTFS. The moment I run CHKDSK, my system got stuck in a blue screen loop. How do I fix this issue? Any help would be appreciated!

-Windows User
More Information on Issues with Windows 10 Update
It has been observed that this issue is mainly affecting Solid-State Drives (SSDs). Also, a VM (Virtual Machine) system with a platter-based hard drive was affected due to this issue.
Recover Data before Fixing CHKDSK Blue Screen Windows 10 Error
If you face blue screen error on your system, you may lose access to your system and the data stored on it. If your data is essential, we suggest you recover it with an efficient data recovery software, such as Stellar Data Recovery Professional. This DIY data retrieval tool can extract all kinds of data from Windows PCs, laptops, and external storage devices, such as HDDs, SSDs, USB drives, and SD Cards. It supports recovery from formatted, corrupted, or encrypted devices. Moreover, the data is efficient at extracting and restoring data even from an unbootable or crashed Windows systems. See the video below to learn how to recover data from non-bootable PCs and laptops.
How to Fix Windows 10 Update Bug to Get Rid of Blue Screen Error?
Method 1: Run CHKDSK in Recovery Console
Microsoft has confirmed this issue on the KB4592438 and KB4586853 support pages along with the method to resolve this error. You may resolve the issues on devices that have already encountered the CHKDSK blue screen Windows 10 error.
Follow the given steps:
According to the Microsoft, if your device fails to boot or crashes every time you try to boot your system due to CHKDSK blue screen Windows 10 error, you may try the following steps.
a. When you start getting the Recovery Console after failing to start up a few times, select Advanced options > Troubleshoot > Advanced options.
b. Now, select Command Prompt from the available options.
c. Once the Command Prompt window opens, type: chkdsk /f and hit Enter. (See Image 1)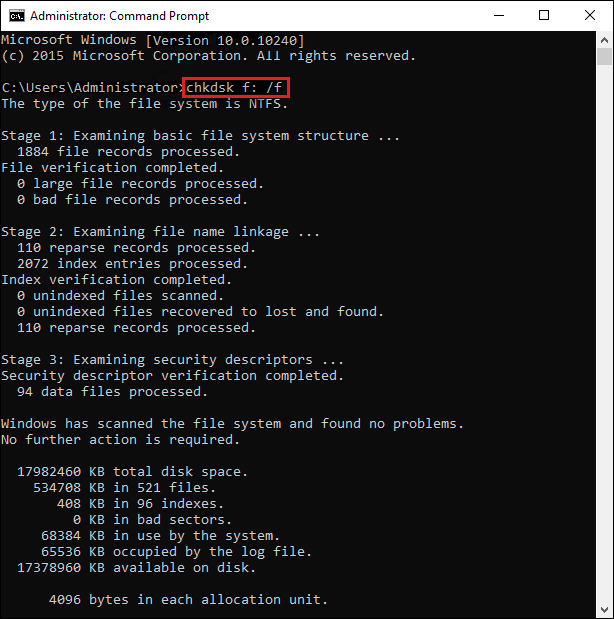 d. Let the process complete the scan, and once it has completed, type Exit.
According to Microsoft, the device should start now as expected. After restarting your device into the Recovery Console, select Exit and continue to Windows 10.
Note: After completion of this process, the device might automatically rerun CHKDSK on restart. The device should start as expected, once it has completed.
Method 2: Uninstall Problematic Windows 10 Update:
You may also try fixing this error by uninstalling problematic Windows 10 Update. See if you can boot into the Safe Mode and follow the given steps:
a. Open System Settings and follow Update & Security > Windows Update.
b. Open View update history. (See Image 2)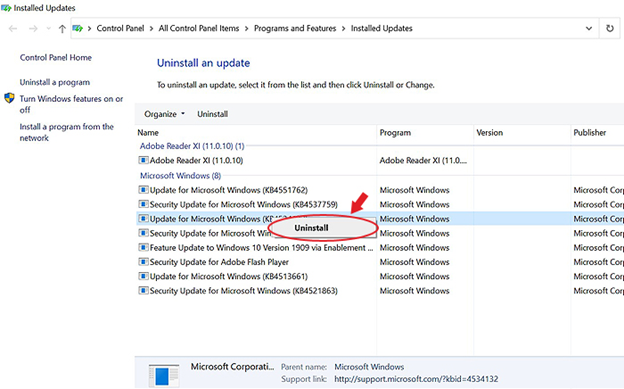 c. Now, on View update history page, click Uninstall updates.
d. Now, find the problematic Windows update, right-click on it, and click Uninstall. (See Image 3)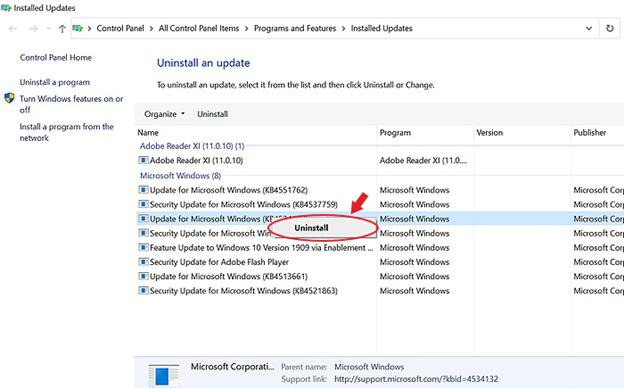 e. Once done, reboot your system and check if the error is fixed.
Closing Thoughts
Though there are no exact causes or fixes shared at this point by Microsoft, it has been confirmed that several people are encountering issues with the latest Windows 10 20H2 installation. The best way to prevent this error on your system is simply not installing it. However, if you have installed this update on your device, you may try using the Command Prompt utility in Recovery Console or uninstall the problematic Windows 10 Update.
As this CHKDSK Blue Screen Windows 10 error may make your system and data inaccessible, you may use a Windows data recovery software, such as Stellar Data Recovery Professional. This efficient data retrieval tool can recover data from non-bootable or crashed Windows PCs or laptops.
If you have any query or suggestion, let us know in the comment section below!
Also Read: Windows Update KB4556799 Cause Data Loss & Brings Several Bugs