Summary: Have your hard drive space disappeared after shrinking the partition? Do you want to know why this happened? Then read this post to have a clear view on this topic.

Do you know that hard drive manufacturers consider 1GB = 1000 MB while your operating system measures 1GB = 1024MB. That's why a 1 TB hard drive shows only ~931 GB usable storage instead of 1000 GB. It does not mean that you have lost 69 GB space or partition. In your hard drive, you can create multiple partitions and volumes by shrinking the hard drive using Disk management tool or during Windows installation. But sometimes, things go wrong and your system may fail to allocate space while creating a new volume from unallocated hard drive partition. As a result, your hard drive space disappears after shrinking. Some factors that can possibly lead to hard drive space disappearance are:
Virus attack,
File system error,
Internal hard drive errors,
Hard drive driver issue,
System files missing.
Below we've explained three different solutions that you can try to restore missing hard drive space or partition issue.
Solution 1: Run SFC Scan
Sometimes, corrupted or missing system files can cause hard drive partition or volume to disappear. The System File Checker (SFC) tool is a utility provided by Windows that is used to scan and repair missing or corrupted system files. You can run SFC scan on your system by following these steps:
Press 'Windows+Q' to open search bar and type cmd.
Press 'CTRL+SHIFT+ENTER' to run cmd as Administrator or right-click on cmd and select "Run as Administrator".
Next, type sfc /scannow to run the SFC scan.
If SFC scan finds any problem with system files, it can ask for Windows installation DVD or media to repair corrupt and damaged system files.
Solution 2: Run 'Chkdsk' command
Chkdsk is an inbuilt disk error checking and repair utility in Windows. Chkdsk scans the hard drive partition for internal errors and fixes them simultaneously. The 'Chkdsk' utility repairs the file system metadata and logical file system errors that corrupts the hard drive partitions and make them disappear. To repair damaged hard drive partition with Chkdsk, follow these steps:
Type cmd in Windows search box and Press ctrl + shift + enter.
Click 'Yes' to grant Admin access. A cmd Window appears.
Type command chkdsk X: /f where X is the hard drive partition letter. Alternatively, you can type chkdsk X: /F /X /R for the rigorous scanning process.
Hit Enter and wait until 'Chkdsk' utility repairs the disk errors.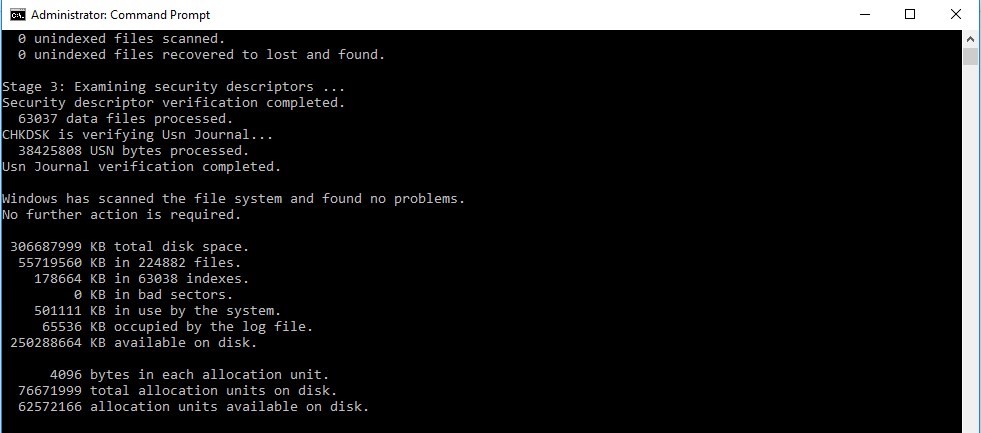 After disk checking process completes, restart the system and then try accessing your hard drive partition from File Explorer. If you are able to access the partition, copy data from it and format the partition via Disk Management tool.
Solution 3: Restore the Missing Hard drive Space using Disk Management
Disk management is a tool that is used to create and manage hard drive partitions in Windows. You can use Disk management tool to restore the missing hard drive space by following these steps:
Press Windows + R. In the box, type diskmgmt.msc and press Enter. Disk Management window appears.
Right-click on the unallocated hard disk partition and choose New Simple volume. New Simple volume wizard opens.
Follow the wizard: specify the volume size, assign a drive letter, and choose NTFS from File System drop-down. Click Next to confirm followed by the Finish button.
The Disk management tool creates a new partition with allocated disk space. Alternatively, users can choose an active partition and extend its volume by adding unallocated space. Follow these steps to extend a partition volume with unallocated space:
Press Windows + R. In the box, type diskmgmt.msc and press Enter. Disk Management window appears.
Right-click on the 'Active/Healthy' hard disk partition and choose 'Extend Volume'. Extend Volume wizard opens.
Click 'Next'. Add spaces from 'Available' box, and then click 'Next' followed by 'Finish' button.
This adds the unallocated space to the active primary partition and recovers the missing hard drive space.
NOTE: When you delete a partition while shrinking or extending volume, it erases all data from that particular partition. You are advised to take a backup of important data before partition shrinking and before you begin fixing "Hard drive space disappeared after partition shrink" problem.
In case there is no backup or backup is not possible, the only way to recover lost data from deleted partition is by using a professional Data Recovery tool. You can use Stellar Data Recovery- Standard for Windows that can help you recover data from the lost, deleted, and corrupt partitions. This Data recovery tool can recover all types of files based on their unique signatures along with files like movies, compressed files, images, music, documents, etc. Using Stellar Data Recovery- Standard, you can also recover Raw Data and other files from even a formatted hard drive partition.

Conclusion:
We've discussed reasons to why hard drive partition disappears after partition shrink and solutions to restore the missing hard drive space or partition. The solutions explained above can help you recover deleted partition in most cases. However, if you've deleted or formatted the partition during recovery or shrinking process, you can't access the data as it turns inaccessible. A professional Data Recovery tool like Stellar Data Recovery- Standard can help you recover this lost data from the deleted and formatted partitions with ease.