Summary: Lost or deleted photos and videos from a Spy Pen Camera? This post shares the best software to recover photos and videos from Spy Pen hidden cameras. Also, learn how to recover data when a pen camera SD card shows errors or gets corrupt.
'I accidentally deleted the photos and video footage from my Spy Pen Camera HD 1080p. Can I do spy pen data recovery?'
'I connected my Hidden Spy camera SD card to a laptop, but it is giving error. However, the Spy camera is showing a USB drive letter. How to access its data?'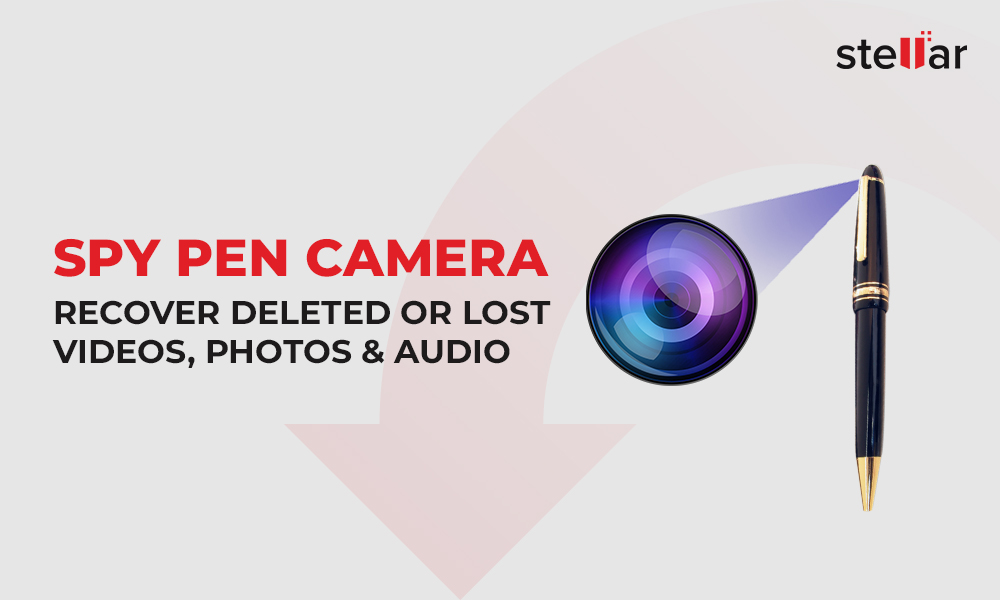 Spy Pen Hidden cameras used by investigators and security agencies are getting more compact and advanced every day. They are capable of recording high-quality videos, photos, and audio files. But these pen-shaped spy cameras store data in SD cards, which are susceptible to corruption and errors.
That's the reason users often face data loss from these Spy Pen cameras.
Here we bring the best way to recover photos and videos from Spy Pen cameras. Further, know how to deal with Spy Pen camera's microSD card errors and corruption that make your data inaccessible.
Common cases of Data loss from Spy Pen Camera
Accidental deletion
Spy Pen Camera SD card errors
Formatting of camera SD card
Spy camera device or SD card not recognized by your system
Spy camera is not working or faulty
Virus or malware in the system
How to recover deleted or lost photos, videos, and audio files from Spy Pen camera
Usually, Spy Pen cameras record HD videos using H.264 codes in 720p and 1080p resolution and save the images in JPEG/ JPG format. An advanced spy pen camera can save up about 100 minutes of video recording in its memory card.
In case of deletion, formatting, or missing photos, videos, or audio files from Spy Pen camera, use an effective multimedia files recovery software. Make sure the software supports your spy camera recovery and the lost file types.
One such software trusted for spy and security cameras recovery is Stellar Photo Recovery.
Developed by the experts in data recovery, the software can recover lost or deleted video footage, audio recordings, and images of any file format. It works with all brands, sizes, and types of microSD cards used in Spy Pen cameras, including SanDisk, Transcend, Samsung, etc.
You can easily recover your sensitive data from GSmade Spy Pen Hidden Camera, Facamword Spy Camera Pen, Yumfond Spy Camera Pen, SpyCrushers 1080p Spy Cam Pen, Wiseup 1080P HD Spy Pen Camera, Gadgets Spy Camera Pen, and others.
You may want to read: How to Recover Lost Videos from Netgear Arlo Pro Home Security Cameras
It is easy-to-use and quick to recover hundreds of files. You can download Stellar Photo Recovery for both Windows and Mac systems.
Key benefits of Stellar Spy Pen Camera recovery software:
Restores unlimited files, multiple times from spy cameras
Recovers in case of deletion, formatting, or corrupt storage cards
Recovers without affecting the original video, photo, or audio quality
Supports all brands and types of spy cameras and storage cards
Easy and fast recovery in 3 steps – Select SD card, Scan, and Recover
Note: The software has an advanced variant – Stellar Photo Recovery Premium that along with recovery, can also repair corrupt photos and videos from Spy cameras.
Step-by-step: How to recover photos, videos from Spy Hidden Pen camera
Download and install Stellar Photo Recovery on Windows PC or Mac.
Connect the Spy Pen camera's microSD card to the computer.
In the software interface, select the camera SD card and click Scan.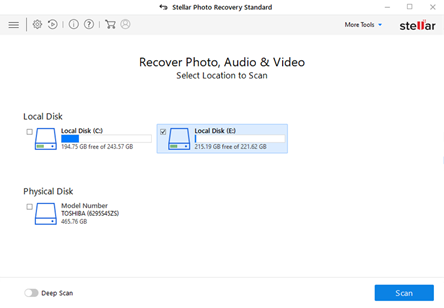 Preview the found videos, photos, and audio files. Select the required files and click Recover.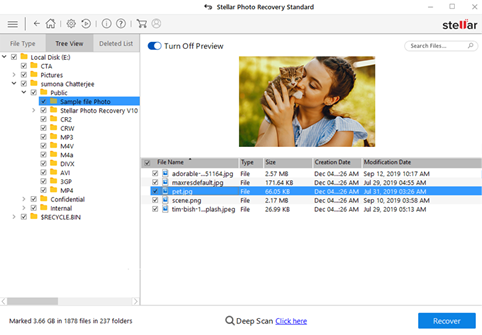 Next, click Browse to select a location and Save the files.
Tip:

Do not select the SD card of your Spy camera to save the recovered photo or videos. Save your files at a different location on your computer or another external drive/ media.
Is the Spy Pen camera SD card giving trouble when you connect it to a laptop or PC?

It may happen that when you connect the hidden camera SD card to the computer to view the video footage, the SD card doesn't show up in the drive list or asks to format.
You may receive SD cards errors like:
'SD card is damaged. Try reformatting it'
'You need to format the drive F: before use'?
'SD card is blank or has unsupported file system.'
In any case, when you are not able to access the Spy camera SD card, first stop further using the card to avoid read and write operation.
Next, to fix the error, perform Chkdsk (check disk) command on your PC using the below steps:
Type cmd in the Search box.
Right-click cmd and select Run as Administrator.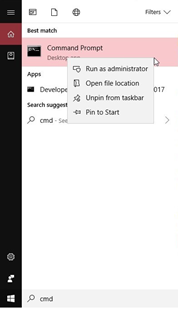 Type chkdsk < SD card drive letter>:/f (e.g., chkdsk E: /f) in the command prompt. Press Enter.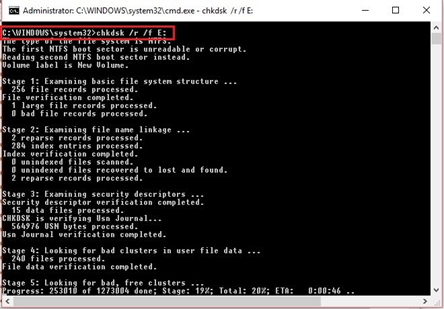 Now try to access your spy camera SD card to view photos, videos, or audio files.
If the camera storage card is still inaccessible, use Stellar Photo Recovery software to recover its lost data.
To know more, read: How to fix corrupt SD cards and recover camera videos and photos.
Tips to Avoid Data Loss from Spy Hidden Camera
Completely charge the Spy camera before using it.
Do not force the card in or out of the Spy Pen.
Do not record when Spy camera has a low battery.
Stop using the SD card if it gives error to avoid permanent data loss.
Regularly transfer data from the SD card to the computer.
Conclusion
If you are looking for a smart and efficient tool to recover Spy Pen camera data, trust Stellar Photo Recovery software. It's 100% secure and capable of restoring unlimited photos, videos, or audio files from all kinds of Spy pen cameras using SD cards.
In case you see a camera SD card error, fix it by using the CHKDSK command in Windows PC. If this doesn't fix the error, recover the data using the Stellar Spy camera recovery tool.
Want to evaluate before buying? Try the demo version here. For any query, feel free to comment in the box below.