Top 10 Best Outlook Tips for Increasing Productivity
Microsoft Outlook is one of the most popular email clients, used worldwide, for sharing information, creating tasks, events and more. However, to ensure uninterrupted efficiency and increased productivity of Outlook, we need to take proper care of the application. The following article highlights a few tips for optimizing Outlook performance. It also provides information on how to resolve common Outlook issues.
Learning a few simple tricks can help in increasing Outlook productivity and resolving various issues.
Let's check out the top 10 best Outlook tips:
Backup Outlook data: Issues in Outlook email client such as "Microsoft Outlook not responding" may leave Outlook in an inaccessible state, resulting in delayed communication. In extreme cases, the email client may become inaccessible. Such issues can be resolved if you have backup available.

Use the Import/Export wizard in Outlook to convert OST to PST that can be saved as backup. The PST back-up file can be used to import data into the reinstalled Outlook profile. However, the Import/Export wizard can't convert entire OST to PST in a single step. Secondly, it doesn't work when OST file is inaccessible.
Use "convert OST to PST" option of Stellar Toolkit for Outlook in a single process. The software also recovers all the deleted emails and inaccessible OST files.
Manage the size of Outlook data: Large Outlook data files may obstruct normal functioning of Outlook, so it is always better to manage the size of Outlook data.
The following methods help in keeping a check on the size of an Outlook data file and manage Outlook data:
Archive mailbox data: Archiving mailbox data moves older emails off the network mail server to the local computer. You can access these emails in mail folder archives. However, archiving stores this data on the same mailbox, so it is mostly used for freeing up space on the email server.
Delete unnecessary emails and attachments: Deleting unnecessary emails helps in reducing the size of mailbox data and avoid data pile up, but this task should be performed diligently as one may accidentally delete important files. Outlook provides an option for cleaning-up email client with the help of mailbox cleanup utilities:

Click Home menu.
Click on Clean Up in the Delete section.
Select the checkbox for View Mailbox Size and other options and define the cleanup parameters.
Manually deleting emails and attachments is a time consuming process and may result in deletion of important emails if parameters are defined incorrectly.
Compress Outlook data file: Outlook users can enhance the productivity of email client by compressing Outlook data files (PST).

Click the File tab.
Click Account Settings > Data files.
Select PST > Settings and click Compact Now.
Note: This method is valid for POP and IMAP account users only.
---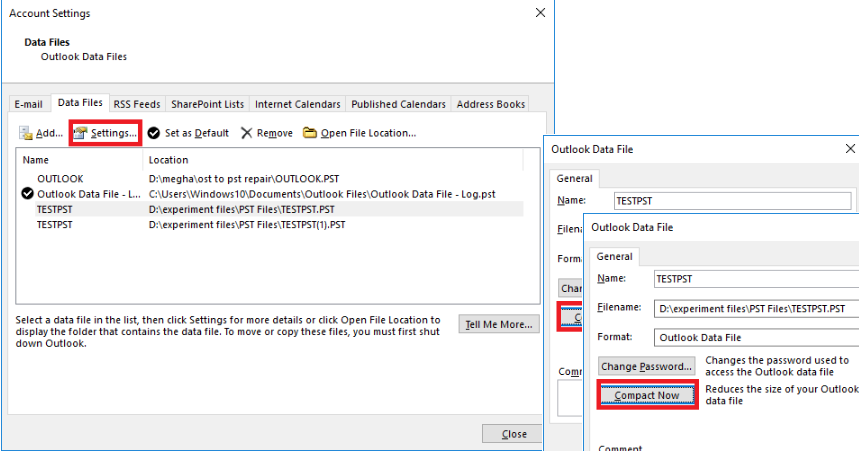 Compact or Split Data file with Stellar Toolkit for Outlook: You can easily compact or split PST files to reduce their size using Stellar Toolkit for Outlook. You can also remove duplicate emails from Outlook mailbox with the help of this tool.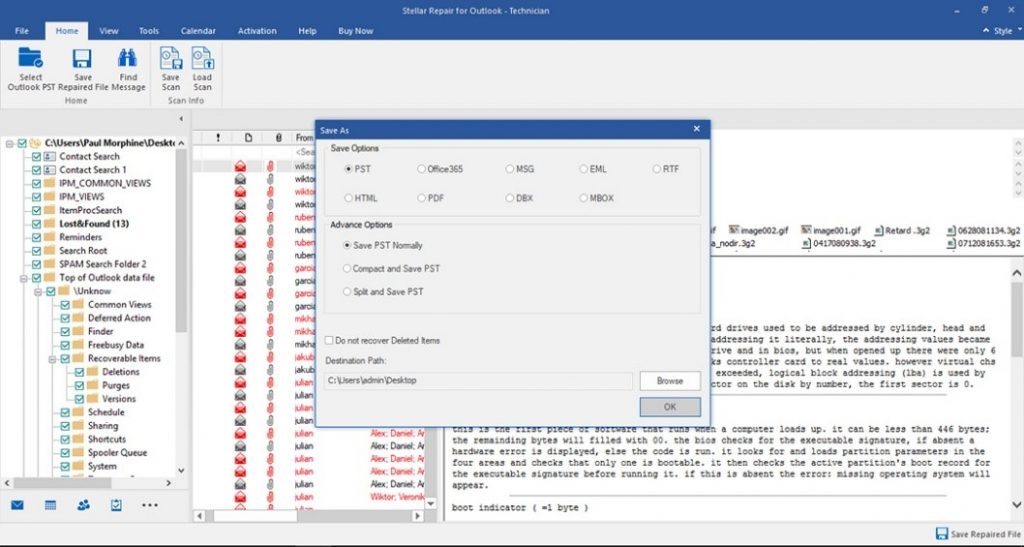 Secure PST with password: PST files contain critical data and must be secured with a password. However, several instances have been reported by the users where they forgot their PST password and couldn't access PST file data. You can recover lost or forgotten PST passwords using Stellar Password Recovery for Outlook. It generates a set of valid passwords to choose and use.
Filter data in Outlook
One of the most useful feature of Outlook is that you can filter emails. Filtering emails eases navigation in Outlook and increases productivity by showing fast and accurate search results.

The other Outlook tips to increase Outlook productivity are:
Organize emails into Folders. Individual folders in Outlook inbox help in segregating and aligning emails according to the sender.
Create sticky notes, by clicking Ctrl+Shift+N on Outlook profile, for quick reminders.
Create email templates to quickly compose same type of messages. Go to File > Save As… > Outlook template, then click on Items > Choose Form… > User Templates and put that pre-saved form to use.
Mail links and not the entire file as an attachment. Sending links to cloud storage lets you send emails in an easy and fast manner. It also enhances Outlook's storage capacity.
Use Shortcuts: Using Outlook shortcuts enhances productivity by easing the tasks on Outlook. The most frequently used shortcuts are: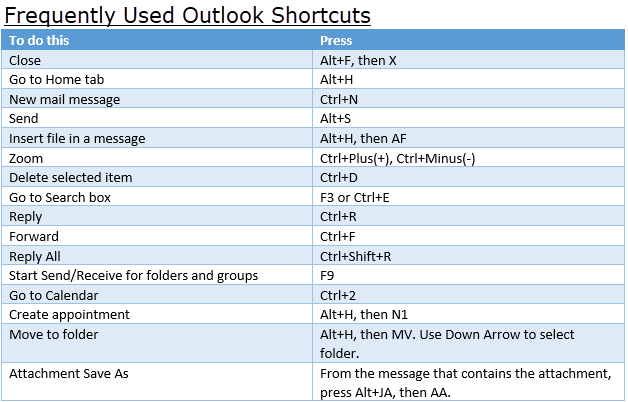 Even after taking all the above measures to increase Outlook productivity, it may become unresponsive, either due to a large or corrupt PST file or due to "Outlook not opening". Resolve Outlook issues with the help of specialized software.
Repair Outlook data:
Despite taking all the necessary measures in managing the Outlook profile, there are instances when Outlook data gets corrupt or the email client becomes inaccessible.
It is necessary to resolve such issues for uninterrupted communication and productivity. Such issues can be best resolved with the help of a PST-repair software:
Repair PST file with the help of a PST file repair tool: Stellar Repair for Outlook resolves all errors in a corrupt PST file including those that can't be repaired by Scanpst.exe.
The software selects corrupt PST file from any location, repairs corrupt components, and saves the entire mailbox data at their original or specified location.
Conclusion
The above post was focused on enhancing Outlook productivity by using a few simple tips. However, Outlook may encounter errors even after optimizing its performance.
Stellar Toolkit for Outlook helps users in increasing Outlook productivity – by easing the backup process, reducing Outlook data file size, and recovering forgotten passwords. The software also helps in repairing Outlook data files and resolves Outlook issues.