[Solved] Windows 10 PC Won't Boot from USB Created Using Windows Creation Tool
Microsoft allows its Windows users to create a Windows installation USB drive with the help of the Media Creation Tool. This installation media can be used to install, reinstall and repair Windows, or to upgrade to Windows 10 from previous versions. It can also be used to fix issues, when a PC malfunction, gets infected by a virus or won't boot.
But, what if the USB drive, created using Media Creation Tool, fails to boot a crashed/failed or non-bootable Windows 10 PC? You can apply different methods to fix this error such as changing boot priority and recreation of installation media. Read on to know the methods in detail to fix this error.
Recover Data Before Fixing Windows Won't Boot Error
To fix windows won't boot error, you might have to reinstall Windows, which can lead you to format the drives/partitions resulting in permanent data loss. Thus, your first attempt must be to recover the data from a non-bootable PC, which can only be recovered using an efficient data recovery tool like Stellar Data Recovery Professional for Windows. This software has a bootable recovery drive option, which lets you access the data, even from a non-bootable PC.
Follow the given steps to create Stellar bootable recovery drive:
Plugin a USB to a working Windows PC.
Install and Run Stellar Data Recovery Professional for Windows.

Tap click on Waffle icon at the right top corner, and select the "Create Recovery Drive" option from the drop-down menu.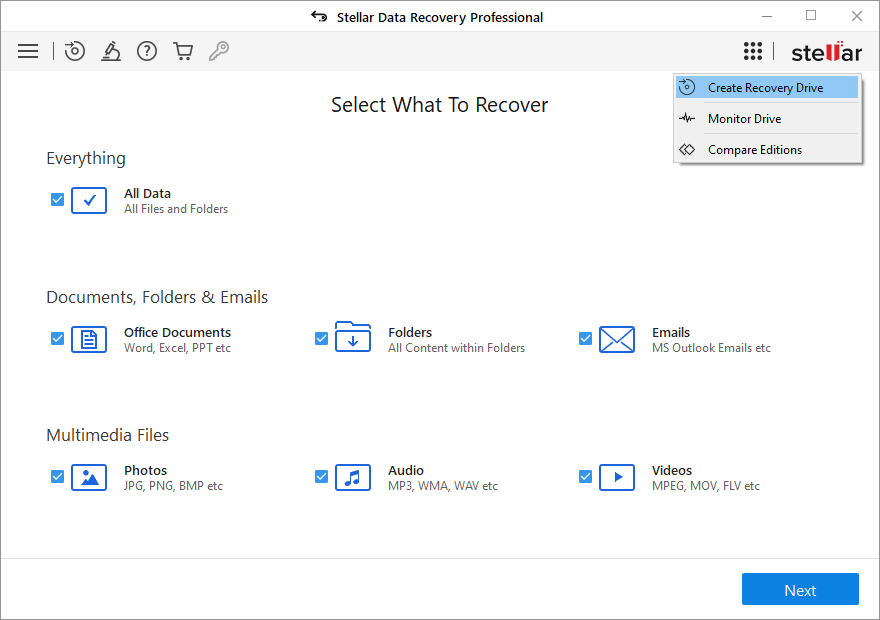 Browse connected USB drive from the drop-down list. Click Create Recovery Drive.

Click OK to start the procedure.

On the process completion, an Activation window appears.

Provide the Activation Key received via email on purchasing the product.
Click Activate. After the key validation, the process is completed.
A message Process Completed Successfully is displayed. Click OK.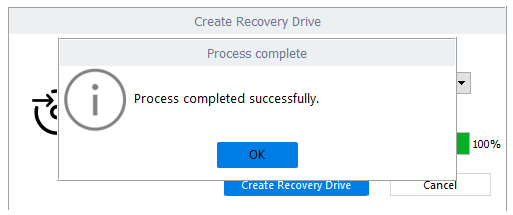 The bootable drive is ready for data recovery.
Steps to Recover Data from a Non-Bootable Windows 10 PC using Stellar Recovery Drive:
After creating bootable recovery drive, proceed with the following steps to recover your data from a non-bootable Windows 10 PC:
Connect the USB Drive (bootable recovery drive) to the affected PC.
Turn on the system while pressing the Boot option (usually F12 or Del).
Choose the USB drive. On doing so, the software screen will show on the system.
Choose 'Everything' or choose specific file types to restore from Select What to Recover. Click Next.
Select the drive from which you want to recover data. Click Scan.
After the scanning process completes, click Recover.
Tap on Browse and choose an external drive to save your data.
Click Start Saving and wait till your all files are saved.
Now that you have recovered the data from non-bootable PC, you can proceed with the following methods to fix "Windows 10 PC Won't Boot from USB" Error.
Methods to Fix "Windows 10 PC Won't Boot from USB" Error
Method 1: Disable Fast Boot/ Fast Startup
The Fast Startup feature is enabled by default in Windows 10, which reduces the boot time, and enables a PC to start quickly. However, there are several cases in which Fast Boot/Fast Startup feature creates issues and doesn't let you boot from a USB installation media. Thus, you need to disable Fast Startup to fix the error "Windows 10 PC won't boot from USB installation tool."
Follow the given steps, to do it via BIOS/UEFI Firmware Settings:
Power off your system and then turn on while pressing F2 constantly to enter in UEFI Firmware Settings/BIOS.
If you fail to boot it with F2, go to Boot options and disable Fast Startup.
Connect USB, which was created using Windows Creation Tool, and restart your system. Press Boot options key (usually F12 or Del).
If the key doesn't work, refer to the manufacturer for more relevant information.
Select USB (UEFI) installation media from the options and press ENTER.
Method 2: Change Boot Priority Order
Change Boot Priority order in the BIOS/UEFI utility in order to resolve the error. Follow the given steps to move USB drive to the top of Boot Priority to fix this issue:
Turn on your PC while pressing either F1, F2, F8, F10, or ESC key to enter the BIOS/UEFI.
With the arrow keys, go to Boot tab.
Move USB media to the top from there.
Save and exit the UEFI/BIOS settings.
Restart the PC while USB is connected.
The PC will automatically boot from the USB installation media.
Proceed further with system repair/installation.
Method 3: Recreate Windows Creation Tool
If you tried the above methods, but still not able to boot from USB installer media, check if it is working on another PC or laptop.
Connect it to another system
Select the USB installation media as a boot drive.
If that works, try changing or repairing the USB port of your system.
However, if the USB drive fails to boot the system, it is possible that it isn't created in the right way or the USB is corrupted. Hence, download the Windows Creation Tool to build Windows installation media on the same (after formatting it) or new USB in a proper manner.
Note: While creating the Windows Creation Tool, the USB drive should be formatted and empty. Only then you will be able to create the USB installation media.
Conclusion
You can use USB installation media, created using Media Creation Tool, to boot up your non-bootable PC. However, due to faulty system configurations, you might face Windows Won't Boot from USB error. To fix this error, you will need to make some changes in the BIOS/UEFI utility to boot the system via USB Installation media or recreate the installation media.
Now, you can try using this USB installation media to boot up your system or reinstall Windows. Though, applying any fixes or reinstalling Windows on a non-bootable/ failed PC can lead to data loss. To prevent this situation, recover your data by using an easy-to-use yet powerful data recovery tool i.e., Stellar Data Recovery Professional for Windows. This DIY software has a 'Create Recovery Drive' option to retrieve data even from a crashed, corrupted/formatted or non-bootable PC. After restoring your data, you can proceed with Windows Re-installation and fix the 'Windows won't boot' error.