5 Free Tools to Permanently Erase Files and Prevent Data Recovery
In today's digitally empowered world, safeguarding privacy and confidential data from unauthorized access is a bit difficult especially when the user lacks knowledge about the importance of data sanitization before discarding, selling, or donating devices with memory (storage).
To protect data, generally, users encrypt files & folders, hard drives, password protect flash drives and encrypt SD card on their smartphone to avoid unauthorized access to their confidential data. Use of antivirus & anti-malware tools is another way of safeguarding the privacy. But almost all of these devices (hard drives, SD cards, smartphones, laptops, etc.) are discarded, sold, or donated without proper data sanitization at the end of their life cycle.
Deleted data can be easily recovered from any storage media whether it's a USB thumb drive, HDD, SSD, SD card, etc. Interestingly, data from a formatted, encrypted, and broken or crushed storage media can also be recovered using a data recovery software and services. Therefore, to protect and safeguard your confidential data from an unauthorized access, you must erase the files/folders and wipe the empty spaces (unused space) on your hard drive volume as the empty spaces might contain previously deleted sensitive and private data that can be easily recovered.
Free Tools to Destroy Data Permanently – Beyond Recovery
There are several tools out there in the market that you may choose but most of them aren't capable of data sanitization and are also complex to use such as SDelete, WinHex, etc. Therefore, to save you from the trial and error, we worked on choosing the 5 best free tools available in the market to permanently erase files and folders beyond the scope of recovery.
Eraser is a free security tool for Windows that erases data from storage drives by shredding and overwriting it several times with selected patterns. The tool is helpful in maintaining the privacy and also allows users to remove selected files instead of wiping the whole drive.
The tool also provides an option to schedule eraser of specific files on the system based on date and time. The software uses the following algorithms to erase data from a storage media:
Write Zero
Gutmann
Random Data
DoD 5220.22-M
HMG IS5
GOST R 50739-95
Drawbacks:
Doesn't have a user-friendly interface
Doesn't verify destroyed data
BitRaser for File is available for free download, and it's one of the most powerful data erasure tool available online. The tool is developed by Stellar Data Recovery—a renowned organization known for its data recovery, data migration, and data erasure solutions. Therefore, the BitRaser for File is much more reliable and secure than the above-listed data eraser tools.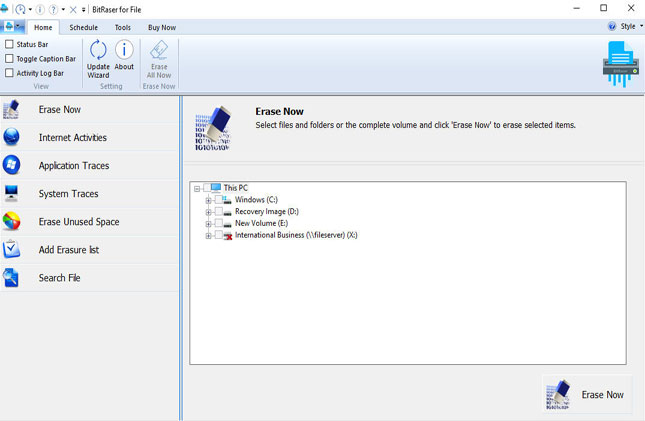 Moreover, the BitRaser for File uses 17 international data erasure algorithms such as U.S. Department of Defense (DoD 5220-2 M) 3 passes / 7 passes, NATO, etc. that ensures data is completely sanitized. Using the tool, you can safeguard your privacy by
Cleaning your internet activities
System Traces
Application Traces
Wiping the empty or unused spaces on the hard drive using one or more algorithms out of 17 (one at a time)
The tool also generates a Certificate of Erasure after erasing the files via Search File option that guarantees data is permanently removed and can't be recovered using any data recovery tool or service. Certificate of Erasure is helpful at the time of audit and for regulatory compliance.
Try Full Version for Free :

This is a free disk and file scrubbing tool that is designed to destroy sensitive data from a Windows PC. The tool overwrites free space on the Windows drives and deletes the file permanently beyond recovery.
The tool offers 5 scrub types that are a combination of 6 scrub patterns arranged into passes:
Normal: Uses a Random pattern with a single pass
Heavy: Uses Zeroes, Ones, and Random patterns with three passes
Super: Uses 5 patterns with 5 passes
Ultra: Uses DoD prescribed overwrite with verification
Custom: User can define their own pattern with as many passes as required
Drawbacks:
Does not wipe/erase folders and sub-directories
Not safe as it can also wipe Windows system and program files
Not safe to use as it can permanently destroy system files too
Hard Wipe erases the entire hard drive or portable storage media and ensures that the sensitive information can't be recovered by anyone. This tool also comes with a portable edition that runs from a USB drive and lets you wipe entire disk without installation. Portable version offers more functionality; thus, it requires a professional upgrade.
The interface is simple and easy to understand and the tool can wipe:
Physical devices
Logical volumes
Files and folders (including sub-folders)
Windows Recycle Bins
Free Drive Space
Drawbacks:
Doesn't verify if data is destroyed
Portable version requires upgrade
Not safe and secure to use as it can also erase system files
Moo-Anti recovery is a free disk cleaning utility that is capable of erasing recoverable data from your hard disk. The utility does not erase files currently on the drive but wipes the empty spaces – that may contain previously deleted data – on your system or external hard drive, thereby ensuring deleted data is gone beyond recovery. It has a simple and basic user interface with many language options.
Moreover, it's a very lightweight program that helps users tackle the privacy issue. The tool provides the following options to choose what data needs to be deleted from the system,
Recycle Bin items
Free space on disk
Free space on MFT
Cluster tips (the empty area at the end of every file)
Filename traces
Drawbacks:
No surety of data sanitization
Can't erase files and folders stored on the drive
Data eraser is not verified
Conclusion:
We have discussed the top 5 free tools that can help permanently delete files from the system and safeguard sensitive & confidential data from unauthorized access. These tools use different techniques and patterns to permanently erase data from the system. However, only a few tools actually verify if the erased data has gone forever beyond scope of recovery. BitRaser for File is the only erasure tool out of the listed ones that generate a data erasure certificate, which assures data is 100% erased beyond the scope of recovery even with the help of forensics. It generates certificates and reports for audit trails and helps to maintain regulatory and audit compliances including ISO 27001.
Was this helpful?