All Purpose Windows Software: RAID Server Data Recovery, Drive Monitor, Photo & Video Repair
Stellar Data Recovery Technician is a multi-utility software that helps you to recover the entire RAID server data from degraded RAID 0, RAID 5 and RAID 6 arrays. The software also retrieves data from all Windows-based devices and compatible external storage media. Users can work from their system, build a 'virtual RAID' for unknown RAID configuration, and recover data from lost partitions. Get the software now!

The software reduces the chances of data loss due to impending failure of degraded RAID with the help of Drive Monitor which keeps track of drive performance and health stats in real-time. The Disk Monitor utility also does Disk cloning to facilitate recovery from drives that have significant number of bad sectors and protect against permanent data loss situation.
Besides extensive data recovery applications, Stellar Data Recovery Technician also repairs photos and videos clicked with almost all makes and brands of cameras.
Let's understand the software's complete functionality in detail:
Stellar Data Recovery Technician: A Comprehensive Solution for RAID Server Data Recovery.
The advanced RAID Recovery Software supports all RAID Controllers and recovers data from logically corrupt or inaccessible RAID 0, 5, 6 configurations, and can also work without the controller card.
The long list of features also includes build virtual RAID, search deleted or lost volumes, and perform raw recovery of RAID data.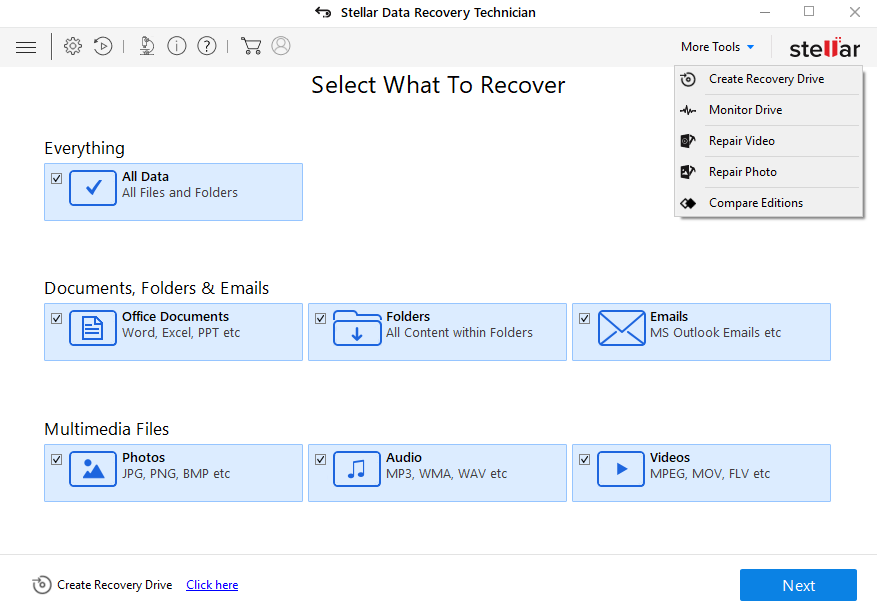 Recovers data from storage drives that have bad sectors:
The software creates an image of the hard drive containing bad sectors and performs recovery from that image. Recovery from the image is faster and safer to prevent further losses that may happen due to unexpected physical media crash.
Automatically detects RAID factor:
Users need not memorize the location and parameters for RAID configuration. The software detects and constructs virtual RAID with suggested values of Strip Size, Parity Order, and Parity Delay, etc.
The users can select any connected drive or specific location on a drive or storage media:
The software allows users to choose the location of corrupt data,as follows:
Common locations: Desktop, My Documents, etc.
Connected Drives: All Drives including the external storage media related to the system
Other Locations: Lost or deleted partitions, and existing disk images
The advanced search option automatically recovers raw files. It also supports raw recovery for HD-MOV.
The Quick Scan function facilitates faster data recovery for simpler data loss scenarios:
However, the software switches automatically to Deep Scan function in case of failed drives, or when the desired partition is not found with Quick Scan.
Recovers data from lost partitions:
Use the 'Can't Find Drive' feature to look for a deleted or lost partition, scan it, and recover every bit of data that hasn't been overwritten.
Recovers unlimited file types:
The software recovers 300+ file types, by default. However, the scope of recovery can be extended to ANY file format with inclusion of custom file headers.
Supports data recovery from:
NTFS, FAT, FAT16, FAT32, and exFat file systems in a logical drive. The software also does data recovery from any CD/DVD/HD DVD/Blu-ray discs (CDFS, UDF, HFS+ file system and more).
The RAID drive recovery software previews the scanned data to allow the users choose and recover all or specific data at a defined location. Users may choose to not to recover the unwanted and redundant data by not selecting this data for retrieval.
SMART Drive Monitor
Stellar Data Recovery provides a self-monitoring tool to analyze and report the impending issues with regard to hard disks.
Self-Monitoring, Analysis, and Reporting Technology
S.M.A.R.T function of the software that can test any PATA/SATA disk, USB drives, or SSD. The application runs in the background to provide real-time information about the available hard disks along with their attributes and fitness level.
Displays bad sectors in the drive,
And if the need arises, it can clone the hard disk to create a replica. There is no loss in system performances, even if the SMART monitoring device is running in the background.
The software monitors and measures the performance of the following main components:
Disk Status
Smart Status
Disk Partition
Scan Disk
Clone Disk
Sometimes, multiple disks are attached to a device:
In that case, the software displays a list of disks to select the right drive from the drop-down menu. The overall general health of the disk includes the following:
The temperature of the disk:
The color chart helps to understand the health status of the drive:

Performance of the Disk
The performance is based upon the time and transfer rate of the disk.
The health of the disk
The health of the disk indicates the total running time of the drive, the amount of read/write errors and the health status of the hard drive.
The following screen displays all three factors: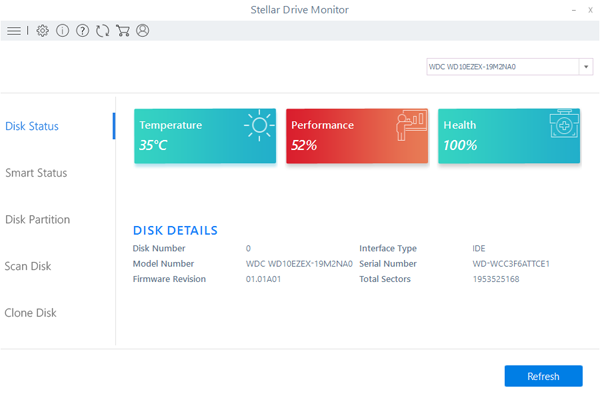 Users can easily distinguish the processed healthy blocks (in blue) from the bad blocks (in red). Along with the overall health, the Stellar Drive Monitor also provides other disk details such as Disk number, Model number, Firmware Revision, Interface type, Serial number, and Total sectors are also available.
The software efficiency can be easily judged with the time elapsed and the time remaining in the completion of scanning.
A vast number of list of attributes are identified in SMART status; for example Read Error Rate, Reallocated Sector Count, Spin Retry Count and many more. A detailed list of attributes is available at this link.
Stellar Drive Monitor can be safely predicted as a monitoring software that warns the users about the status of disks or drives in a particular system, so that they act proactively and save the system from breaking down due to faulty disk, well before time.
Stellar Data Recovery Technician is also known for its Photo and Video Repair features
As Photo-Repair Software:
Do you see the images in your system as distorted, split, grainy, blurred or pixelated? No worries. You can effectively resolve this issue with this unique DIY software.
Stellar Data Recovery Technician repairs RAW and other image formats (ARW, CR2, CRW, DNG, ERF, MRW, NEF, NRW, ORF, PEF, RAF, SR2, TIFF, RW2, and SRF files) of almost all the cameras and corrupt storage media and saves them in JPEG file format.
The software repairs multiple images at the same time. With Stellar Data Recovery software, you can extract the thumbnails of severely corrupt images without compromising their visual fidelity.
The preview of repaired photos allows verifying any inconsistencies in the repaired photos before you click to save them at the specified location. You can also fix corrupt header and invalid image file structure
The simple and straightforward software interface helps in performing the repair and save functions effortlessly.
As Video-Repair Software:
A complete video repair utility which fixes severely corrupt and compressed videos and supports the most used 'video file formats,' 'camera brands,' 'mobile phones' and the 'storage media.' You can repair any video, shot from DSLRs, CCTV, phones, drones, or digicams.
Some of the most prominent errors experienced by users are
Video not playing
Audio video sync issues
Grainy and frozen videos
Video blur
rror loading media file could not be played
The software resolves all types of video-corruption errors as faced by the users. Additionally, the software also fixes issues concerning video frames, sound section, header, movement of videos, and video slider.
The quick and convenient video repair software repairs an unlimited number of video files, simultaneously, be it same or multiple formats and always provides a preview of corrected data to ensure that these files are free from corruption and can be saved.
Conclusion
Data in any form is indispensable! Hence, it is necessary to maintain it and keep it safe
This multi-utility DIY software helps to recover data, be it the RAID Server Data Recovery or Windows-based devices and external storage media; Stellar Data Recovery Technician provides a complete solution to recover everything, including documents, folders, emails, multimedia files and more. The Stellar software is like insurance to keep the data safe in times of contingencies, and that's what makes it indispensable
Was this helpful?