How to repair QuickTime MOV Videos
Summary: Are your MOV videos not playable or giving errors like 'QuickTime could not play MOV?' If yes, read on this post to know how to fix corrupt MOV videos and make them playable again with the help of Stellar Repair for Video.
Know about your MOV video files
MOV is a well-known file format proprietary to Apple Inc., which is used for storing multimedia content. Apple QuickTime player (built into all MacBooks) uses '.MOV' as its native file format for video files. MOV files are multimedia container files that may be assumed to have one or more tracks. Each track stores a specific component of the movie, including text (subtitles), graphics, audio, and video. This file format is commonly used with a broad range of media files, such as music, 3D, animation, and audio/video recordings.
Why QuickTime MOV is preferred format?
One of the many reasons why MOV is preferred for multimedia files is its ease-of-share and transfer capabilities. You can easily send them over a busy network and find these files intact when they reach the destination. You can convert them to other file formats (such as AVI, WMV, etc.) and play your multimedia content in a variety of applications. Another advantage of MOV is that it can contain multiple audio and video tracks in a single file.
Why your MOV files Corrupted?
MOV corruption could be due to technical glitches, manhandling of media, or virus infection. Below are a few common scenarios that end up corrupting your MOV files:
1. Abrupt Termination of Read/Write Process
Any multimedia file will go corrupt when an error occurs in the bit pattern or structure of the file. This pattern is more likely to be damaged when you face sudden power outage during a read/write process, causing the I/O operation to terminate midway and making the files inconsistent and corrupt.
2. Abrupt Termination of Transfer Process
MOV files are commonly transferred over Internet and across storage devices. When you transfer MOV files from one storage device to another and if the process is halted or interrupted for some reason, it leads to corruption in the videos.
3. Corruption of Storage Media Containing MOV Files
If your storage media has bad sectors or is logically corrupt, there is a good chance that the MOV files on this device will fall prey to corruption. Logical corruption on storage media results from virus infection, hardware failures, software conflicts, human errors, and the like.
4. Corruption When Converting MOV to another Format
Always do MOV file conversion carefully. Use of unreliable third-party program is not suitable for MOV conversion as it can damage the file format. Further, corruption may also eventuate from any sort of interruption during the conversion process.
Errors after MOV Corruption
For the above likely reasons, you may bump into a situation of MOV file corruption. Once the file is corrupt, it exhibits some sort of peculiar behavior. The MOV file may stop suddenly while in use or may throw errors upon opening. A range of error messages that indicate MOV file corruption are listed below:
The player cannot support this file format
Unable to reach the end of file
The movie could not be open- the file is not a movie file
The format is not supported
How to Repair Corrupt MOV Files
In case you find yourself in a similar situation, you can use Stellar Repair for Video to fix MOV file corruption. The software is equipped with advanced options to perform in-depth scanning of the corrupt file and repair corruption in every component of your QuickTime movie. It is available for both Mac and Windows computers. Stellar Repair for Video works on any latest version of MacOS including Mojave.
The software can easily deal with the following types of corruptions in MOV files:
1. Repairs Header Corruption
Stellar Repair for Video has a knack of fixing MOV files that have broken or corrupt headers. The software corrects file structure by rebuilding the damaged header. After fixing corruption, the file can easily run in any of the supported media players.
2. Repairs Errors in Video Movement
The software can repair the video component of your MOV file, thereby fixing any errors in the video movement or video slider movement. The repaired movie can be then streamed smoothly without any interruption. This also corrects frame corruption in your MOV file.
3. Repairs Sound Defects in MOV File
If the audio and video are not in sync, you can use Stellar Repair for Video to repair sound defects.
Steps to repair MOV file on Mac with Stellar Repair for Video
1. Connect the drive/ media containing corrupt MOV file to Mac.
2. Launch Stellar Repair for Video for Mac.

3. On main interface of the software click Add File.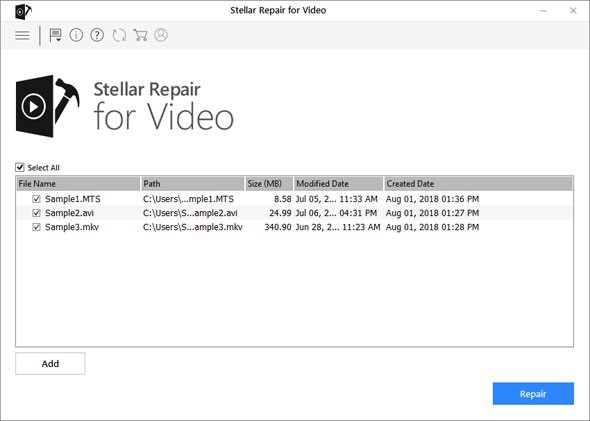 4. Click Repair to fix the added corrupt videos. The repairing process begins. You can view the progress bar.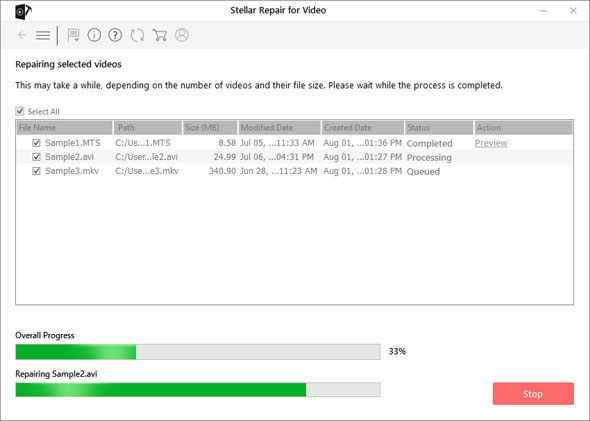 5. Once the repair process completes, click Save Repaired File. You can also select and Preview repaired MOV video before saving.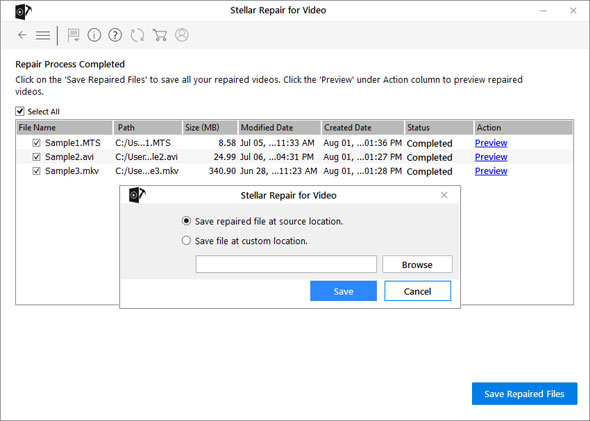 To Sum Up
MOV is a popular video file format. Though reliable for storing movies, MOV files can get corrupt, distorted, or unreadable. There are various possibilities that lead to MOV corruption, including virus contamination, during file transfer or sharing process, improper usage of the memory card storing MOV files, storage media corruption, abruptly terminated read/write process, and more.
However, you can repair corrupt, distorted, truncated, out-of-sync, or flickering MOV videos with the help of Stellar Repair for Video.
Was this helpful?