Summary: Are you not able to play AVI videos due to file index corruption? Are the videos stuttering or freezing intermittently? Know how VLC Media Player can fix corrupt AVI index. Since VLC Player offers a temporary fix, here we'll also share the permanent solution to fix the AVI index issue and play your videos smoothly in any media player.
When you open a corrupt AVI file in VLC Media Player, you may receive a "broken or missing AVI index" error. In other players, the file may just not play continuously and stop in between. This is mostly because of video file index corruption. Broken AVI file index is a common problem reported to result in video freezing or lag.
So what is this AVI file index, and how can you fix it to play your videos seamlessly?
Let's have the solutions here in this post.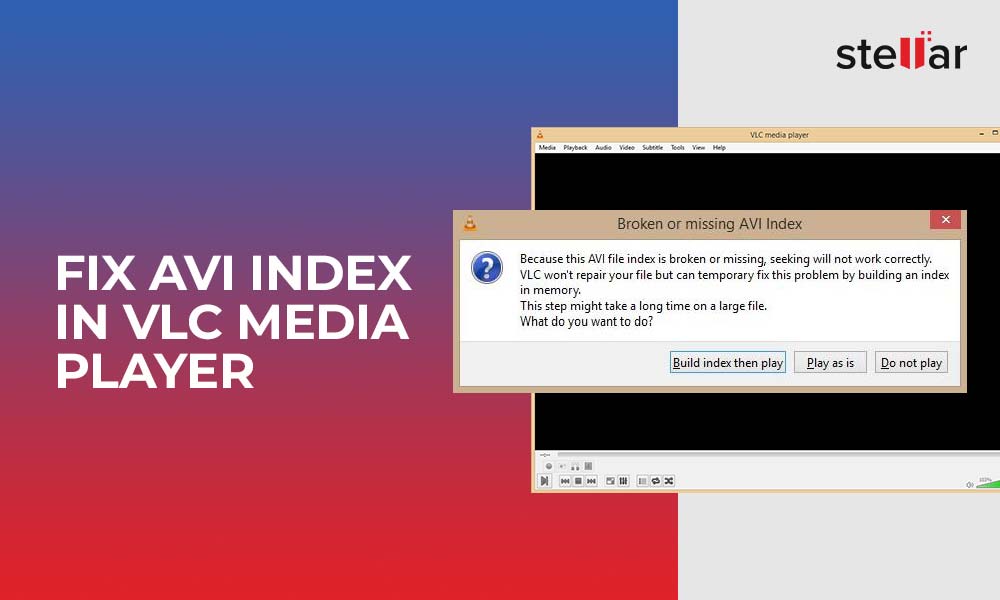 What is AVI index?
Audio Video Interleave or AVI is a popular video format developed for Windows to store large-sized videos. A video file data is usually divided into blocks or chunks that contain file header, metadata, codecs, and other audio/visual data information. In AVI format, there's an additional sub-chunk called 'idx1,' which indexes these data chunks. This is known as the file index. It is an important part of AVI file structure that is required to efficiently play audio and video in sync. If a media player doesn't find this sub-chunk or index, it won't be able to play AVI video correctly.
What causes AVI file index corruption?
The file index in AVI videos can get damaged or broken due to virus infection, bad sectors in the drive, or improper file transfer/ processing. An unsecure program used to edit, convert, or open AVI video can also damage file index.
How to fix AVI index?
Programs like VLC Media Player offer to build AVI index for free but temporarily.
Fixing AVI index in VLC Player is a temporary solution to play a video in the player. If you play this AVI file in another media player, you will again face the video playback issue. So it's important to use a solution that repairs AVI files permanently. If you want to fix the broken AVI file index problem once and for all, use a secure video repair software.
VLC Player (Temporary AVI index fix)
Stellar Repair for Video (Permanent solution)
1. Fix AVI index in VLC Player (Temporary fix)
When you open a damaged AVI video file in VLC Media player, it might show the broken or missing AVI index error. Since VLC Media Player has a built-in AVI repair feature, it also recommends in the message to "build index then play video" without any distortion.

So if you receive AVI index error in VLC, click on 'Build index then play' button. The video player will automatically repair your damaged AVI file index and plays it smoothly. But the file index repair may take a while.
If you have multiple AVI files that get stuck or freeze at a point, you can set VLC Player to fix such AVI files automatically.
This way you don't need to confront the broken AVI index error message every time you open a damaged AVI video.
Steps to automatically repair AVI index in VLC Player:
Launch VLC Player.
Select Tools > Preferences > Input or Codecs.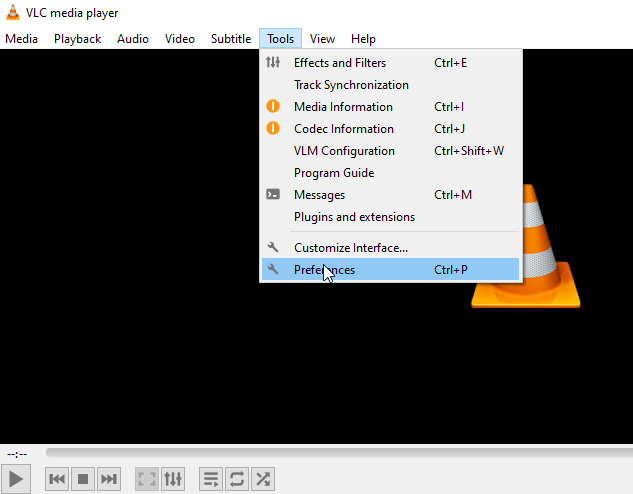 Select Always Fix next to Repair AVI Files.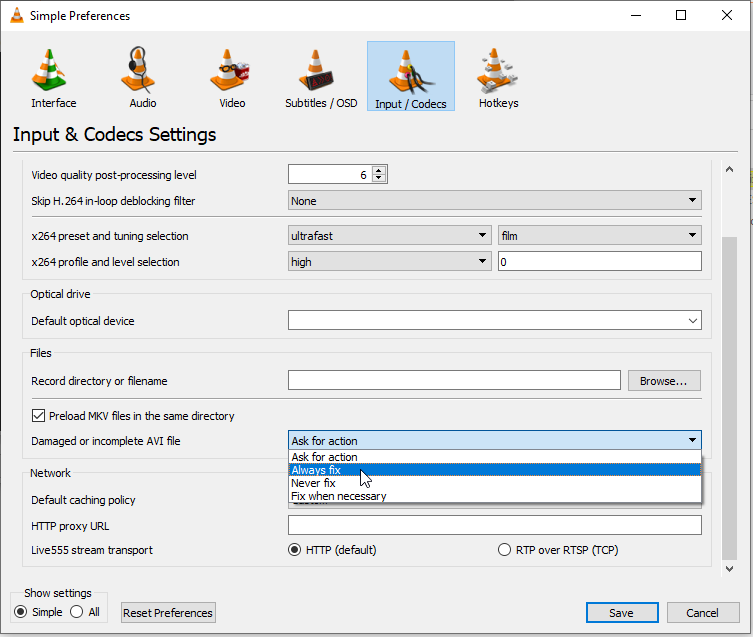 2. How to fix AVI index permanently
To fix AVI index permanently, choose a professional video repair software. Here, we recommend Stellar Repair for Video — a software capable of fixing AVI video freezing and stuttering occurring due to broken or missing file index. The software is fast and easy to operate. You can batch repair multiple videos in one go.
If there's corruption in the AVI file header, data, slider movement, or sound section, Stellar Repair for Video automatically fixes those too permanently.
Steps to fix AVI video index permanently with software:
Launch Stellar Repair for Video.
Click Add file to add the corrupt AVI files.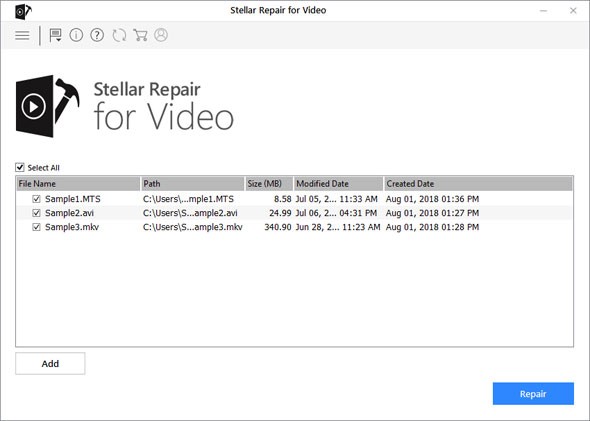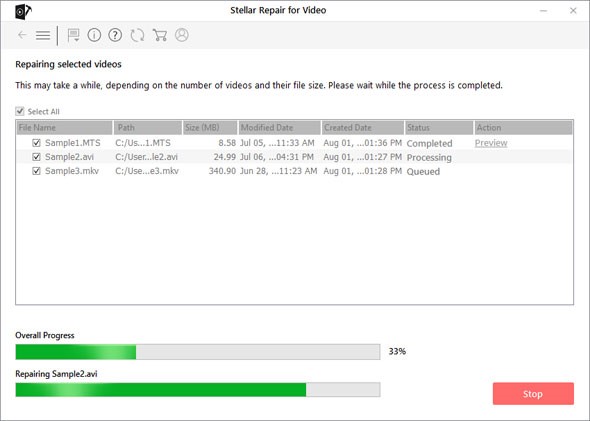 Preview the repaired AVI videos and click on Save Repaired Files.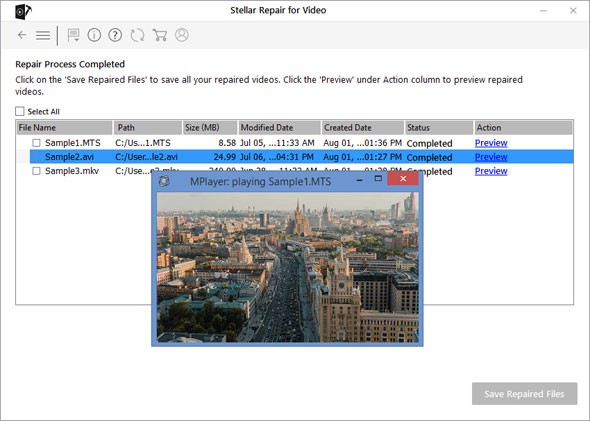 Conclusion
Although you can fix the AVI file index in VLC Media Player, it's not a permanent solution to the problem. Your videos will continue to play choppy or freeze when opened on another media player.
Get Stellar Repair for Video to fix corrupt AVI file index permanently. The software can repair all issues in your corrupt AVI file, including the broken index, and make the videos playable without any distortion.
However, prefer to take the free trial of the software. By this, you can evaluate its AVI file repair capabilities and even watch preview of a repaired video to be confident before finally getting the software.