Download Free Data Recovery Software Full Version
Summary: Have you lost or deleted files from your system? You can quickly recover your files from any storage drive at no cost. Try a free deleted file recovery software, such as Stellar Data Recovery Free Edition, to get back your files in no time. You may download the software from here:

Losing your essential data can be troublesome. You may end up losing your files due to accidental deletion, formatting, drive corruption, and several other reasons. Fortunately, you may recover your data with an efficient data recovery tool. One such tool is launched by Stellar Data Recovery, a premium data care company, after considering multiple data loss scenarios and users' data recovery needs.
What Stellar Data Recovery Free Edition Can Do?

Stellar Data Recovery Free Edition is a powerful data retrieval software that can recover all data types, including documents, email data files, videos, photos, and more. It supports recovery from all common data loss scenarios such as deletion, formatting, corruption, and malware-attack. Whether you have lost your data from your Windows PCs/laptops or storage media drives, such as HDD, SSD, USB drive, SD card, or Micro SD Card, the software has got your back!
This free data recovery software has three main data recovery modules: Everything, Documents recovery, & Multimedia file recovery.
Everything:
This module lets you select all data, including files, folders, emails, and multimedia files, from a PC/laptop or storage media drive.
Documents, Folders & Emails Recovery:
This module enables you to select any specific documents, files, or emails you want to recover.
Multimedia Files Recovery:
This module helps you to select only multimedia files, such as Photos, Audio, and Videos for recovery.
How to Recover Data using Stellar Data Recovery Free Edition?
Stellar Data Recovery Free Edition comes with an intuitive interface. This DIY data recovery software is so easy-to-use that even a person with no technical expertise can navigate the interface and use all the features. However, an installation guide is available on the site to help in case of any query.
Caution: Remember, you have to immediately stop using the drive from which you have lost the data to make data recovery successful. If you keep using the drive and adding new data to it, you will end up overwriting the existing data. And the chances to retrieve overwritten data, even with a data recovery software's help, are minimal.
To recover lost or deleted data, follow the given steps:
a. Download, install and run Stellar Data Recovery Free Edition.

b. The software interface will show up on the PC screen.
c. Select 'Everything' or type of data you want to recover, such as Documents, Folders, Emails, or Multimedia Files from the 'Select What to Recover' screen, and click Next. (See Image 1)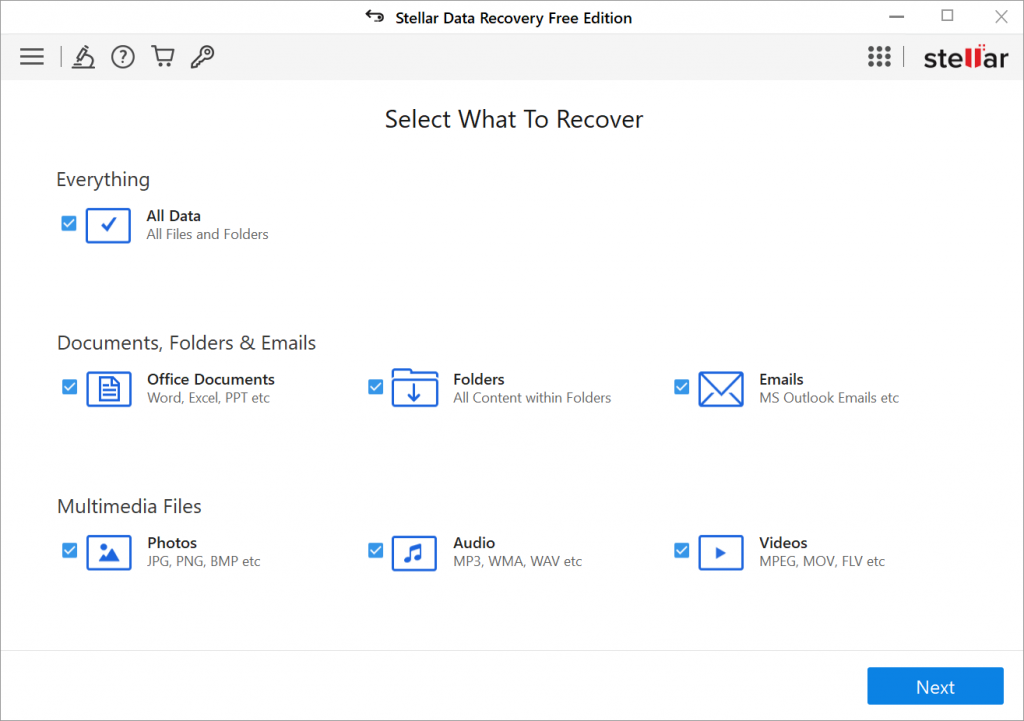 d. From the 'Recover from' screen, select the drive or location from where you lost the data and click Scan. (See Image 2) This will initiate the scanning process.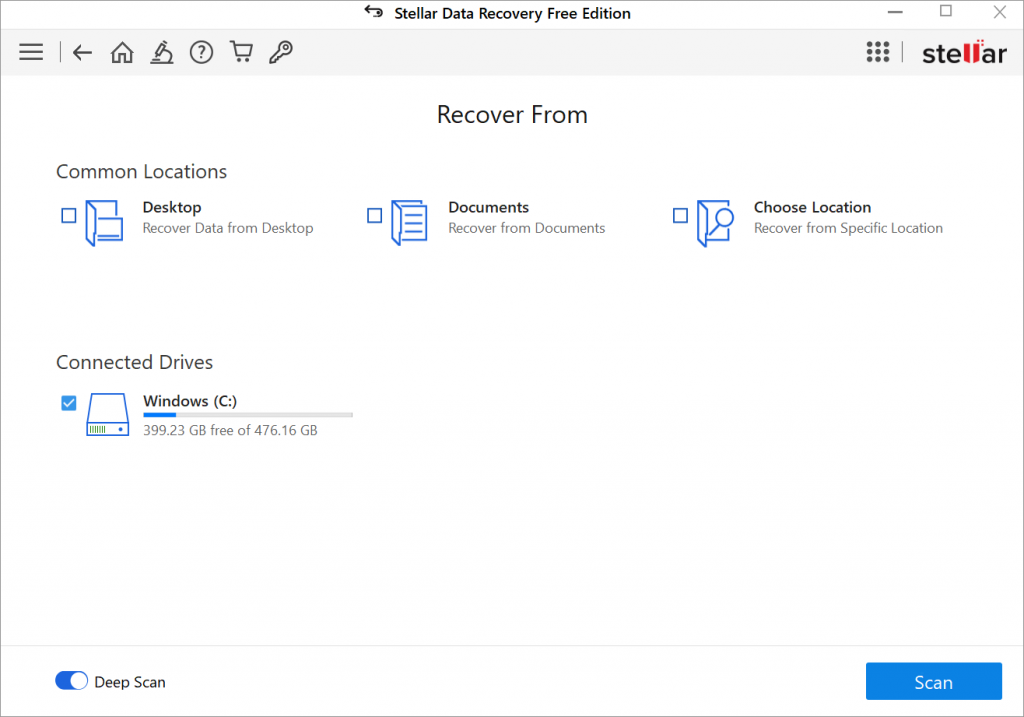 e. After the scanning process, select the files you want to retrieve. You may also preview the files. Once satisfied with the results, click Recover. (See Image 3)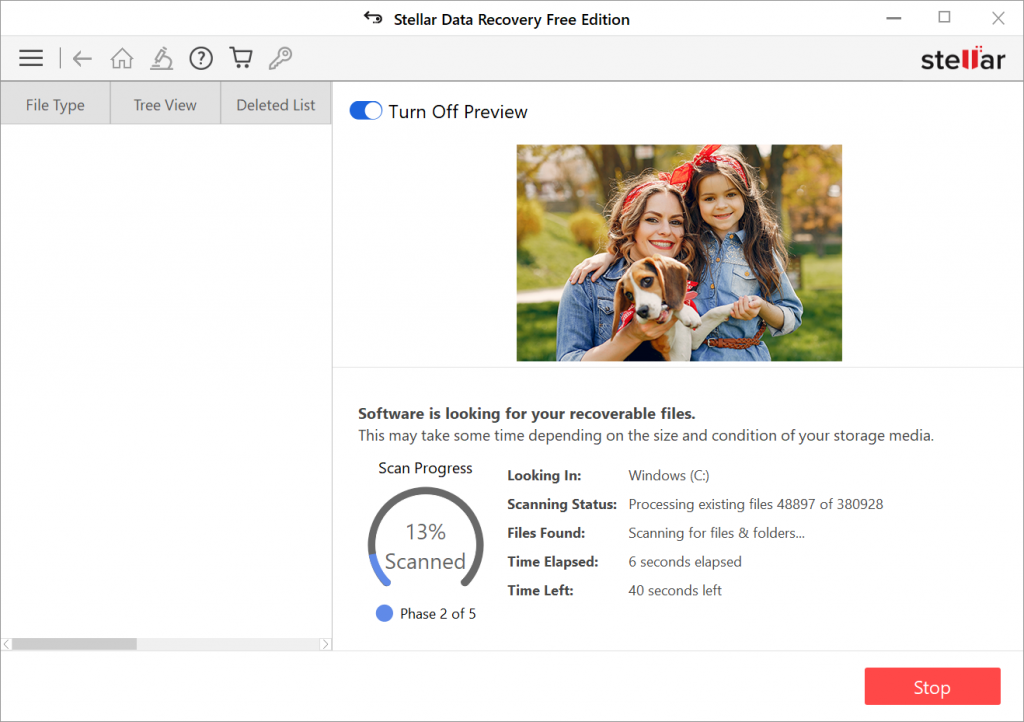 f. Click 'Browse' to choose the location and then click 'Start-Saving' to store the recovered files. (See Image 4)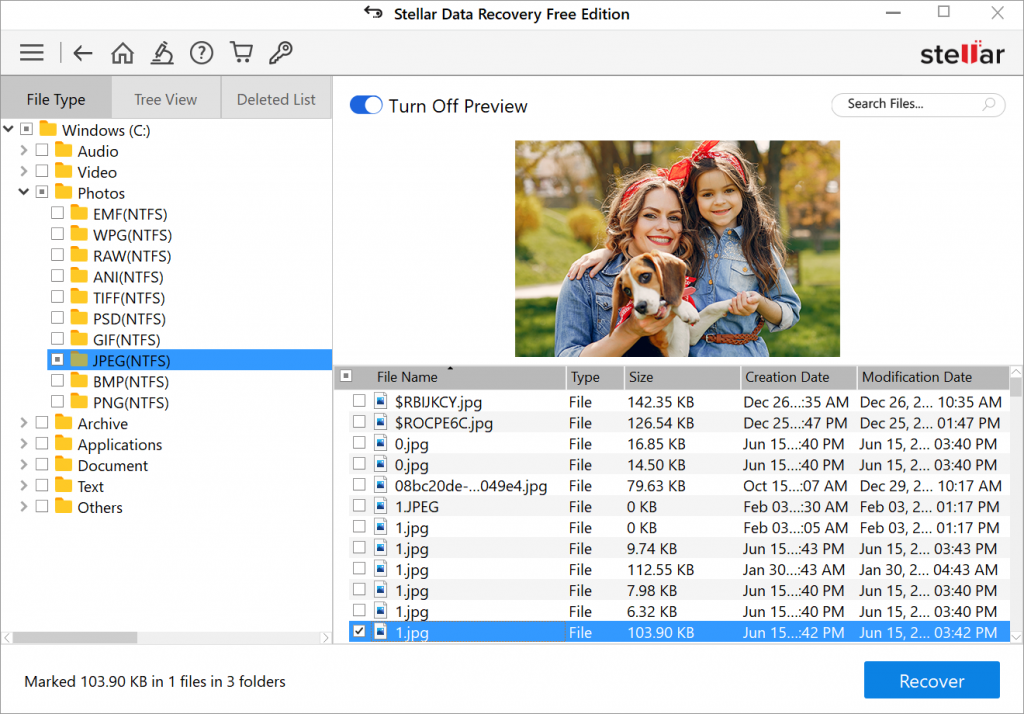 Note: You can save up to 1 GB of data using this free data recovery software. To recover unlimited data, try Stellar Data Recovery Standard version.
[Caution: Always use a different storage location or drive to store the recovered files to prevent data overwriting.]
Why Choose Stellar Data Recovery Free Edition?
Experience Matters:
Stellar Data Recovery, a renowned data care brand, has developed this DIY data recovery software, catering to users' data recovery requirements since 1993. Having more than 3 million happy customers around 172 countries exemplifies the software and the brand's trustworthiness.
Virus Free:
Before downloading any software, the users want to know if the software is safe to download. Several free data recovery tools are available to download, but users may get malware with some of those tools. However, we assure you that Stellar Data Recovery Free Edition is free from any virus and is entirely safe to download.
Free means free
Yes. Stellar Free Edition is a completely free data recovery software that you can use to reclaim your lost files, photos, videos, documents, and more. It is not a trial or a demo version. You can recover up to 1 GB of data. There is no need for any email-id or credit card detail for saving the recovered data.