How to Fix Photoshop "An Unknown or Invalid JPEG Marker Type is Found" error
Summary: Photoshop is the most versatile software used by the designers but working on it can be difficult sometimes. There can be multiple errors such as "An Unknown or Invalid JPEG Marker Type is Found" that we face in Photoshop. Not being able to edit or enhance your valuable photos with special effects in Photoshop is not only frustrating but can also affect the quality of your work. So here, we bring a few effective solutions to fix the unknown or invalid JPEG marker error.
Problem: I have some images that don't open in Photoshop CS. I get an error, 'Could not complete your request because an unknown or invalid JPEG marker type is found.' Although I can see their preview in my browser. How can I get around to access the pictures in PS?
Solution: You have not saved the JPEG image file in a proper format. For instance, if you save a JPEG file in a TIFF format, it will preview as a thumbnail but will show invalid JPEG marker error when you try to open in PS.
To know in detail how you can fix the 'invalid JPEG marker type is found' error…read on this post further.
In spite of the images being viewable on computer drive or browser, Photoshop users commonly face the error – 'unknown or invalid JPEG marker type is found' when they try to open a picture in it.
How to fix Photoshop JPG error 'Unknown or Invalid JPEG Marker Type is Found'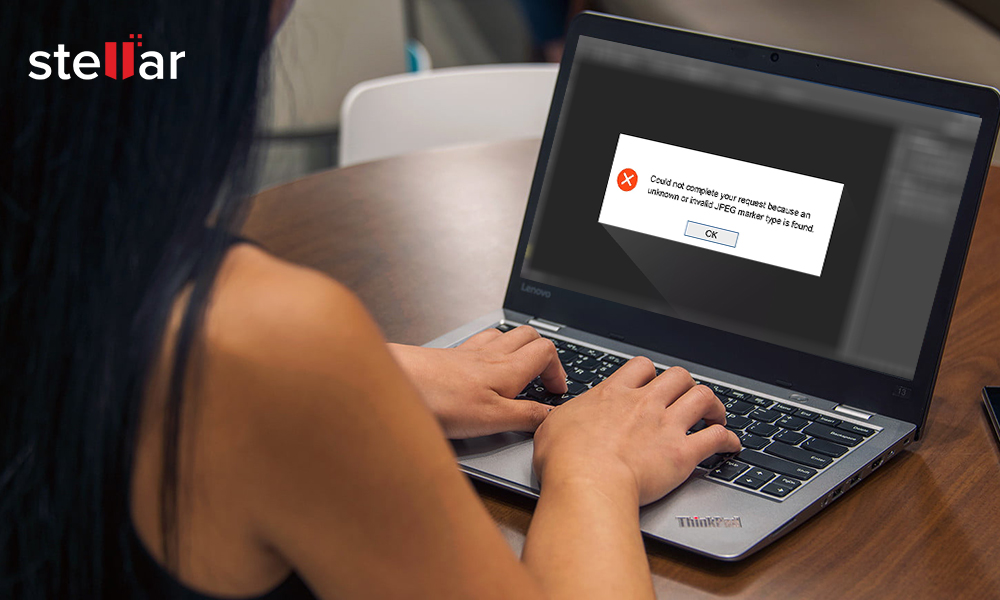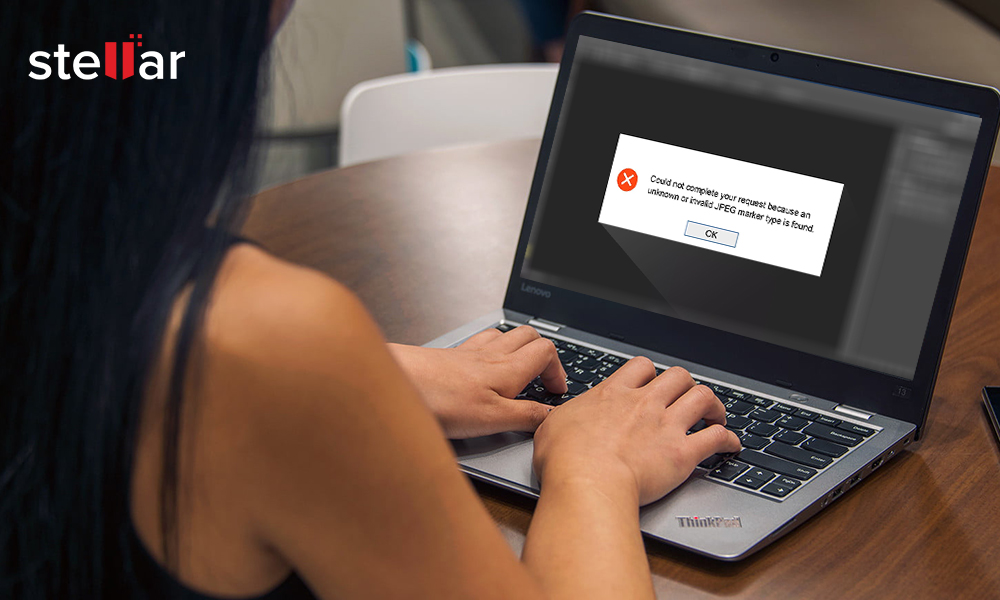 Since the error is usually related to a wrong file format and extension, the troubleshooting involves correcting the extension, changing or renaming the image file. The invalid JPEG marker issue can also occur due to faulty hardware. So troubleshooting your PC hardware may also be one of the ways out.
Methods to fix 'Unknown or Invalid JPEG marker' error
Change the image file extension
Rename the image file
Convert the image to a different format
Open the file in another photo app
Run hardware troubleshooting
Method 1: Change the image file extension
When you save an image file, the extension is added automatically. However, if you add the extension manually, then either it may have two extensions like filename.pdf.jpg or you might enter the wrong extension. To access a photo, the file extension should match the actual image file type.
So, view the file extension and make the required change. Remove the last extension that you added, if you see two extensions. Ensure the JPEG file has correct .JPEG or .JPG extension.
How can you view the file extension of your image?
File extensions are hidden by default on your computer. You can change the settings to view them.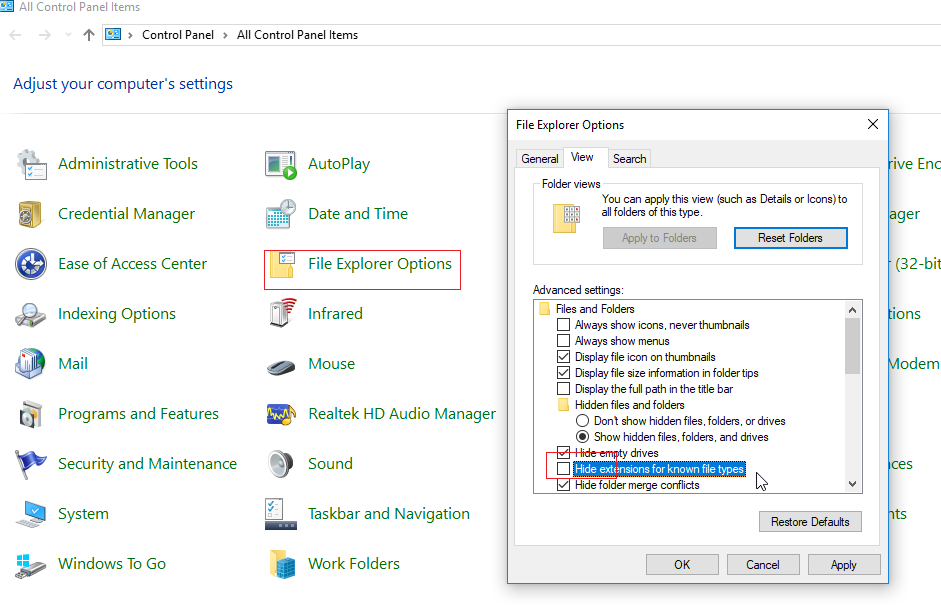 Steps for Windows 10 users
Go to Control Panel > File Explorer Options
In the File Explorer window click on View tab
Uncheck box to Hide extensions for known file types
Click OK
Steps for Mac users
Go to Finder > Finder Preferences > Advanced
Select Show all filename extensions
Method 2: Rename the image file
Renaming the image file along with its extension can often fix errors. You can always roll back to the original file name later anytime.
Steps to rename the photo
Right-click on the JPEG photo
Select Rename
Change name and enter extension to JPEG or JPG
Now try to open this image in Photoshop. The invalid JPEG marker type error should not appear.
Method 3: Convert image to a different format
If correcting the extension and renaming didn't help, change the image format. Converting to a different file format like BMP or TIFF often fixes unknown JPEG marker errors. You can use online image converter tools or your Windows or Mac computer's built-in options.
Steps to convert image file format in Windows Paint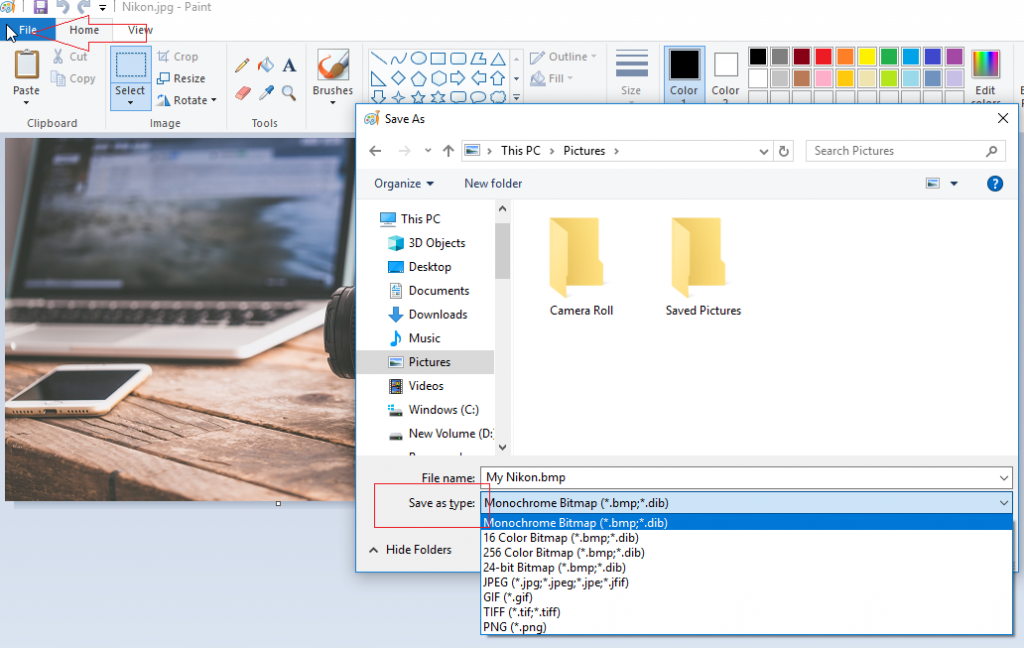 Open Paint
Go to File >Open and select the image
Go to Files. Click Save as
Scroll down Save as type field
Choose the file extension you want to convert to
Click Save
Method 4: Open the file in another photo app
Open the image facing 'invalid jpeg marker type is found' error in the photo app on your computer. You may use Photos on Windows or Preview on Mac.
Next, save the photo again as a JPEG image within the app. Now try to open the image in Photoshop to see if the invalid JPEG marker issue is fixed or not.
Method 5: Run hardware troubleshooting
If the above methods don't work, check if your computer hardware is working fine or not. Issues with your USB, cable, external hard drive, etc., can cause 'Invalid JPEG marker type' error.
Run hardware troubleshooting. It will automatically fix the hardware issue if any.
Steps to PC hardware troubleshooting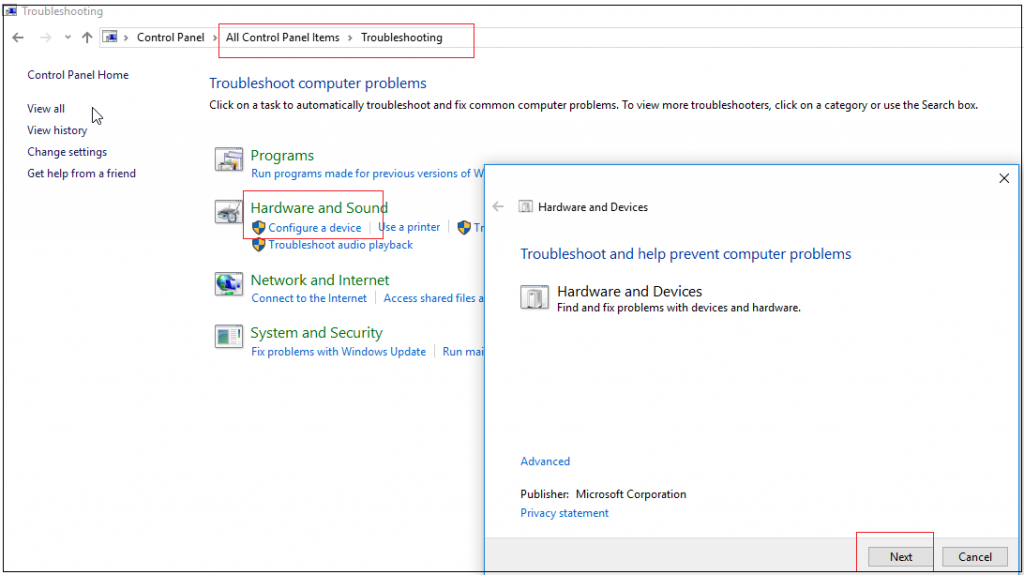 Go to Control Panel on your Windows 10 PC
Click on Troubleshooting > Hardware and Sound > Configure a device
Click Next
Now, open the JPEG image in Photoshop and check if the JPEG error is resolved or not.
None of the methods work! Your image file may be corrupt.
If none of the above methods could fix the JPEG marker error, chances are your image has turned corrupt. Use a Professional Jpeg repair tool like Stellar Repair for Photo to fix the corruption in such JPEG files. The DIY photo repair utility repairs JPEG/JPG, TIFF, DNG, and RAW file formats of all cameras like Sony, Nikon, Canon, Olympus etc. It is easy to use and resolves broken, distorted, greyed-out, JPEG marker error and many other complex photo issues.
Watch this Video to fix corrupt or damaged JPEG Photos
Hope this blog was helpful.
Do share your experience of how you dealt with 'An Unknown or Invalid Jpeg Marker Type Is Found' error in the comments below.
---