Technical hiccups will always be part of saving and protecting JPEG image files even if you are using the latest Windows 11. The photos saved in hard drives, memory card or other removable media are susceptible to corruption. But why JPEG photos get corrupted so often?
The image files can get damaged during transfer from one device to another; due to bad sectors on the storage drive; virus attack on the system and other reasons. As a result, you may not be able to open JPEG files, photos appear distorted, or throw errors like invalid marker error, JPEG error 53, etc., on your latest Windows OS.
How to repair corrupt JPEG photos on Windows 11?
You can fix corrupt JPEG files with the help of an efficient photo repair software. Apart from software, there are some hit and trial methods too, that have sometimes proved to be successful in repairing corrupt JPEG files.
Let's know each in detail.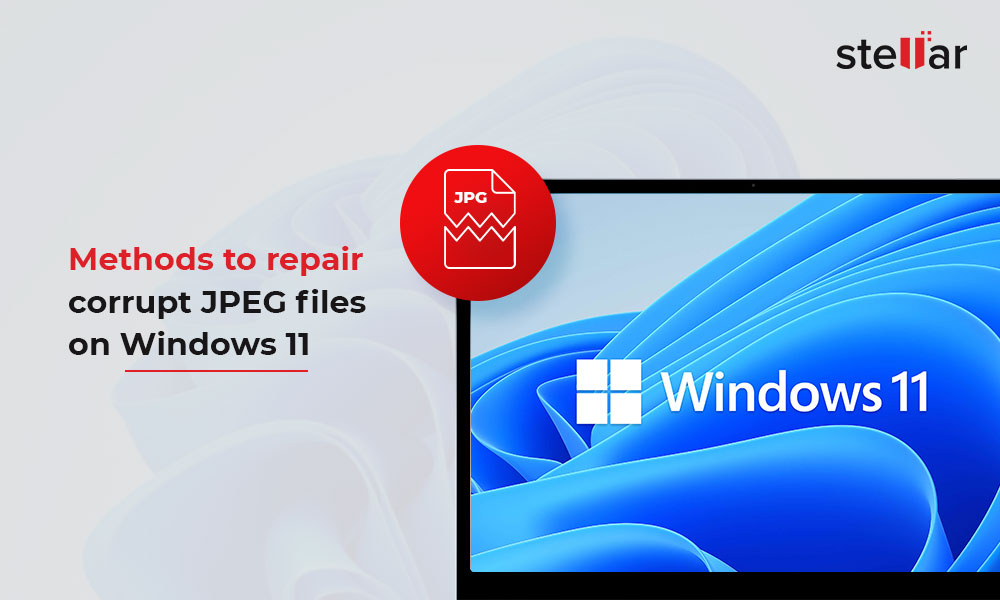 Method 1: Rename the JPEG File
If the JPEG format photos are not opening in Windows 11, try by renaming the file. Right click on the photo, select 'Rename' and enter the new file name. Don't change the .jpeg file extension while renaming your photo. Now check if the JPEG photo is opening.
Method 2: Fix corrupt JPEG file with photo repair software
Stellar Repair for Photo is a JPEG repair software, especially designed to fix all types of file corruption. The software can repair the corrupt JPEG file header and data making your photos back to original. You can easily fix damaged, distorted, grainy, greyed-out, unreadable, or error-throwing JPEG files captured with any digital camera or smartphone. The software shows the preview of the repaired file before you can save it. Further, it can repair multiple JPEG photos in one go and shares photo thumbnails as well.
In addition, the efficient Stellar Repair for Photo automatically recommends 'Advance Repair' option to users, if the pictures are severely damaged. The feature uses the sample JPEG file as reference to repair the complex corruption in your photos.
Download the free trial of Stellar Repair for Photo and follow the below 3 steps to repair the corrupt JPEG files on Windows 11.
Fast repair corrupt JPEG photos in 3 steps:
Click on Add File to insert corrupt JPEG images.
Click on the Repair button.
Preview the repaired photos and click on Save Repaired Files. Your JPEG photos are restored to their pristine form on your Windows 11 computer.
To know in detail how the software works, click here.

Method 3: Use Hex Editor to repair corrupt JPEG photos
Hex editing programs like OxED, Neo, Hex Workshop, or Hex Fiend can fix JPEG files damaged or inaccessible due to corruption in file header. You can view, compare, and repair the binary data of the JPEG file by using a Hex Editor program. 
However, this method is not easy for everyone. You should be familiar with hexadecimal format to repair corrupt JPEG photos in Hex Editors.
Note: Make sure you download the Hex Editor that is Windows 11 compatible.
Method 4: Fix JPEG file error with SFC scan on Windows 11
File system corruption can also affect the Windows normal operations. May be your JPEG photos are not opening or showing errors due to corrupt file system. You can fix the problem by performing SFC scan on Windows 11.
Steps to SFC scan on Windows 11:
In the Windows 11 search box, type CMD and hit Enter.
Right click on Command Prompt and select Run as Administrator.
The command prompt window opens. Type in Sfc/scannow.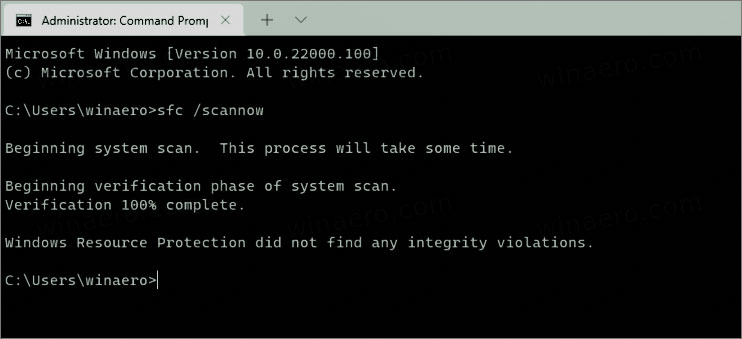 Press Enter. Wait till the process finishes.
Restart your computer.
Check if the JPEG photos are opening without any error on Windows 11.
Wrapping Up
A photo repair software can fix corrupt, damaged, distorted, or inaccessible JPEG files. You can use a Hex Editor or other specially designed JPEG repair tool to repair the photos.
Besides, Windows 11 users can trust Stellar Repair for Photo to fix corrupted JPEG/ JPG image files. The software is straightforward and fast to repair any number of corrupt JPEG photos simultaneously.
The free trial version is available, which shows the preview of JPEG photos after repair.

Frequently Asked Questions (FAQ)
Q1. Which is the best software to repair corrupted JPEG photo on Windows 11?
Stellar Repair for Photo is the best photo repair software that can repair all sorts of corruption in JPEG files. You can also repair RAW files formats from popular cameras with the help of the software on Windows 11.
Q2. How to fix Windows 11 cannot open JPEG files?
You can fix the issue by updating Windows OS and Photos app. If that doesn't help, rename the file. If nothing works, JPEG file might be corrupted. Repair it by using Stellar Repair for Photo.
Q3. How to fix JPEG photos won't open after upgrade to Windows 11?
Try the methods shared in this post to access JPEG photos that won't open after Windows 11 upgrade.
Q4. How to recover lost photos after upgrading to Windows 11?
If the photos go missing after upgrading to Windows 11, make sure you have signed in to your PC with the right profile. There's also the probability that your image files are hidden, so unhide them. If this doesn't help, use the best photo recovery software to get back the deleted photos after Windows update. To know more click here.
Q5. How do you fix a damaged JPEG header?
You can repair damaged JPEG header by using any Hex Editor program or Stellar Repair for Photo.
Q6. Can I fix damaged JPEG photos in Photoshop?
Yes, you can remove blur, color issues, grains, etc., in Photoshop. To know more click here.